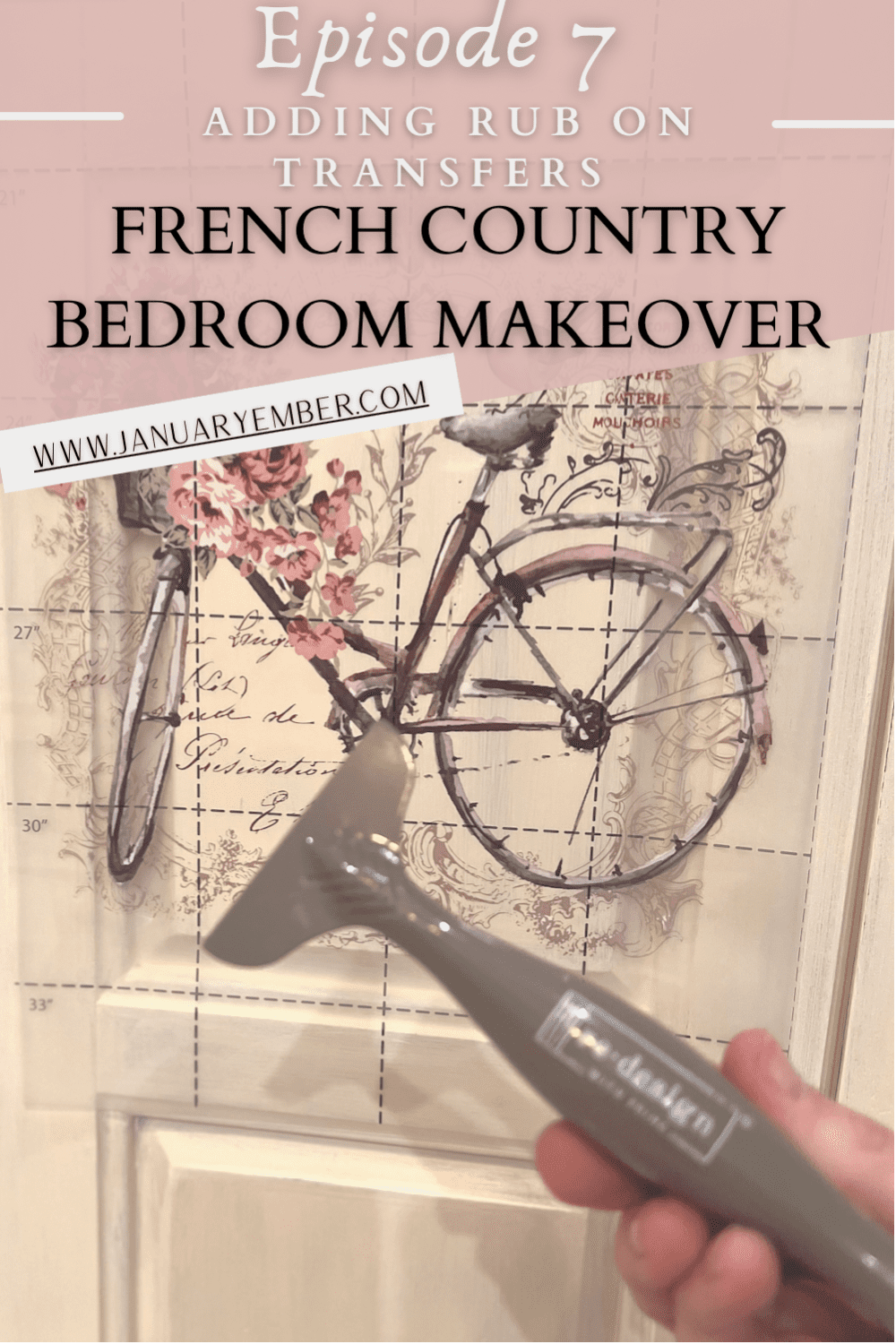 Bedroom Makeover: Episode 7 – Adding rub on transfers
Want to add rub on furniture transfers to your project? Read this first and learn what not to do!
Welcome back for Episode 7 of my French country bedroom makeover series. Today is all about rub on transfers!
This post contains affiliate links. This means I may receive a small commission for purchases derived from those links at no cost to you. This helps support the blog. Thank you in advance for your support!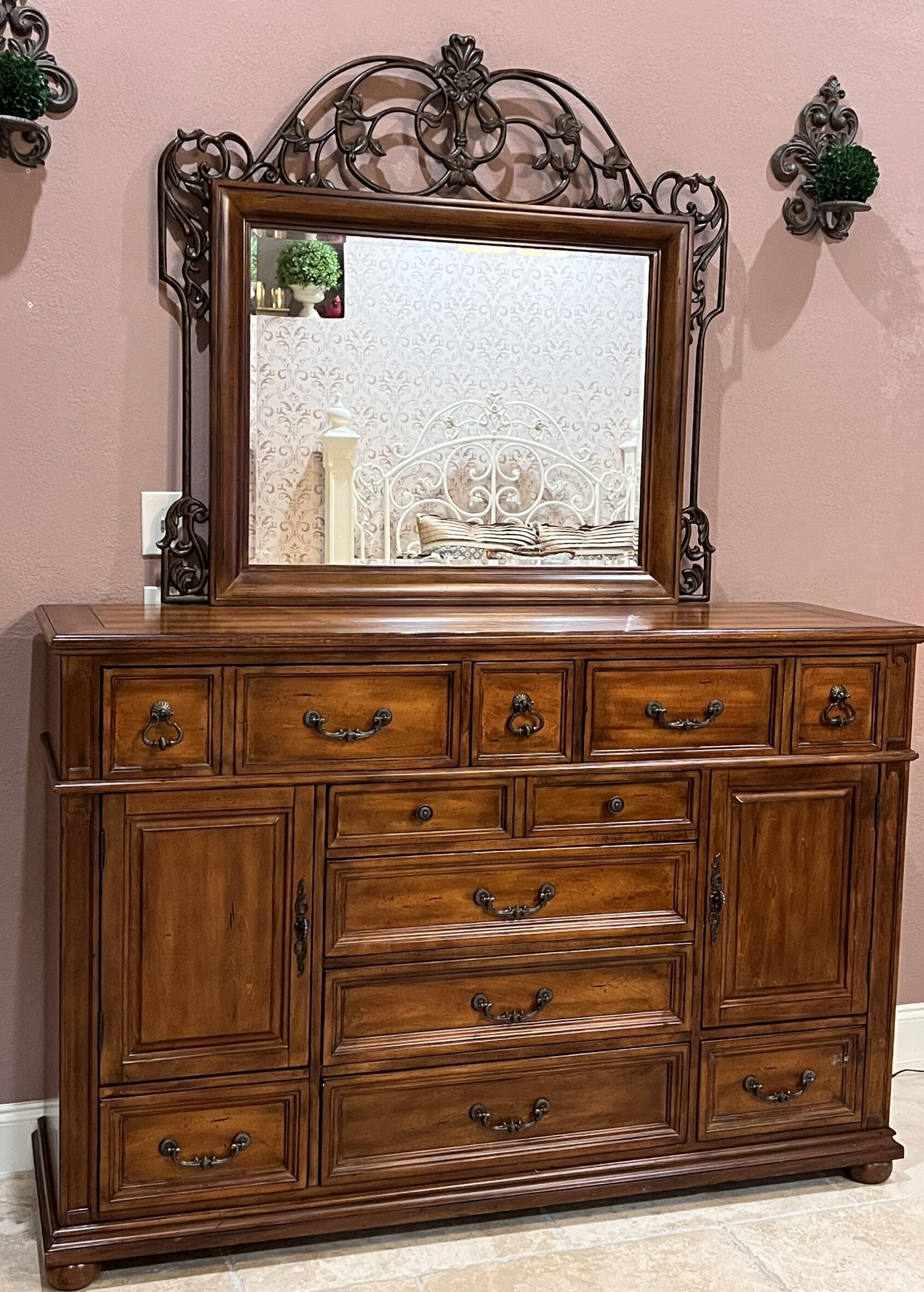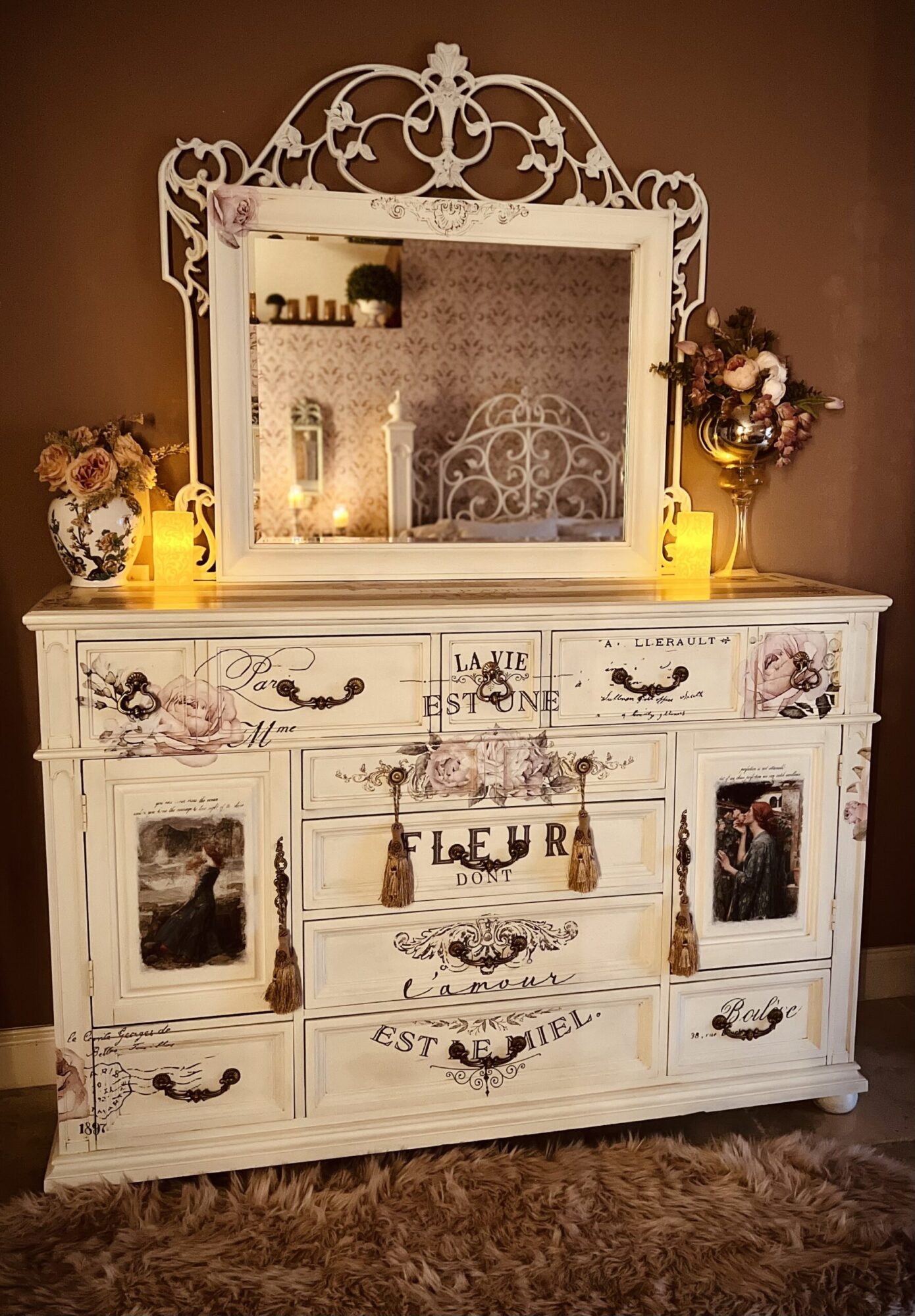 This French country bedroom makeover project started with me wanting to brighten my bedroom. The white paint makeover did just that! 
Like many of my fellow DIY'ers, I have become obsessed with these lovely furniture rub on transfers I keep seeing everywhere.  
I like to get wood slice coasters, and wood slices for art crafts and use those for practice. This year I made some beautiful wood slice coasters and décor using a 'Eucalyptus Dreams' rub on transfer. I LOVED IT! This was great for practice, and it made something really lovely too! Take a look at my post on 7 Easy Neutral Spring Décor Ideas that are Charming and Elegant.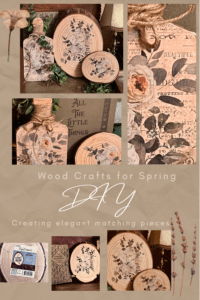 Me, being the researcher I am, started searching for some rub on transfers to try!
During Spring I had a whole Eucalyptus decor thing going so I found some Eucalyptus rub on transfers and used them for wood slice coasters and crafts (see here – easy wood slice art). They came out awesome! 
The Eucalyptus rub on transfers were so easy to use, and so gorgeous, I fell in love! Beginning of addiction to rub on transfers commences!
FYI - This bedroom makeover was my first time using rub on transfers on furniture!
Come learn what I learned!
What not to do...mistakes along the way...or happy accidents, as I like to agree with Bob Ross, and call them!
Before I even started painting the furniture white, I knew I wanted to use rub on transfers. 
Check out the early episodes if you don't want to have a spoiler on the DARK-WHITE transformation:
My original plan was to add some rub on transfers down the middle of the dresser. 
But doesn't it always happen…what YOU want…is always a step away…that's why I love the DIY way of life. Make it what you want it to be! 
Just painting the dresser white was dramatic, but then, adding the rub on transfers made it really stunning.  
Due to purchasing a few rub on transfer sets from Amazon (because I wanted them – though not sure where they were going just yet), my supply arsenal was full of choices!
This dresser is really big, a great canvas, hence I already planned to add furniture rub on transfers. Intentionally I  didn't add 3 full coats of paint to this dresser, again experimenting!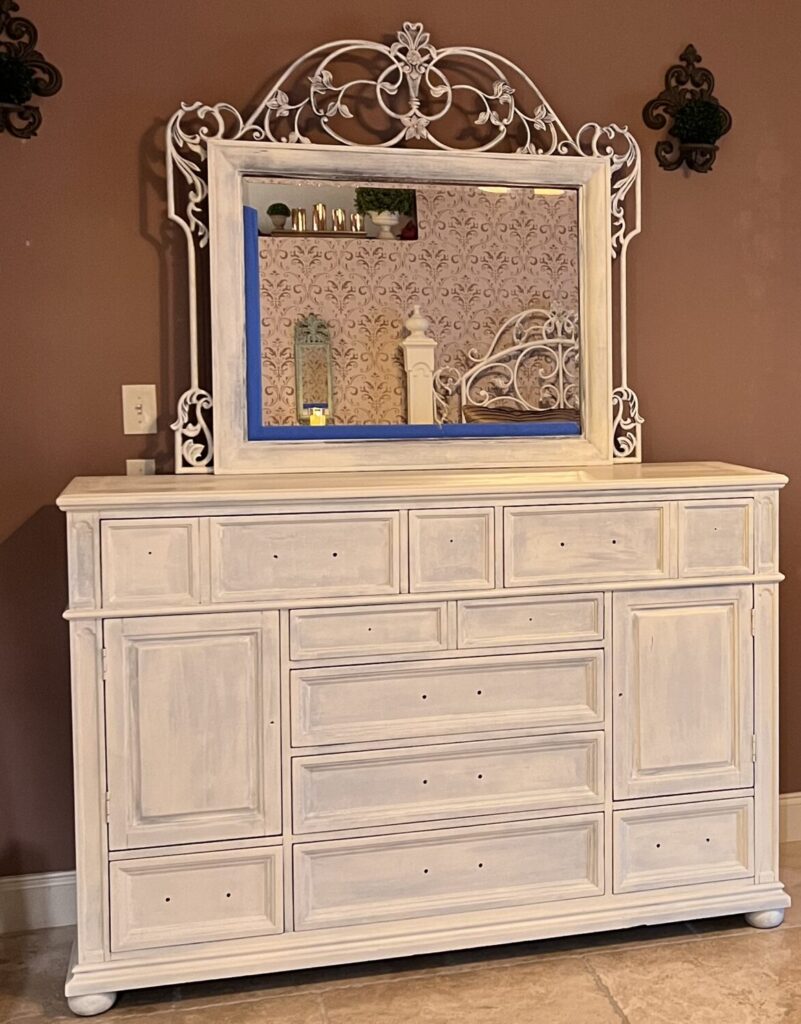 Start with carefully unrolling the rub on transfers. Very carefully! One of mine stuck to another and then it got ruined (I salvaged a piece, you'll see later).
There is no fixing it if it sticks to something it shouldn't. With these, you get one shot, so do not let that plastic backing piece come off before you are ready!
Tip - Be careful unrolling rub on transfers, once they touch something - they stick!
Step 1 - The door panels, these rice paper art panels fit perfectly. On they go!
Like the rest of this experimental project, I had purchased these rice paper art pieces (not knowing where they'd end up). The door panel fit was a sign!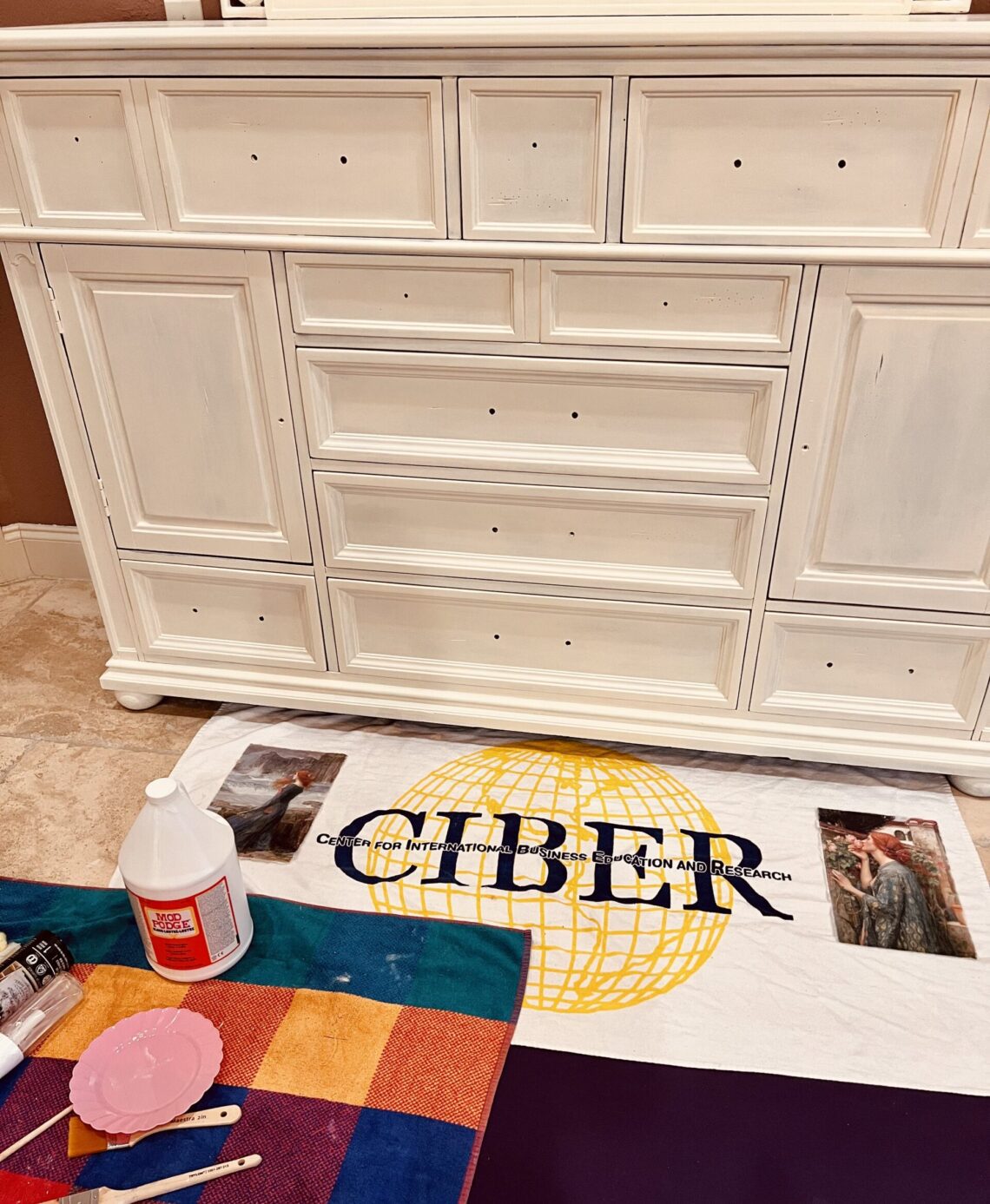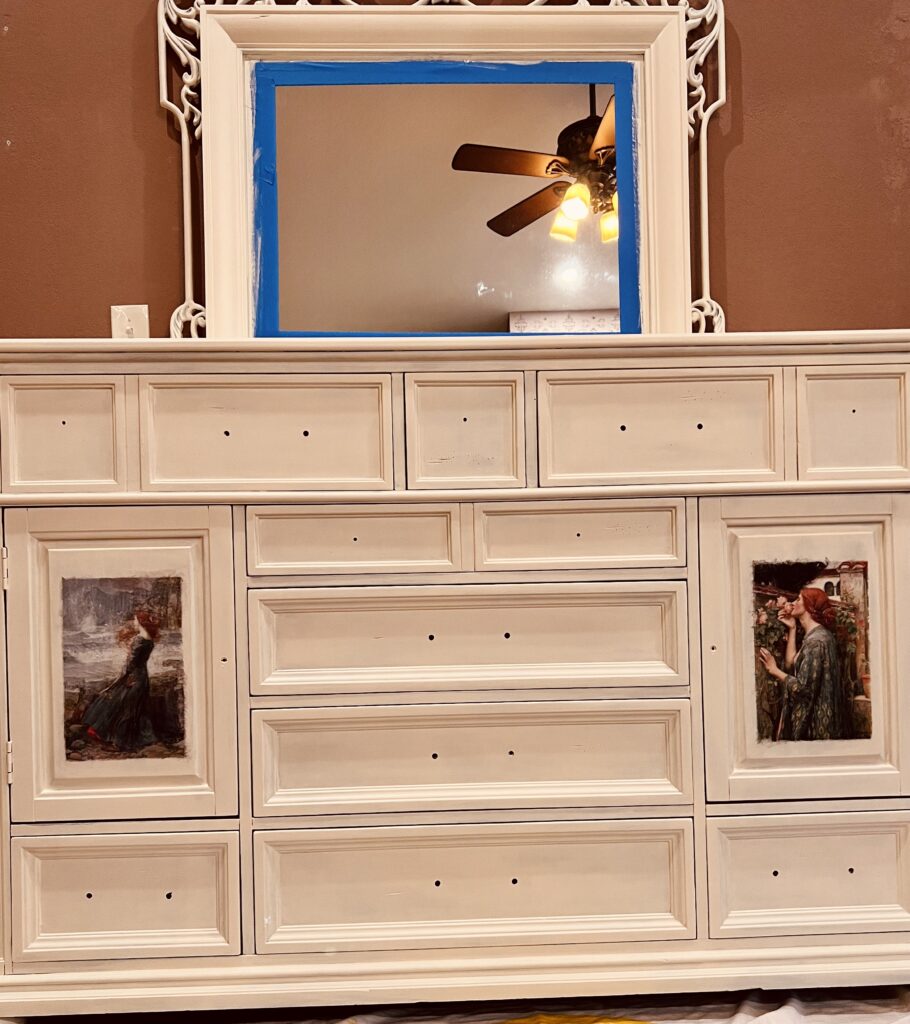 Step 2 - The rub on transfer plan - I cut the pieces and taped them up to see how it would look.
After going through my supply arsenal, I knew this French rub on transfer set was perfect! 
At this stage of the project, I laid all the rub on transfers out on the floor and put some stuff on top of them to "flatten" them out from being rolled up. I RECOMMEND THIS!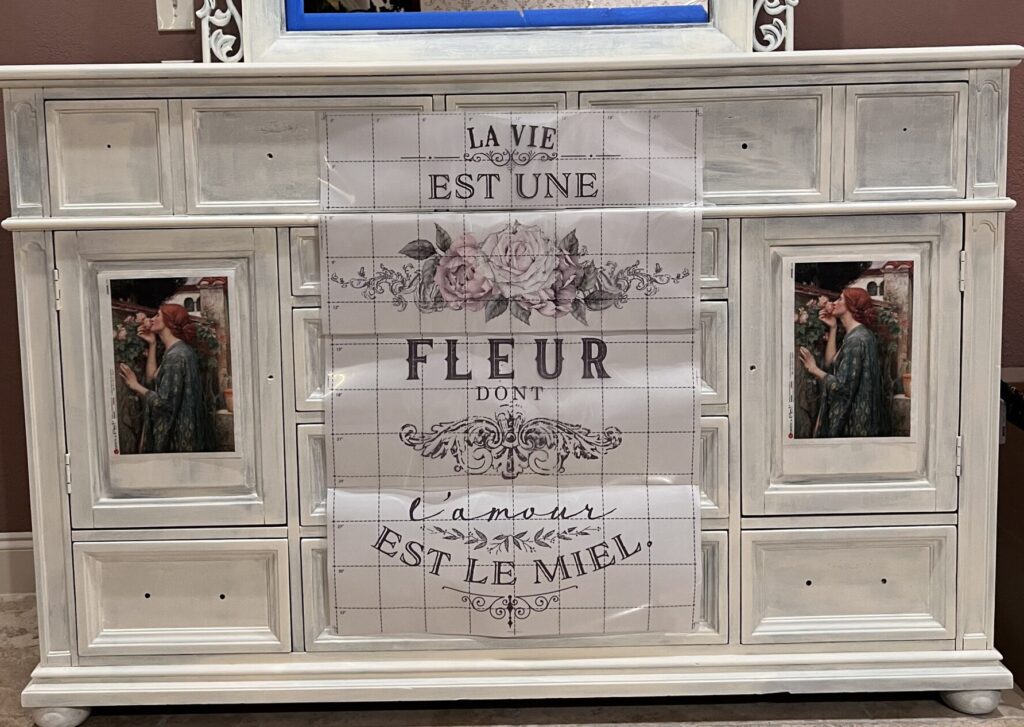 Step 3 - Start from the top and work your way down!
After you make your plan, start with one piece at a time. Remember, be careful, where it touches – it sticks! 
Grab some painter's tape and put the pieces on the dresser to see where they look best – keep the plastic on the back!
You need to plan your design and keep in mind where the drawers meet, etc. 
Once you have your layout and design in place for your project, I recommend starting with one small section at a time. 
Cut some pieces into smaller sections where you can to make it easier to apply.
During the dresser makeover I had not yet purchased the "specialty tool" that gets into the grooves and corners, this I highly recommend!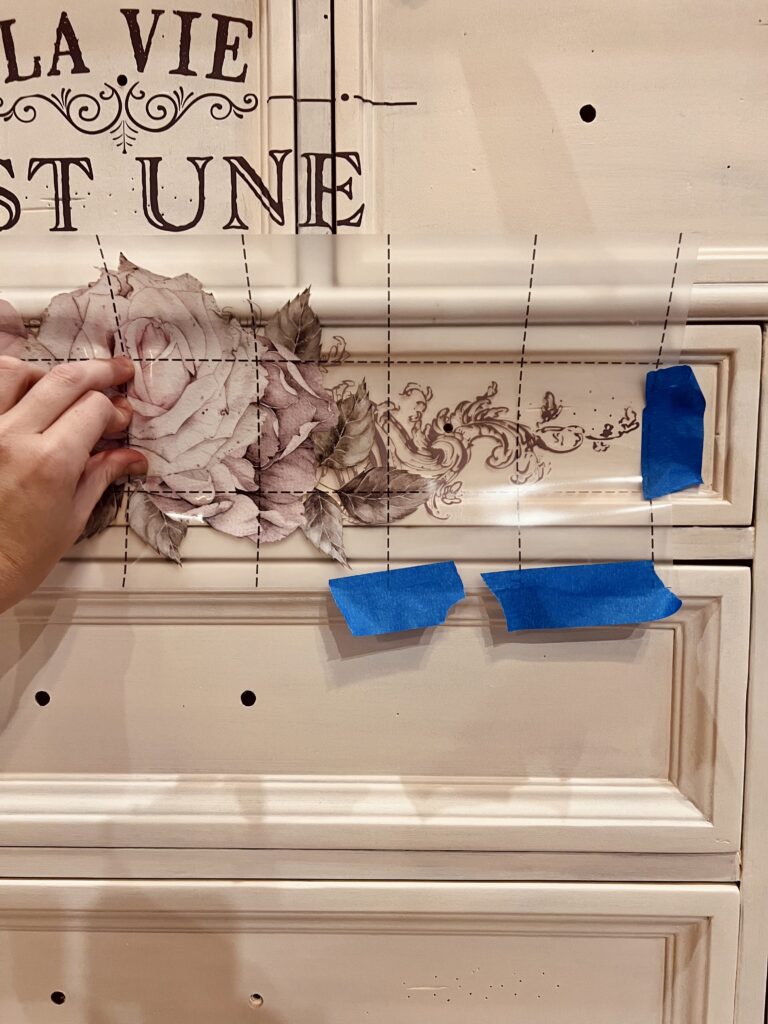 Now I know how good that tool is. I ended up using the tool to go back over some areas that didn't get fully rubbed in. 
The dresser drawers have a lot of molding layers so you have to get into all of those grooves…that gets your arms to work!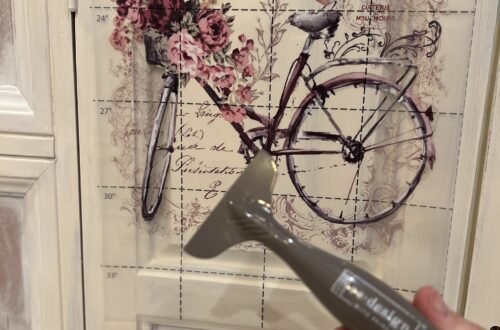 Lesson learned…once the rub on transfers are on there…they are staying on there! That's good and bad. 
That's good and bad. Good that is stays, bad if you mess up and its impossible to remove without destroying your glorious work!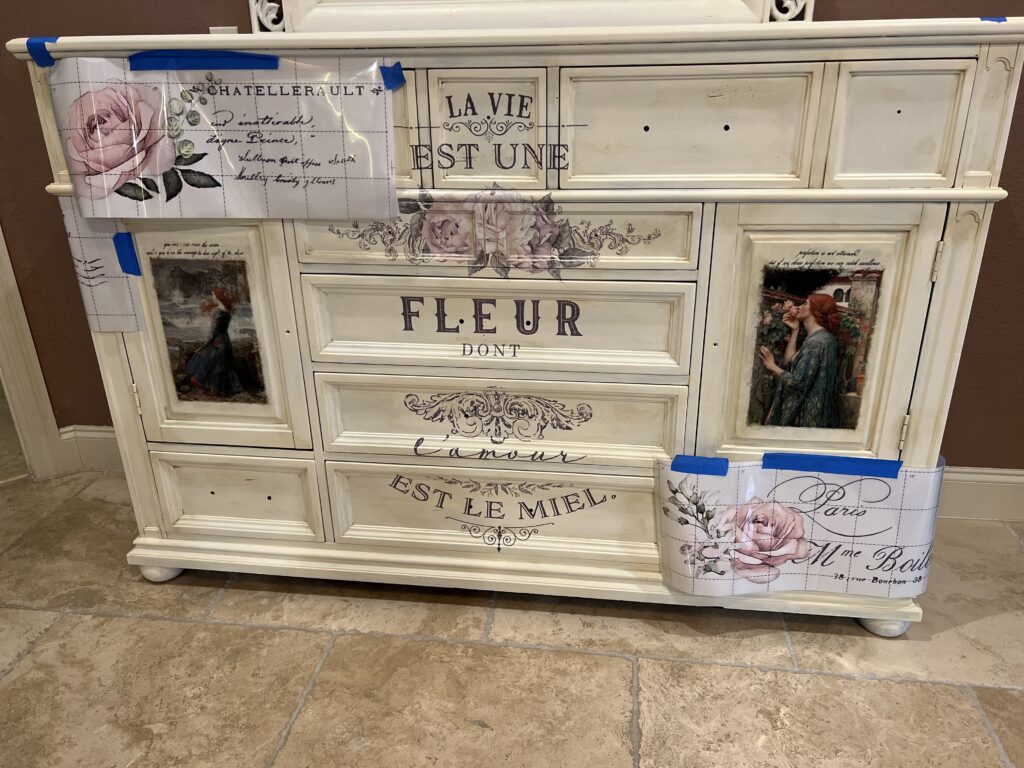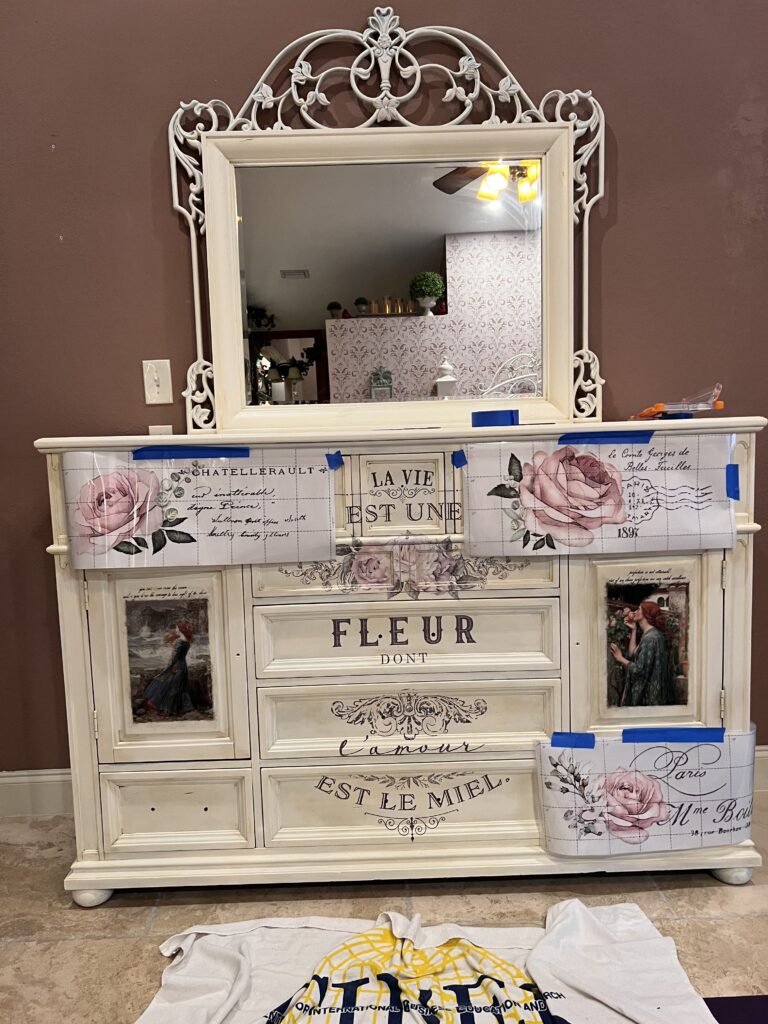 If you have a perfectly flat surface, then you are in good shape and it will be much easier to add the rub on transfers!
Adding rub on transfers, even on a flat surface takes a good amount of 'Rubbing',  if you've never done this before, I suggest practicing first (ie, rub on transfer wood slice crafts, lol). 
Adding rub on transfers from different sets really pulled the entire dresser together making it more art than furniture!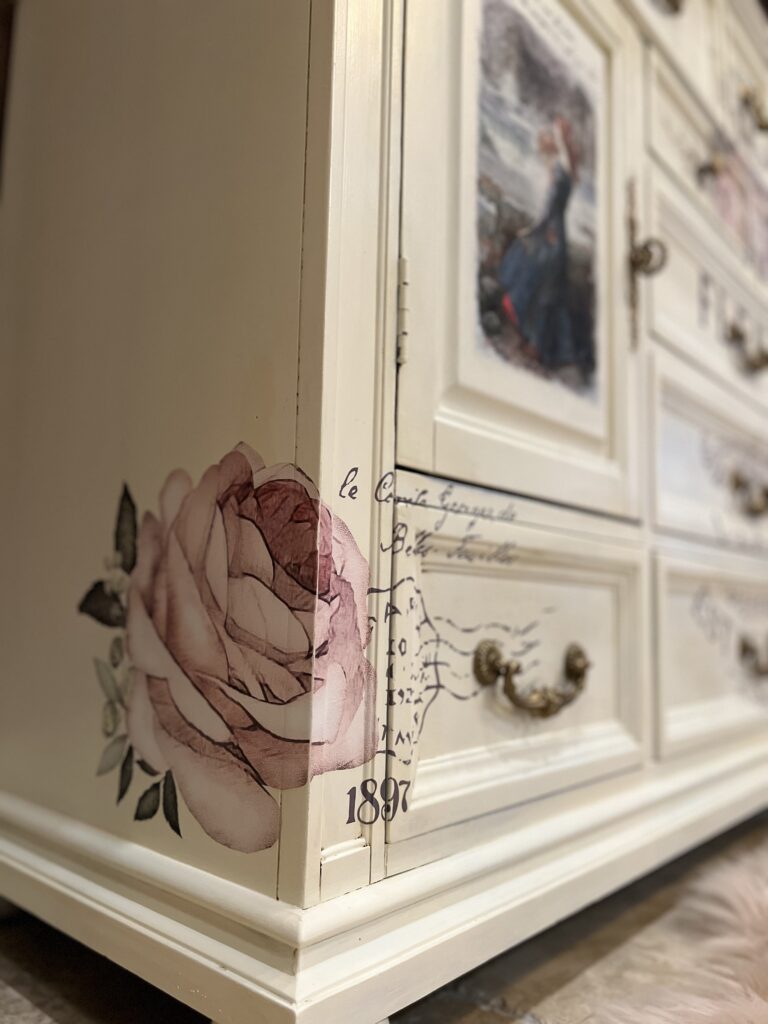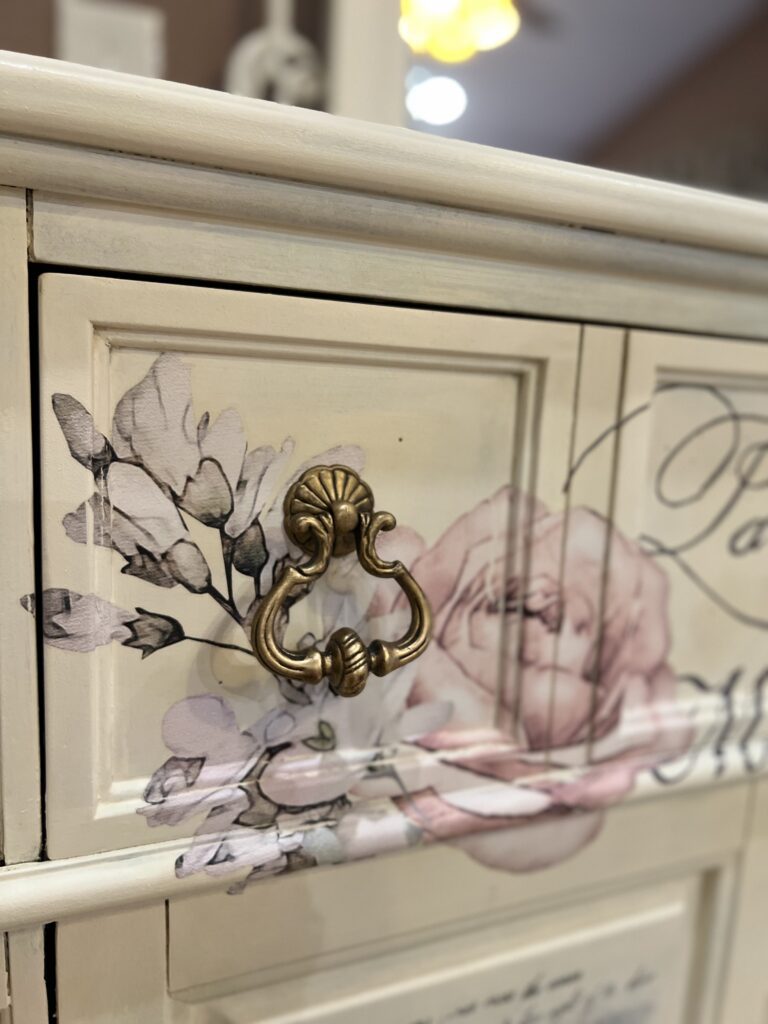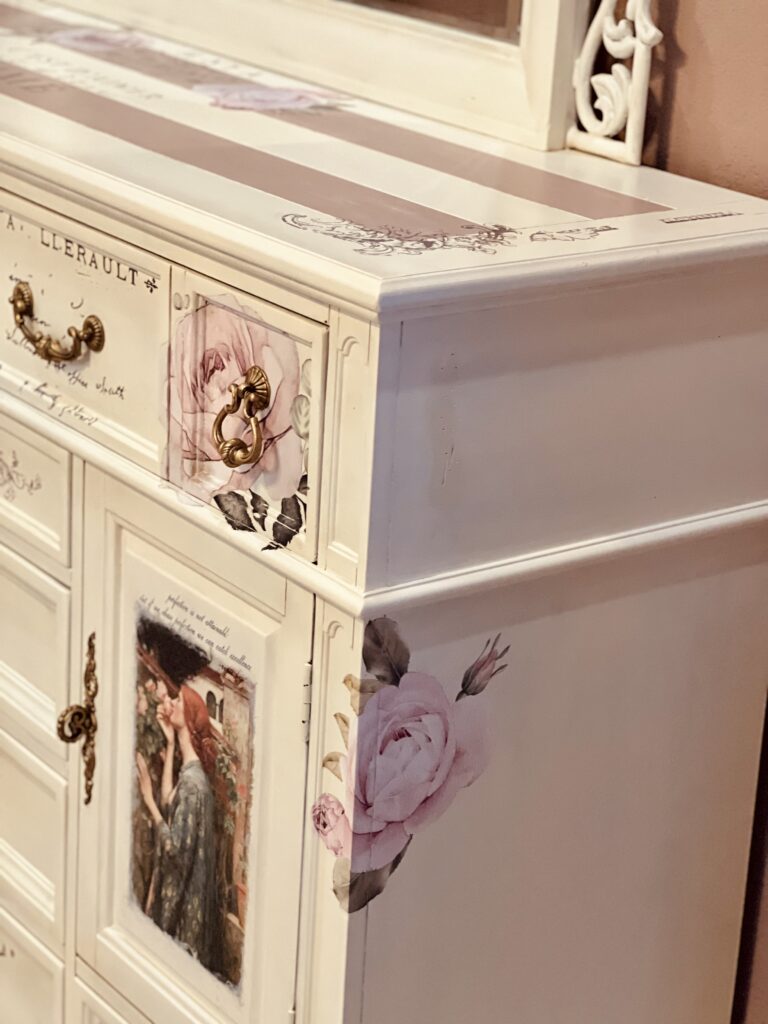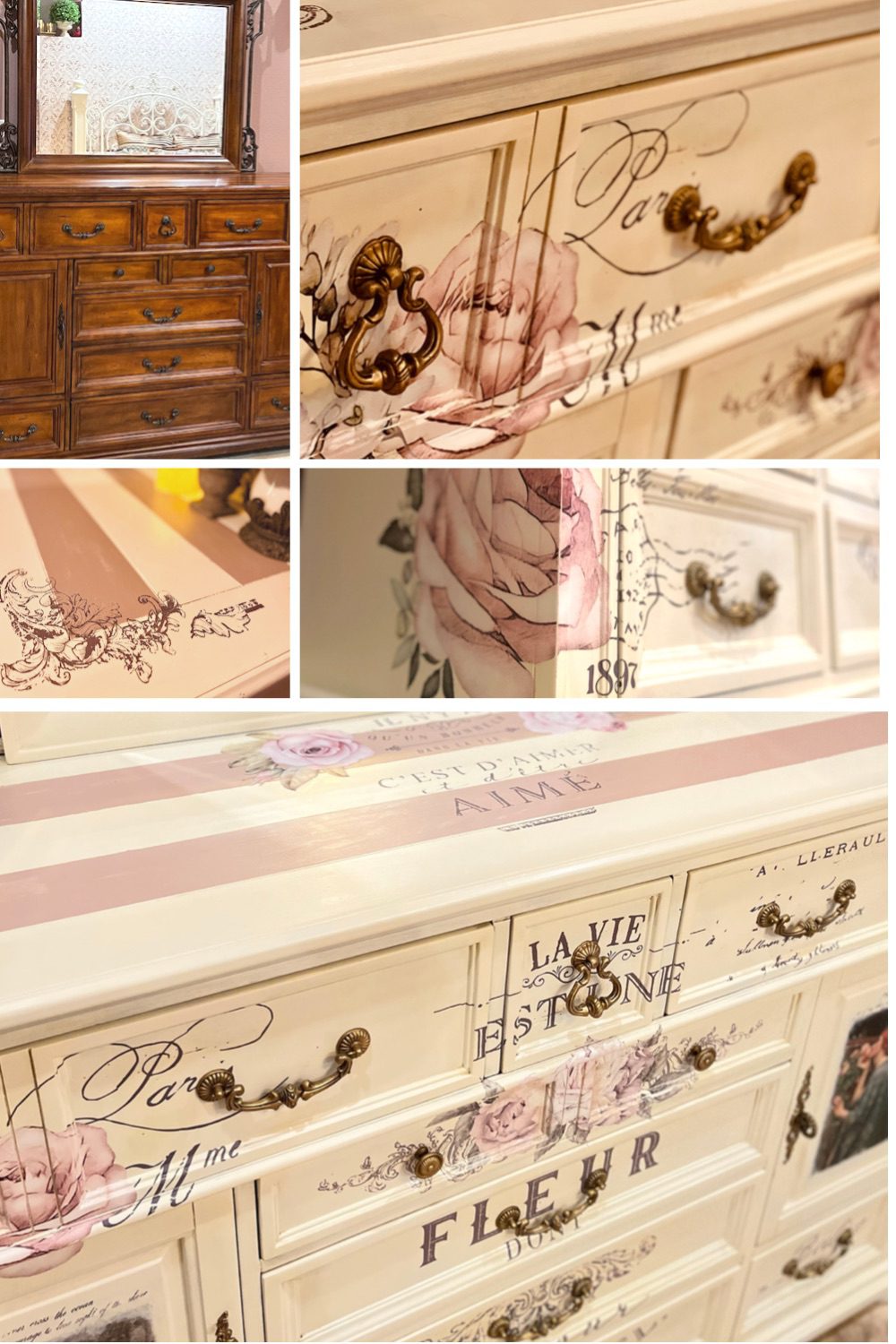 Now let me show you what happened with the Armoire!
After I finished the dresser, I was so impressed that frankly, I got a little cocky! 
This is where some of my "experiments" when wrong! 
In the next episode I'll go into more detail on the Armoire makeover, but here is a glance at a few things and how they went wrong.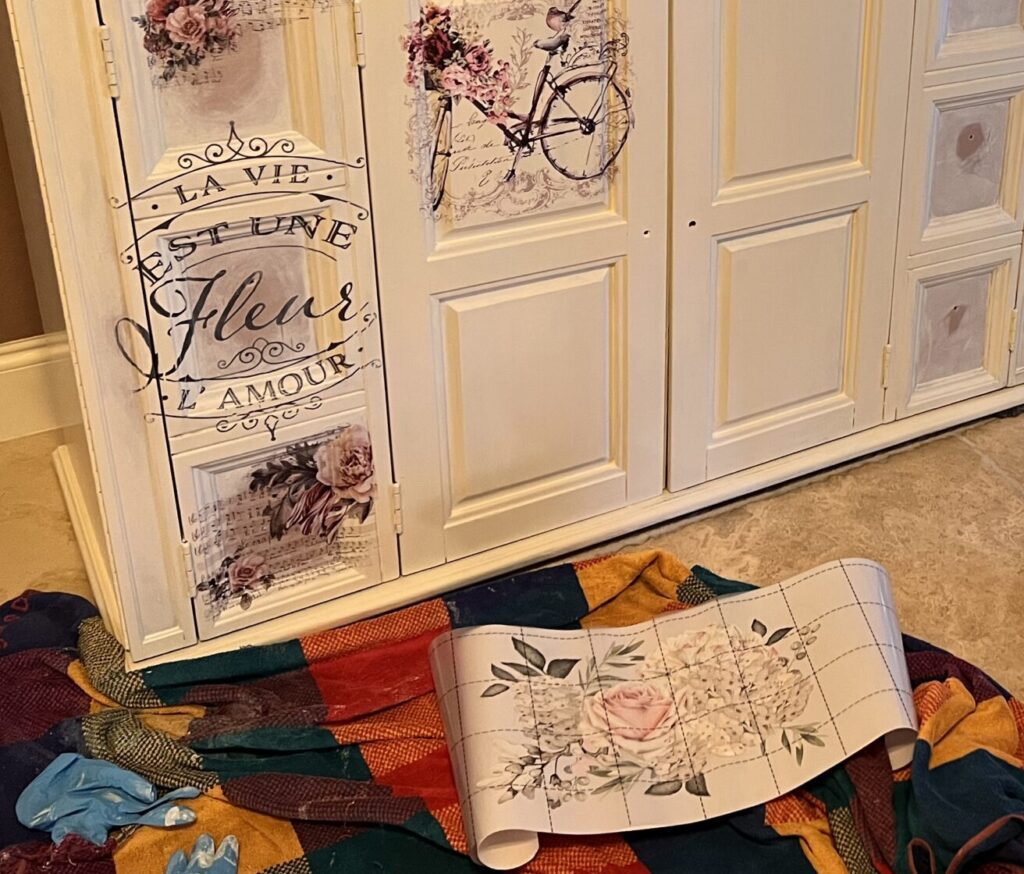 For some context, I thought if the squares were pink it would "pop" differently with the rub on transfers. It did - not in a good way!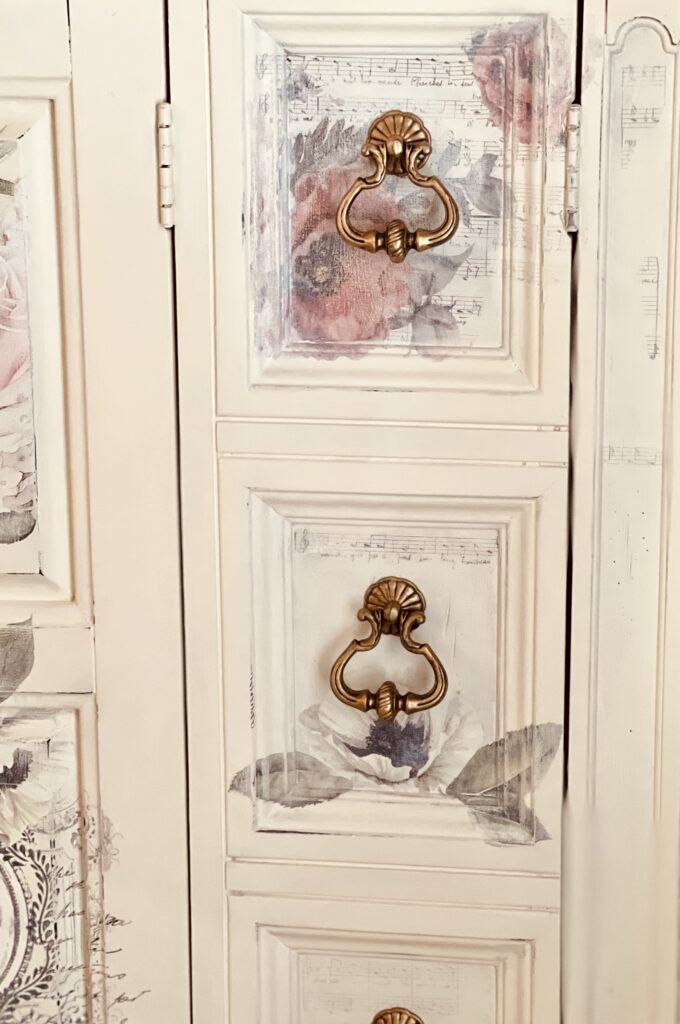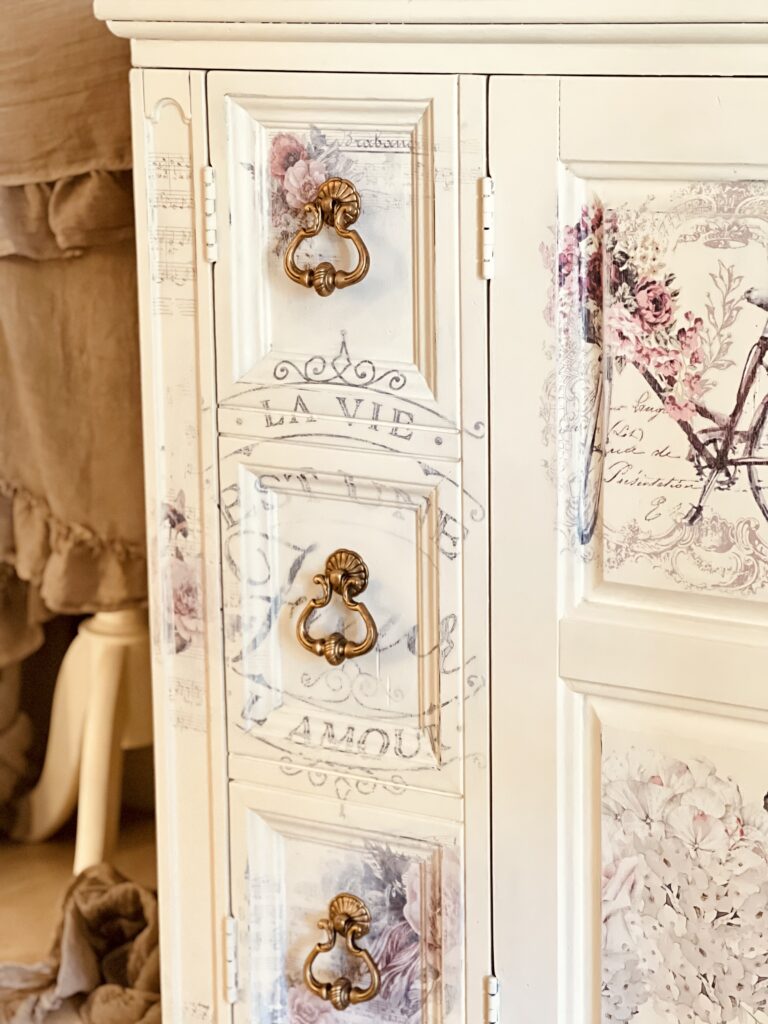 More on the Armoire makeover in the next episode!
Unroll the rub on transfers carefully
Lay them out so they can flatten
Make a plan for your design before you start adding it anywhere
Use painters tape to attach to dresser to get an idea as to how it will look (best to check before you commit)
Cut pieces into smaller sections when possible to make it easier to apply in difficult areas
Use the specialty tool, it is hard plastic (not a wood stick), and has curved edges to get into corners, edges, and grooves. It helped me a lot.
Use a thin cutting blade to lightly cut between drawer and door openings, then rub down edges.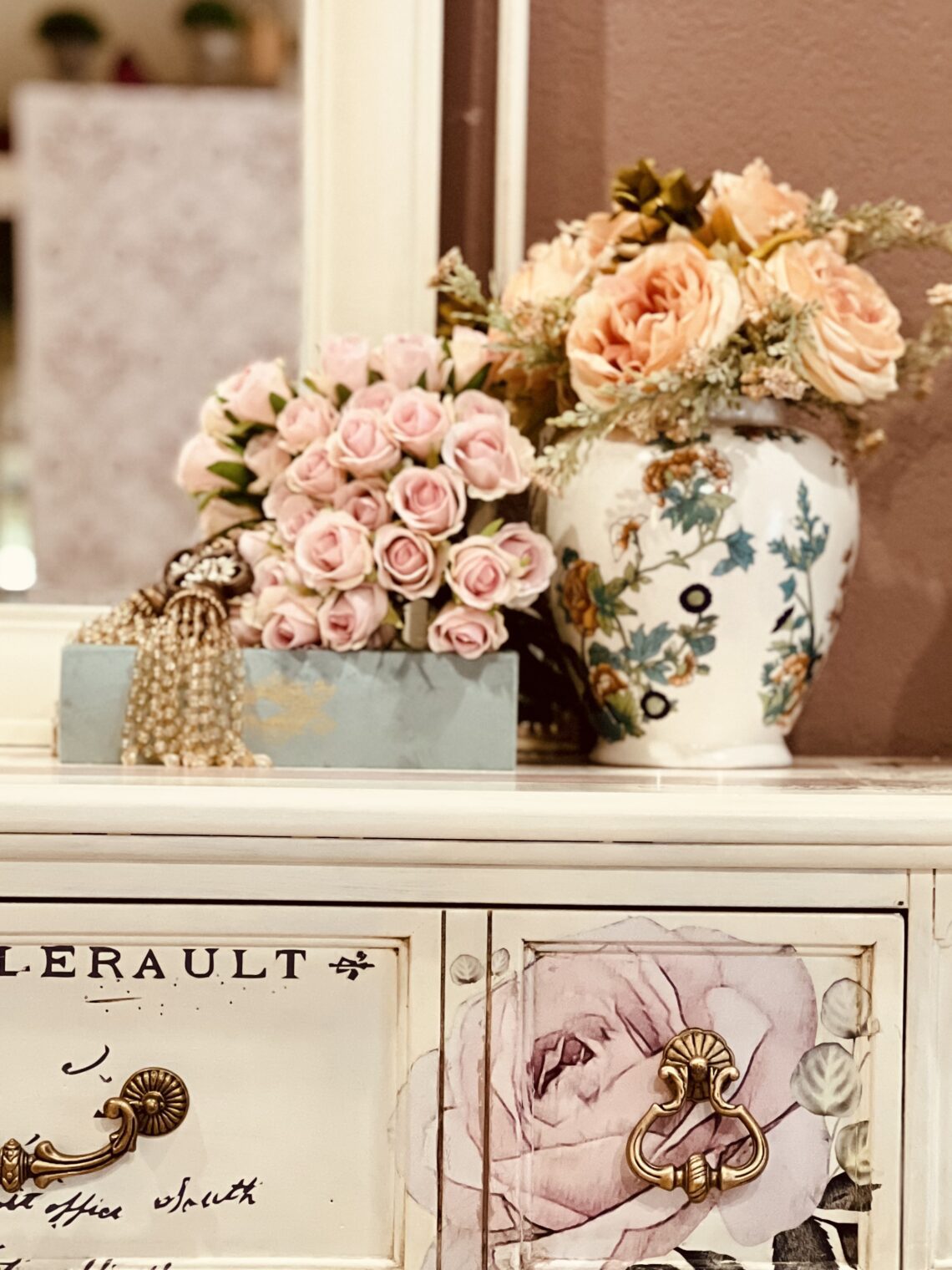 TIP: Use the tool to get into the grooves on the drawers
Tip: Seal with a topcoat or clear wax
I hope you enjoyed the updated Episode 7 of the French Country Bedroom Makeover Series, adding rub on transfers to the furniture.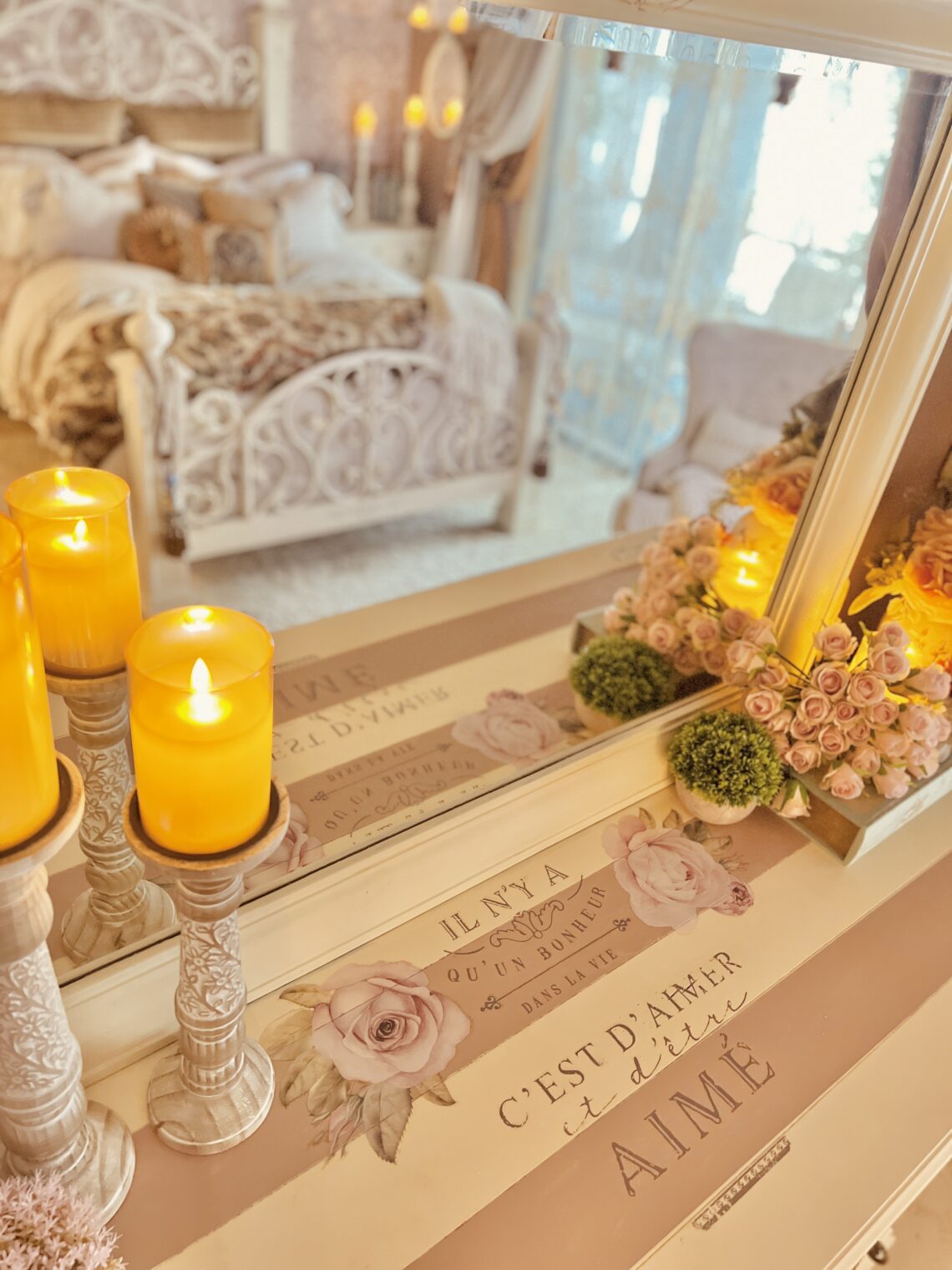 The rub on transfers on the top of the dresser came out stunning!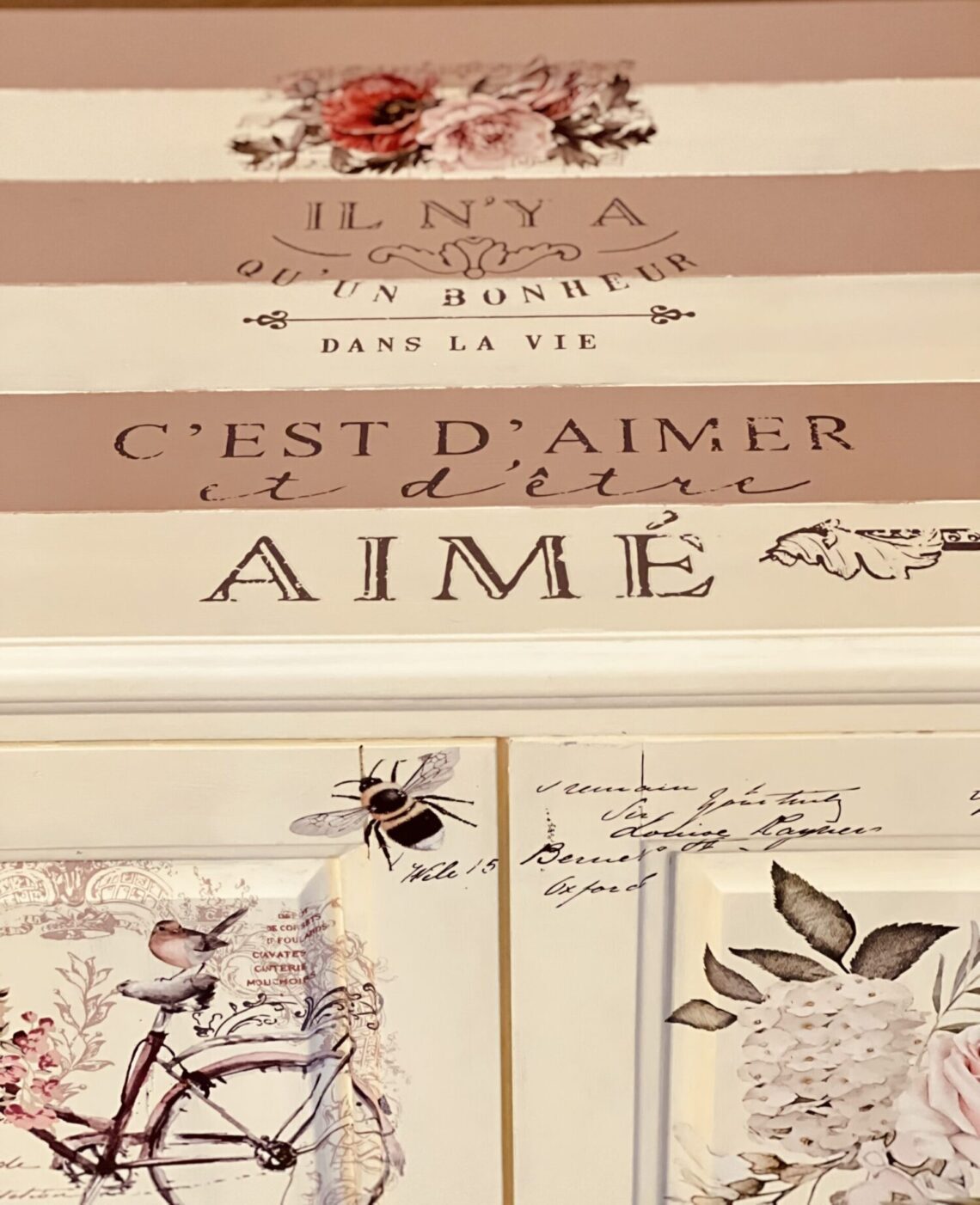 Check out the other Episodes in this Series
Check out ALL Episodes in this French Country Bedroom Makeover Series: 
Dress Form makeover (COMING SOON)
Armoire: my success and failure (COMING SOON)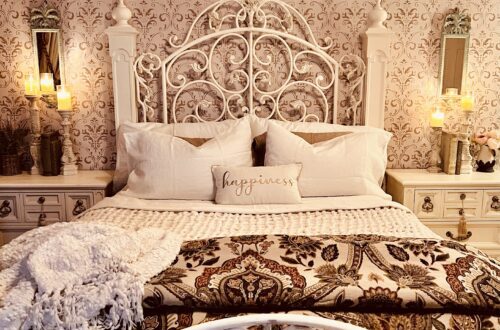 My new French bedding Loves
When I think French bedding I think about soft linens, white and neutral linen colors, ruffles, soft, comforting, inviting…
Here are the French bedding finds I have on my bed right now.  
Thanks for stopping by! 
Save this and share! 
Until next time…keep smiling, improve every day, and build a life you love! 
Yours Truly,
January