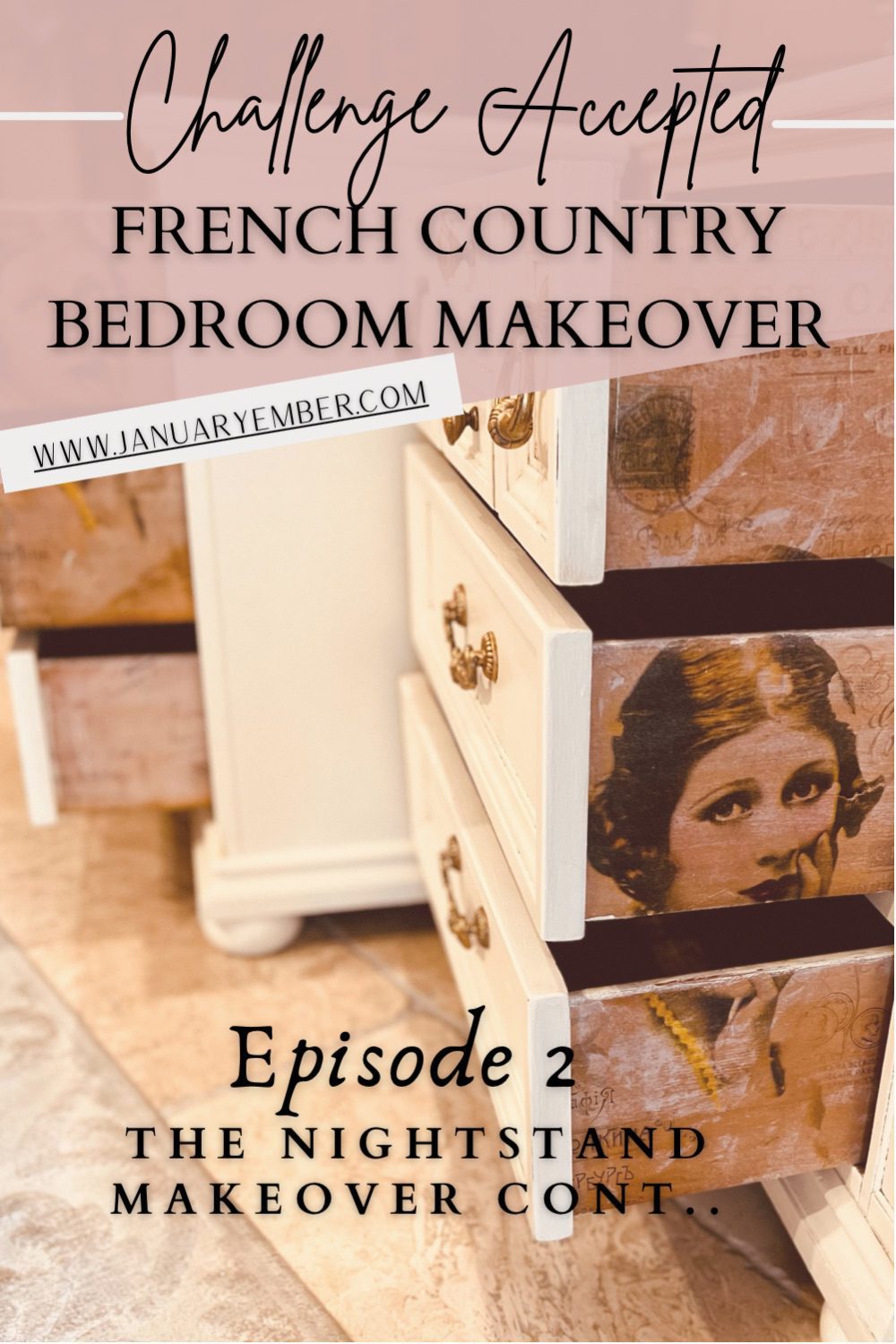 French Country Bedroom Makeover Series: Episode 2 – Delicate Decoupage Drawer sides
This post contains affiliate links. This means I may receive a small commission for purchases derived from those links at no cost to you. This helps support the blog. Thank you in advance for your support!
Welcome back for EPISODE 2 of the FRENCH COUNTRY BEDROOM MAKEOVER SERIES: deciding to decoupage the sides of the drawers!
My challenge from the beginning was to brighten the bedroom, and give it a classy French country feel! Challenge accepted! The French Country Bedroom Makeover Series was thusly born and is wonderfully underway I must say!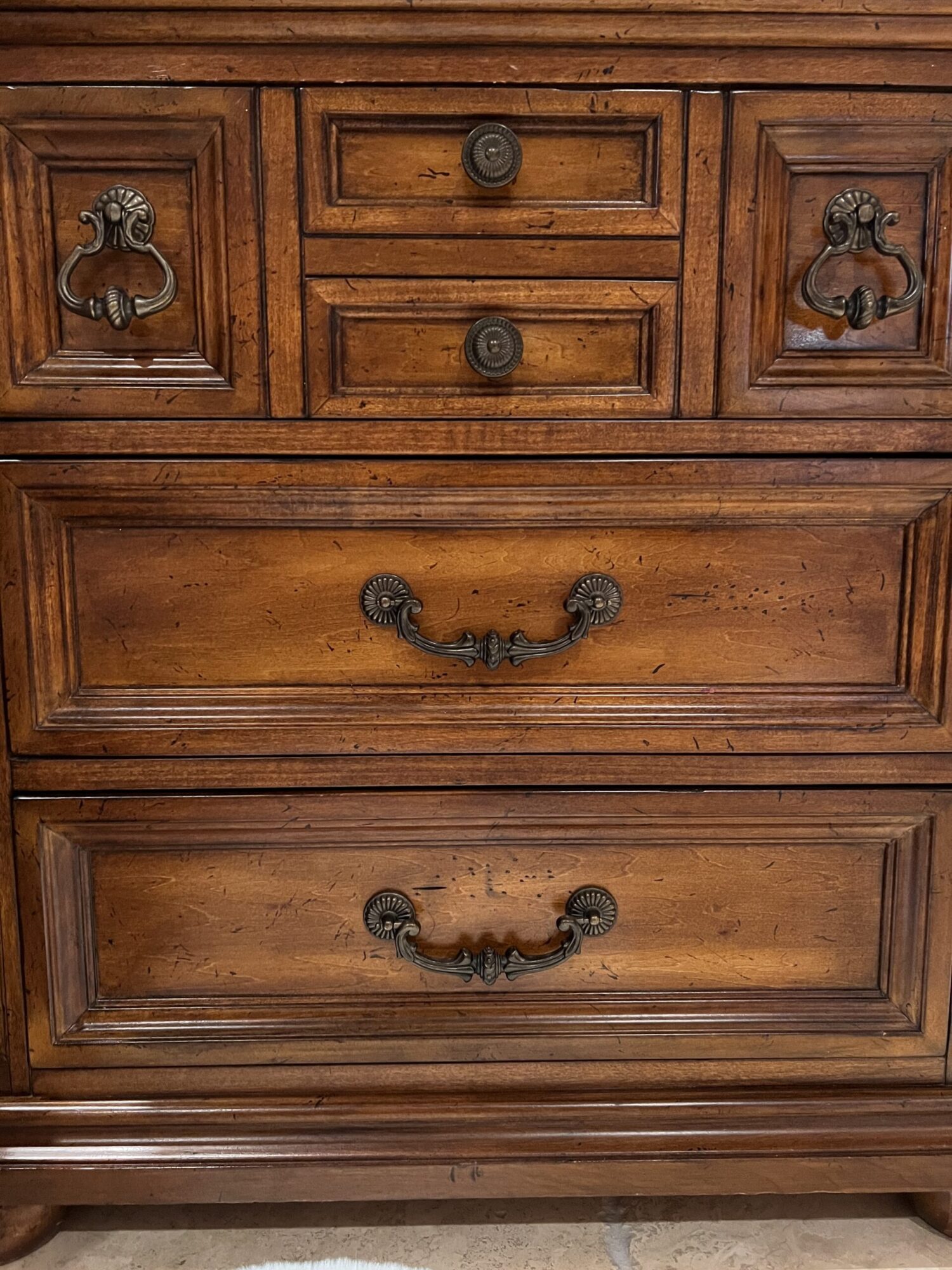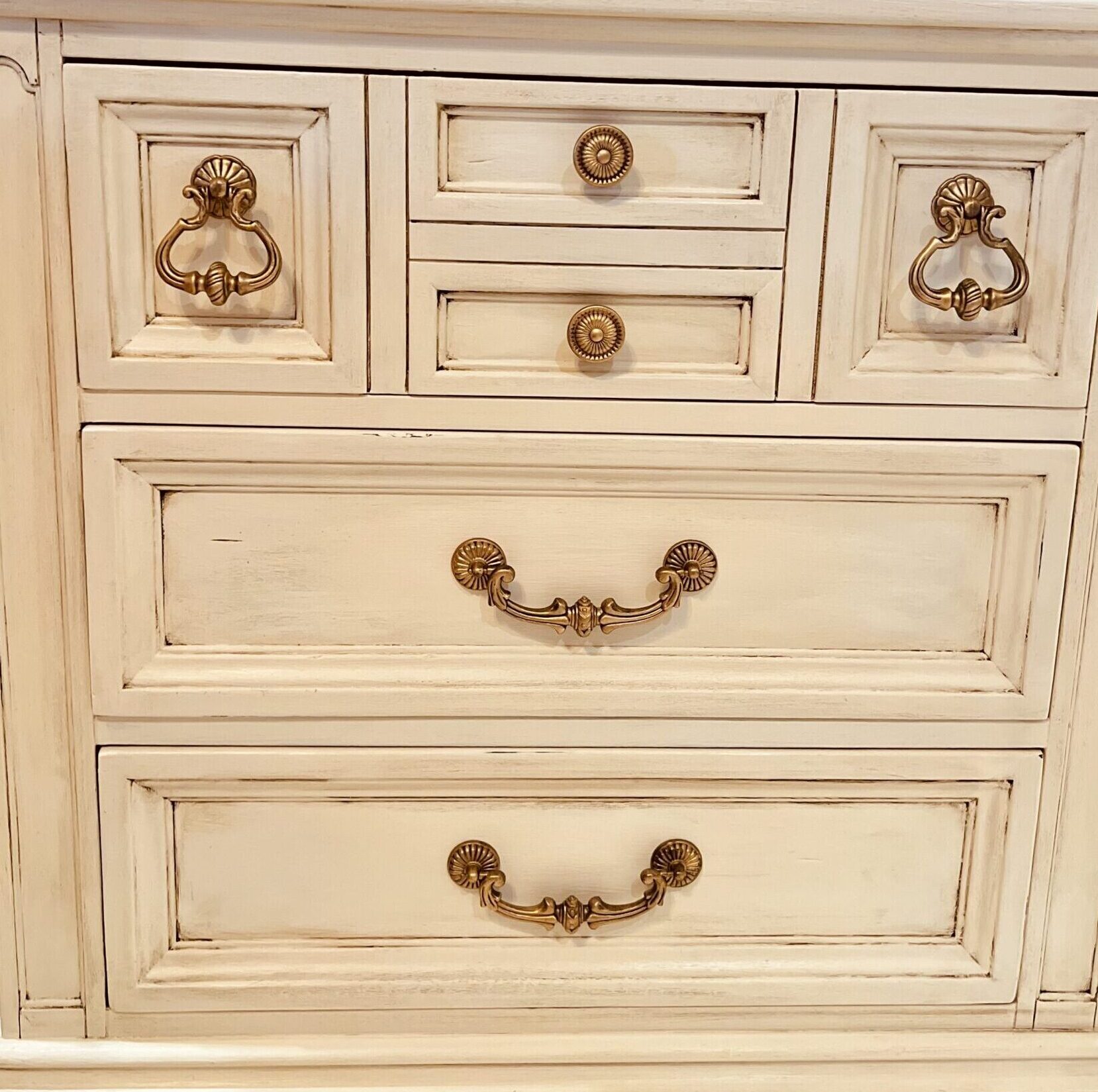 Top Lessons Learned so Far:
use the sponge roller
don't overdo the dark wax 
wear disposable gloves, good ones – all in one paint also sticks really good to your skin and nails
All-in-one paint stains, so be careful with clothes, sheets, etc.
TIP: Apply thin layer of Mod Podge and align & smooth carefully
I was really surprised at how much I loved the drawer sides done…and I was even more surprised that my husband thought it was AMAZING! I am OCD and don't leave drawers open, but I swear I will open them just to look at them now! LOL 
TIP: this tissue paper is thin true "tissue" paper - be very delicate with it, you can't move it around.
Use Clear Wax First - Unless you love buffing off the dark wax and your dying for killer arms!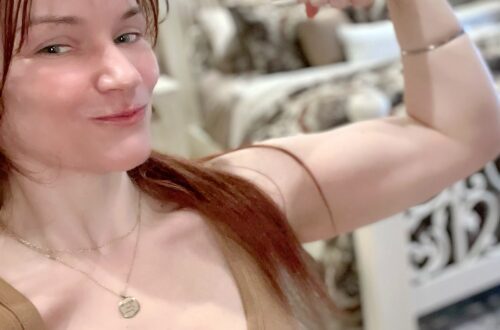 Check out the other Episodes in this Series
I tried this "All-in-one-paint", "Manor House" creamy off white color by "Heirloom Traditions". I see them on Pinterest all the time and it looked great, so I decided I would give it a shot. The color seemed to have a perfect French Country feel for the bedroom makeover.
All I did for prep work was wipe the whole thing down with a microfiber cloth and some mineral spirits. This is two coats of the paint using the sponge, brush, and roller set (I ended up buying it to try as well). I wanted to be able to see if it really did work, and if so, then I'd let you all know how it went! 
Here's what I think of it so far: All in all - I LOVE it!
Tip: use the mini roller!
Get the mini roller, use the mini roller (wash it). That little guy helps smooth things out and catch drips. Paint brush in right hand, roller in left paint, roll, paint…roll…paint…roll!
WARNING: The All-in-one paint is NOT like "Chalk" paint! It will stain your clothes, sheets and seems like any fabric it hits.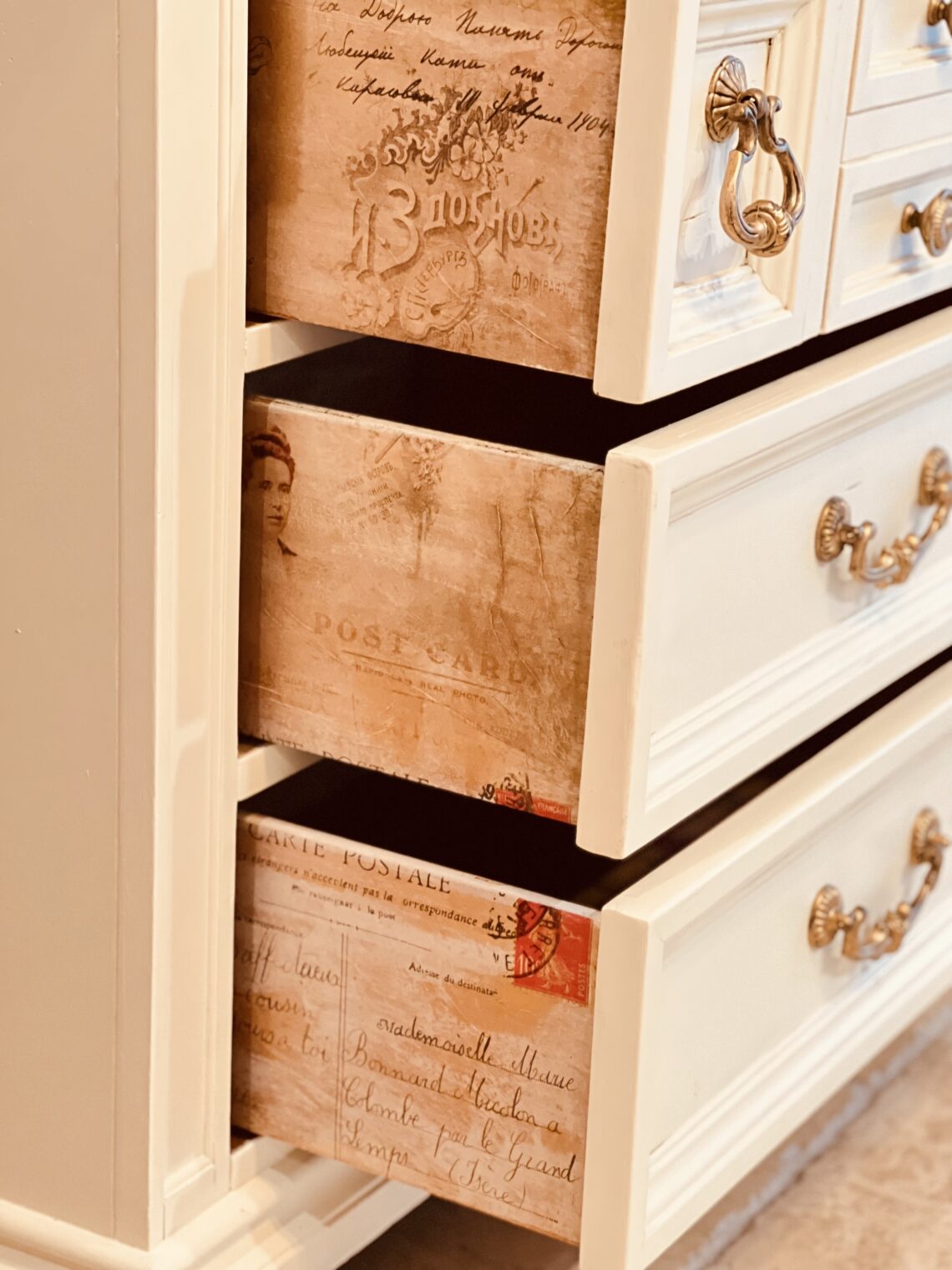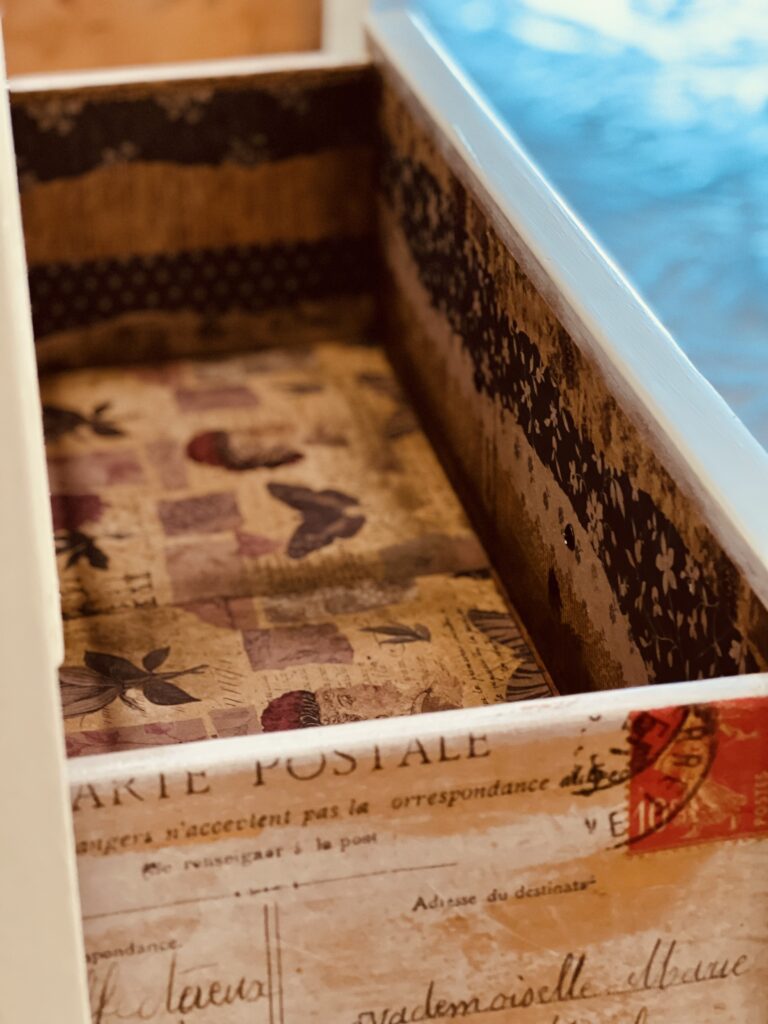 I learned a little late, but then I got this cutter and it really helps! Measure, and then cut! Save yourself the heartache! And…for the drawers, this is necessary! You need to make a template and perfect cuts make it so much easier! I'll show you my drawer template in Episode 3 – the inside of the drawers.
Once you have your template made, use that to cut the rest of your drawer pieces. Lay them out, design the concept first, and make a plan. I decided to use one style for each drawer side.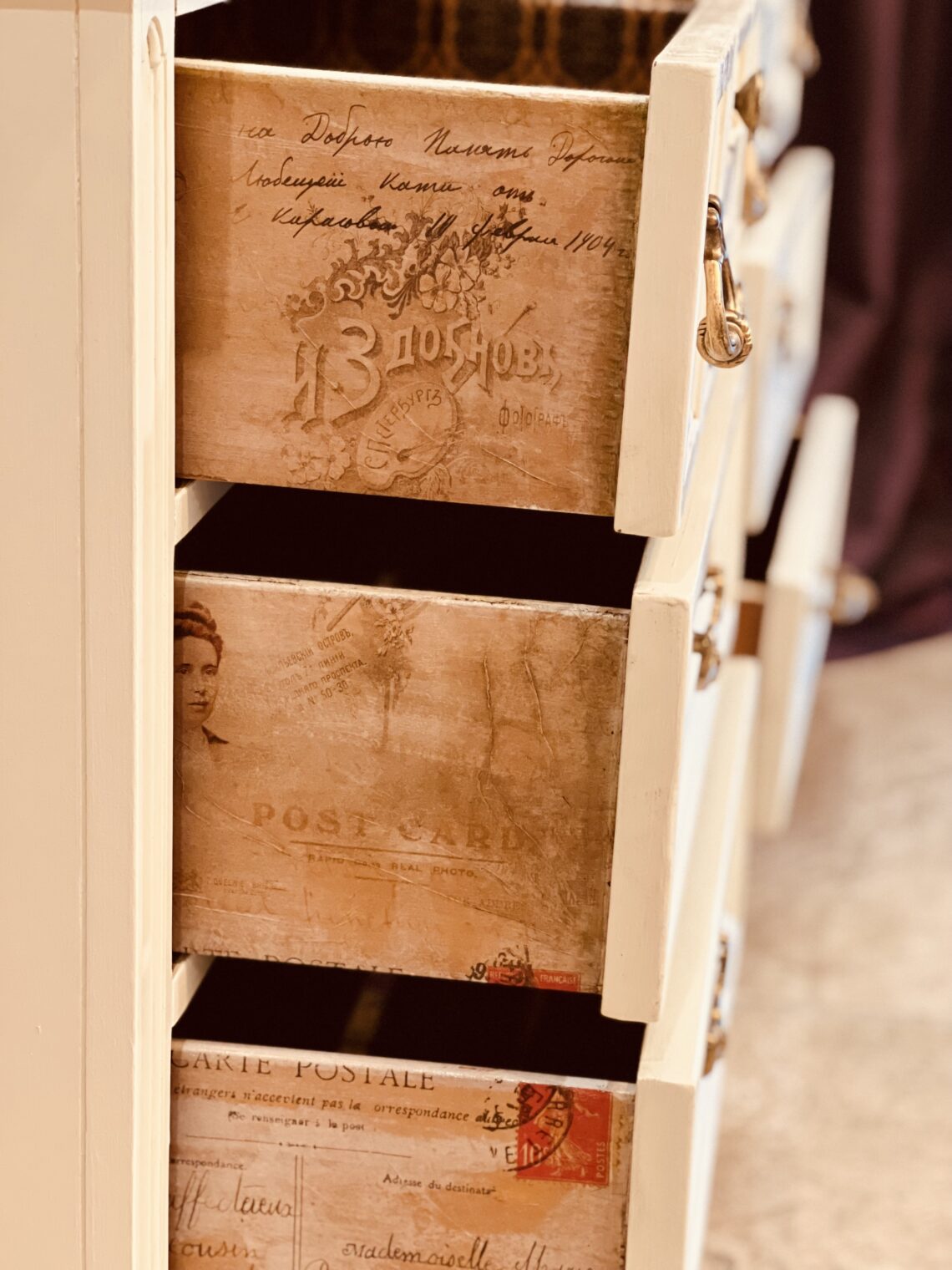 For each drawer it took 1 sheet of the decoupage tissue paper and there was still some left over. 
Tip: When using scrapbooking paper, if you want matching sets, get enough books to make matching sets!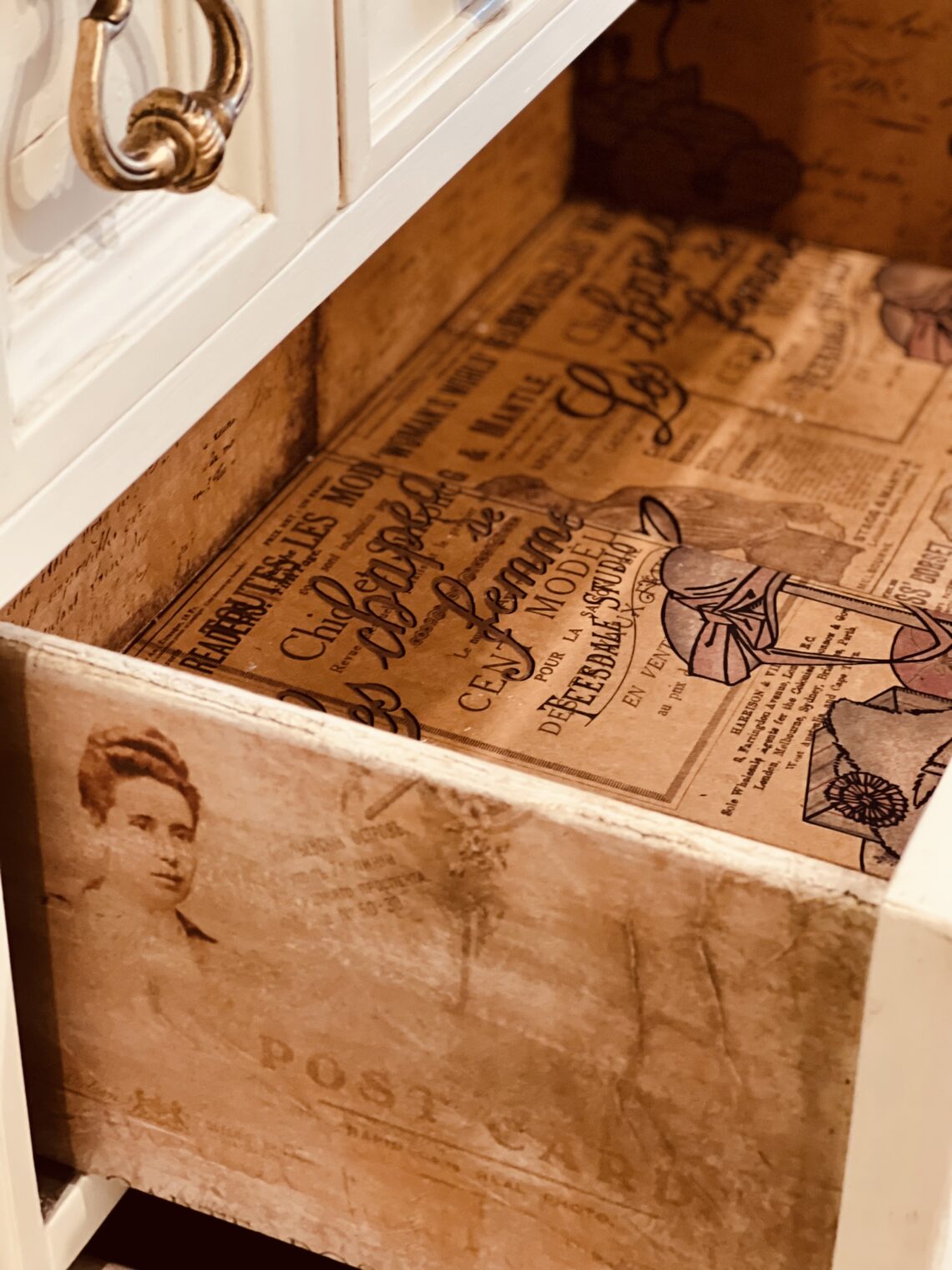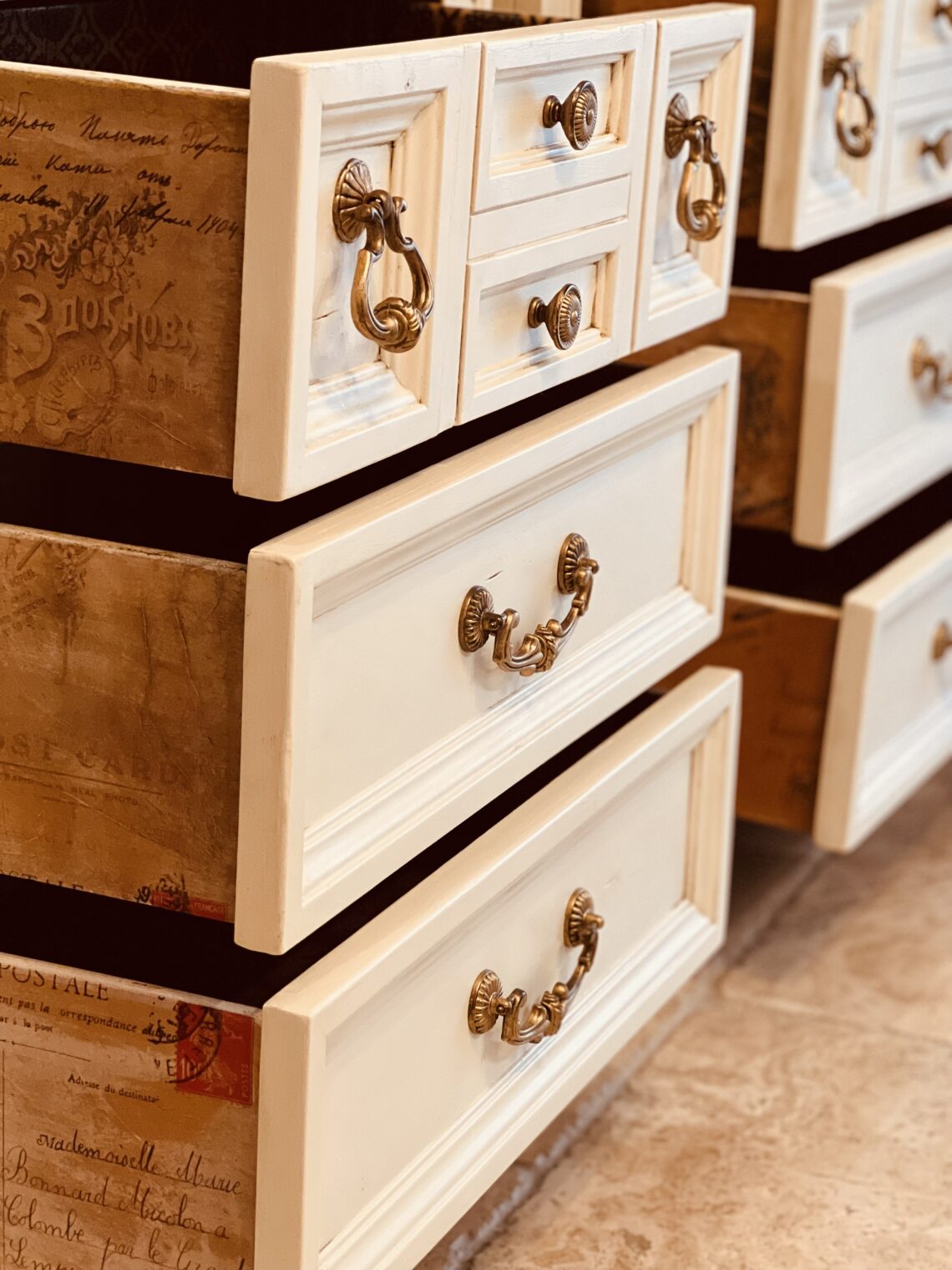 Here's a preview of the insides of the drawers makeover that worked perfectly with this French Country Bedroom Makeover - the nightstands have become stunning pieces of art!
My French Country bedroom makeover project has really been a fun and creative process. I really love how the nightstands look with the decoupage drawer sides and the decoupage inside drawers.
Tip: Wash your tools and fast! I'm awful about this, but do it!
Subscribe and follow along as I makeover this 10 piece set...and turn it into 11 (the Armoire project coming next)!
Check out ALL Episodes in this French Country Bedroom Makeover Series: 
Dress Form makeover (COMING SOON)
Armoire: my success and failure (COMING SOON)
I had a look in my mind originally, inspired from a dresser I saw on Pinterest. I really loved how she did this so I started with this concept in mind…but it transformed and the vision changed dramatically! It's amazing where we start…and where the road leads us!  https://pin.it/p6bdbDu
Thanks for stopping by! 
Save this and share! 
Until next time…keep smiling, improve every day, and build a life you love! 
Yours Truly,
January