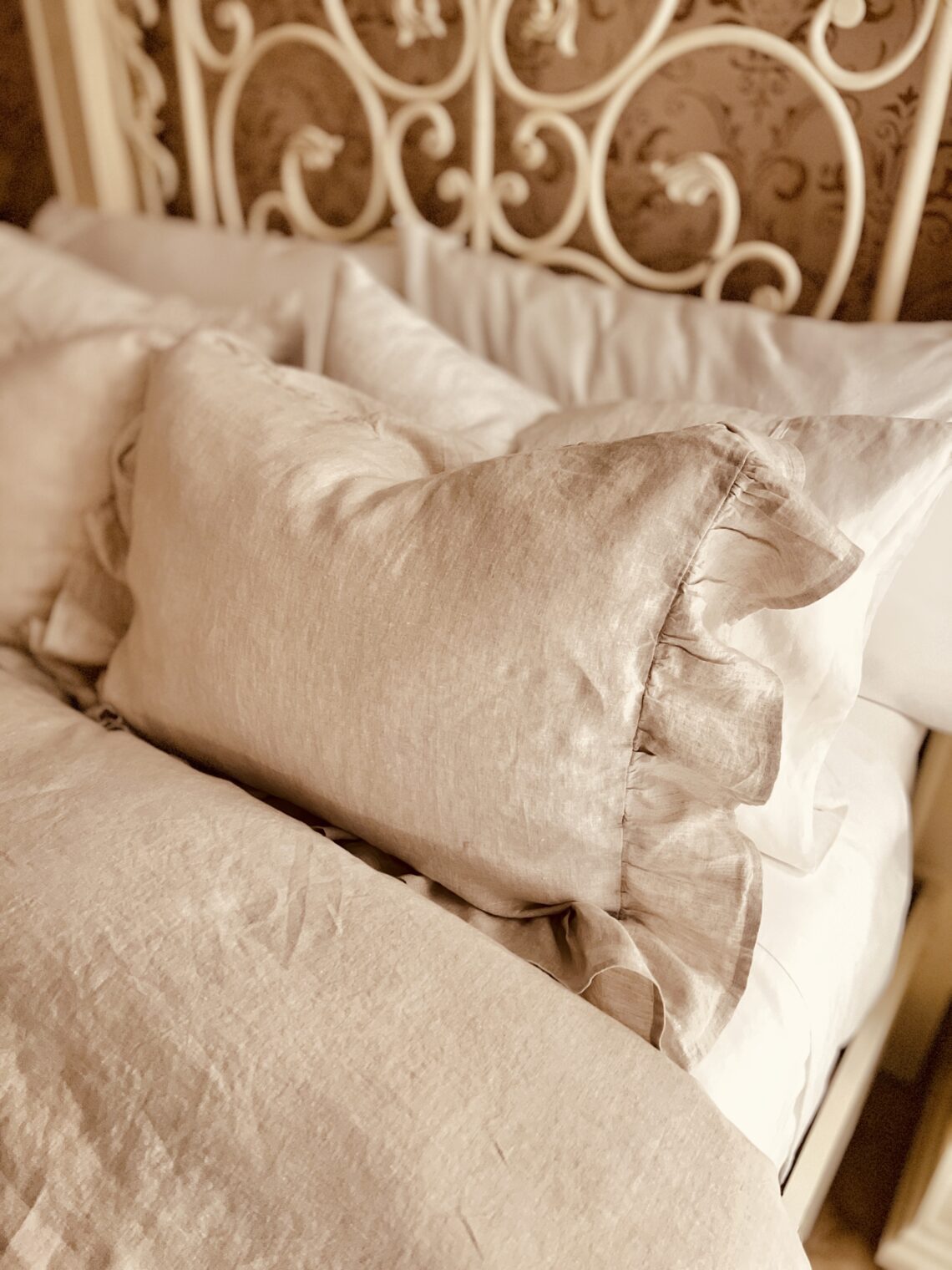 Creating a Cozy French Country Bedroom
Welcome back for Episode 9 of my French country bedroom makeover! The plan didn't start out as a "French country" makeover, but it ended up that way!
It started innocently enough with a desire to brighten my bedroom!
In this episode I wanted to share with you some of the French touches I added to the bedroom.
Like I said, I didn't really "plan" to do a "French country bedroom makeover"....it just sort of evolved.
The French country just started to come to life and it sort of took over...and that's the way with me, once I get an idea, I got BIG or GO Home!
This post contains affiliate links. This means I may receive a small commission for purchases derived from those links at no cost to you. This helps support the blog. Thank you in advance for your support!
After I got the major painting makeover part of the bedroom done (see the early episodes for the transformation from that dark wood), my attentions turned to the bed. It is the focal point after all.
As you can imagine, this project did take some time; I worked hard and long on it! You'll see the bed and the decorations in the room change, and change, and change…
Being a lover of versatile decor items I tend to gravitate toward items that I can move around easily from one room to the next. 
You'll see things that started in my family room end up in my bedroom, then living room, office….well, you get the drill. My decor choices, like me, need to be flexible and enjoy travel! 🙂
You may or may not know this about me yet, but I am a "make my bed every single morning" kind of girl! Imagine, I make it a bit, or a LOT different every single day! 
When I'm moving around my bedding every day, if I find a particular look I love, then I usually maintain that same theme for a bit! Throw pillows and blankets subject to change at any time! LOL
Another thing, if you haven't noticed already about me, is that I LOVE bedding! Pillows, blankets, more pillows, layered bedding, luxuriously soft cuddly things! 
When shopping for bedding items I look for Soft, Cuddly, Snuggle up styles and fabrics!
You'll see my bedding that I got several years ago still popping around, though the comforter comes and goes as it is very heavy! 
This set is what I have tried to work so hard to keep integrated because I built a massive matching cornice to go over my sliding doors (it is all removable and built from recycled packaging material I had), and frankly, I am not ready to let that hard work and innovation go to waste! So it stays! 
This bedding set is a beautiful damask floral print, I love it so much…but after I painted the bedroom furniture, and added the French rub on transfers..I was nervous I couldn't make it work.
Luckily, given that I had put so much work into my Big cornice, I was not about to go down without a fight! I was going to find a way to make this all work and jive!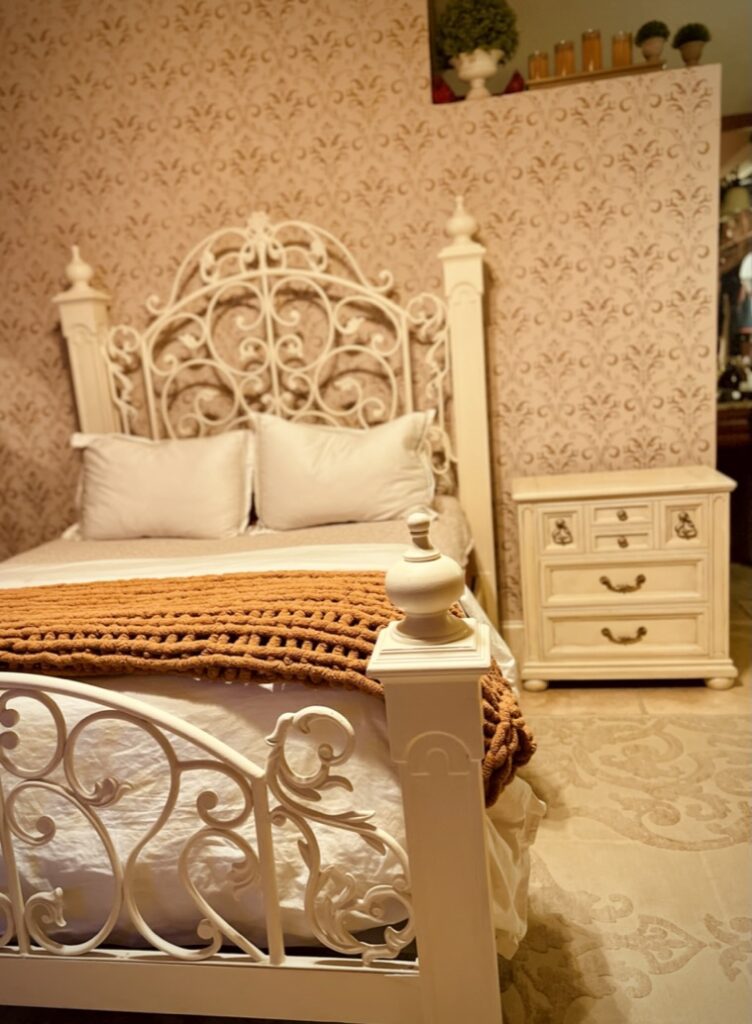 During my painting process I kept minimal bedding on. This made it much easier when painting again the next day!
Once the bed was "as done as it was getting while the other pieces were still in process", I kept working with the bedding in different ways…trying to find the look and feeling I wanted!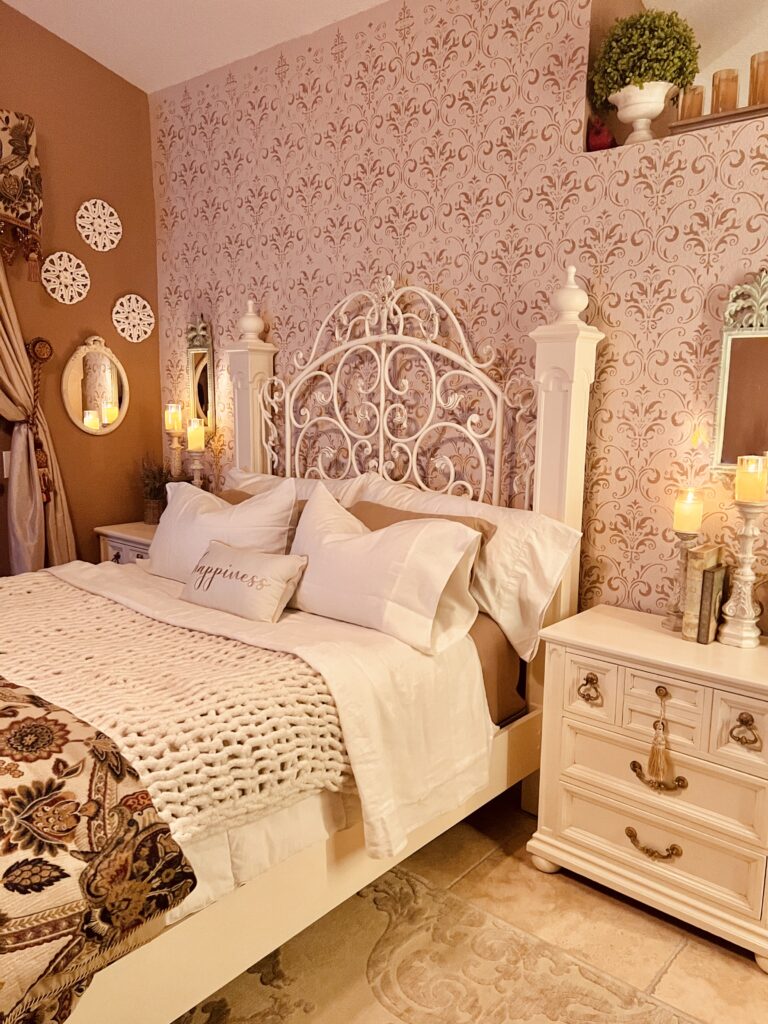 The first stage was white linen sheets! This was a must do, and a must find for me.
Some people, I have now found my daughter included, do not like the feeling of linen sheets. Who knew? Me…I LOVE Linen! Linen pants, shirts, sheets! Love you Linen! 
If you don't like linen, never will, and that's that, that's ok, we still love you! 
For the linen lovers, I do love the white linen sheets I found on Amazon. That said, after several washes now, I did recently see a tiny little hole in one spot, but I love the feel of these! Ironed is best, but fresh out of the dryer is great too!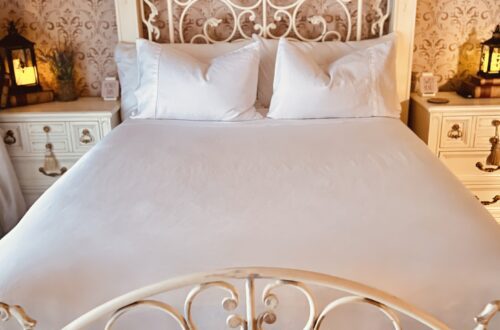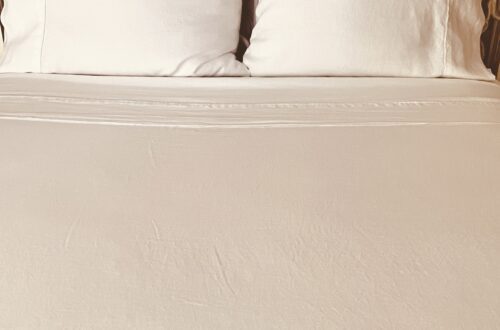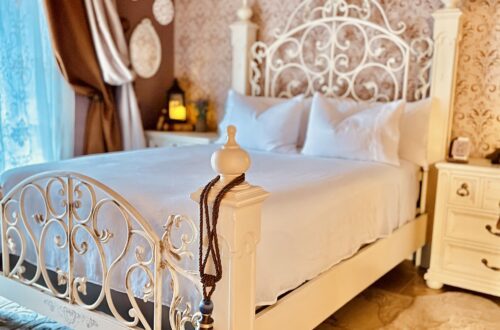 Imagine, once I fell in love with the linen sheets, I needed MORE LINEN! More FRENCH feeling...that's what I was wanting!
What else screams French country - ruffles! Yes, ruffles!
Now while ruffles may seem "girly", take a look at the French princes in history and the endless ruffles on their sleeves, shirts, collars! So, I'll argue ruffles are not in fact "girly"! LOL 
That said, I do what I want, and I started looking for Linen & Ruffles! 
Ding – found it! A lovely duvet set, linen, natural color, ruffles!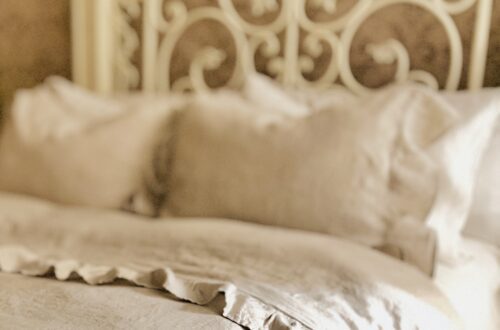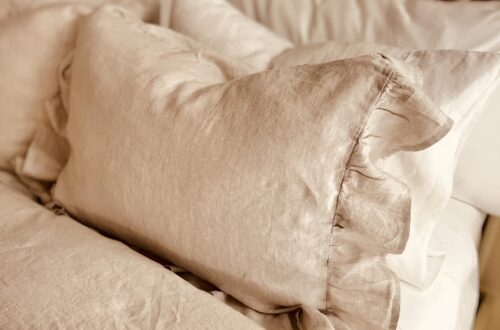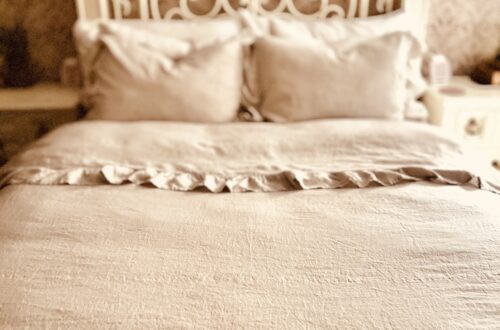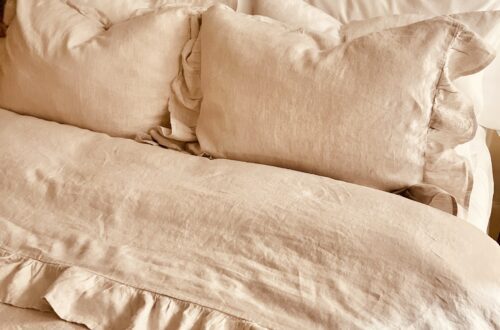 After adding the ruffle linen duvet set, I could feel it all coming together. 
As I was researching for the perfect linen duvet set I stumbled on some cute ruffle sheets that I ordered as well. I had to try them at least!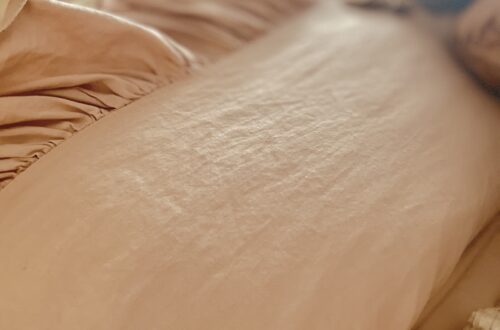 The ruffle sheets I got are super cute, but they are not the highest quality and not super soft, but I still like them.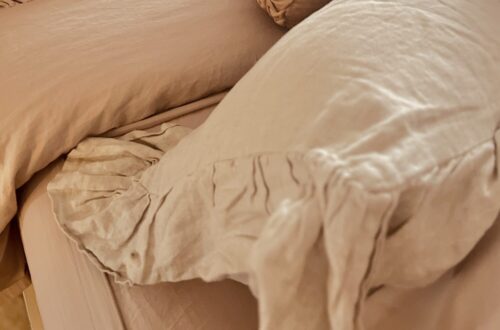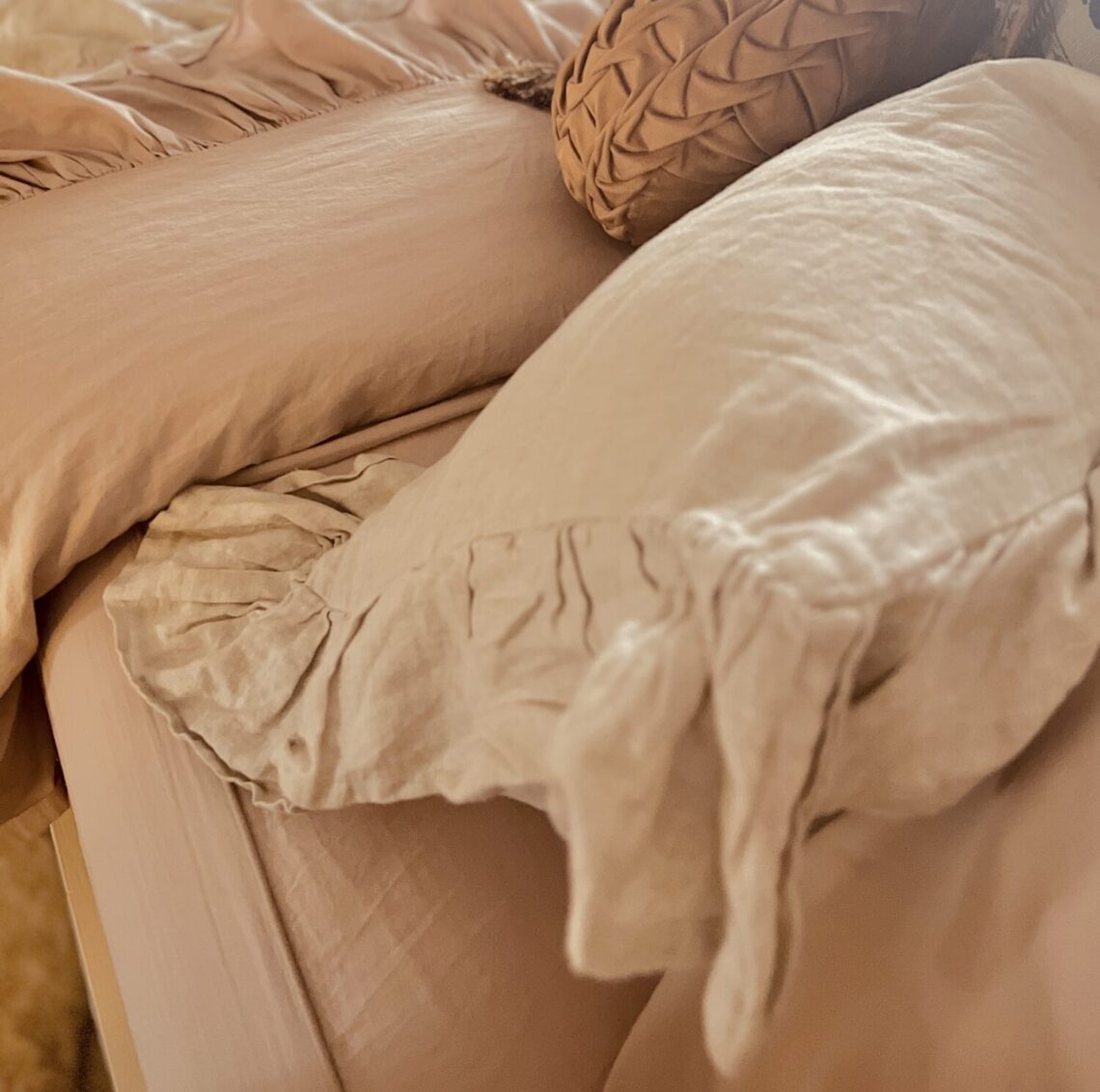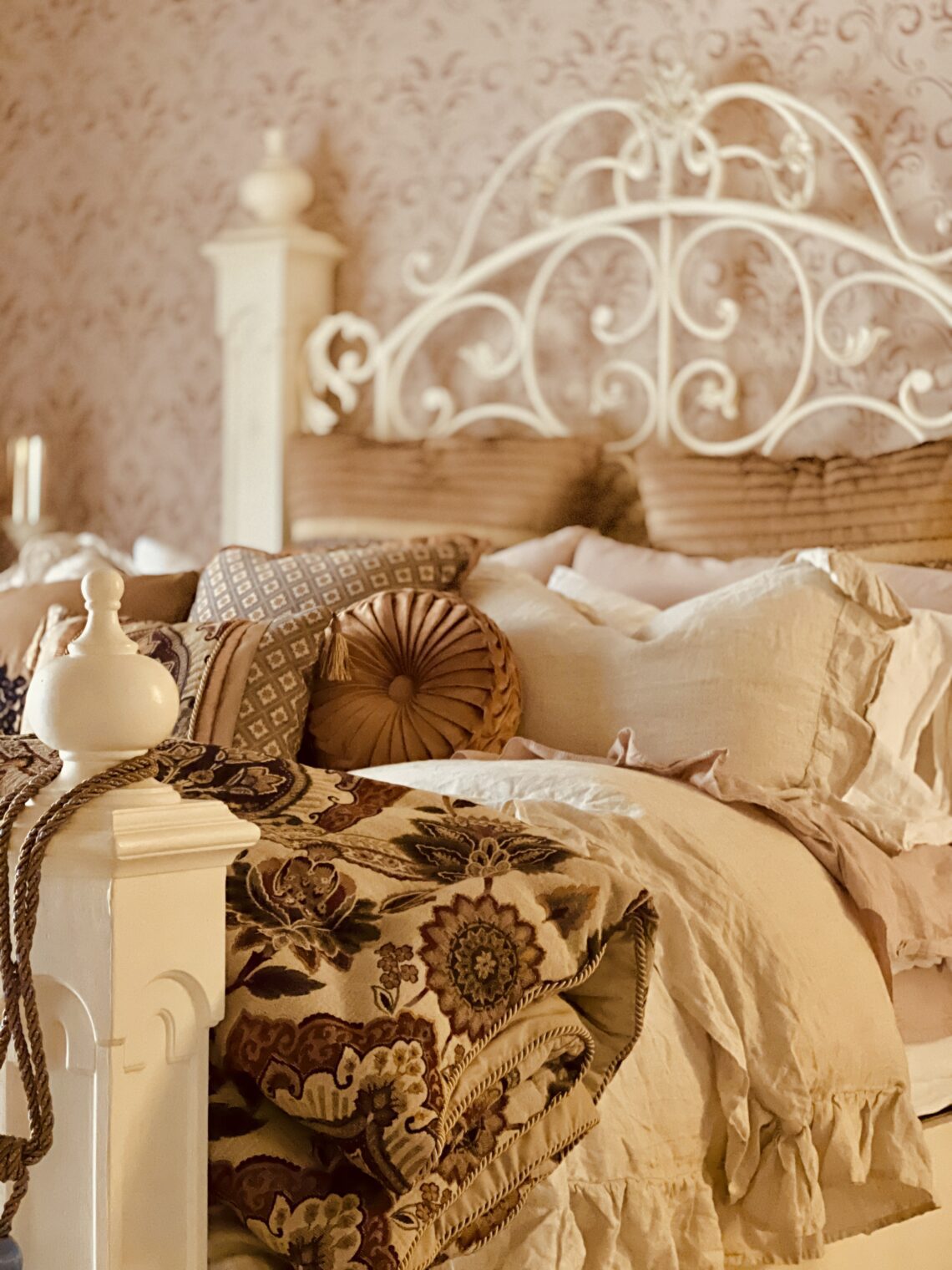 That pretty much takes you through my bedding journey!
Now I use my main comforter, which is heavy tapestry like fabric with a gold chorded edge, folded up at the end of the bed, as an accent. It also gets moved to the attic from time to time. Like now, it is in the attic!
Getting ready for Christmas, so the bedding will be changing again! And the room for that matter! Stay tuned to see how I create a French country Christmas bedroom! Last year I created a Cozy Winter Lodge (ahh…I do miss the dark wood sometimes, but I love the change). You can see that blog post here and see the bedroom BEFORE the white makeover! 
With the bed finished, the rest of the room needed to come to the French side!
As part of my lightening and brightening process, I took down my dark red velvet drapery panels, and added in these soft satin linen ivory panels you see. I use those clip on hooks and they work great to swap out curtain panels! 
Take a look at some easy and elegant additions to the room to help create that French country feeling!
Look out for moving candlesticks! How many places can you find the candlesticks ?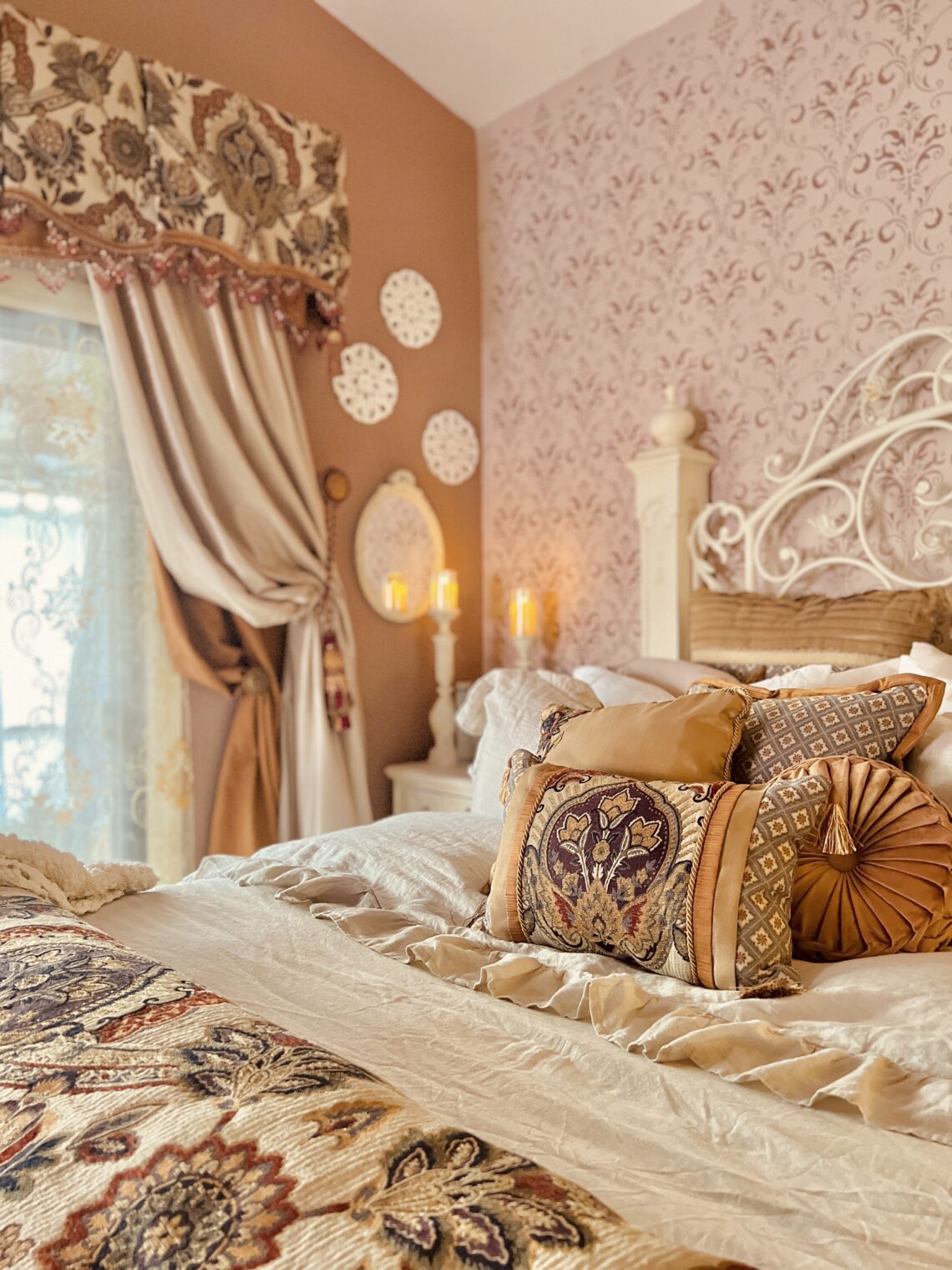 Where the candlesticks stop, no one knows!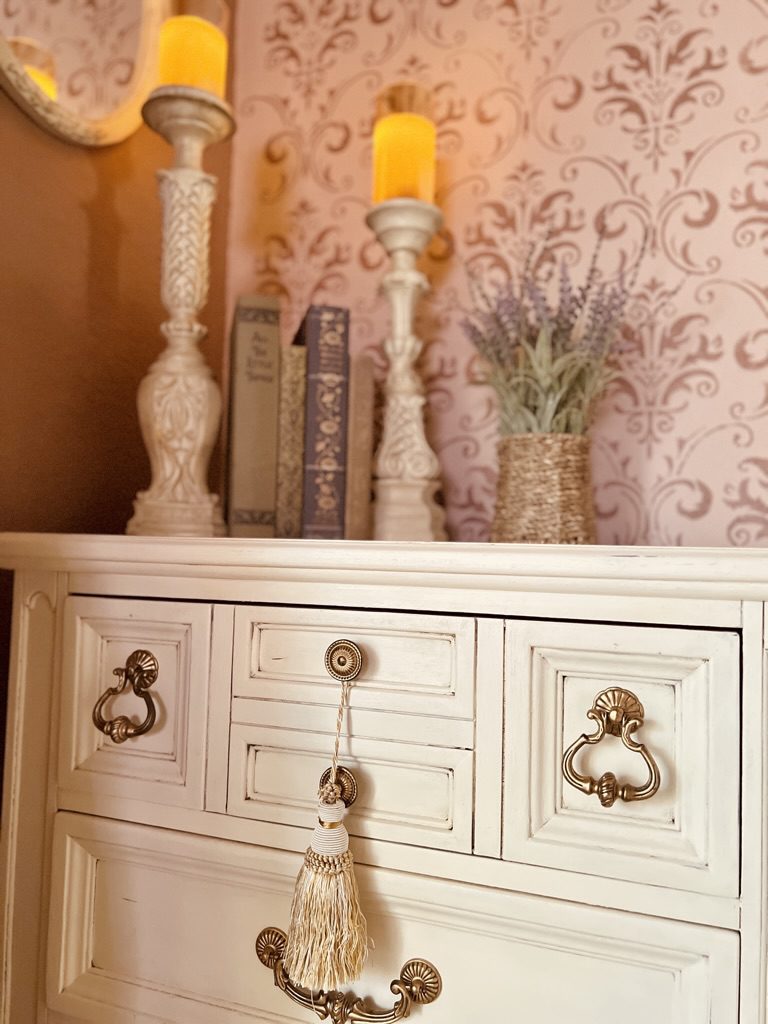 Hint: add in some real dried lavender sprigs to your faux lavender plant: 
makes it look more realistic
smells great
relaxing aromatherapy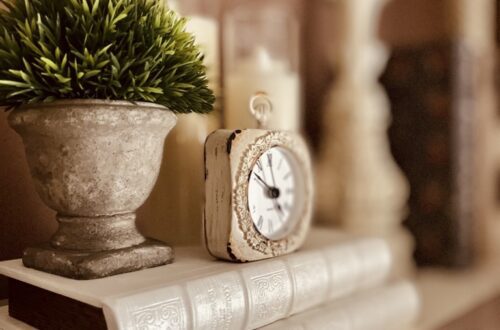 Stacked book boxes, a faux potted topiary, mini vintage clock, led candles. See my Amazon Board "French county Makeover" for my tools I used, bedding, and decor!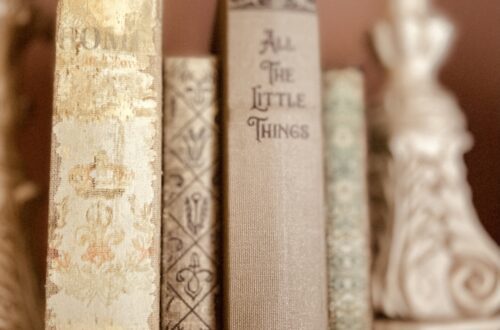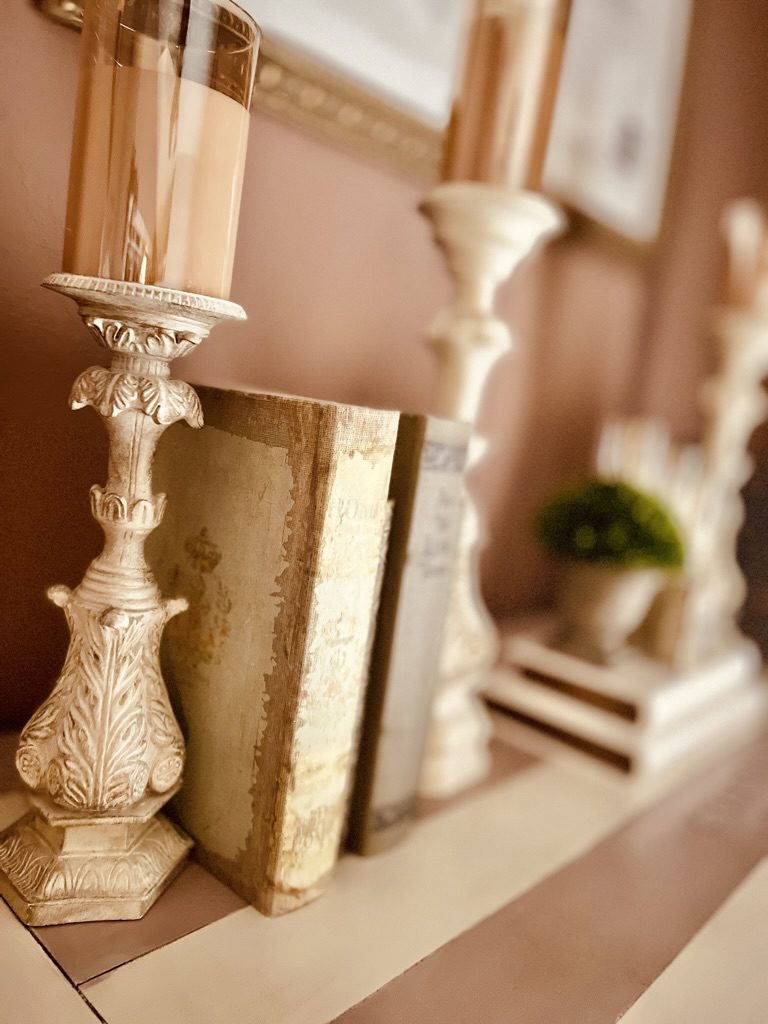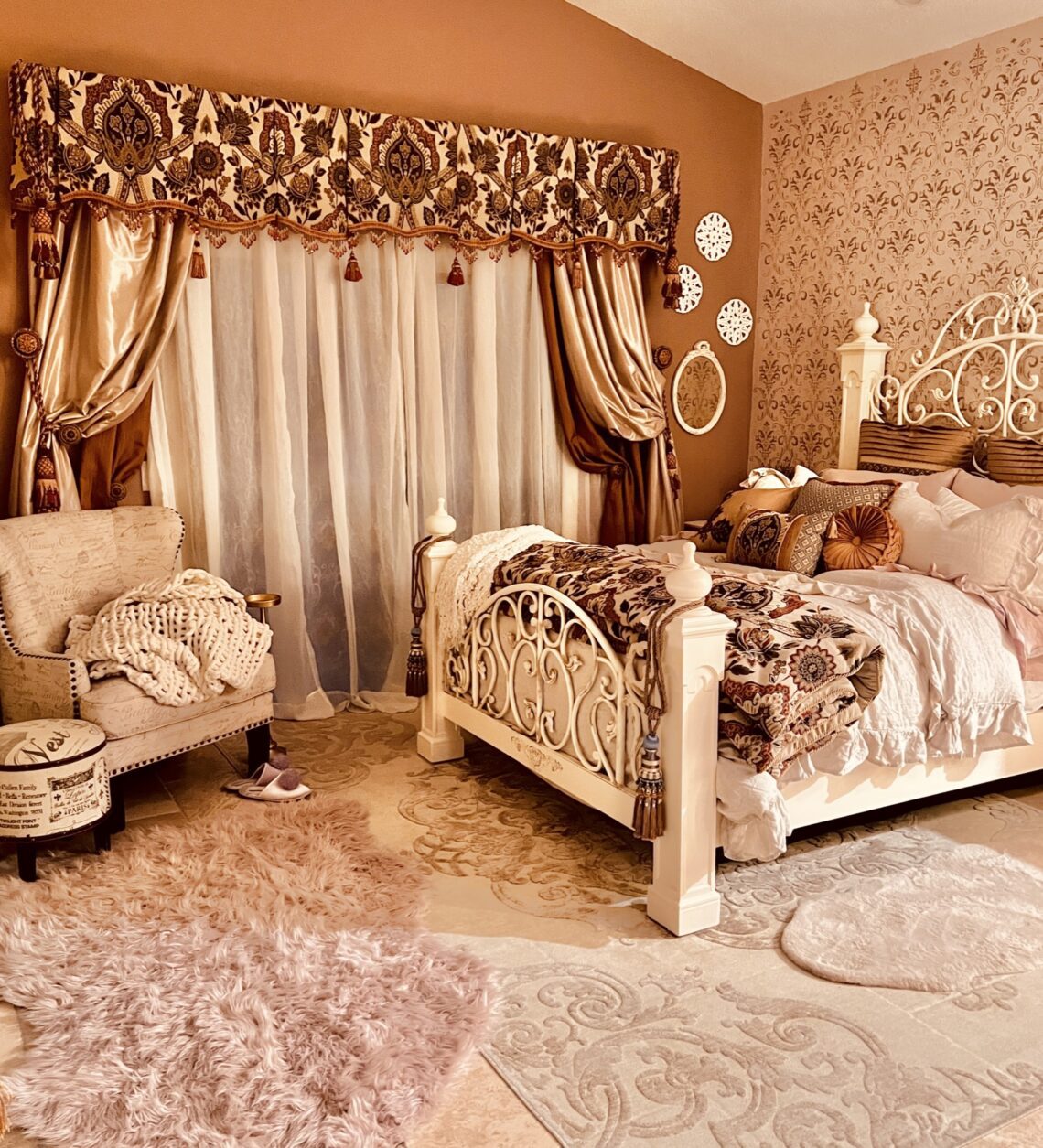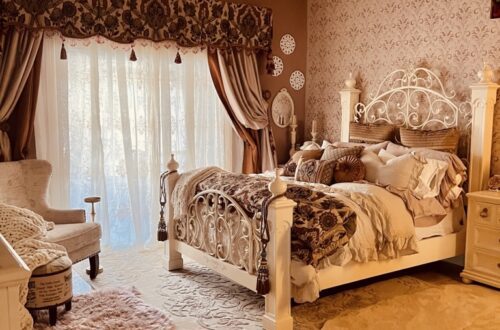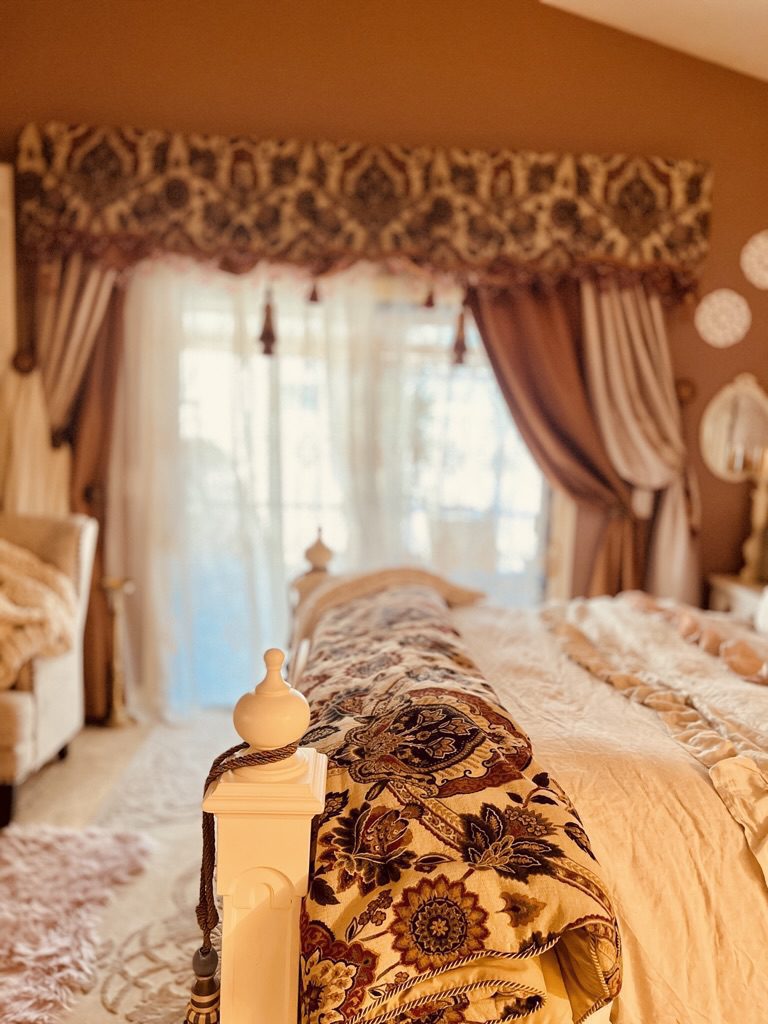 Tassels - need i say more!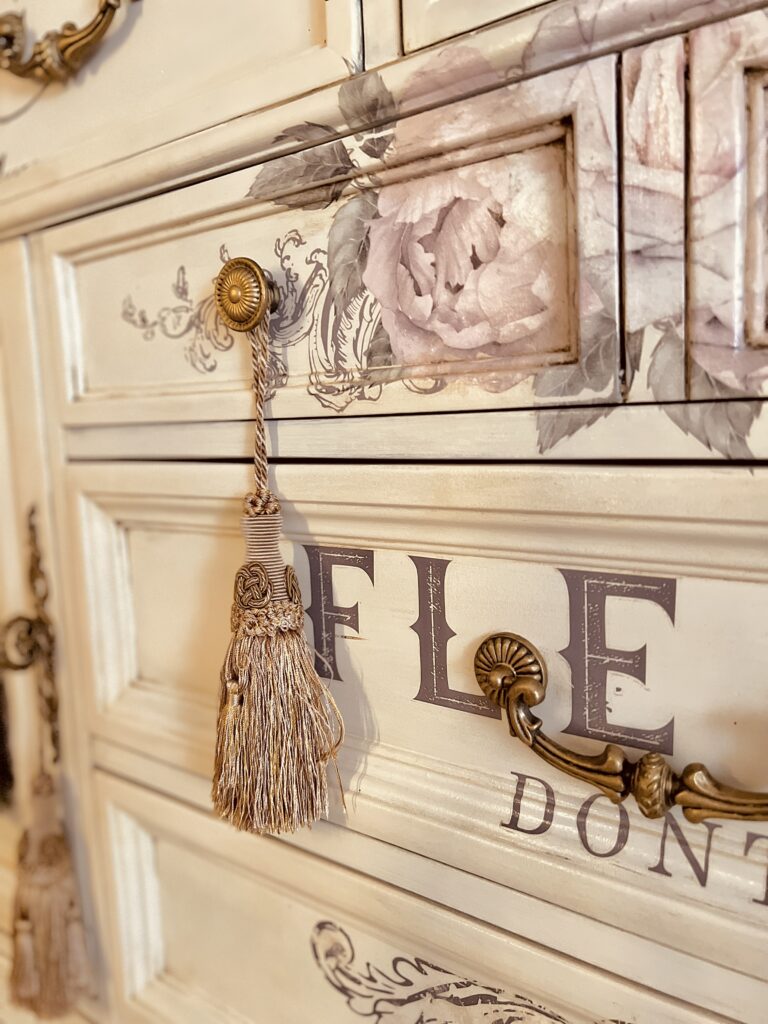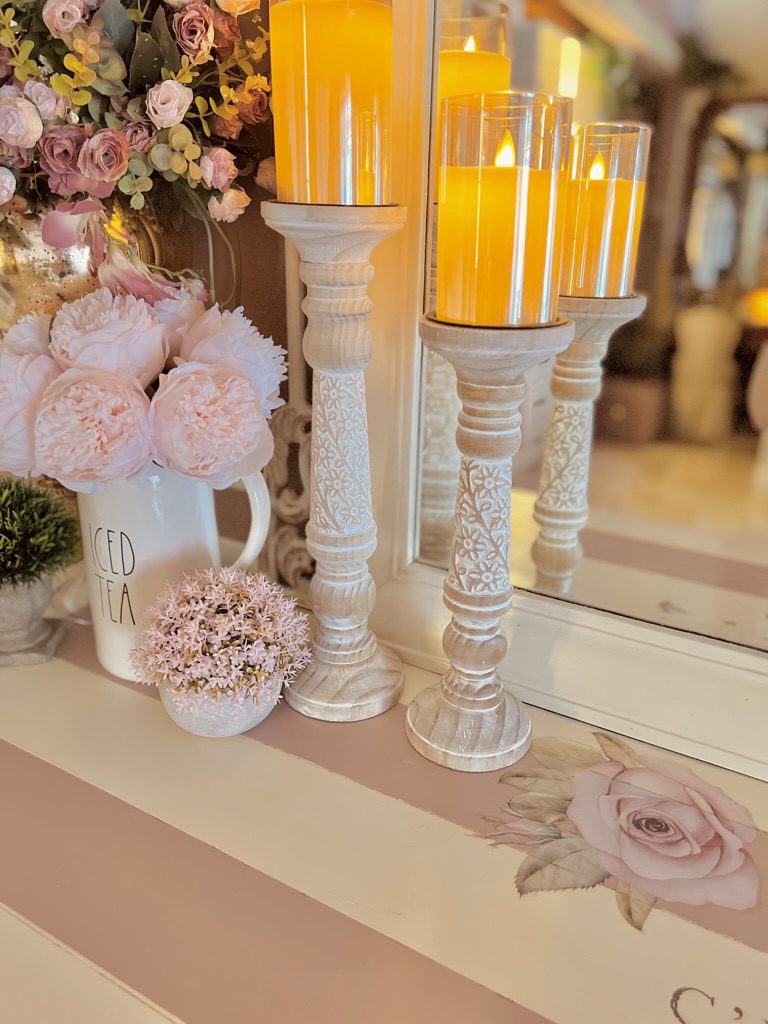 Thanks for coming by and joining me for this stage of the bedroom makeover! I am really excited to decorate for Christmas, so stay tuned to see how that comes out!
Be sure to follow along on Pinterest and social for more updates, ideas, and videos.
Check out the other Episodes in this Series
Check out ALL Episodes in this French Country Bedroom Makeover Series: 
Dress Form makeover (COMING SOON)
Armoire: my success and failure (COMING SOON)
Question or comment? I'd love to hear from you! Drop me a line and Subscribe for updates!
Here are the French bedding finds I have on my bed right now. 
Check out my linen bedding!
These linens really helped create that soft French country feeling!
Thanks for stopping by! 
Save this and share! 
Until next time…keep smiling, improve every day, and build a life you love! 
Yours Truly,
January