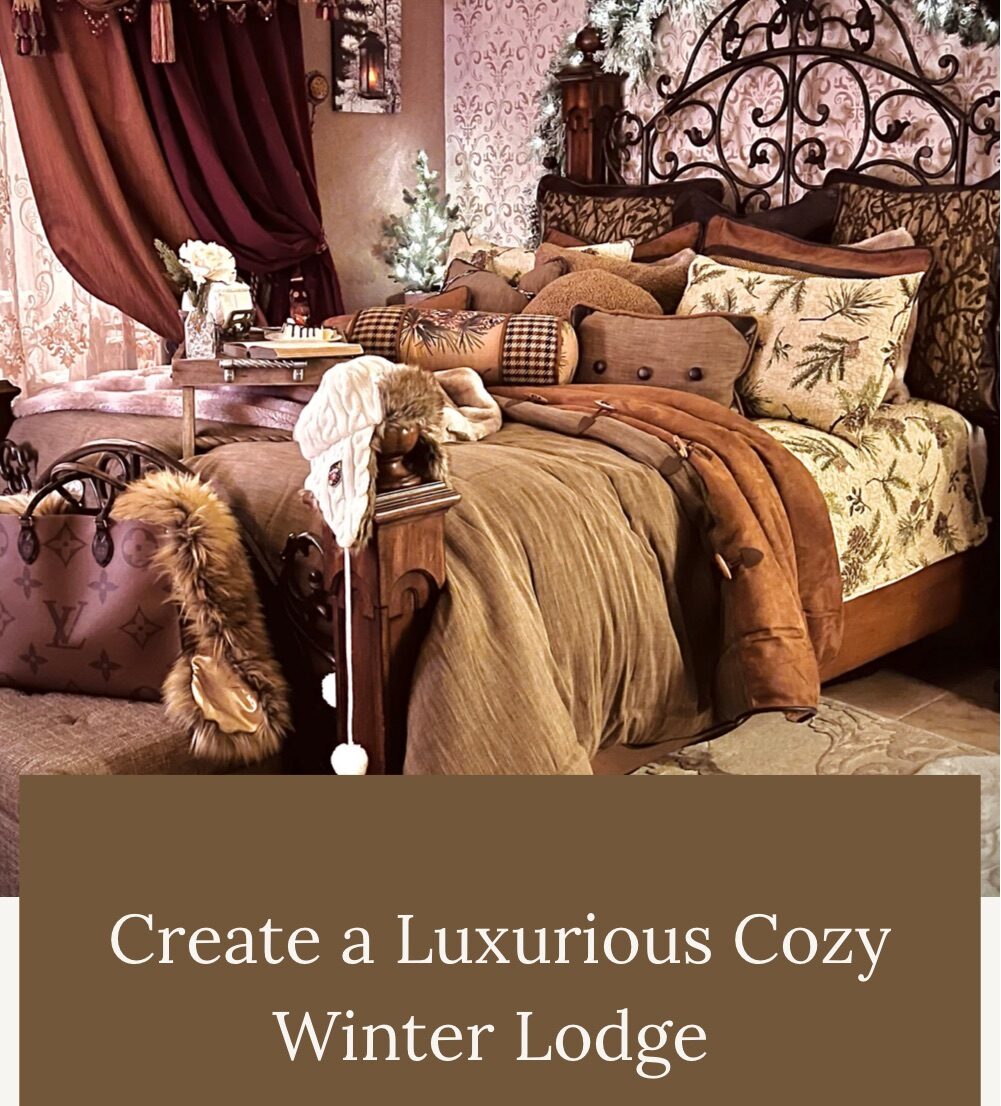 Create a Luxurious Winter Lodge Bedroom – Worthy of Hibernation!
What is it about the word "luxury" that makes us perk up like the smell of coffee brewing in the morning? We even say the word slowly, with emphasis, as if you were gently sliding your hand across a Queen's stunning gown. It's interesting how luxury and fabric go hand in hand. When it comes to décor, Luxurious fabrics make you feel like royalty…it just comes with the territory. One of the key elements is how they look; the other, equally as important is how they make you feel!
I talk a lot about creating magical moments at home, and not waiting for life to just "happen". My inspiration for designs, décor, and creations comes from my desire to have an "experience". Most of the time I want to go somewhere that gives me a "feeling", so I try to create that magic at home so I can feel it anytime, as often as I like. It is my world after all.
(see my post Create a Spa Experience at Home to extend the luxurious experience to the bathroom)
I needed that cabin feeling. That rustic lodge up in the mountains…snowed in…a roaring fireplace, a pile of blankets, fur rugs, all of it beckoning you to jump in. There is something about the warmth of a cozy wintery lodge that almost commands you to put down your phone, jump under the covers, snuggle up with the love of your life and enjoy some blissful moments together.
My wonderful and amazing husband loves to promise to take me to one of those lovely winter cabins for a long weekend…he's so cute…I love him. I'm still waiting needless to say…LOL, but that's ok! In the spirit of DIY, challenge accepted!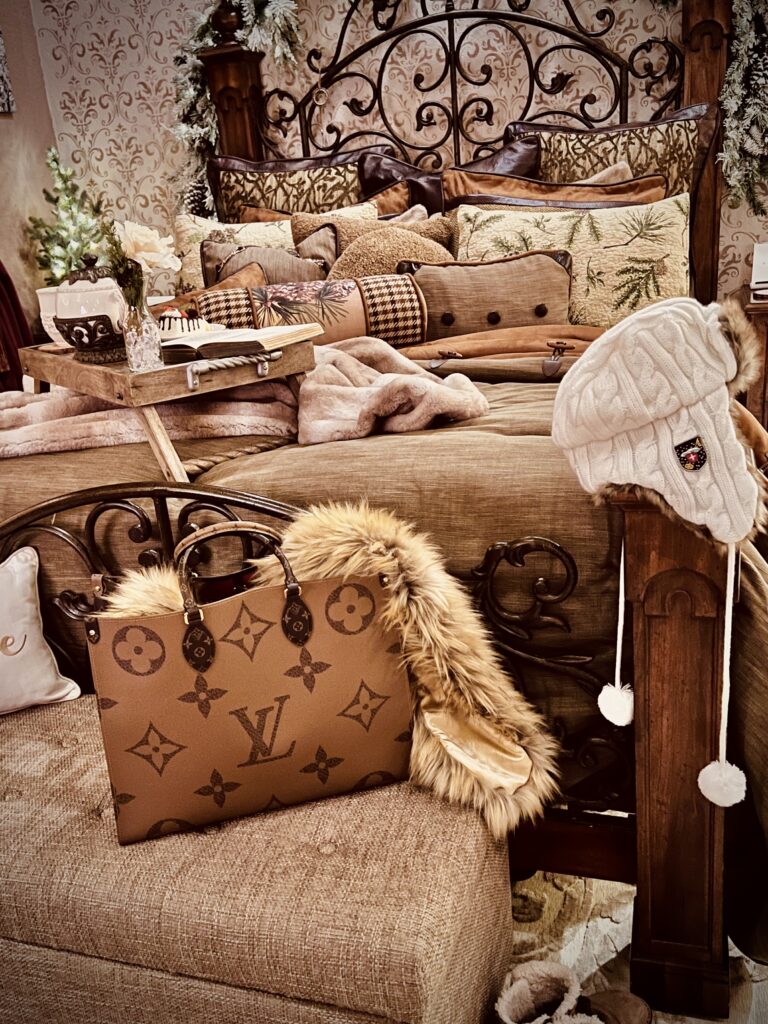 It started innocently enough with a faux fur throw blanket and matching pillowcases I found on my monthly Target outing. I try to only go once a month (in person) because I spend way too much money when I go! 
So it began…with one super soft blanket I found at Target. Loved it so much I went to buy more and found pillowcases, like regular ones for bed pillows (never saw them before)! I loved them and so did everyone in the house! Back to Target I went and got my daughter a grey set for her room and another throw for the family room so everyone would have their own! LOL
I really thought it would end there, but alas I stumbled onto a bedding set that actually matched some placemats I got for the kitchen 'Woodland retreat pinecones'. I had never committed to buying Christmas/Winter themed bedding before so I figured it was time I went ahead and got something.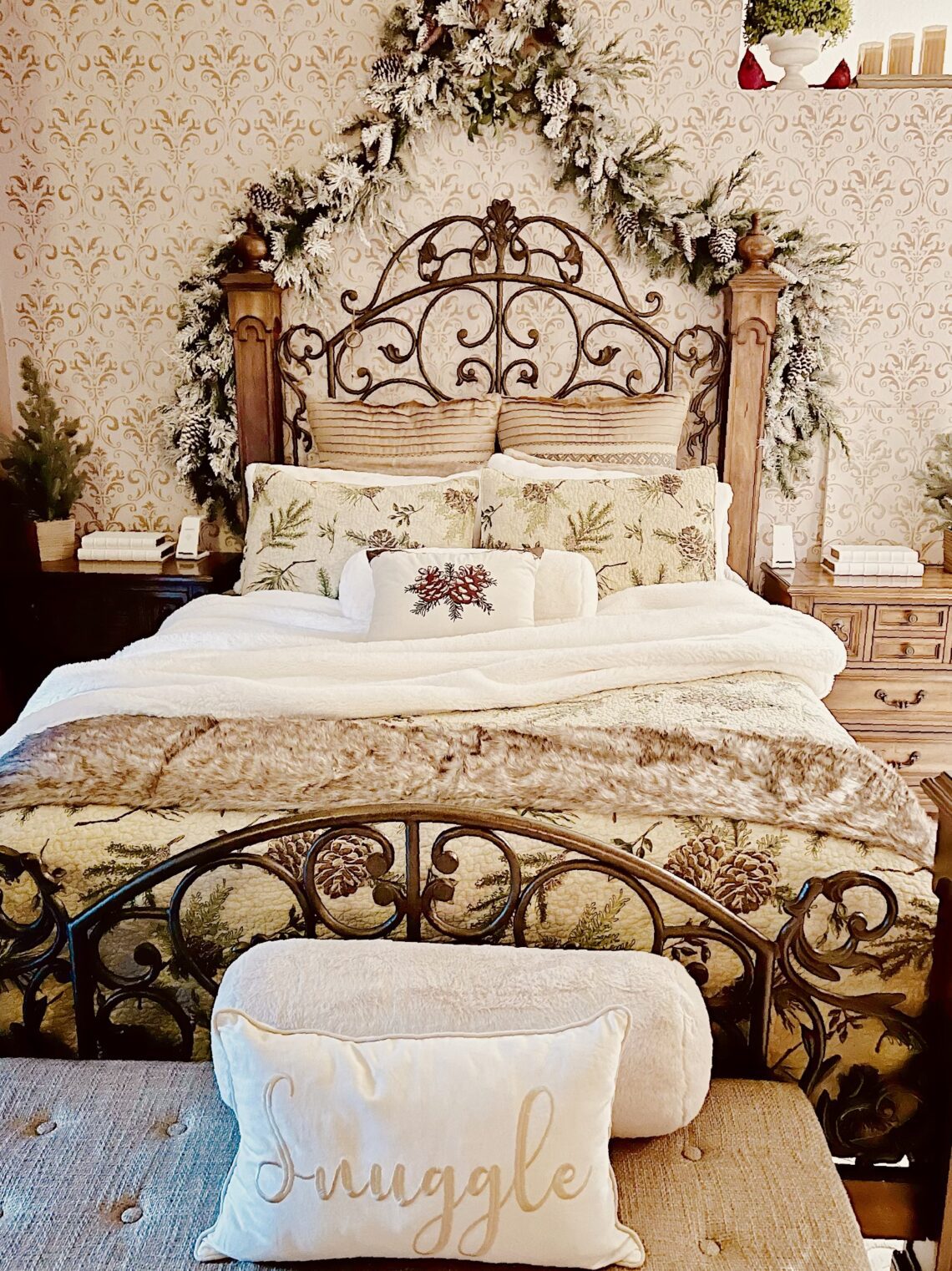 I rationalized how I can also use the quilt and shams in the family room for the couch, snuggle time, fort time, etc. and it matches the kitchen set (I love when things match). It was settled, I ordered the set. I loved it immediately! It felt a bit stiff at first, but it washed up nicely and is a perfect lightweight quilt, especially in Florida where winter dreaming is really dreaming about winter. But I can't complain, we've had a gorgeous few days and this lovely lodge 'perma-vacation' spot I've created has made every second of snuggle time a truly enchanting and magical experience!
I love throw pillows and I just wasn't satisfied that I couldn't find another pillow to give my bed a little more of a "lodge/cabin" feeling. My search continued…and continued…then I found it! The pillow I had been searching for. It was perfect! It was a neckroll, my favorite, and had pinecones on it! Into my shopping cart it went.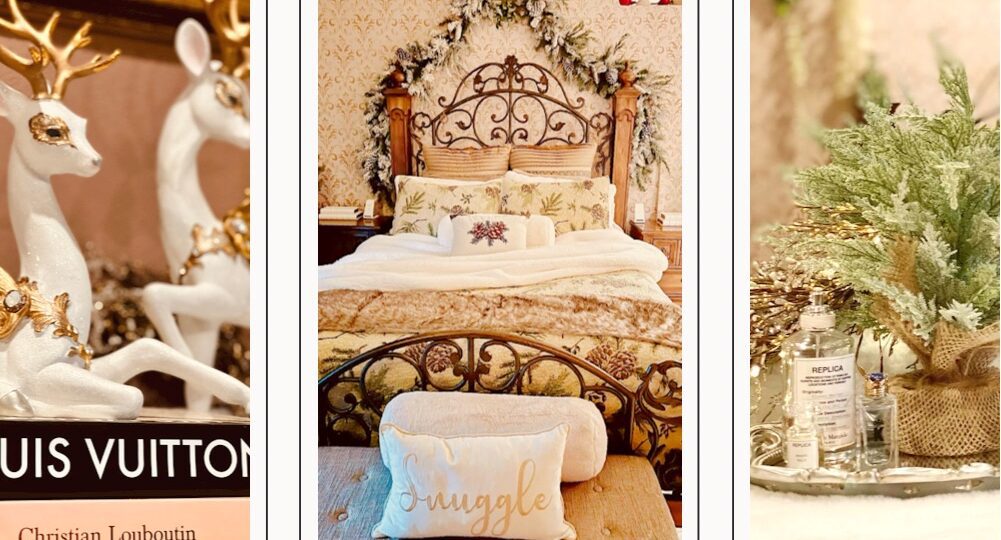 You have to love Amazon and their recommendations. Sure enough, right below my pillow it suggests I also look at this bedding set. I think, sure, maybe there is another pillow I'll see and like. I clicked on the "bedding set" and sure enough I saw some pillows I loved…and of course then I had to have the matching bedding set! It looked nice enough in the pictures, but it didn't really wow me, but I could see the possibilities…I just needed to see it in person.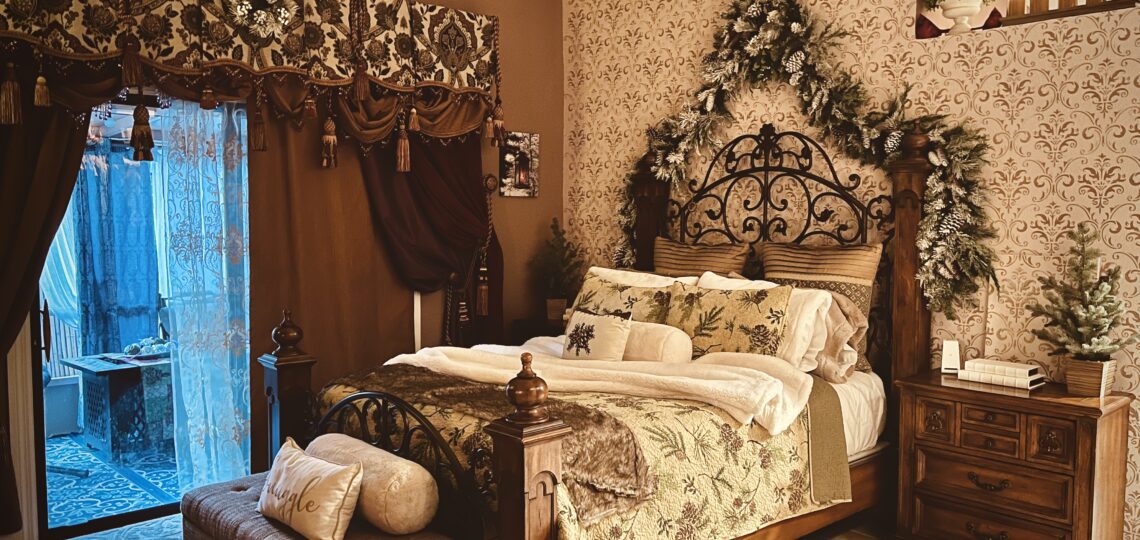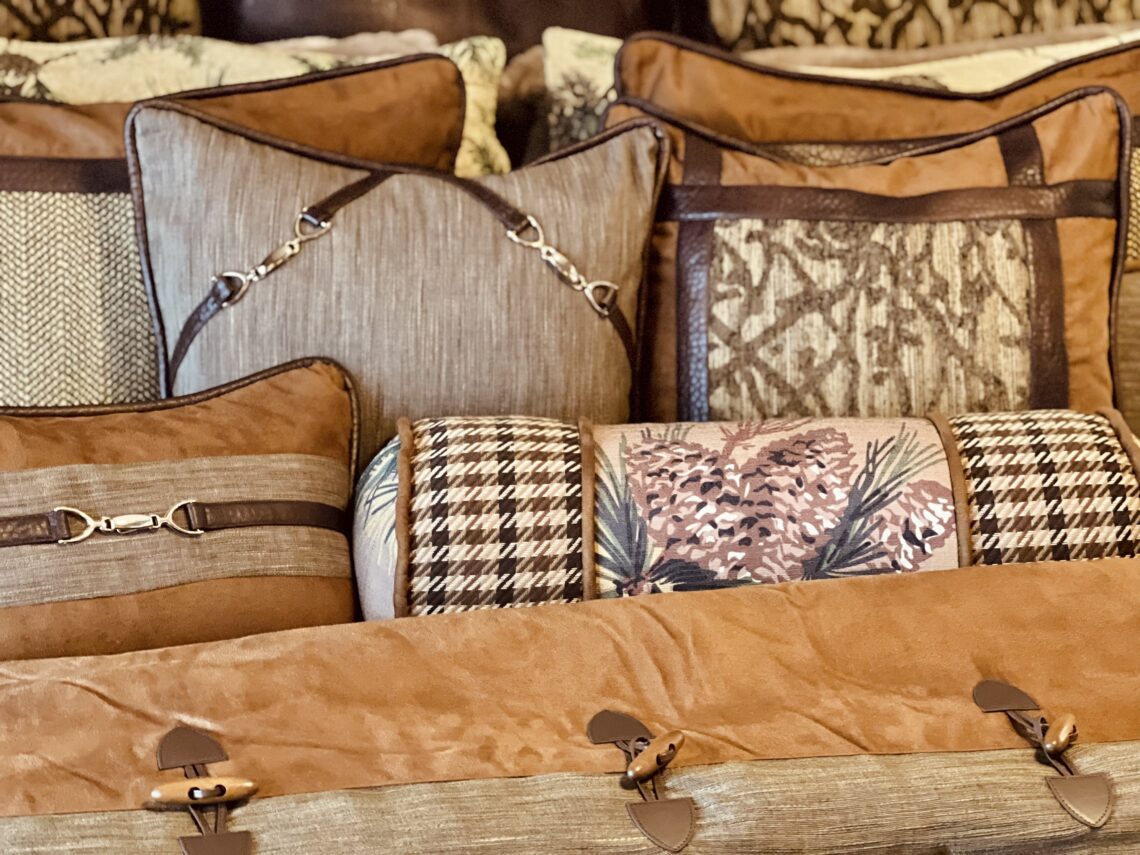 I figured I'd order it and not like it and have to send it back…but then, the worst happened! I fell in love! I honestly didn't expect the fabric to be so nice. When it arrived I just threw it over my "woodland pine" set that was already made on my bed. I wanted to see how it "looked" in the room. I knew I could tell pretty quickly if I was going to "love" it or send it back.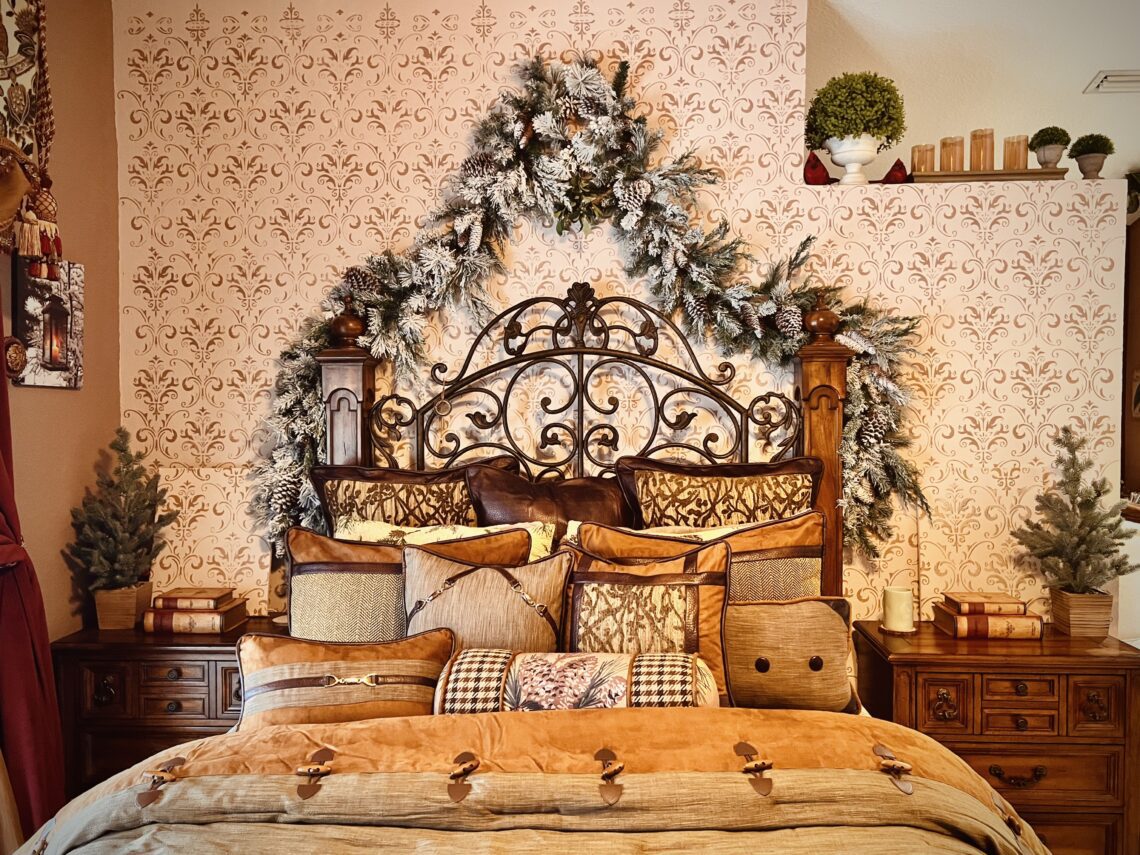 The fact that it looked good just throwing it on the bed with my existing set was an instant sell. The colors matched my existing bedroom set so well; the curtains I have are the same exact color as the "faux suede" on this luxurious lodge set. It was uncanny. The colors even matched my antique walnut wood bedroom furniture. 
It was meant to be. Fate. I rationalized my way right into keeping this beautiful luxurious lodge bedding set, and I am so glad I did! Every time I walk into my room I smile. That is always the goal I have when I "create an experience".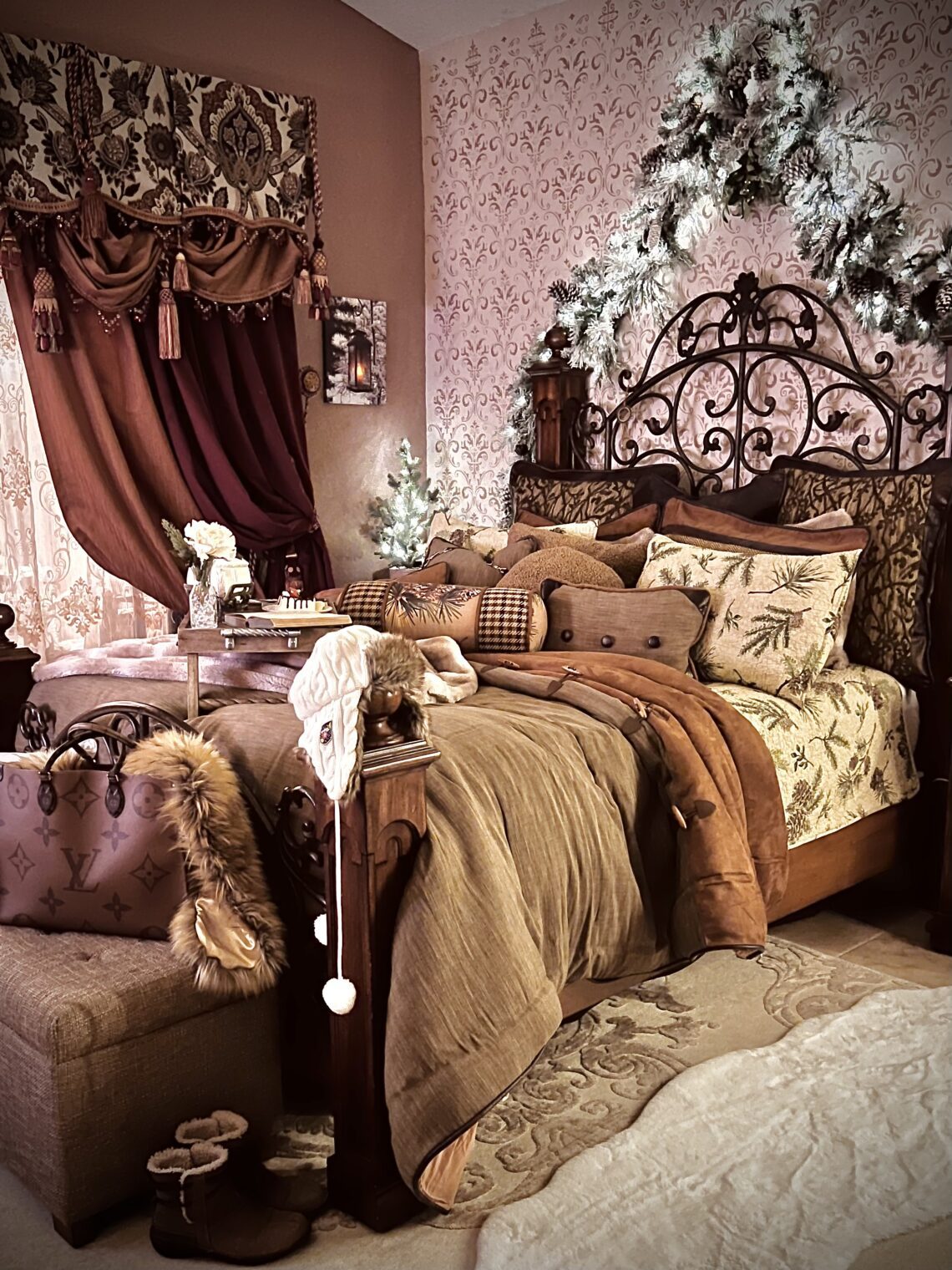 I wanted to feel like I had been whisked away to a luxurious romantic winter lodge…and I got what I wanted! I brought my vision to life. Every time I walk into my bedroom I feel transported into this dreamy lodge I had envisioned. 
My story today, like my journey, all started with a desire for an experience…so let me end this just so. Given that we never made it out of town, I decided there was no reason we couldn't just play pretend. Half of the time we drink fake tea, eat plastic donuts, and carry on conversations with cotton filled family members, so what's a little more pretend play? We decided to pretend we were in a faraway lodge, alone and secluded, snowed in, and the magic came to life!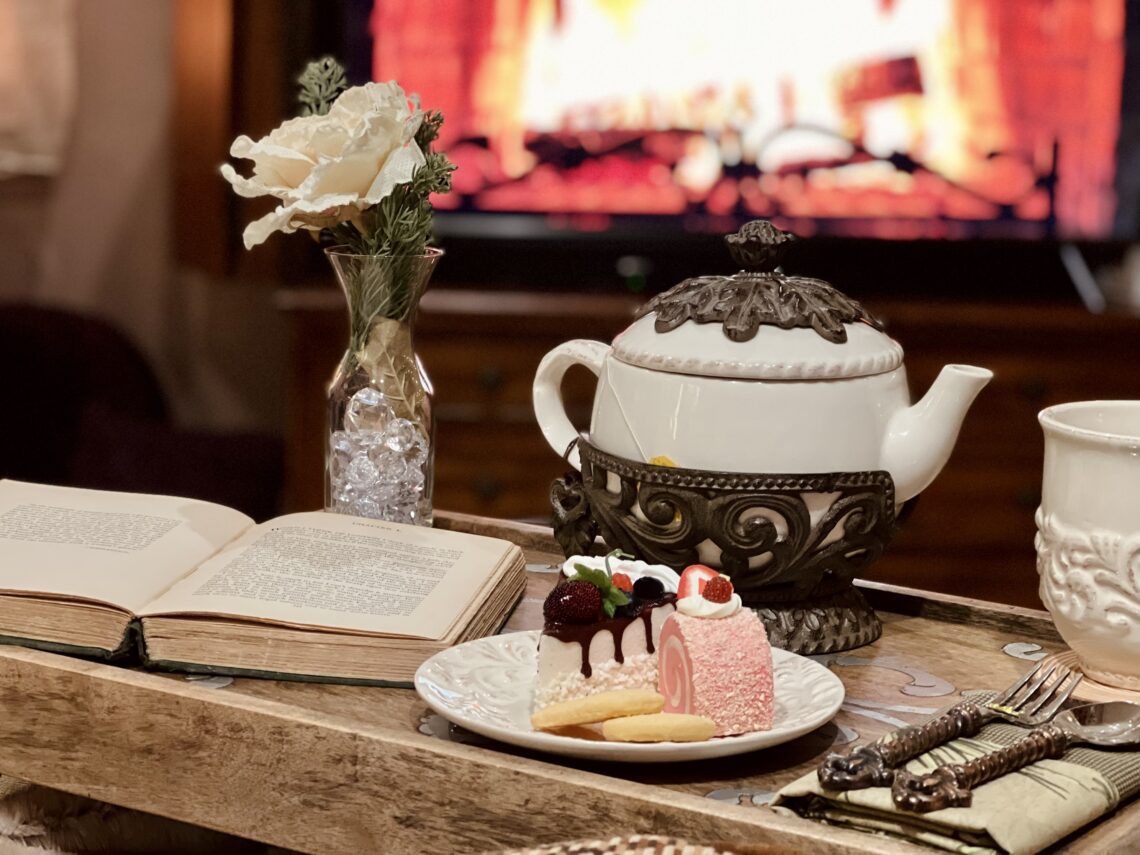 I hope you enjoyed reading about my journey creating a luxurious winter lodge bedroom. The path you start down does not always end up looking the way you imagine, most of the time its better, and in this case, I must say it improves daily! And yes, I have since bought a few more matching pillows! 😉
Check out my Amazon Idea Boards Winter Wonderland Decor  & Winter Lodge Bedroom Decor– you'll see that almost everything I get from Amazon, so if you see something you like, you can shop my boards and find just about everything I've used in my décor.
All of my finds I talked about are on my Amazon Idea Board, check it out: Winter Lodge Bedroom Decor
Check out my post on how to Create your own Winter Wonderland for more tips.
My Top 5 Tips to create a Cozy Winter Bedroom: 
Blankets – soft, cuddly, luxurious.  Layer them for an ultra inviting cozy feeling. 
Pillows– Mix sizes and shapes. Use different textures. Add luxurious detailed throw pillows with unique details.
Rugs – Nothing says cozy like soft faux fur rugs
Candles – nothing says let's snuggle like a nice candlelight glow

LED baby: I love candles, but let's be real, with the number of candles I use I might set fire to the neighborhood, so best to stick with LEDs.  Get the ones with a remote, you'll thank me later! You'll see I'm all about mood lighting! 

Pine Trees – not just for Christmas anymore!  The song says it, "thy leaves are so unchanging," I say this gives us annual right of use!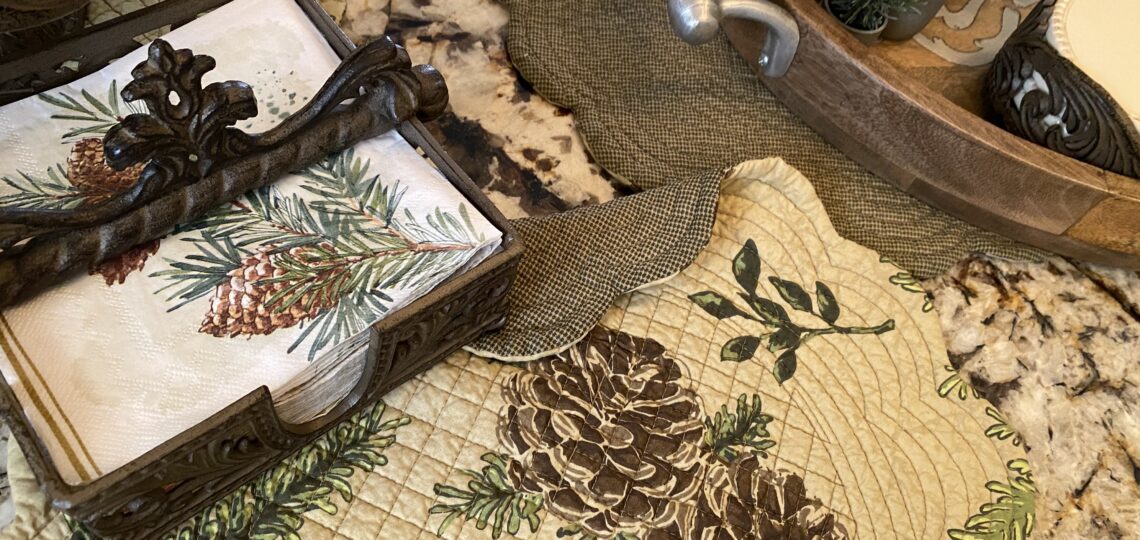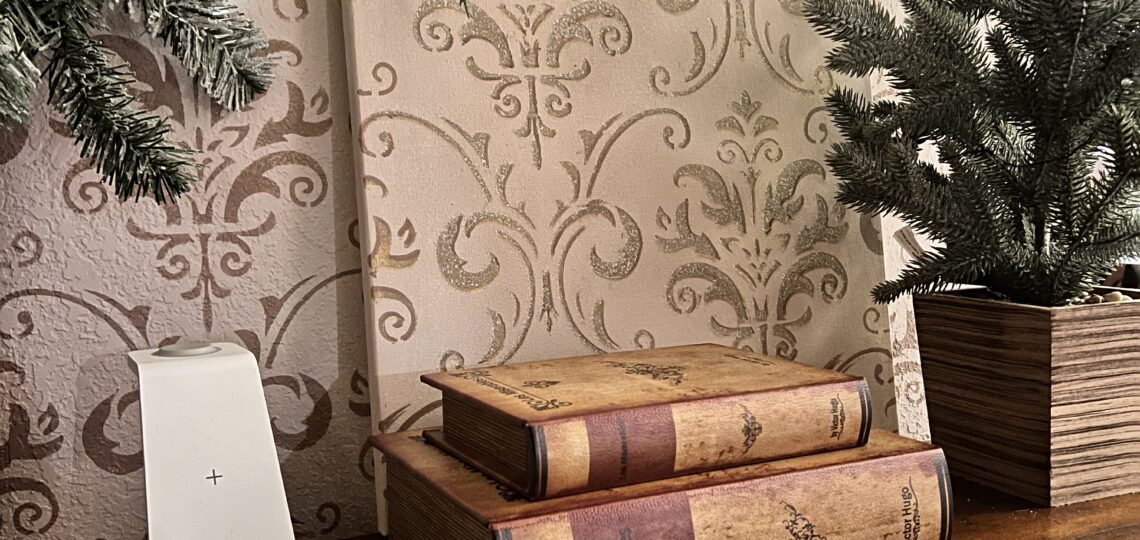 Don't miss out, stay tuned!