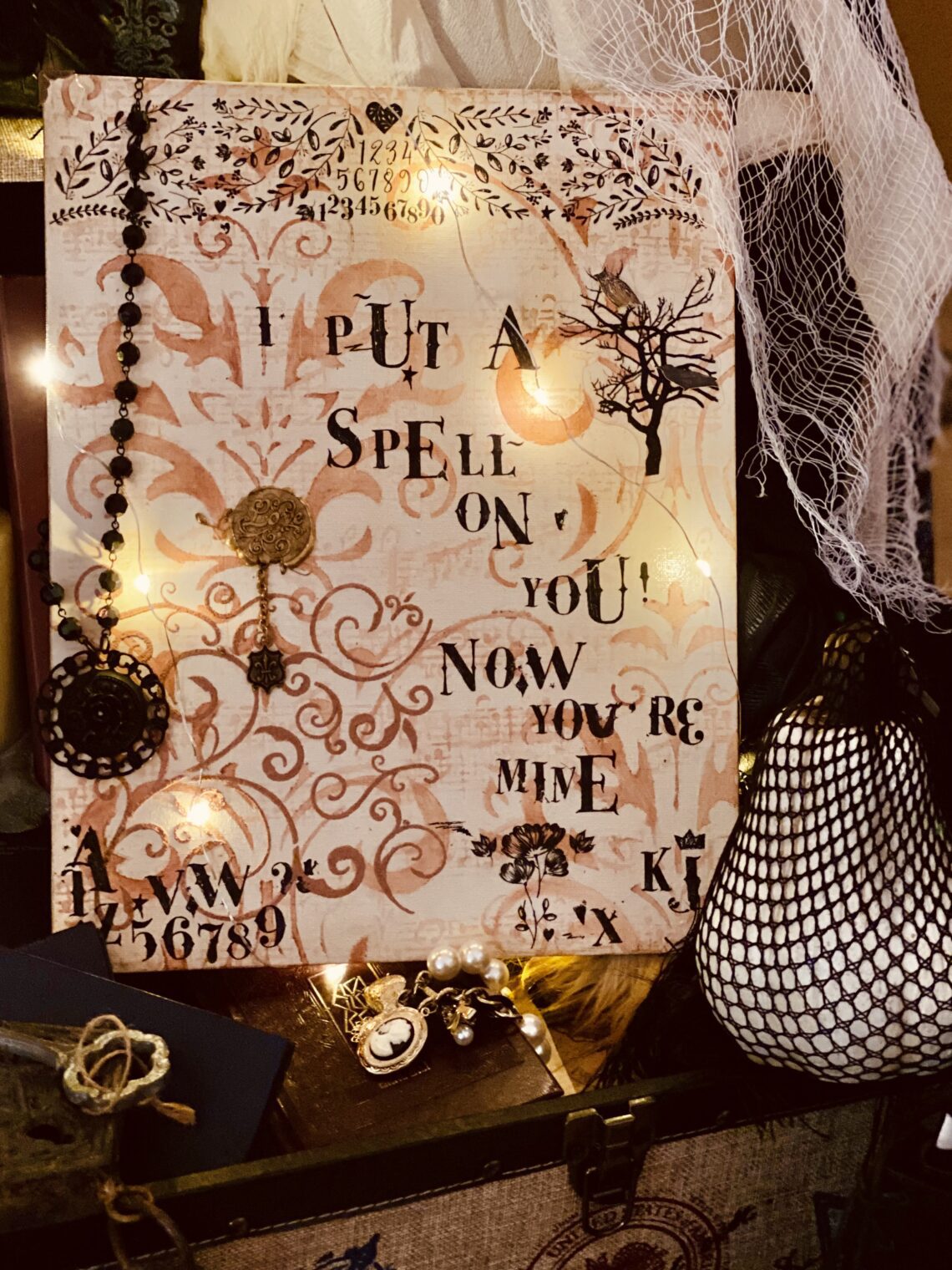 Halloween Decor Ideas that are Elegant NOT Cheesy!
Halloween decorations that are elegant, not cheesy!
Halloween for our family has always been a pretty big deal! To say we LOVE Halloween is truly an understatement! 
Me, though, I have this thing about "cheesy" decor…it's just not my jam! 
Given that philosophy, I have tried to up my decorating game by finding and creating easy, elegant, versatile decor for our home.  
This post contains affiliate links. This means I may receive a small commission for purchases derived from those links at no cost to you. This helps support the blog. Thank you in advance for your support!
When I'm Halloween decorating, I look for anything you can move around and use in various rooms and places.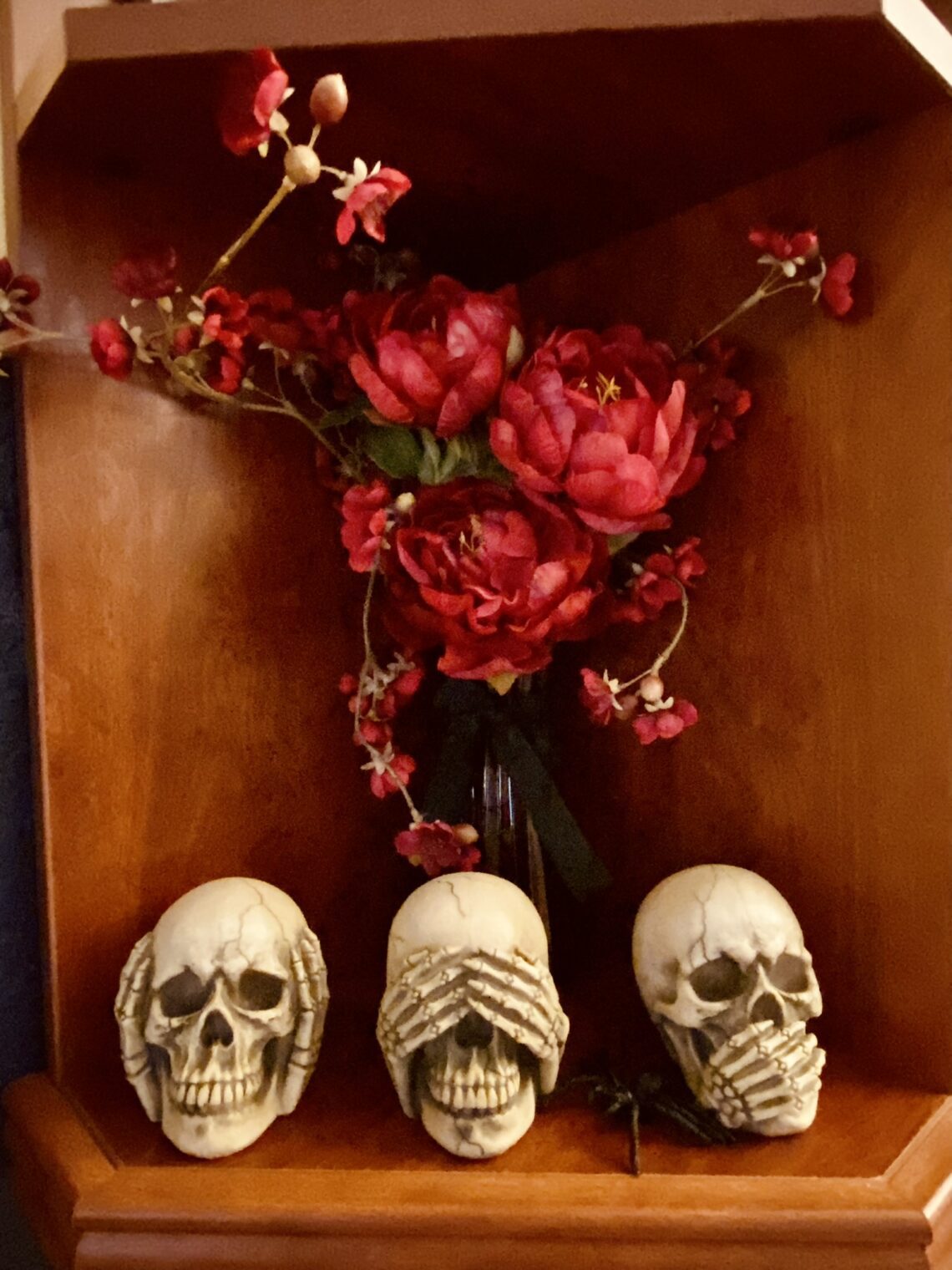 An elegant little graveyard on a charger, with my only Halloween Department 56 piece I have – If a Kiss Could Kiss, alongside my beautiful statue from Amsterdam – The Kiss (Gustav Klimt)! I just love this!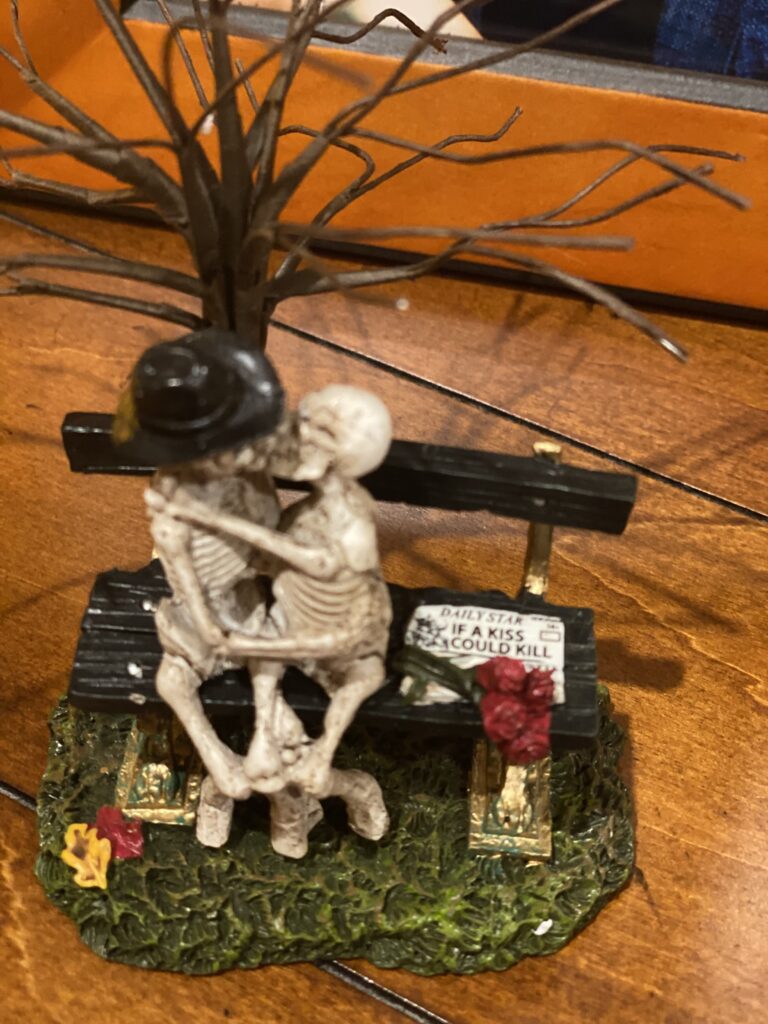 The white birch trees are technically for my Christmas village but I decided they work for Halloween too!
These are so versatile. I added some loose moss on mine for the Halloween effect! In another spot I added some bats.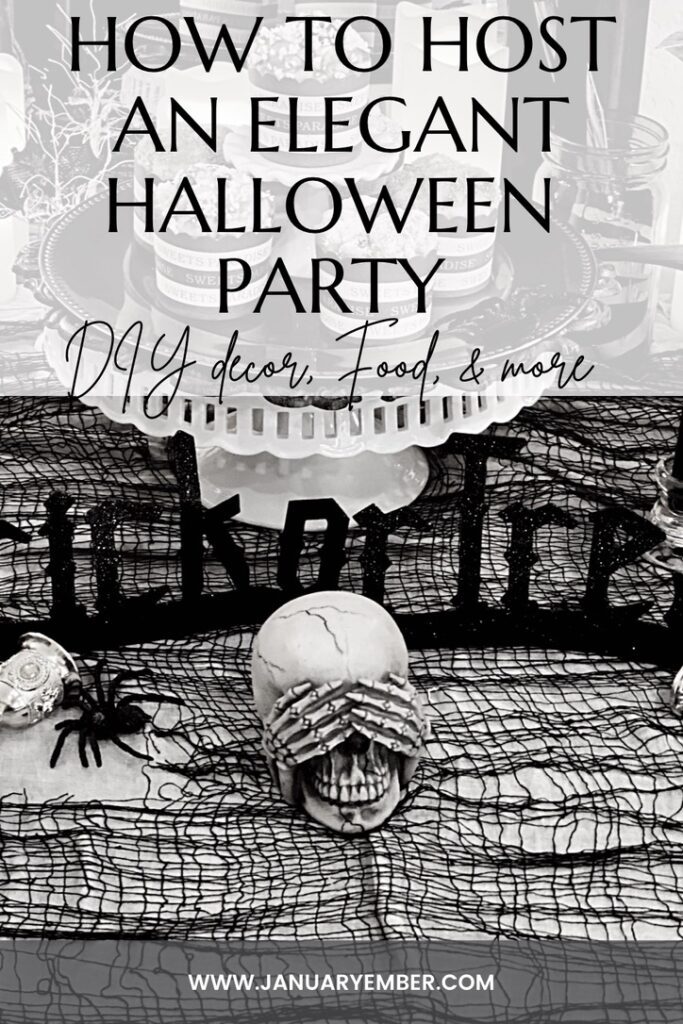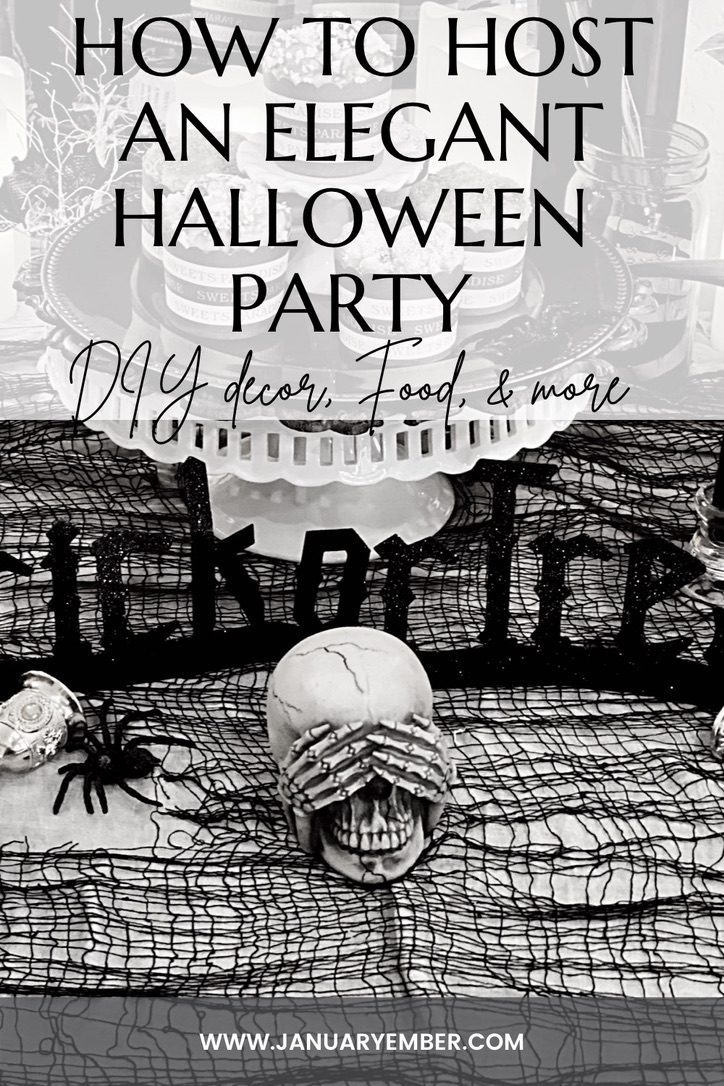 Last year when I started decorating for fall I already had some ideas on how I wanted to incorporate my Fall to Halloween transition. 
You can see here that I still have my big mosaic Pottery Barn pumpkin on a cake stand on the left.
For the Halloween effect, I put the pumpkin on a copper charger, added Spanish moss around the bottom, and a crow perched on top!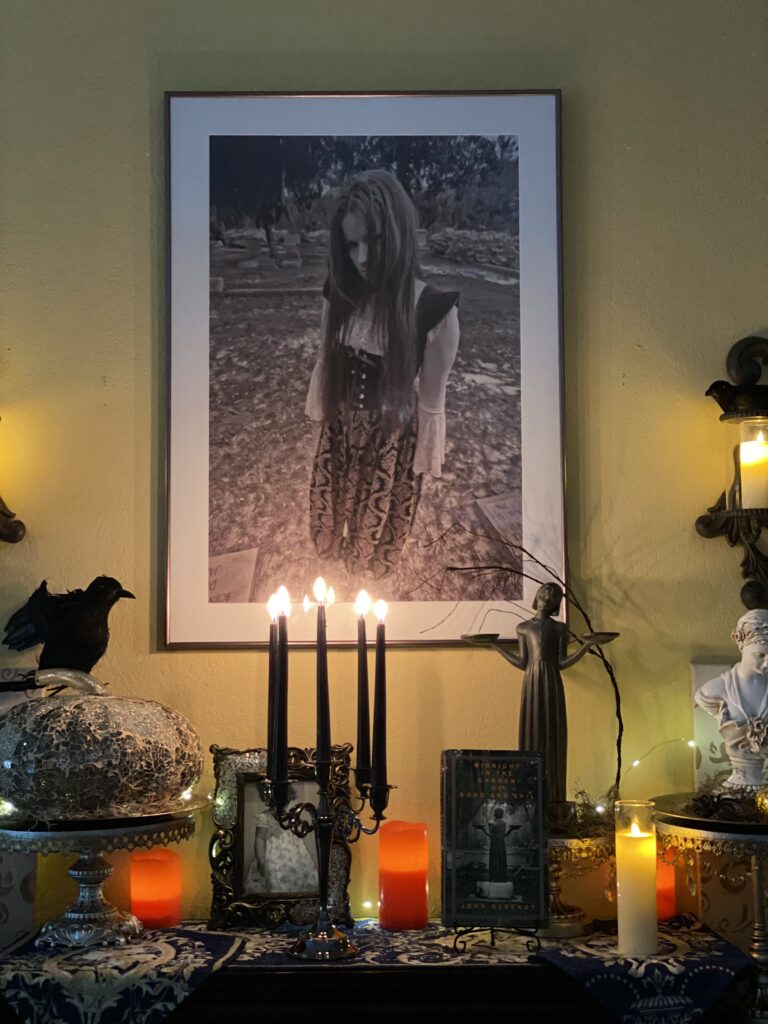 Yes, that's me in the Bonaventure Cemetery in Savannah, GA - ala "Midnight in the Garden of Good and Evil" photoshoot!
Wearing one of my Renaissance garb outfits in this beautiful photo…somehow my feet and hands didn't even show up and I looked so much like a ghost it was spooky!
Needless to say I freaked some people out walking around the cemetery…they may have thought they did see a Gggggghoosttt! LOL Fun times! 
This huge art piece was given to my mother by the artist and she finally gave it to me! Over the fireplace it went, the perfect Halloween picture!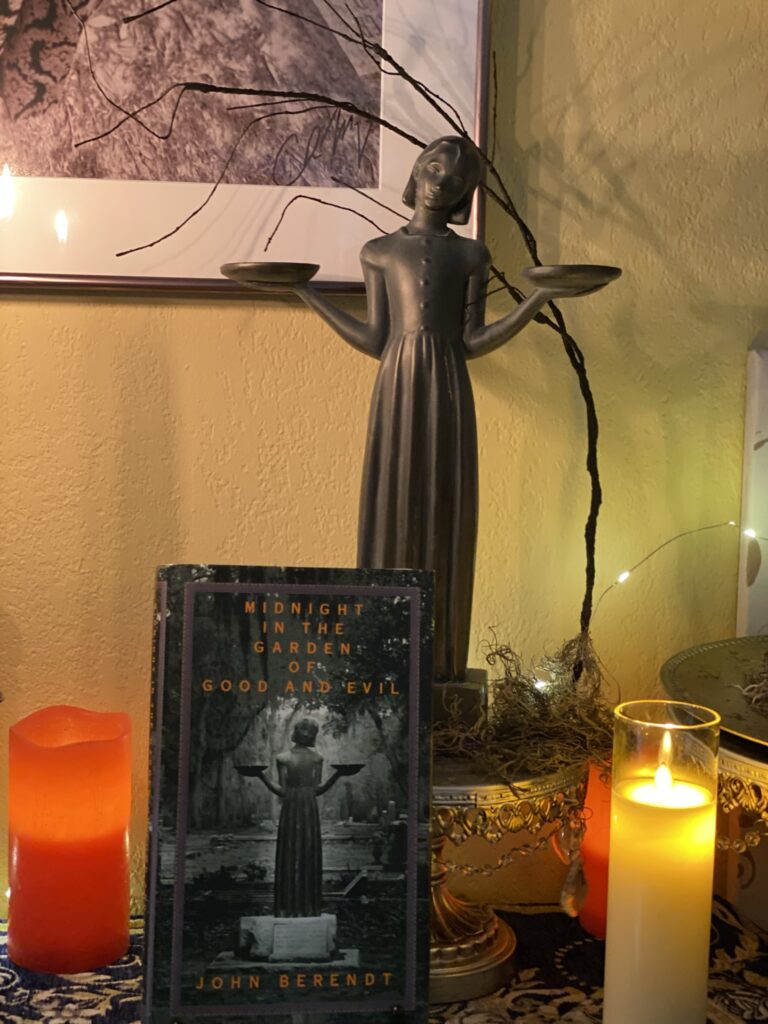 I loved the movie and book so much, I was so excited to find the "Bird Girl" statue – which is very famous at the Bonaventure cemetery entrance, and incidentally on the book cover!
As if the photo wasn't amazing enough…I didn't stop there! Of course I still have my Ren-Faire outfit, so what do you think I did? Well you know I love things that match right? Yes, yes I do! 
The outfit in the photo went right onto my dress form mannequin!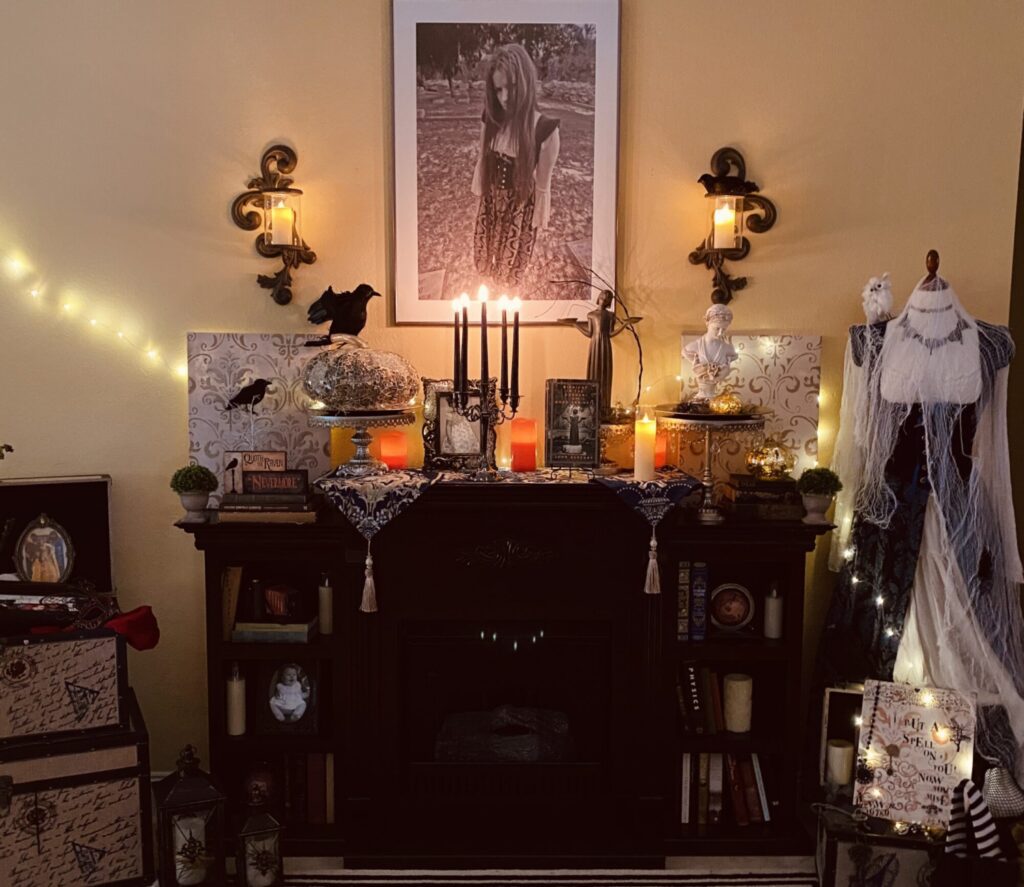 For an extra spooky effect I added some gauze draped over the mannequin. We had been watching a lot of "The Haunted Mansion" (what a great movie), so the "Haunted Mansion Theme" started to take shape!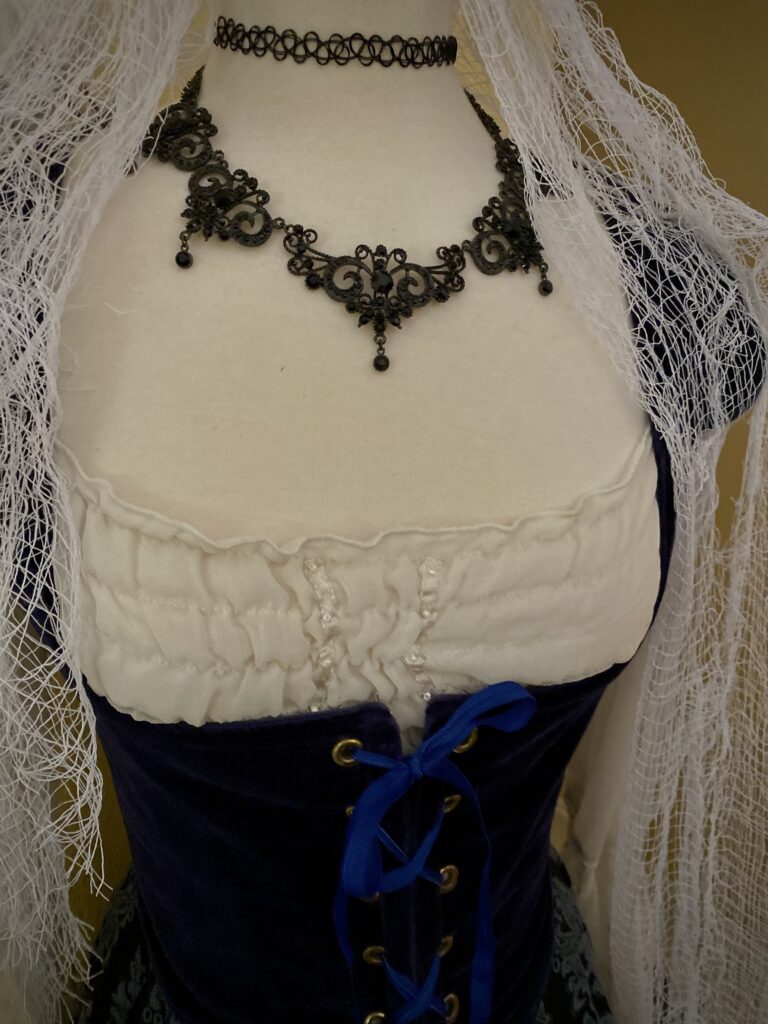 My faux fireplace has two lovely bookshelves next to it…and I just love books…and of course, bookshelves!
As a lover of poetry, prose, and in general the written word, you can imagine I am an avid book lover. With that, I LOVE to decorate bookshelves!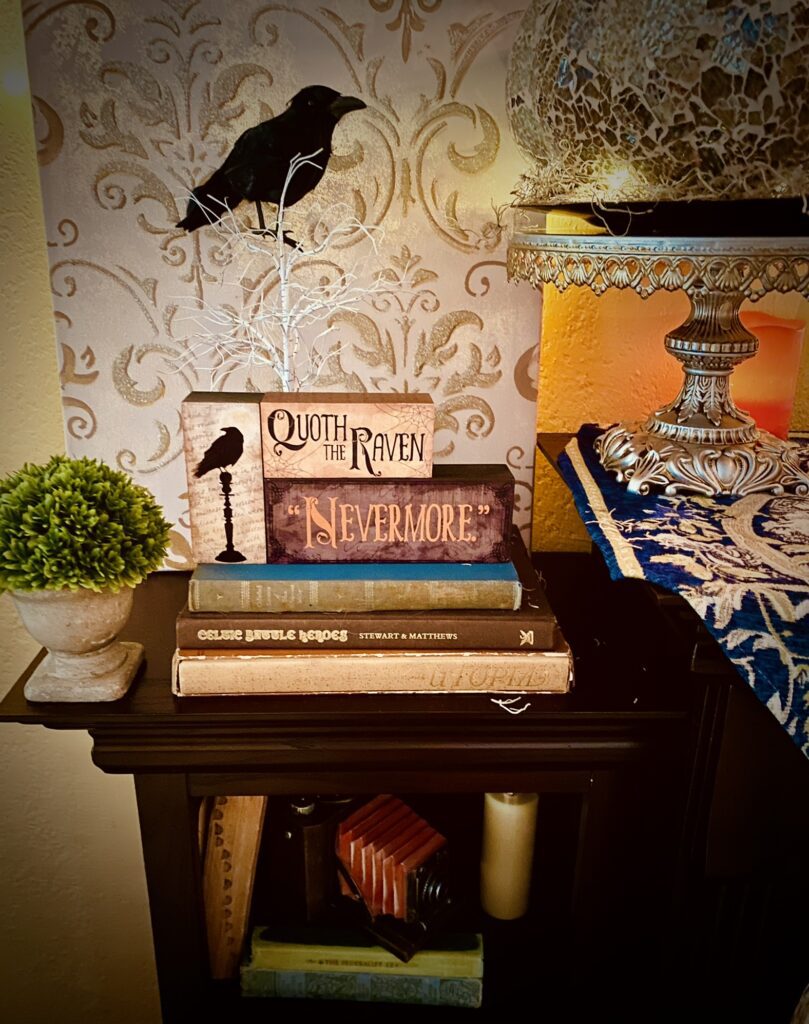 One of my favorite finds is this Edgar Allen Poe "The Raven" quote blocks set. These go so great on the mantel with the stacked books, and black crows! Did I mention I also LOVE old vintage books…oh yeah! 
This little vintage camera piggy bank is super cute, and awesome bookshelf decor!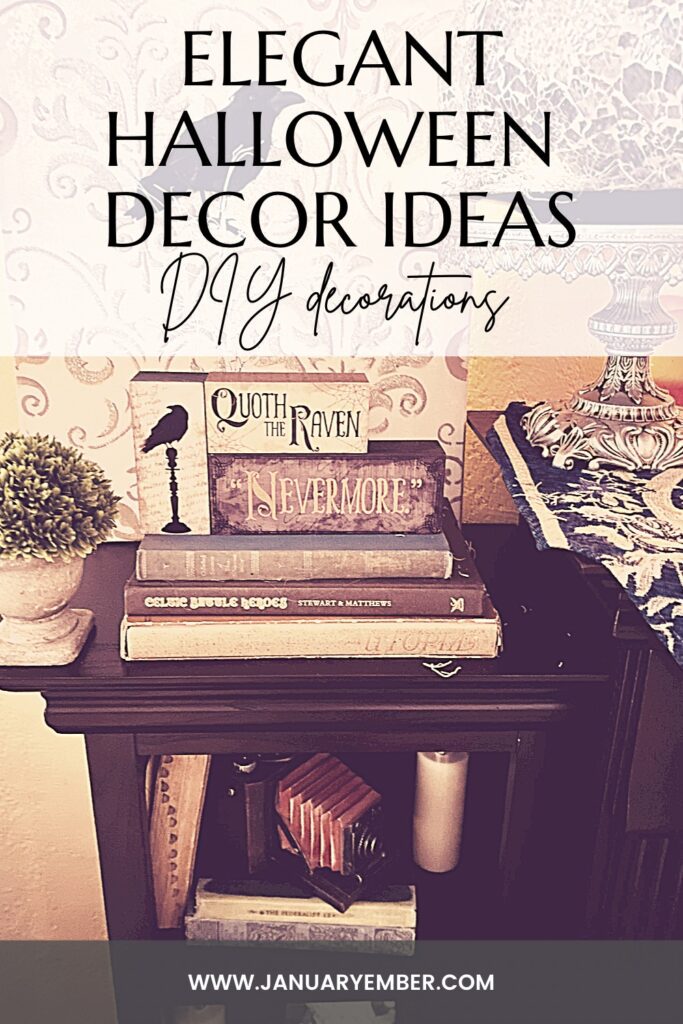 As you can see, decorating for Halloween doesn't have to be cheesy. Honestly I think the less "cheesy" and overtly Halloweenie it is, the more realistic and spooky it becomes! 
Many of the items I use when I decorate are "everyday" things.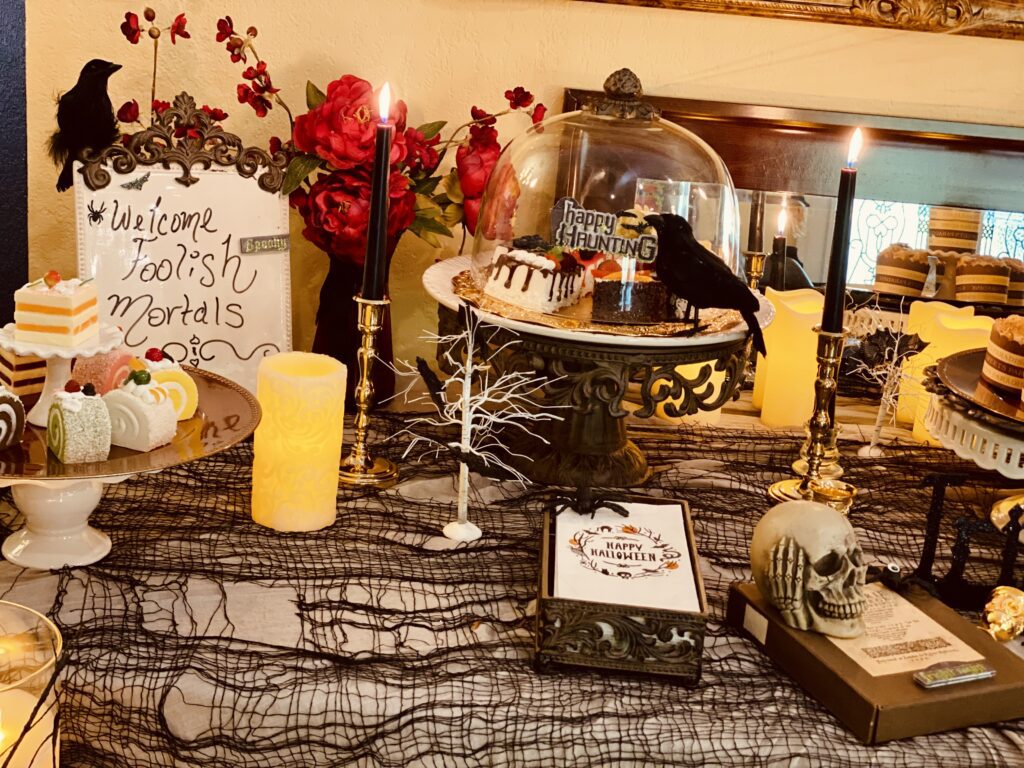 Some of my favorite "everyday" items to use when decorating: 
cake stands
serving trays
candle holders and candles
books and book boxes
curtain panels
faux potted topiaries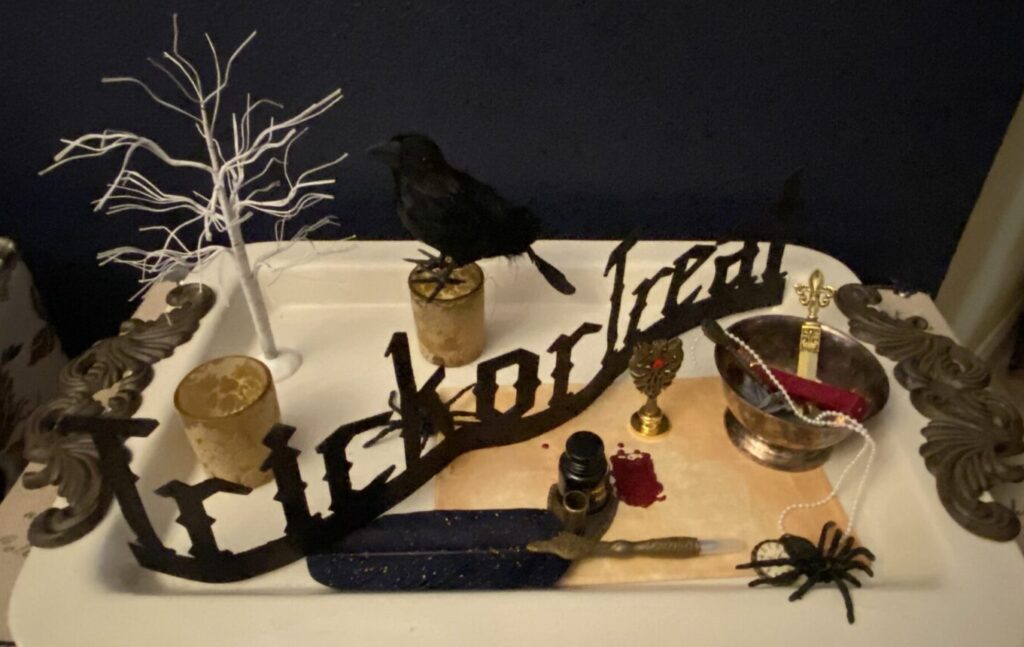 Here are my favorite Halloween touches that are easy to throw in just about anywhere you want!
Easy Halloween touches you can add to your existing decor: 
Owls
Crows
Halloween pillow covers
Spanish moss
Spider & Plastic bats
Spider webs
Gauze fabric
Bendable Tree branches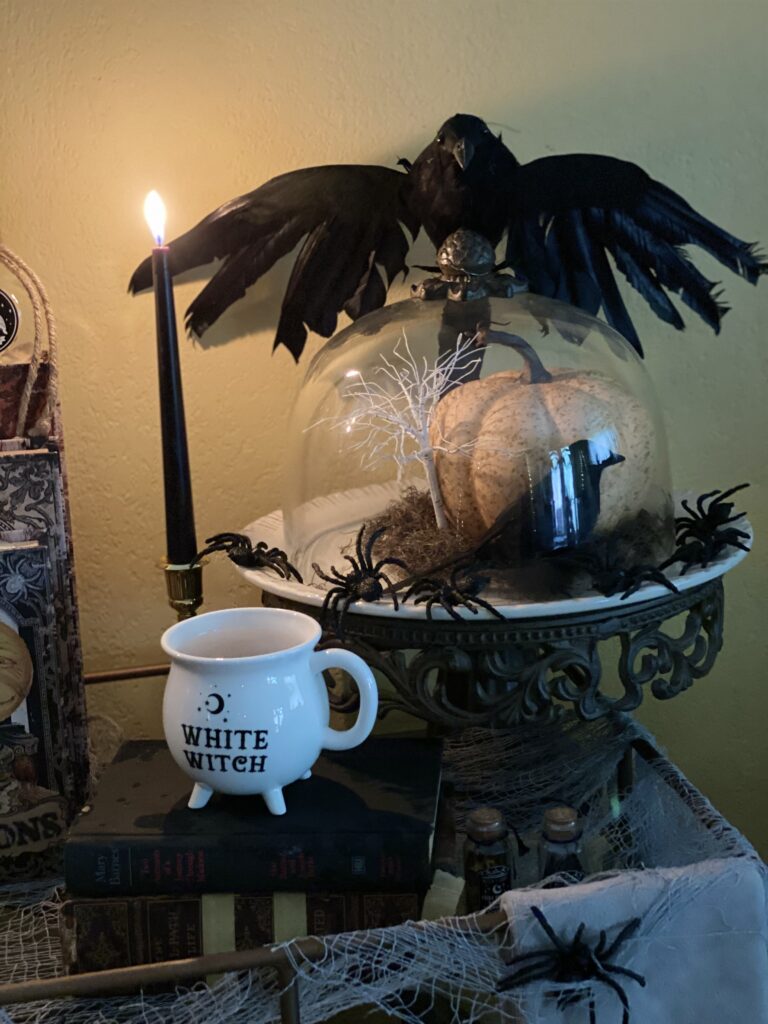 If you don't know by now, I am also a big coffee lover, and thus a coffee mug lover as well! Use coffee mugs in your decorating, especially cute special ones!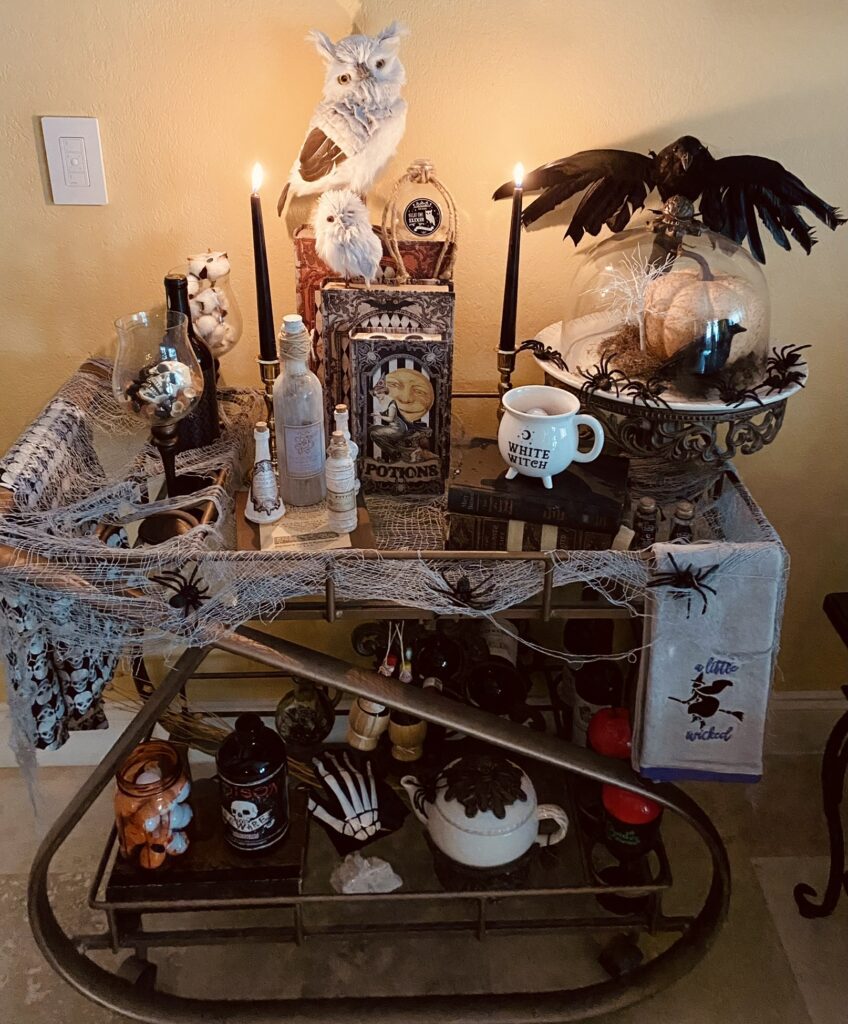 Owls are definitely not just for Halloween either!
My owls go from Halloween to Christmas and last through my Winter Wonderland decor! Plus, they are just so cute! These Kurt Adler owls are my favorites. They are so realistic, soft, and beautiful. 
Turn your bar cart into a witches potion station!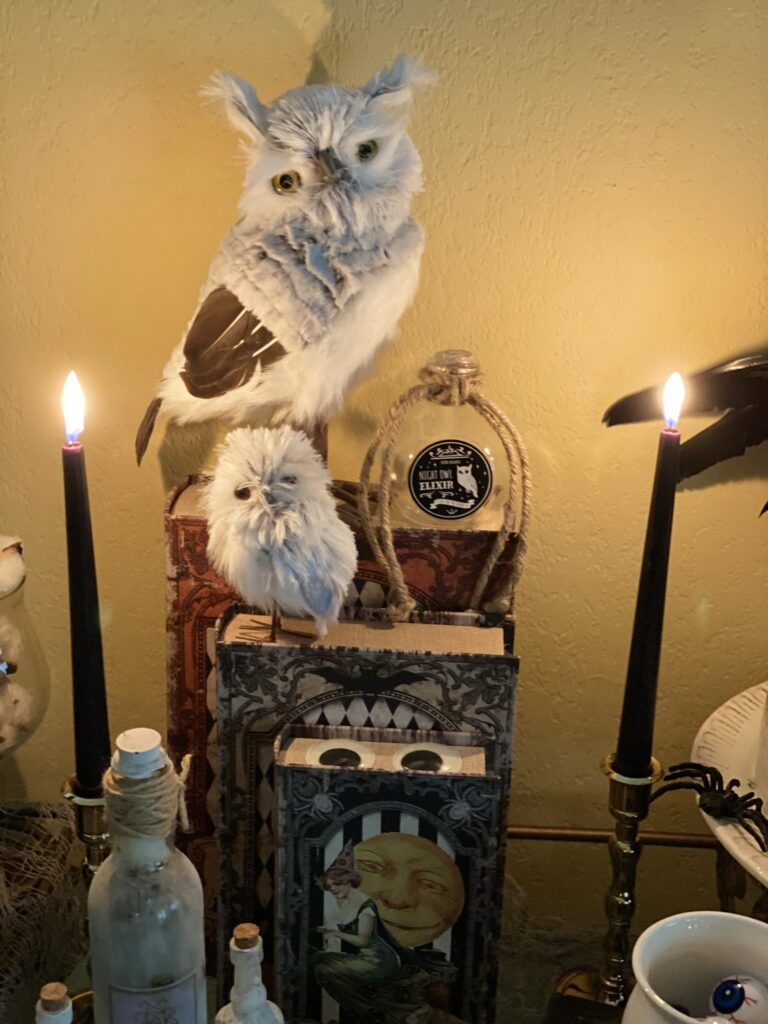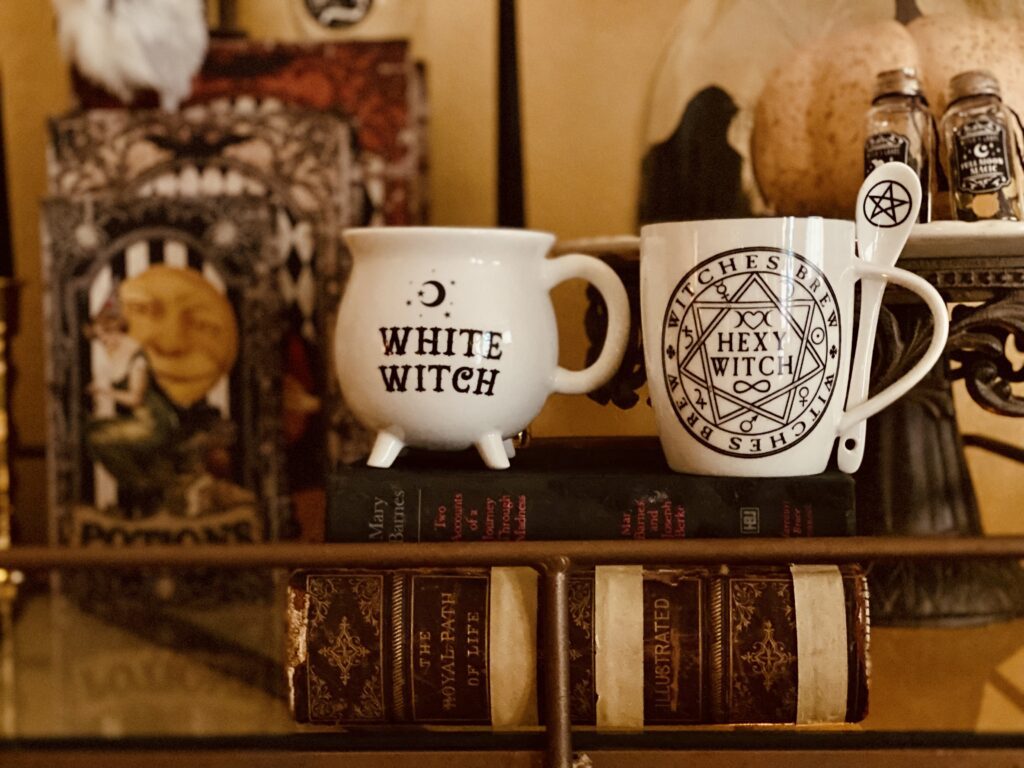 It's crazy as much as I love coffee mugs, I actually only had one Halloween mug! I know right! I found these 2 cute ones on Amazon and I could not resist. 
This year I found some cute Rae Dunn mugs that I'll be using, so keep your eyes out for those photos and ideas coming next! 
Yes, I became Rae Dunn obsessed this year! Go ahead and pour the Kool-Aid into my Rae Dunn mug and sign me up! LOL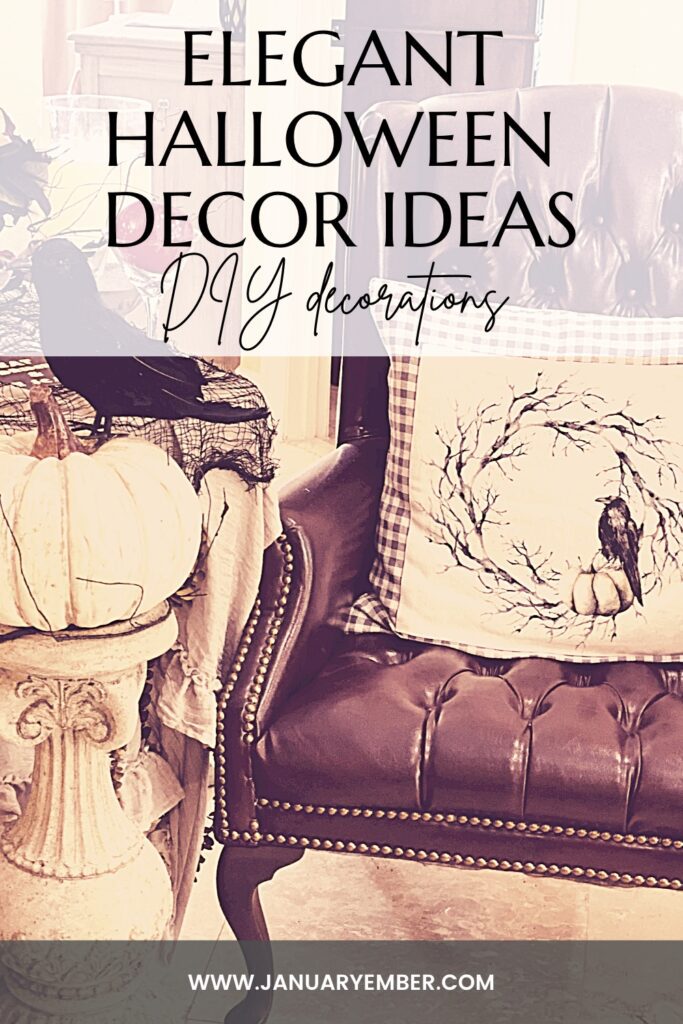 These pillow covers are really awesome. I loved them so much I kept looking for more for other seasons!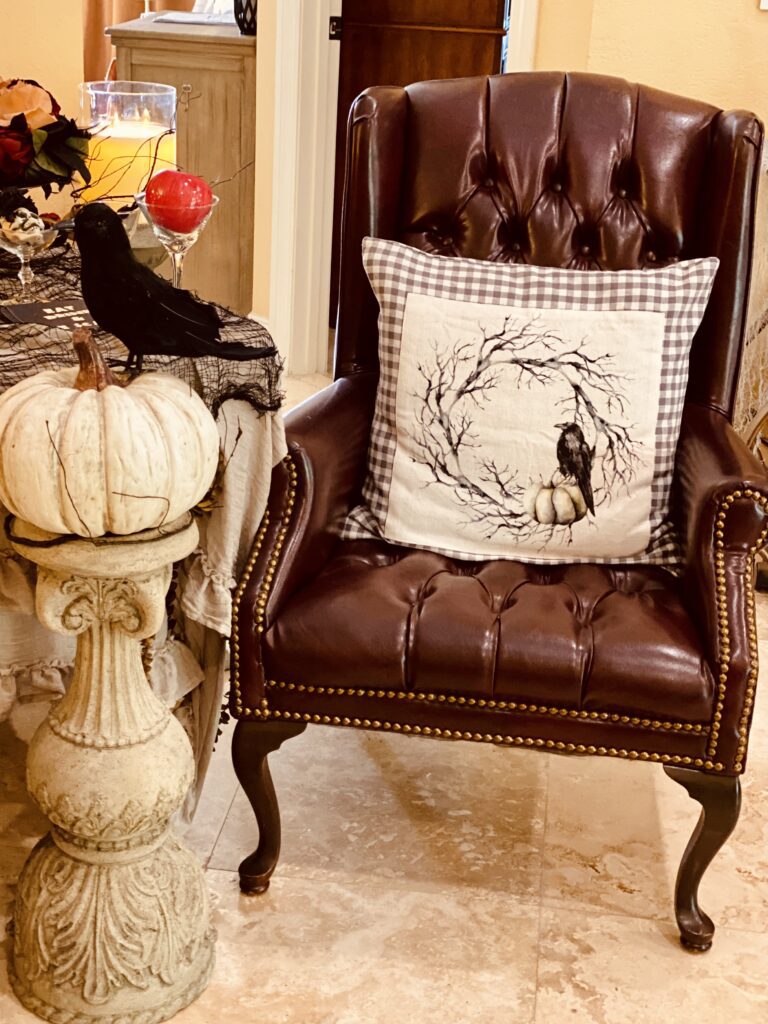 This pillow cover with the crow and white pumpkin worked so well with a pumpkin I already had. 
The pumpkin sat atop one of my gorgeous floor candle sticks. Adding a crow on top and a bendable willow tree branch wrapped around it made them look like they were made for each other!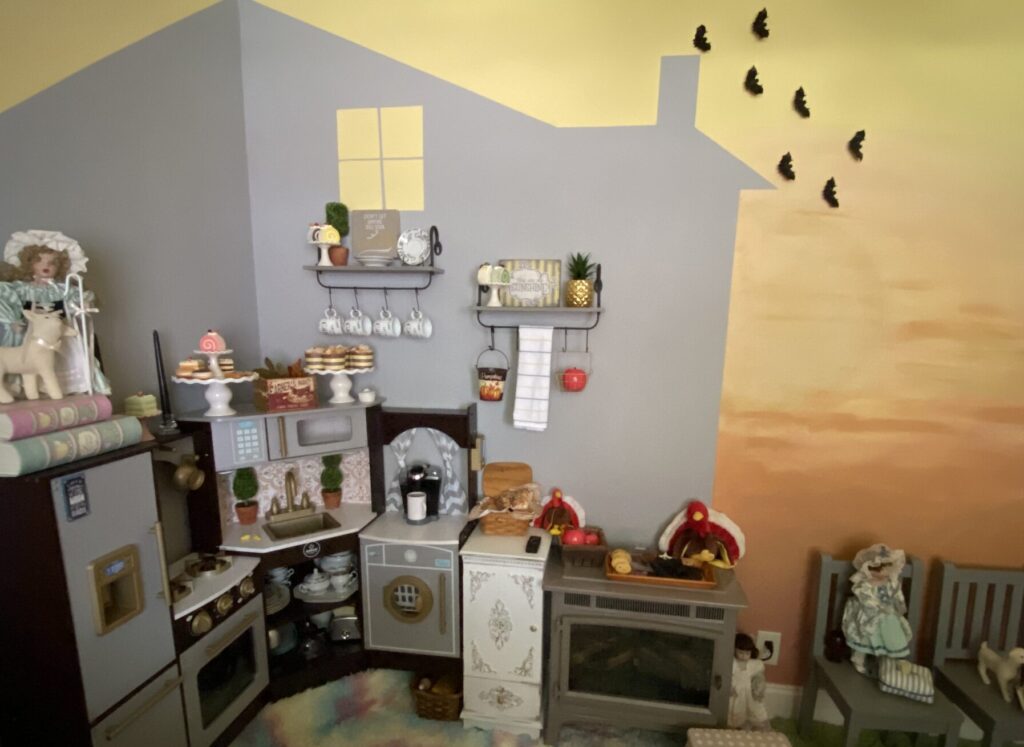 Tip - use a straight pin and stick them in to the bats to make them look like they're flying!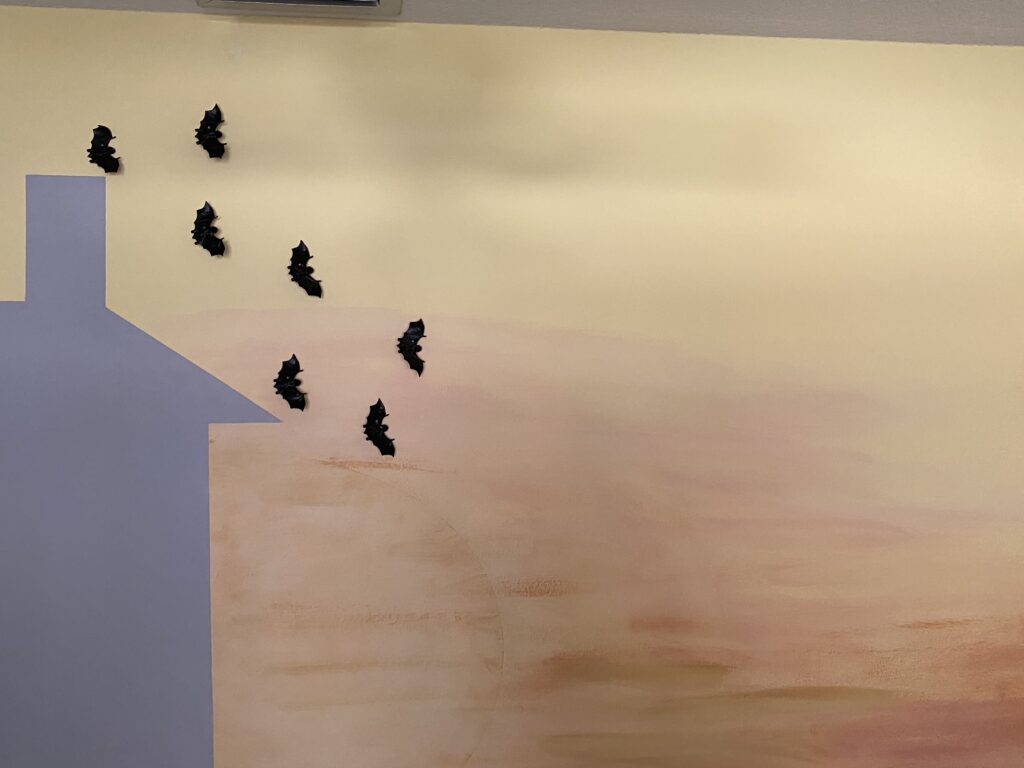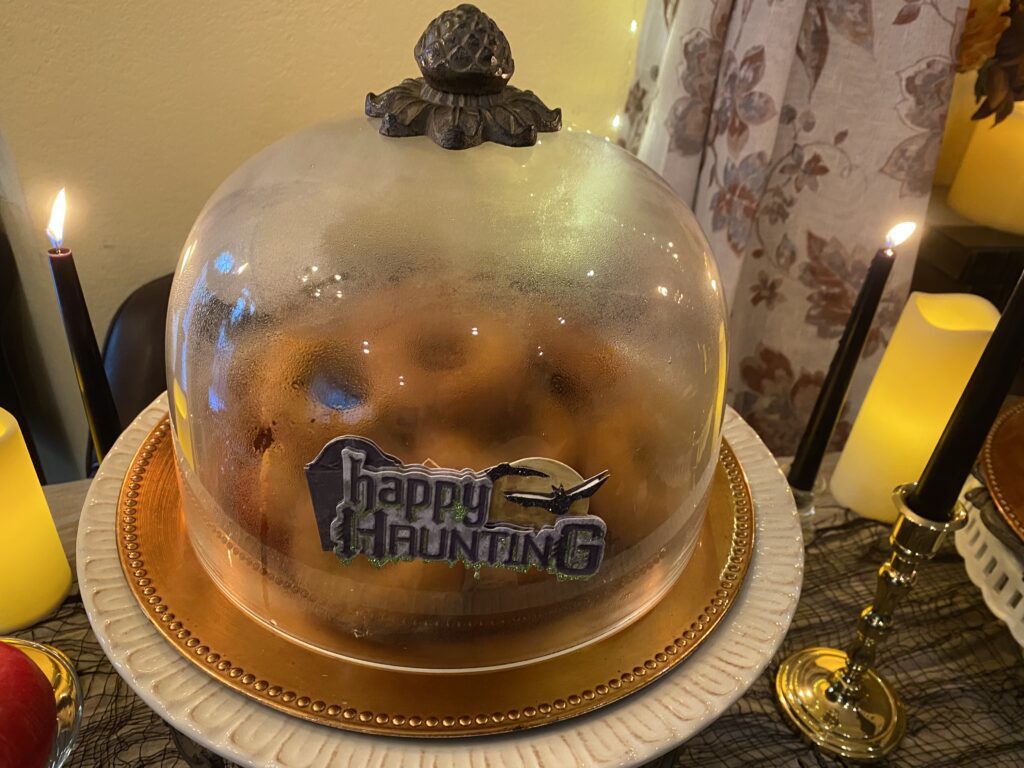 I hope you enjoyed seeing some of my "not so cheesy" Halloween decorating ideas!
Halloween is such a fun time of year, especially for decorating. As long as I can remember our family has been all about it. 
It was so great to share some of my decorating ideas with you guys! Let me know what you think and please share and spread the love! 
Subscribe and stay tuned to see how this year turns out! I'll be starting my decorating soon!
There is a box load of DIY projects I am working on gilded pumpkins, gilded taper candle holders, elegant DIY black wreaths, and more! It is ON! Mwwuuaahhaaaa!!!!
Thanks for stopping by! 
Save this and share! 
Until next time…keep smiling, improve every day, and build a life you love! 
Yours Truly,
January