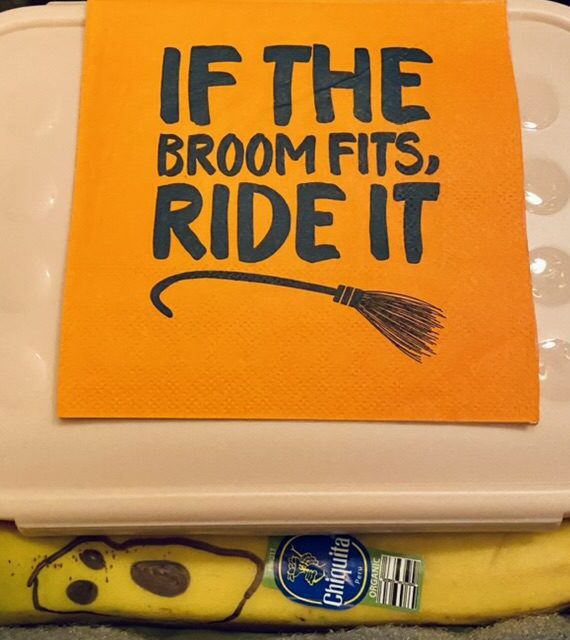 Adorable and Spooky Halloween Bento Box Lunches
Fall is here and Halloween is just around the corner! Are you ready for some Halloween Bento Box Lunch Ideas?!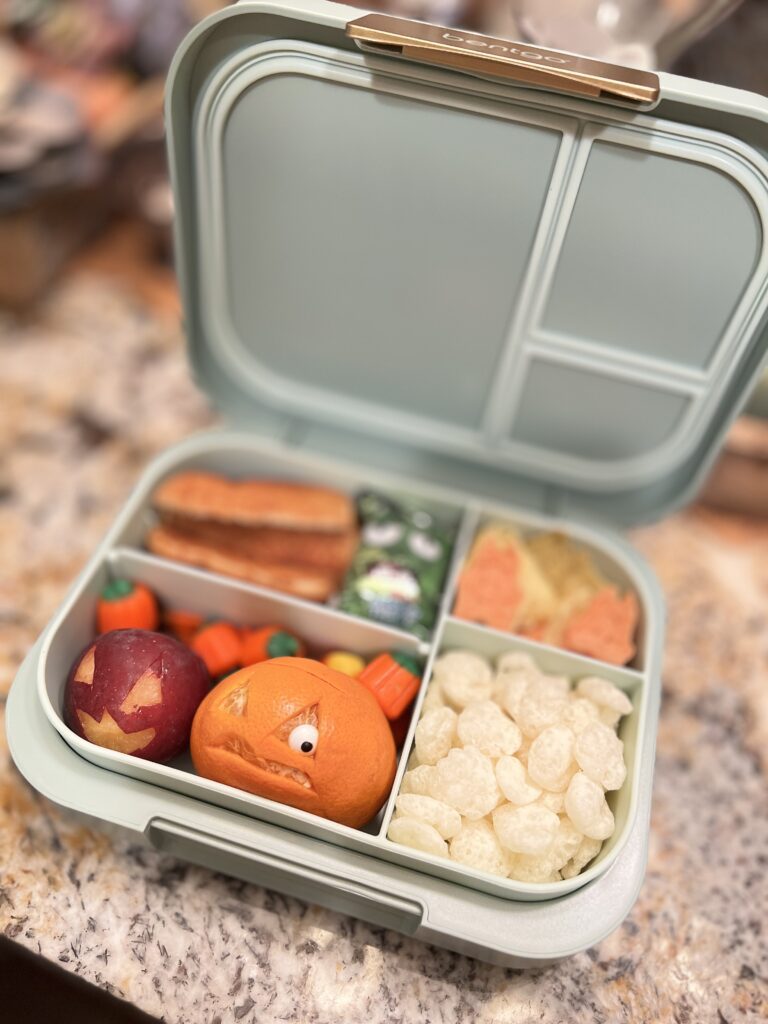 Let's spark some fun ideas for creating awesome Bento Box Lunches your kids will Love & EAT!
We are a Halloween loving family so it is only natural that I'd have to make Fall and Halloween themed Bento Box lunches for my daughter!
As I am sure you know by now, last year was the beginning of my Bento Box Lunch creations. All of these are from last year, which started my obsession with creating "themed" lunches!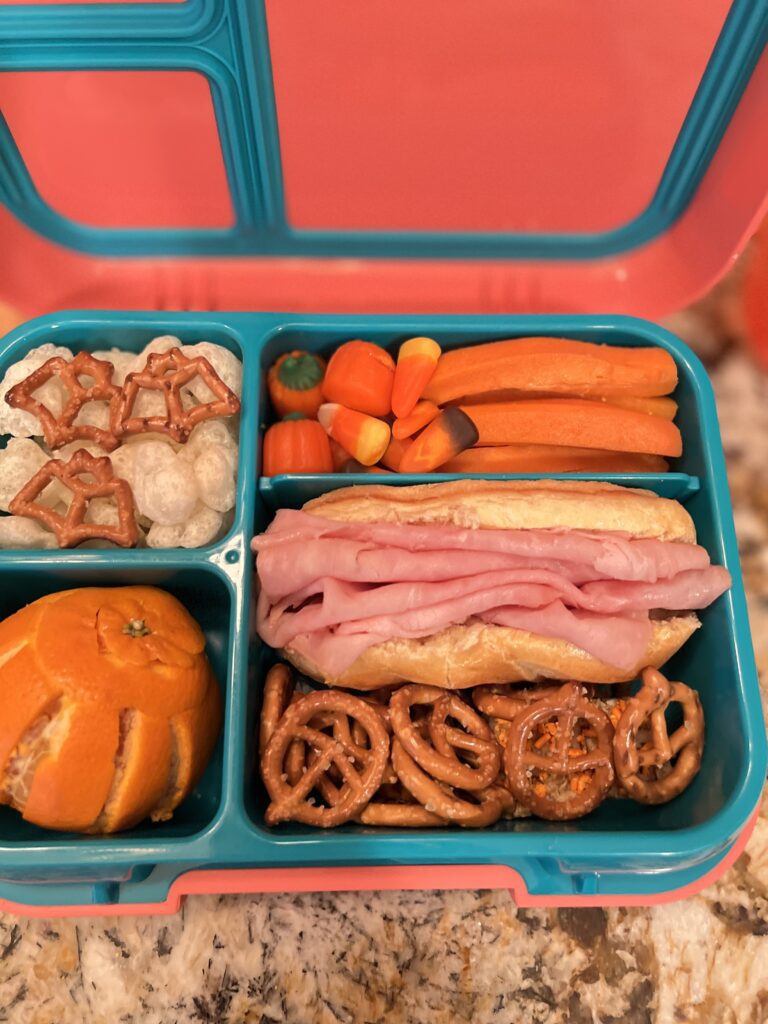 Luckily, with what I had on hand already, I was able to get creative and used cookie cutters for sandwich shape cutouts.
As well, I found whatever I could to create some fun Fall and Halloween themed lunches. 
At home one weekend, we decided to have a tea party so I made cucumber pumpkin tea sandwiches!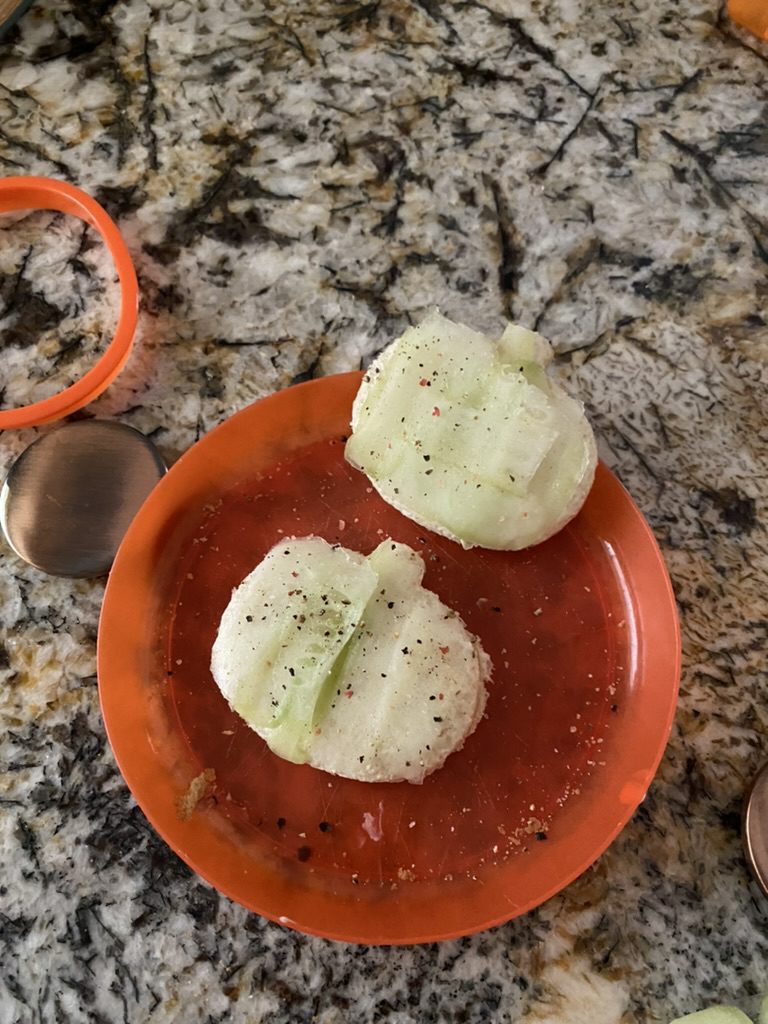 These little pumpkin sandwiches were a tea party hit and became a Bento Box inspiration!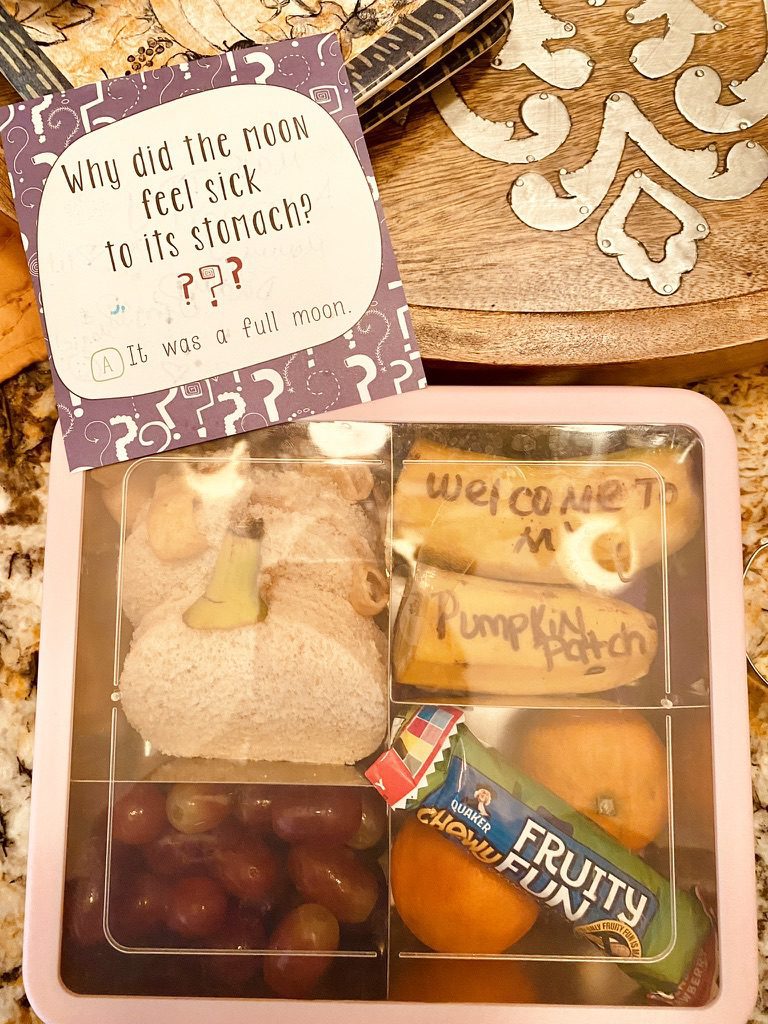 Last year I only made a few Fall themed lunches, as I was just hitting my stride with the themes. The banana stems worked really well as "pumpkin stems"!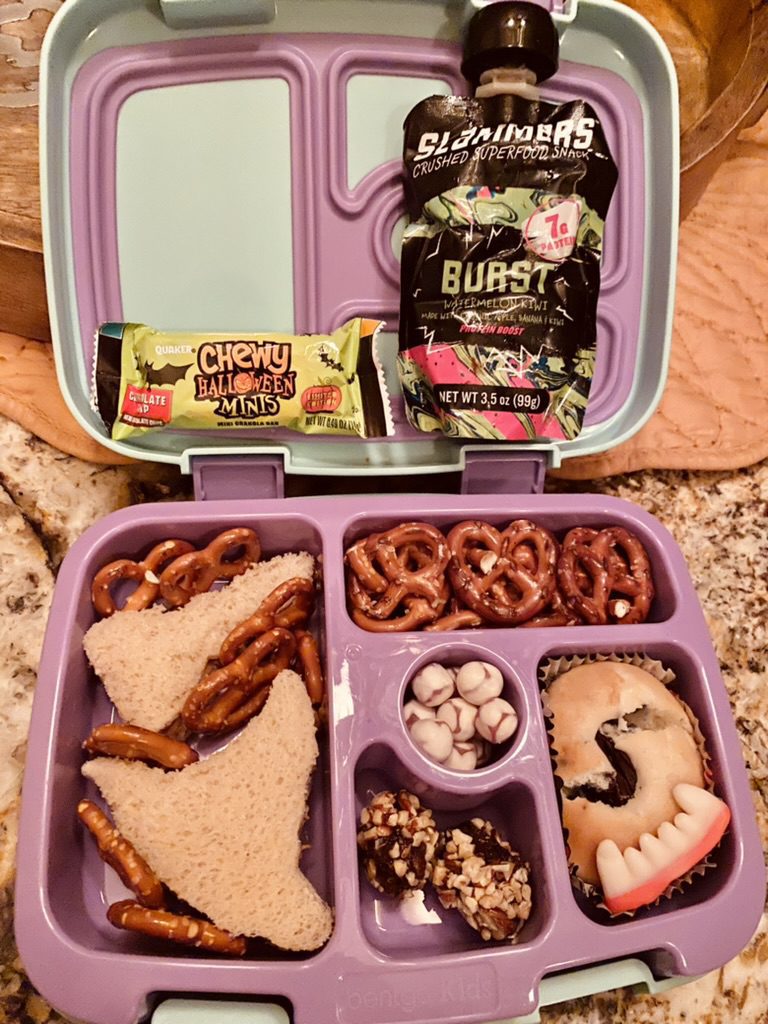 This post contains affiliate links. This means I may receive a small commission for purchases derived from those links at no cost to you. This helps support the blog. Thank you in advance for your support!
When Fall came around last year, I had already been planning to make my usual "Baked Pumpkin Donuts" (I make them every year, and even my hairdresser requests I bring her a batch)!
My love of baking has been around a while, and I do try to cultivate it whenever I can, and if I can make something healthier, that is always my goal! 
Donuts….we love them! So much! Yes, they are not "healthy", so I limit our interaction with the normal "fried" ones. 
Due to that deep love of donuts, years back I got some donut pans for "baking" healthier donuts.
Several years into baking donuts, I have perfected my easy, healthy, 100 calorie pumpkin donut!  YES, THEY ARE AMAZING! 
Healthy Pumpkin Baked Donuts - I add these into her Bento Box Lunches too!
These Wilton donut baking pans are awesome! You'll see I use them to make cinnamon roll donuts, and all sorts of other fun, "healthier" donuts! Let's keep it real, I was not giving up donuts!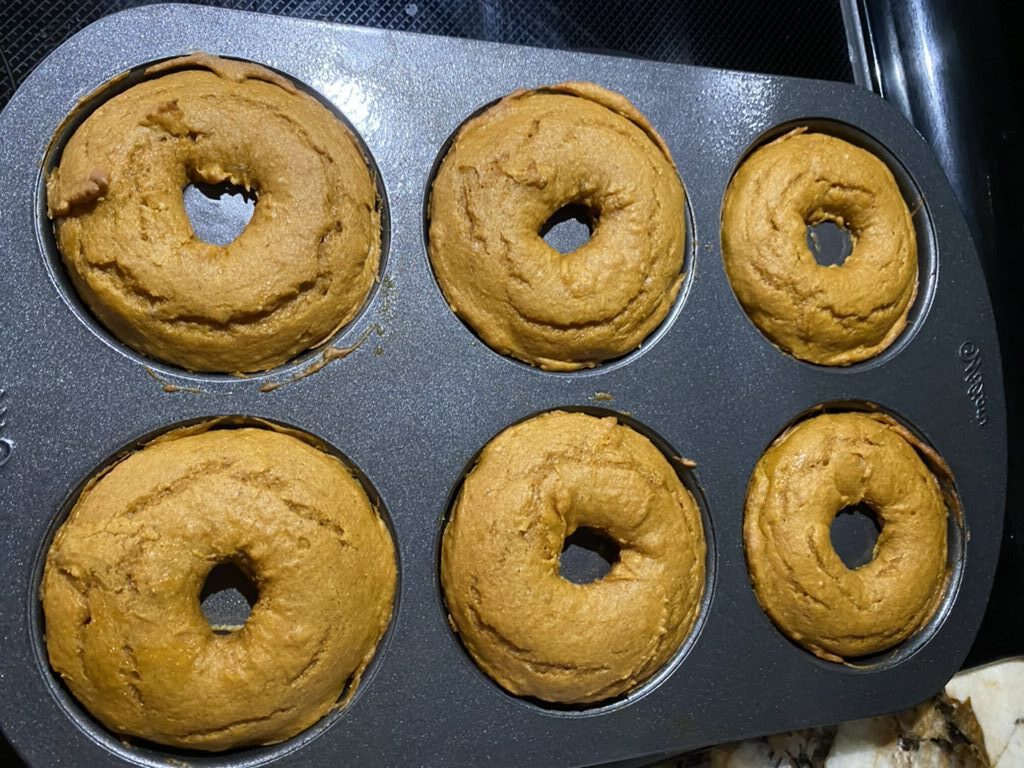 Given my love of baking, last year I experimented a bit and made some healthy blueberry muffins. The blueberries were big and juicy so I decided to stick a big blueberry right in the middle!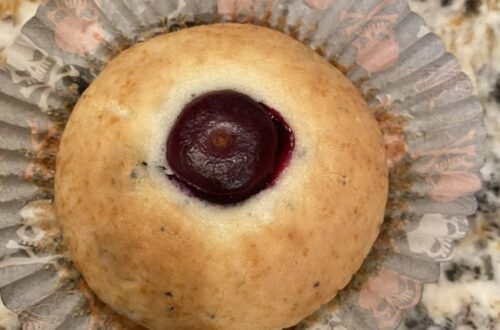 The result…delicious and it looked like an eyeball! This worked out great for the Halloween themed bento box lunches I made! 
Muffins are a great pre-made meal prep item to easily add when making lunches. If you don't know me yet, I am a busy busy bee, so I love anything that saves time!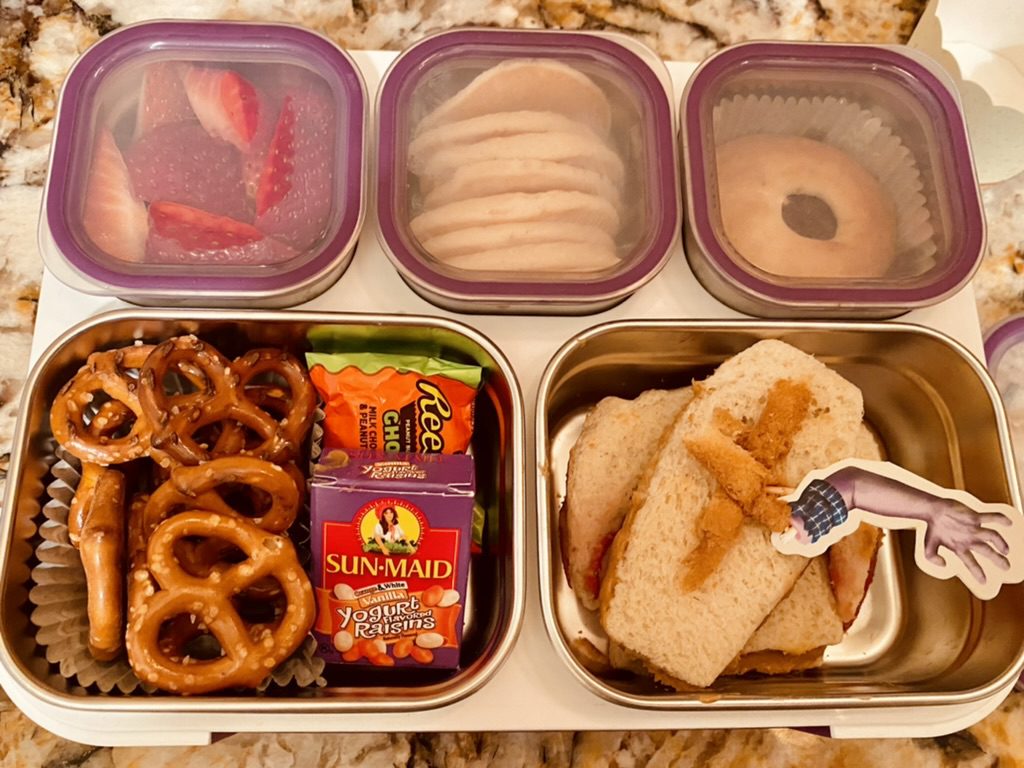 Cupcake sets for Halloween with fun picks work really great to "Theme" decorate your bento box lunches!
The Zombie picks I used last year came from a cupcake set my mom found on clearance at Marshall's and gave to me.
She knows I love to make cupcakes! Thanks Mom! Likewise, my daughter LOVED IT!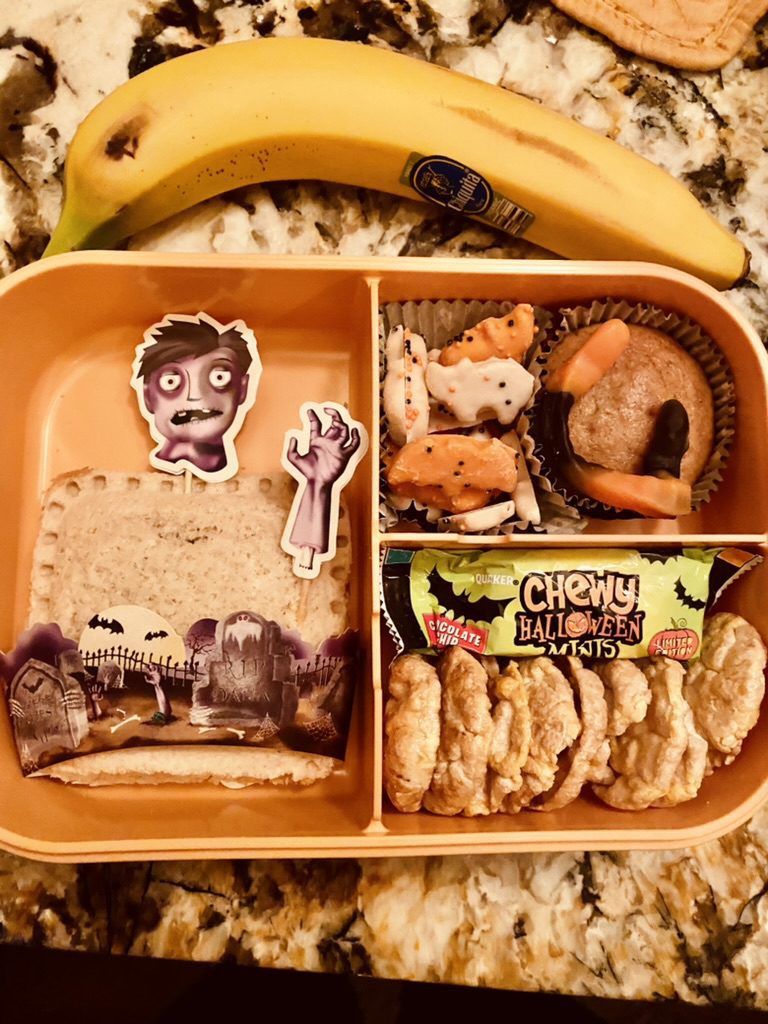 Here in the Zombie graveyard Bento Box lunch you'll see I used several items from my Grab & Go list below. This was a 3 minute lunch prep quickie!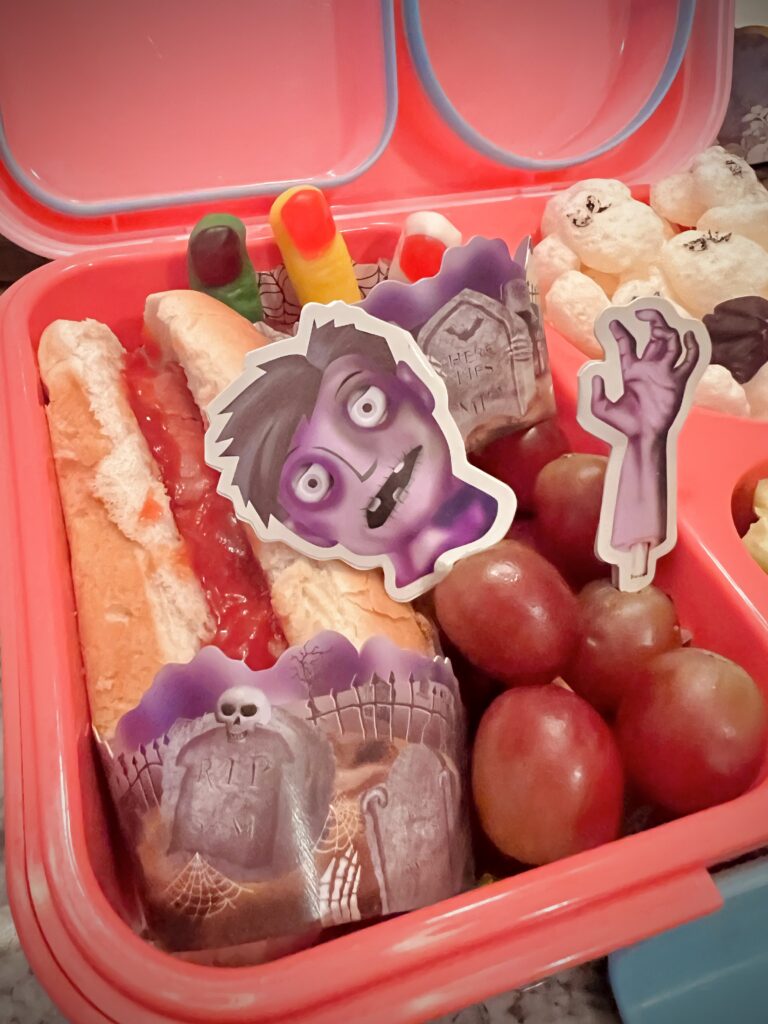 Even though I didn't have any real "tools" just yet, you can see I still managed to pull together some fun little Bento Box lunch ideas using some pretty basic items. 
Each holiday season, you can find all sorts of fun themed snacks, candy, cereals, etc. This is something I always look for and make sure I have on hand for making lunches. 
Don't underestimate the awesomeness of some fun themed cereals as well! Cereal is an easy thing to add to lunch, and it is a fun little treat that always goes over well!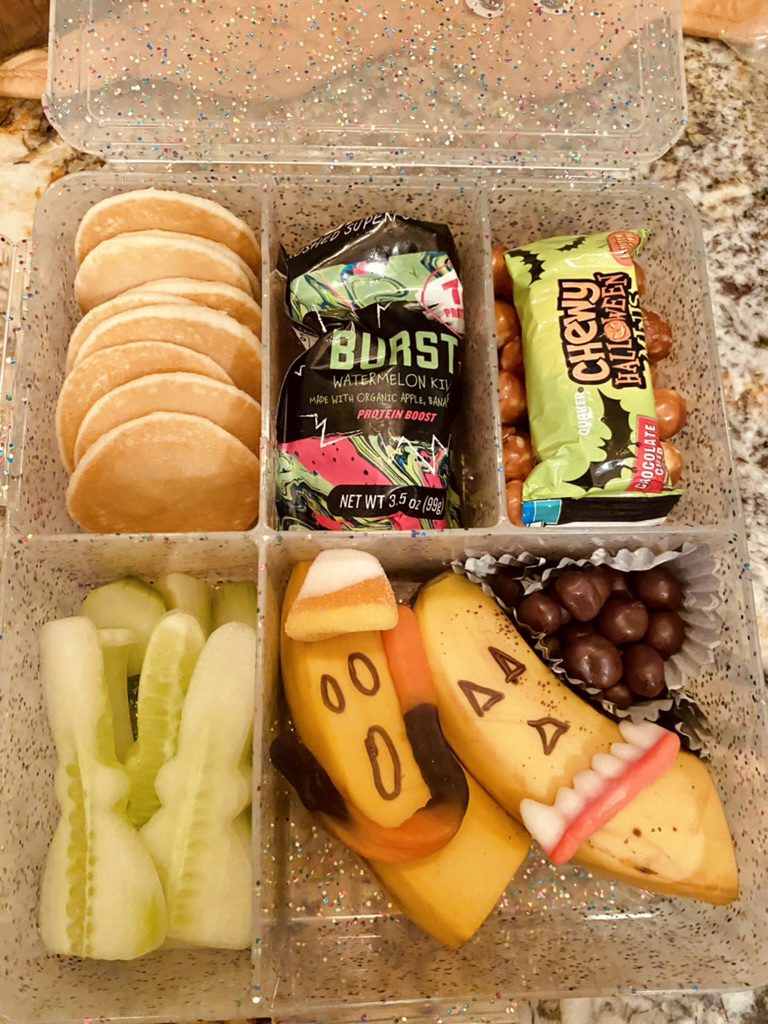 Using gummy worms and gummy candy as a treat and decoration was a huge hit.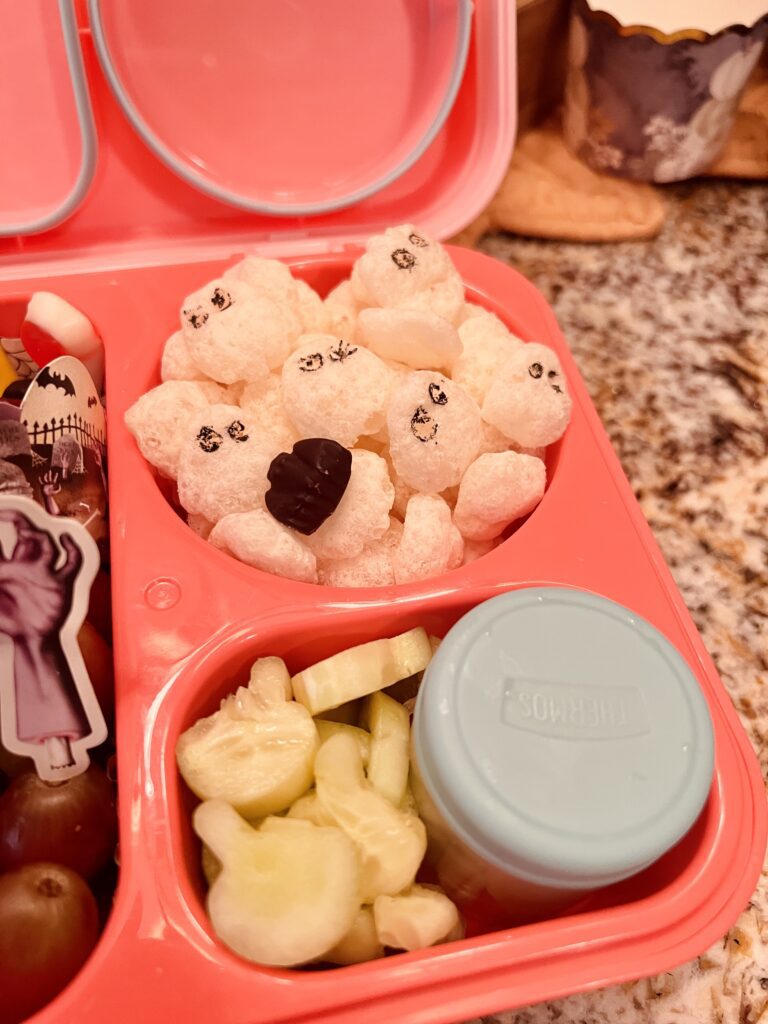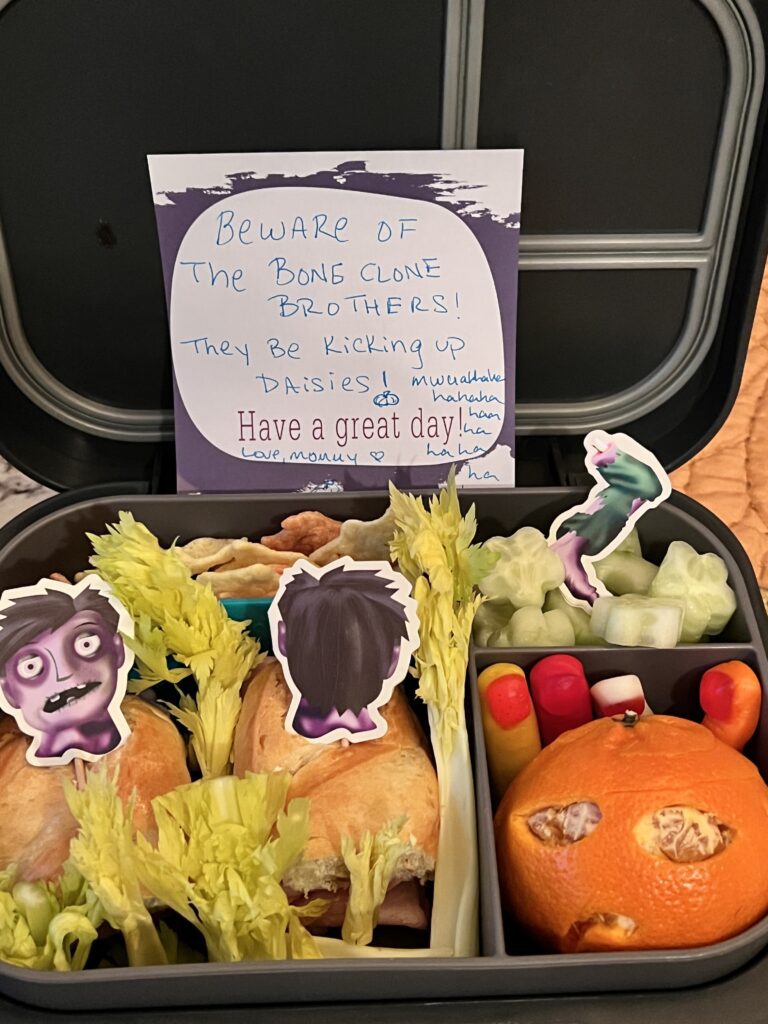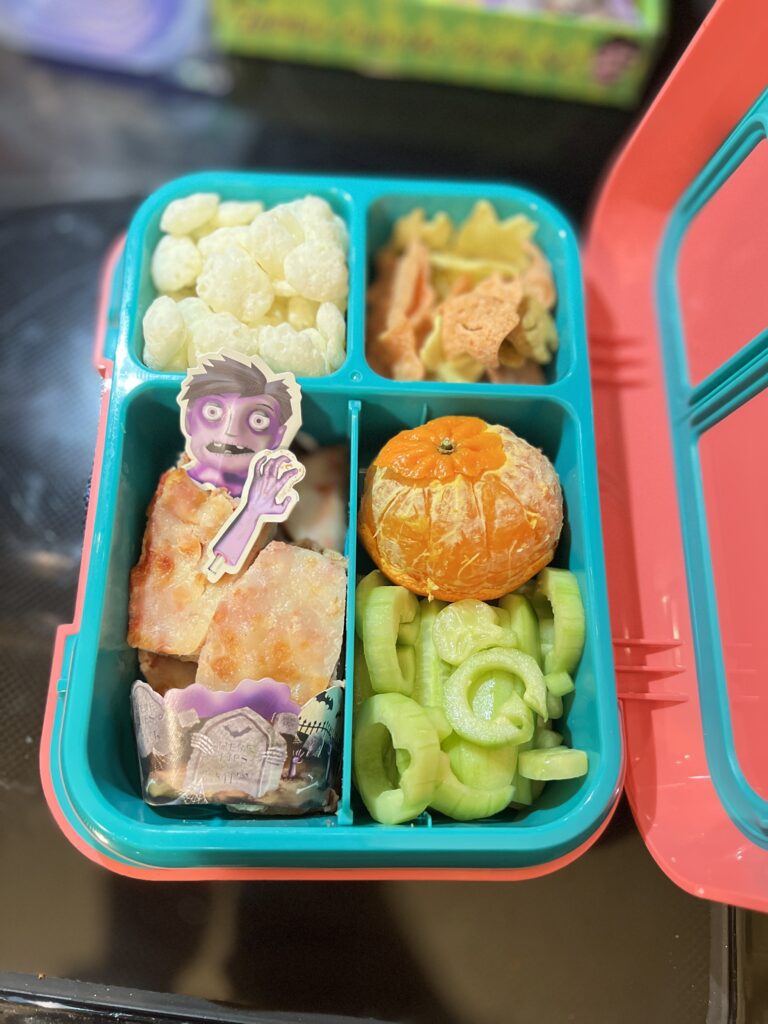 Mini granola bars 
Cereal 
Utz Mini cheese balls and Pretzel snack bags 
Bananas 
Animal crackers 
Cookies / Muffins
Cupcake Sets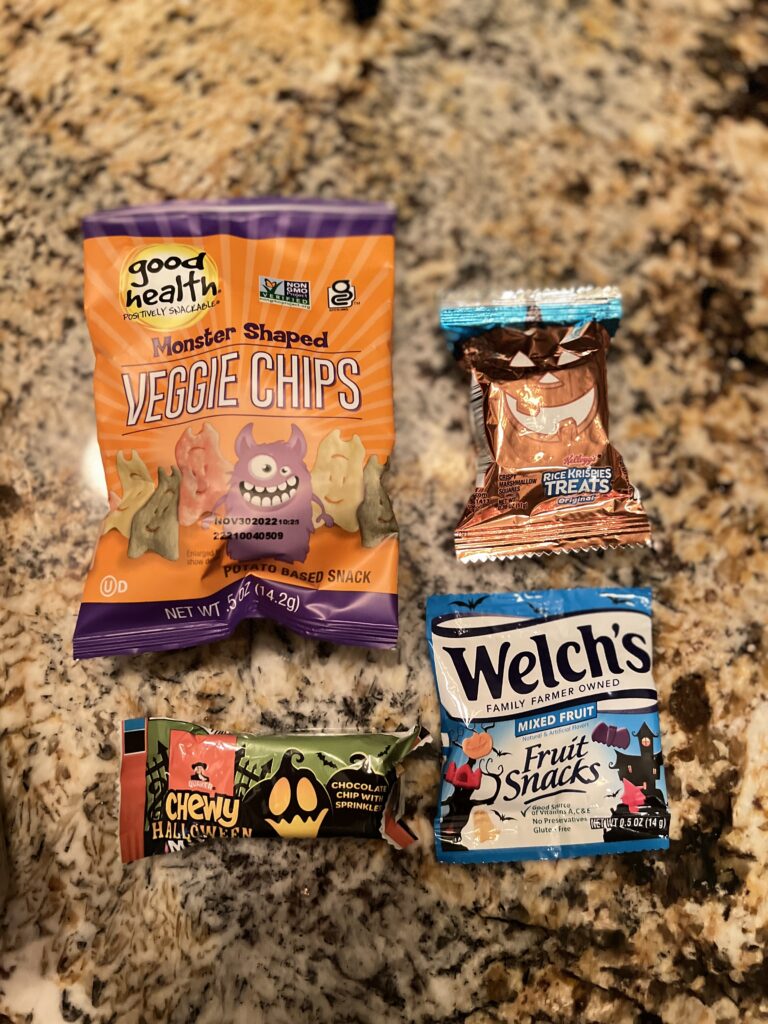 Holiday theme mini granola bars are great for grab and go! You'll see in my pictures I use those a lot. It is healthy and she eats them!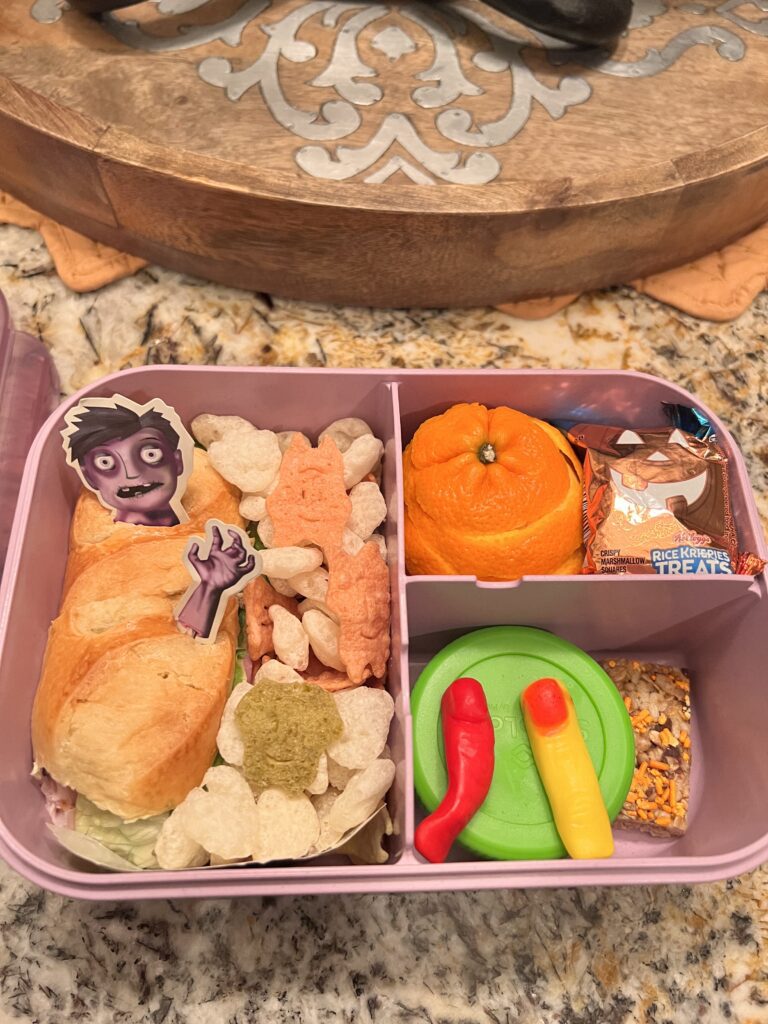 This fast lunch has a mini brioche roll ham sandwich, veggie monster chips and ghost puffs, clementine, Halloween mini granola bar, Halloween pumpkin Rice Krispies treat, gummy fingers on top of cucumber pumpkins inside of leakproof snaplock container.
2. Cereal – This is an easy thing to add to any bento box lunch and there are tons of cool cereals for Halloween! Think outside the cereal bowl! 
3. Utz Mini cheese balls and Pretzel snack bags – these are great to throw in as well! 
4. Bananas – grab a sharpie and draw on it! Add some gummy teeth and candy eyeballs for an easy Monster!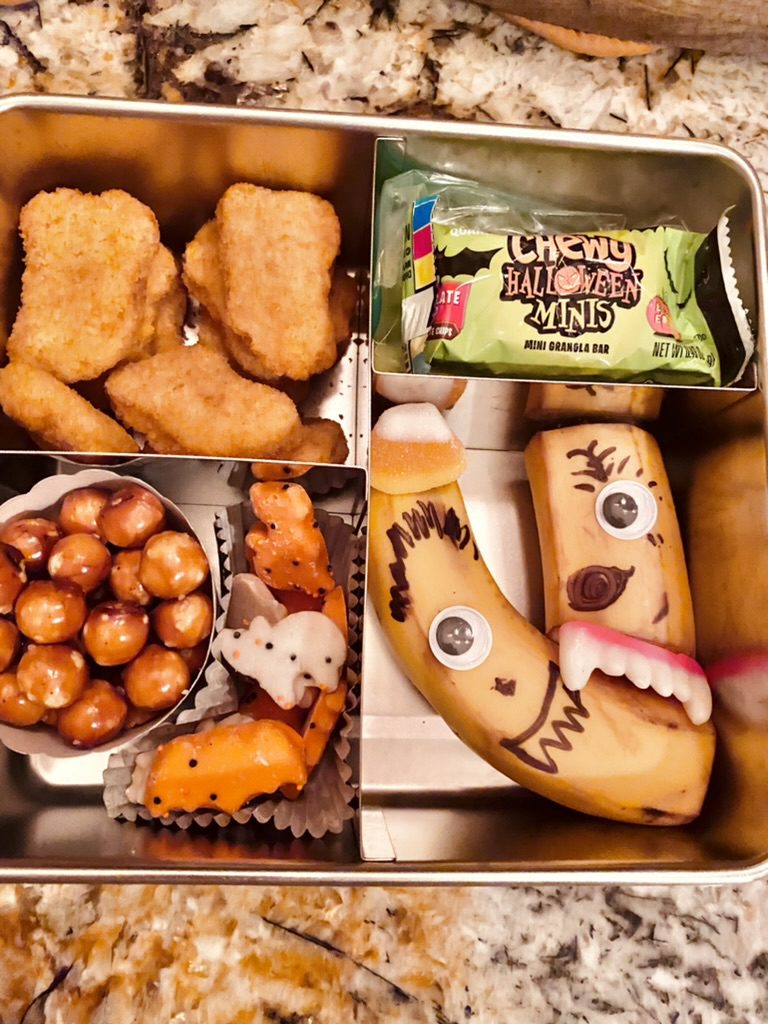 5. Animal crackers – fun holiday themed versions, you can see I have added some cute ones – bats and cats…
6. Cookies/muffins- the stores will have themed cookies, cupcakes/muffins, or you can make them yourself! A fun themed cookie is a nice treat and adds to the cuteness!
Add some gummy candy – this was so fun for halloween!
Gummy worms, monster teeth, whatever you can find
7. Cupcake sets – use the cupcake liner for snacks, and use the picks and wrappers for decorating – like my Zombie Graveyard!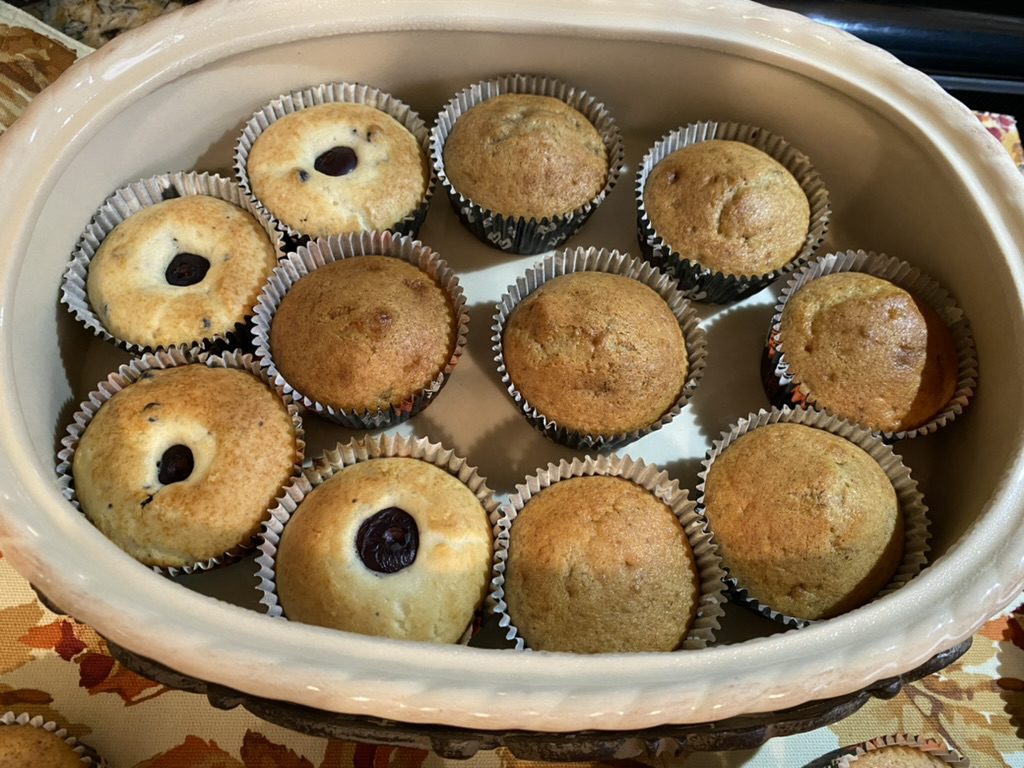 You'll see I use cupcake liners a lot for dividing snacks, they work great and you can get some really cute fun themed ones!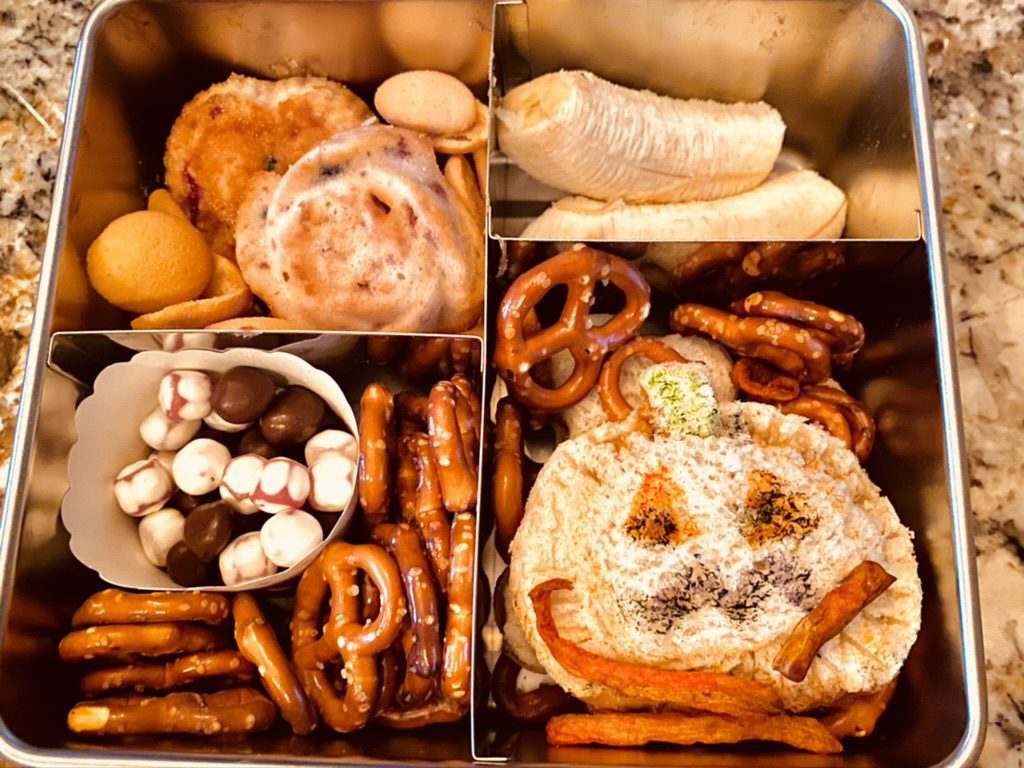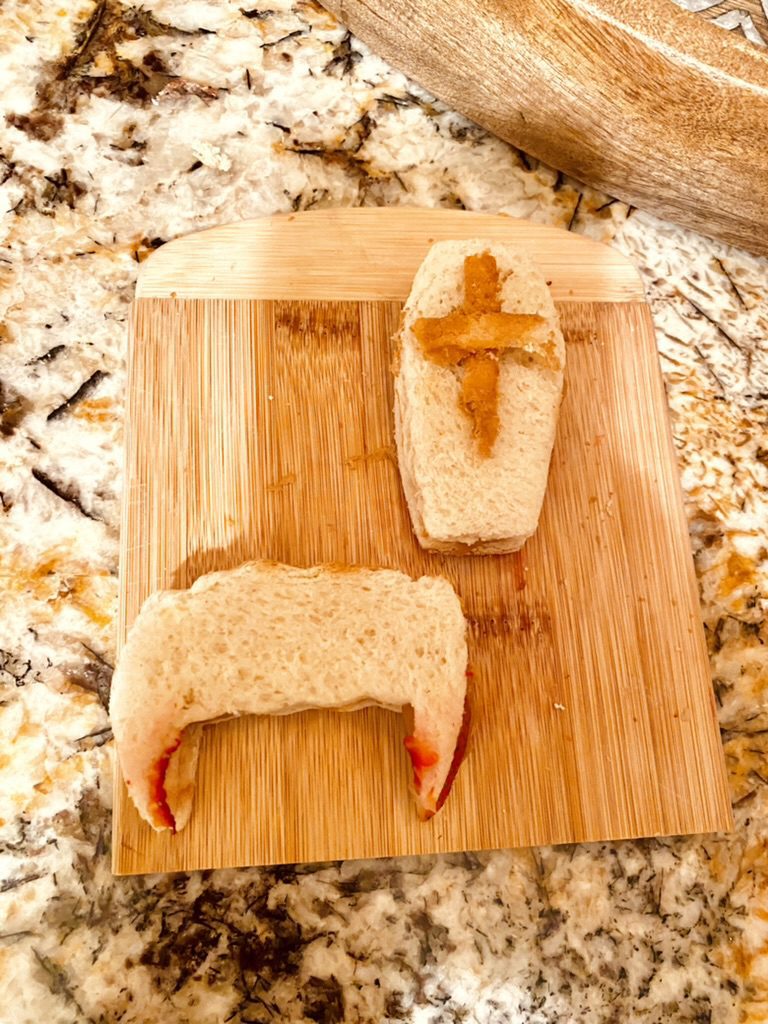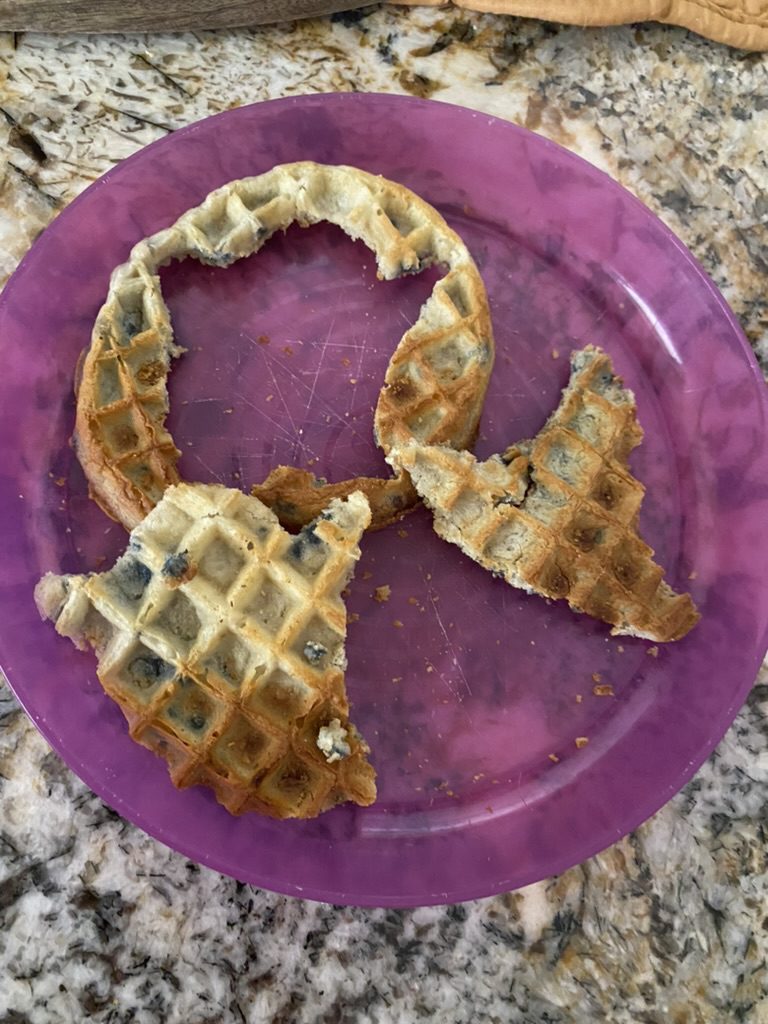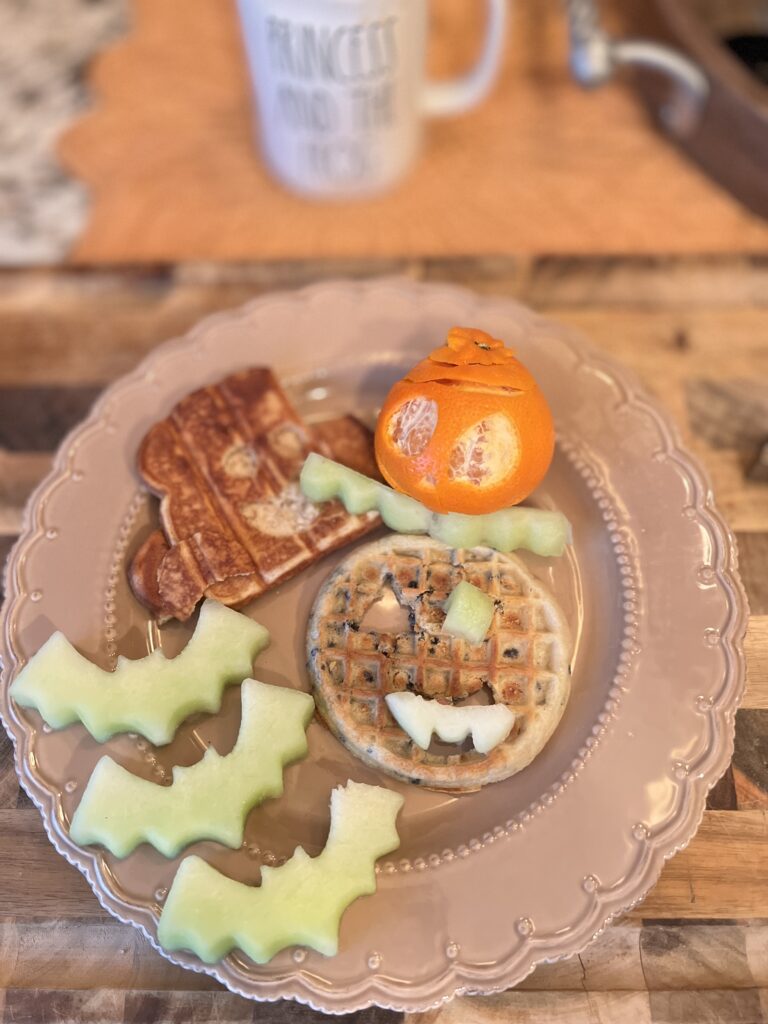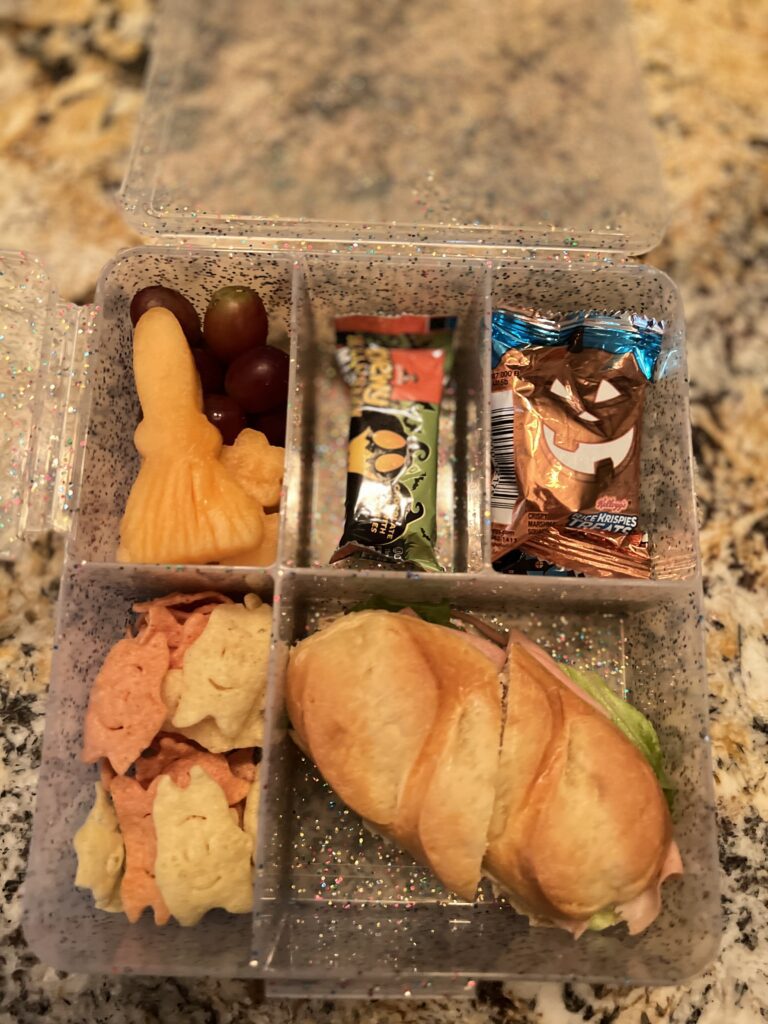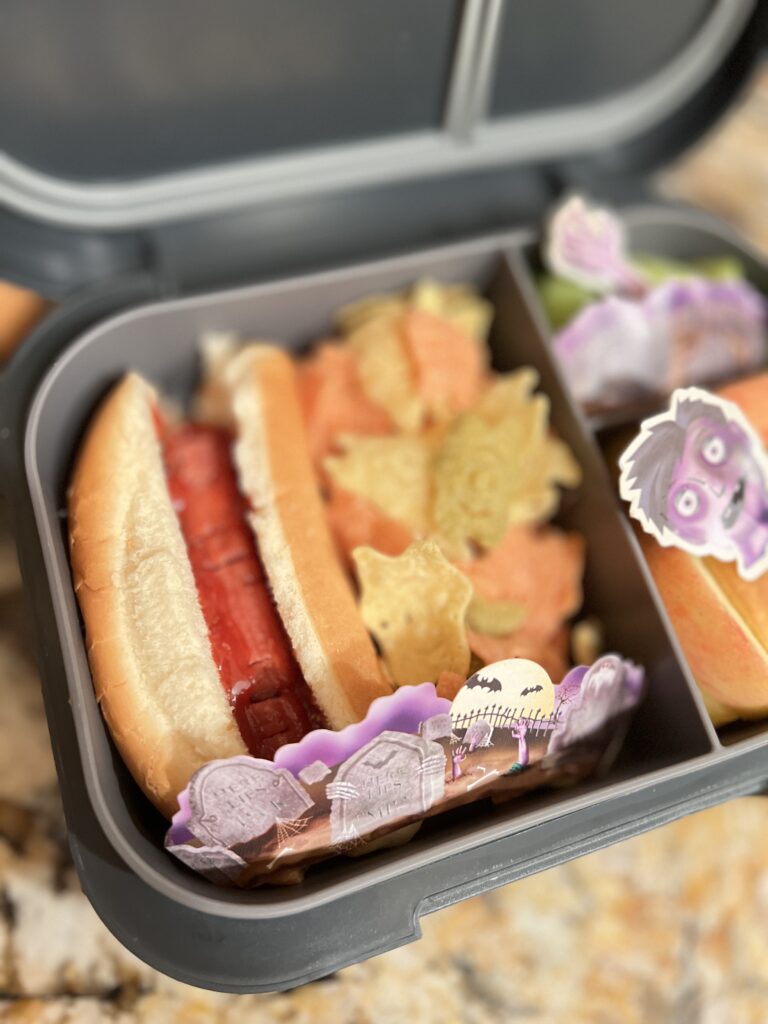 Another fun Halloween Meal Prep Food you can make ahead of time - Mummy Hot Dogs!
MUMMY DOGS: these are easy to make and super cute! Hot dogs & crescent rolls.
Roll out your crescent roll dough
Use a pizza cutter to slice the dough into strips (mummy bandages)
Cut the hot dogs to create "legs"
Wrap with crescent roll dough bandages
Bake according to directions for crescent rolls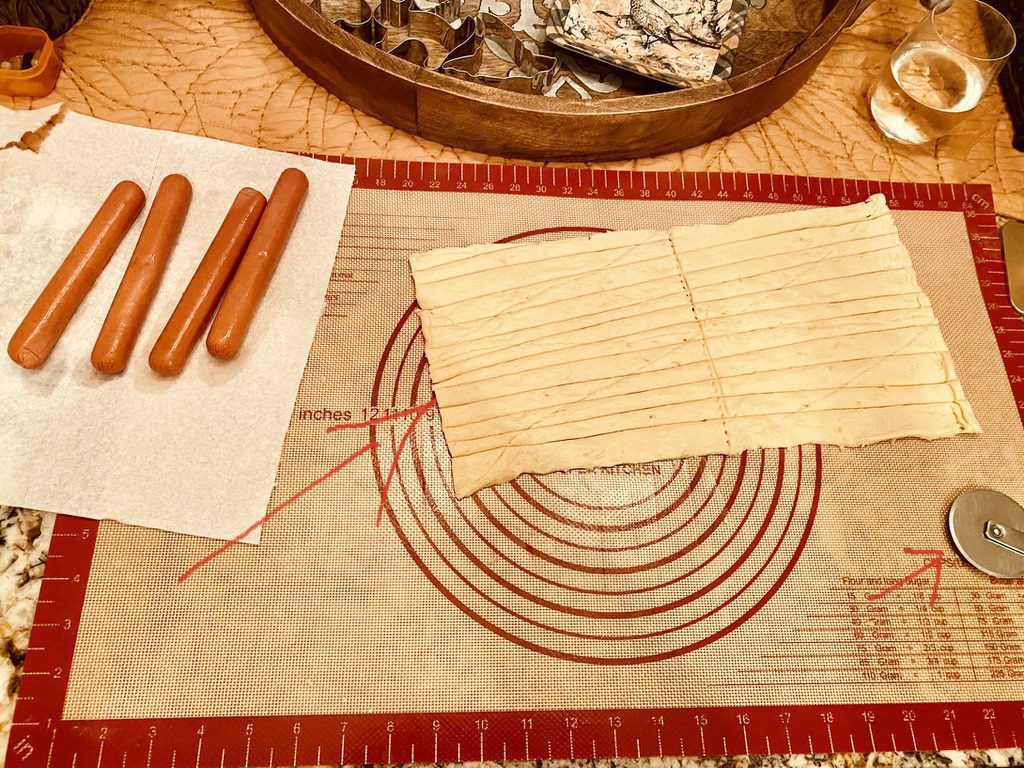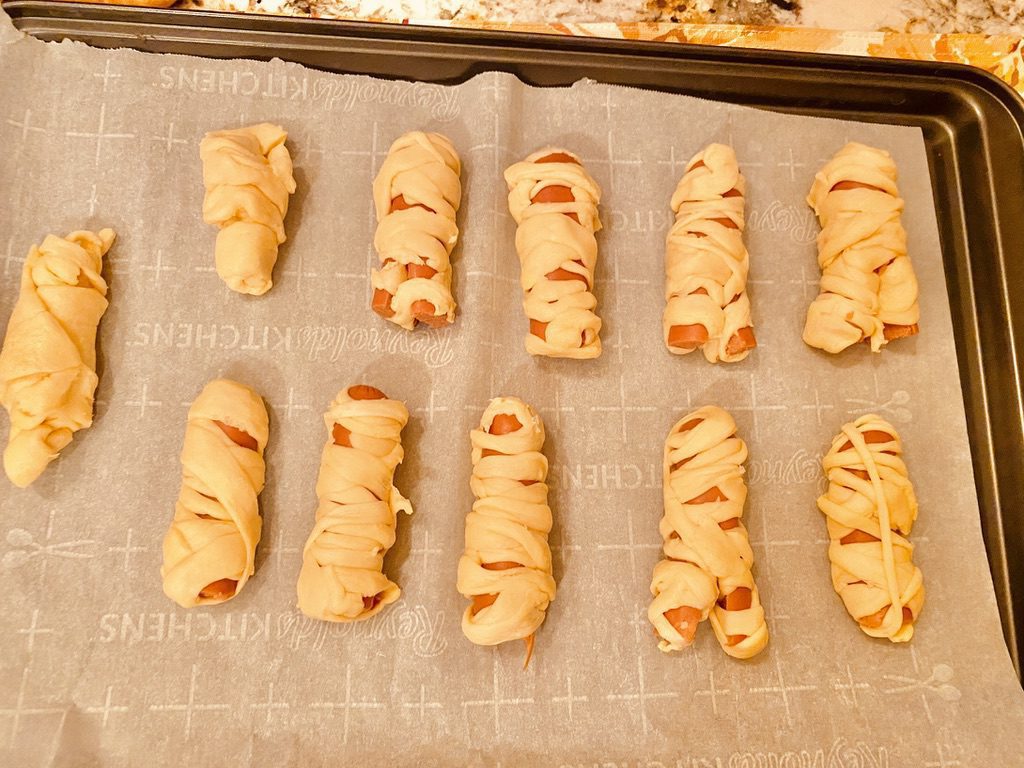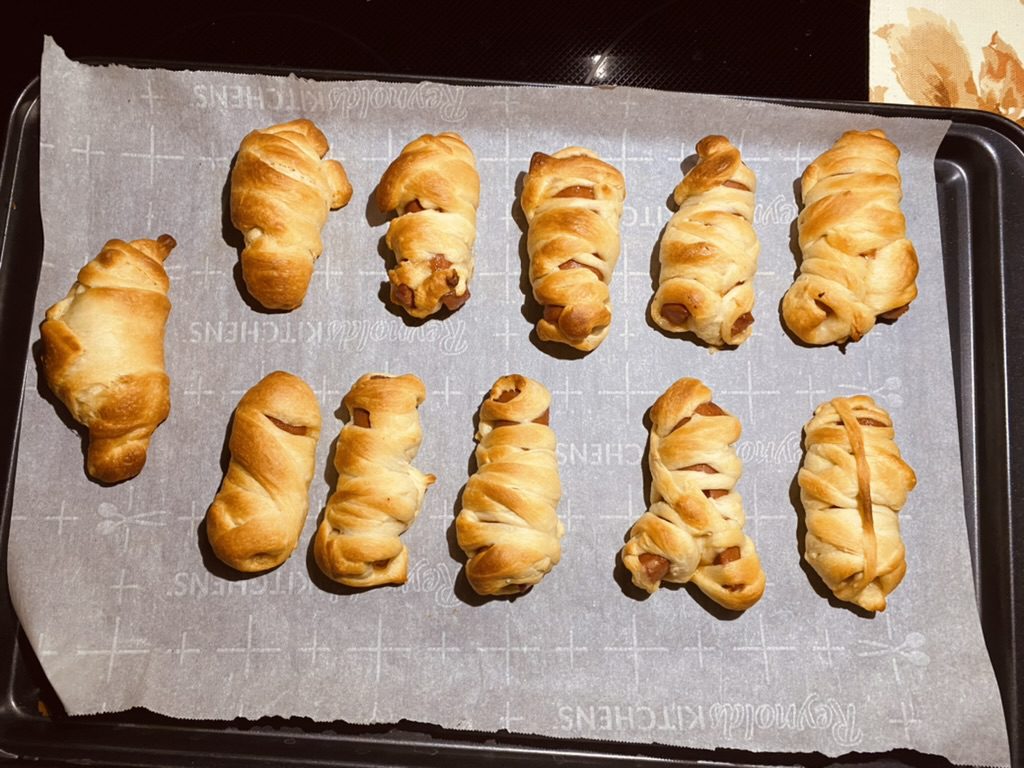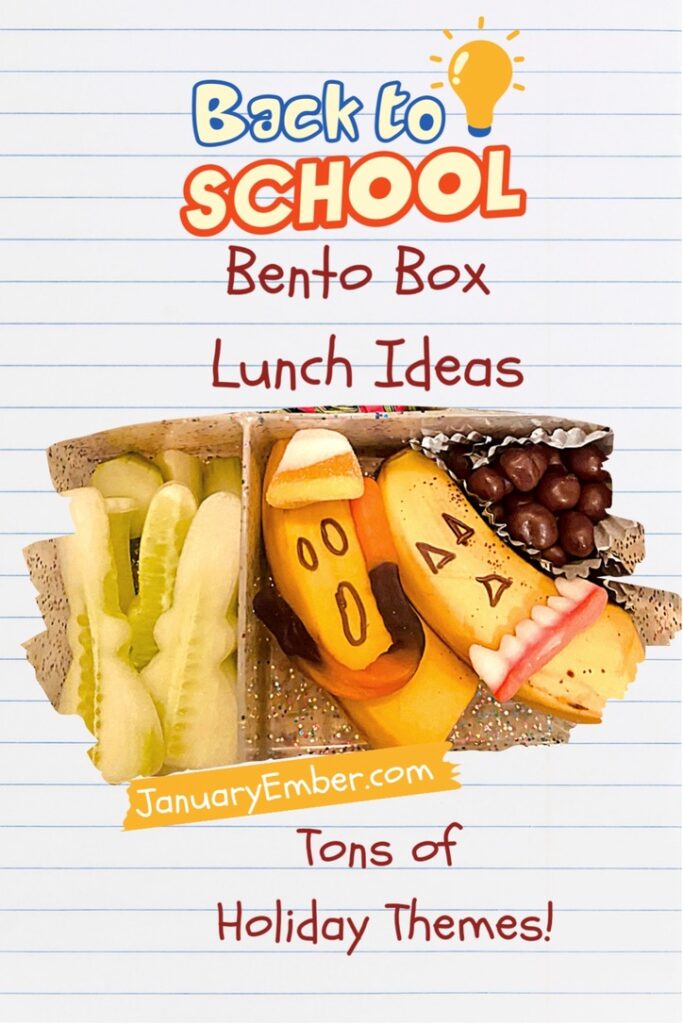 This year I'm going to make some crustless sandwiches with this pumpkin sandwich cutter and sealer set! I'll post updates on how those turn out this year!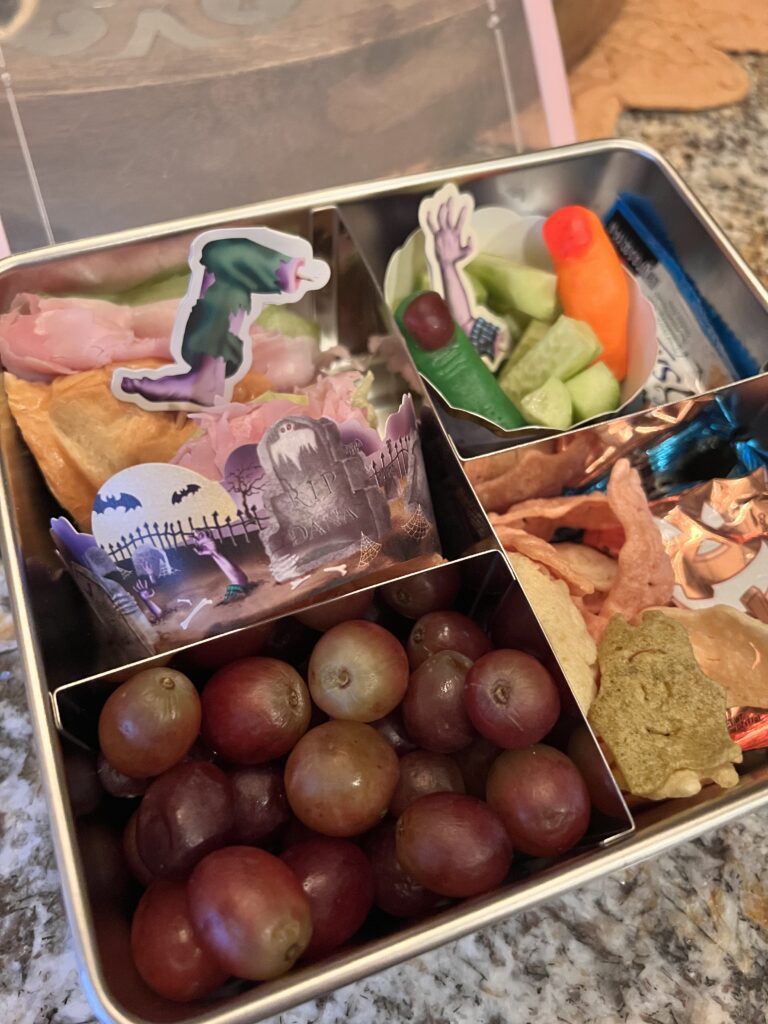 I hope you enjoyed seeing some of my Fall and Halloween themed Bento Box creations! Subscribe and stay tuned, I've got a lot of Halloween decorating and DIY projects to share!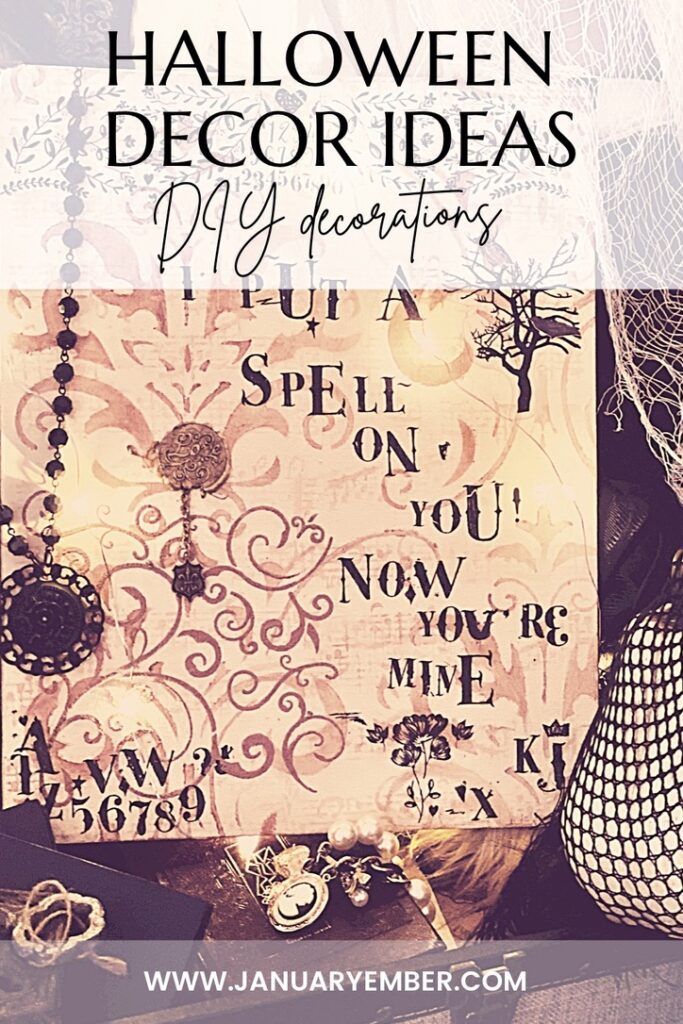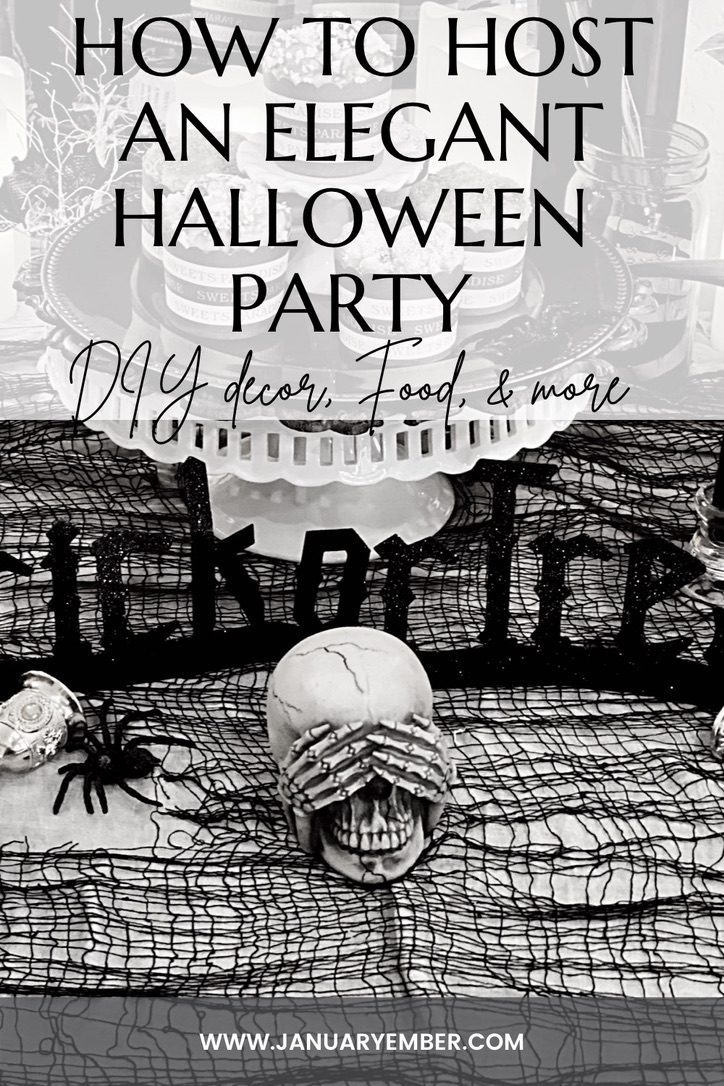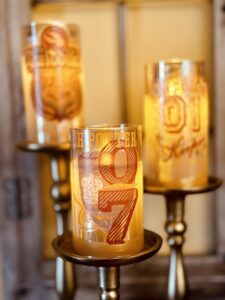 Drumroll please…Here it is, the moment you've all been waiting for…my Harry Potter Hogwarts House transformation first look reveal! Last year sparked the beginning of our Harry Potter obsession, and I can justifiably say, it more than qualifies as an obsession! When my daughter said she wanted a Harry Potter Birthday, I was on the job with making magic in mind!  We love to go to theme parks like Universal Studios and Disney, why, because we want to be immersed in the experience, we want to feel like we are IN the movie. That is the feeling I wanted to create in my own for the party.  I wanted these kids to feel like they just walked off the train and checked their bags for orientation at Hogwarts.  To start this off, I want to show you the easiest thing I made for the party, so if you are looking for a fast, easy decor idea, then look no further! The easiest thing I made for the party: Harry Potter flickering LED candles. One of my absolute favorite things I made for our Hogwarts House transformation, were these super easy Harry Potter candles! With just 2 things needed: Led candle and a rub on cling (Harry Potter themed in this case) – and boom, a custom, removable, specialty candle!  This post contains affiliate links. This means I may receive a small commission for purchases derived from those links at no cost to you. This helps support the blog. Thank you in advance for your support! It only takes 2 minutes to make these adorable candles! This is as easy 1…2…3, just peel & stick! Can it get any easier than that? These peel and stick Harry Potter decals work really great on these glass flickering LED candles! I use this style of LED candle all over my house.  I added peel & stick decals to many of my different candles around the Hogwarts House.  Get creative with some of these decals, they are easy to add and remove for an easy Harry Potter themed decoration! To Shop my Harry Potter Idea List on Amazon click here! These melamine Hogwarts House Crest plates are really lovely! Layer with several chargers for an elegant look! Hogwarts House crest plates add an elegant touch to the dining table! Another adorable peel & stick on decal – I added these to my Rae Dun Lemonade and Iced Tea Pitchers! The scarf worked perfectly for the table runner. Froggy loves his Hogwarts House! Another lovely set of candles on my accent wall, these Hogwarts House crests look amazing! I love my little Gringott's Bank with the goblin cameo in my office, it worked out so nicely! You can see how I always move things around… Gringott's Bank Create little nooks where you can with different movie scenes you love. I hope you enjoyed seeing the first look at how the Hogwarts house took shape. It changed many many, many times, so you'll see a lol of different stuff moved around. That's the only way to truly figure out where you want things to go, stick it there, then move it!  There is a lot more to come so subscribe and follow me on social media for new updates. I'm really excited to see how Halloween is going to come to life in my house this year, especially since I have so much awesome Harry Potter decor now!  BOSS MOM DIY CLUB! Join the club and get updated on new posts and inspiration! Email Subscribe You have been successfully Subscribed! Ops! Something went wrong, please try again. Thanks for stopping by!  Save this and share!  Until next time…keep smiling, improve every day, and build a life you love!  Yours Truly, January
Read More »