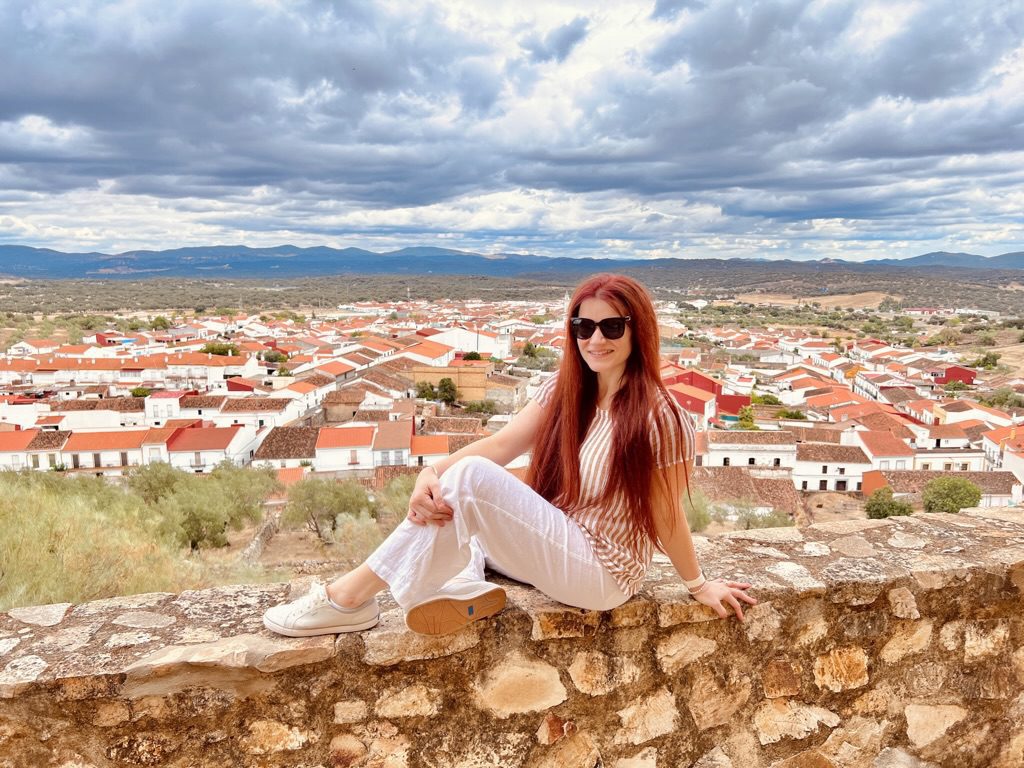 Travel Series Ep 1: Road Trip through Andalucia, Spain
Have you ever wondered what it would be like to take a road trip through Spain?! Come join me as we drive from Lisbon, Portugal to Andalucia (Southern) Spain!
During college I took some study abroad courses in Spain. Sadly, during both study abroad trips, I never managed to get to travel to Southern Spain (Andalucia).
During my study abroad, I took a "History of Spain" course and fell in love with Spain! During my studies I became obsessed with going to Seville, Cordoba, and Granada (Andalucia - Southern Spain).
Now, after many years of dreaming, that dream came true!!!
This post contains affiliate links. This means I may receive a small commission for purchases derived from those links at no cost to you. This helps support the blog. Thank you in advance for your support!
It all started as a last minute "business trip", but luckily turned into an amazing one week road trip through Andalucia, Spain instead!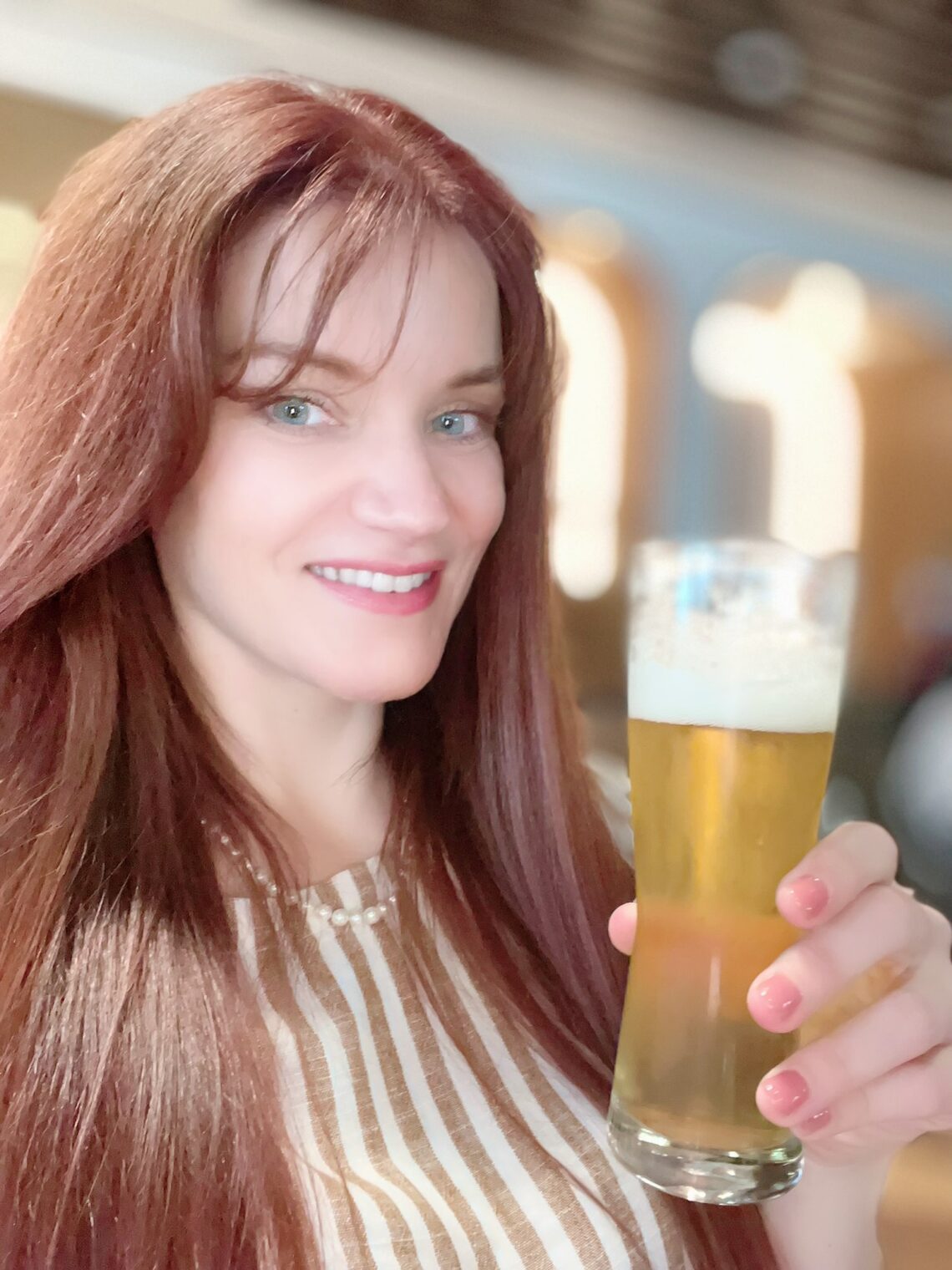 We started out flying to Lisbon, Portugal where we rented a Mercedes convertible and began our road trip to Seville, Spain!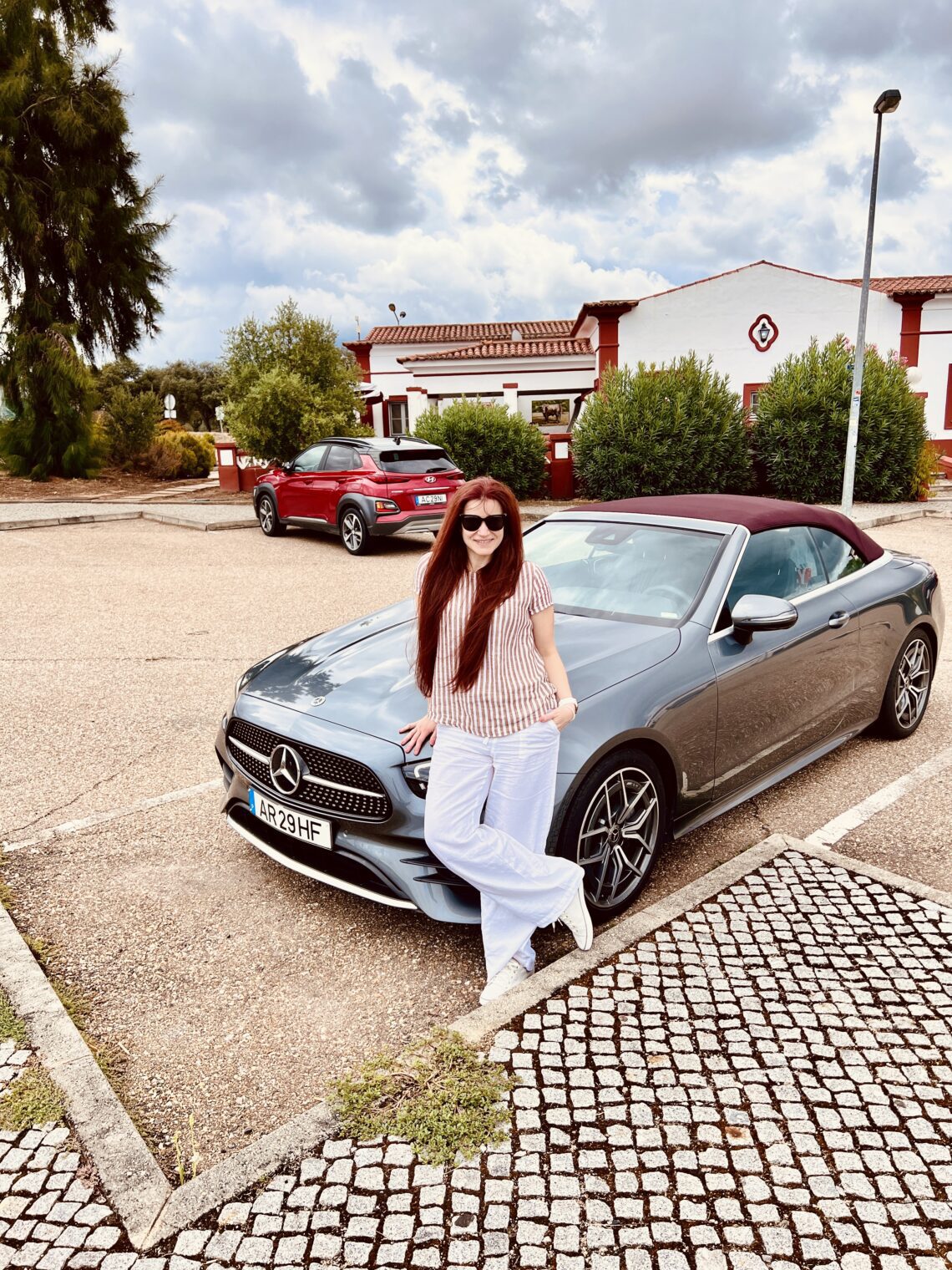 On day 1 it was raining a bit on our drive, but that did not impact the pleasure of it one bit, and luckily it stopped rather quickly as we drove the scenic drive through the countryside of Portugal to Seville. 
As we drove along we stopped along the way at whatever random "rest area" spots we could to use the bathroom, get drinks and all that jazz.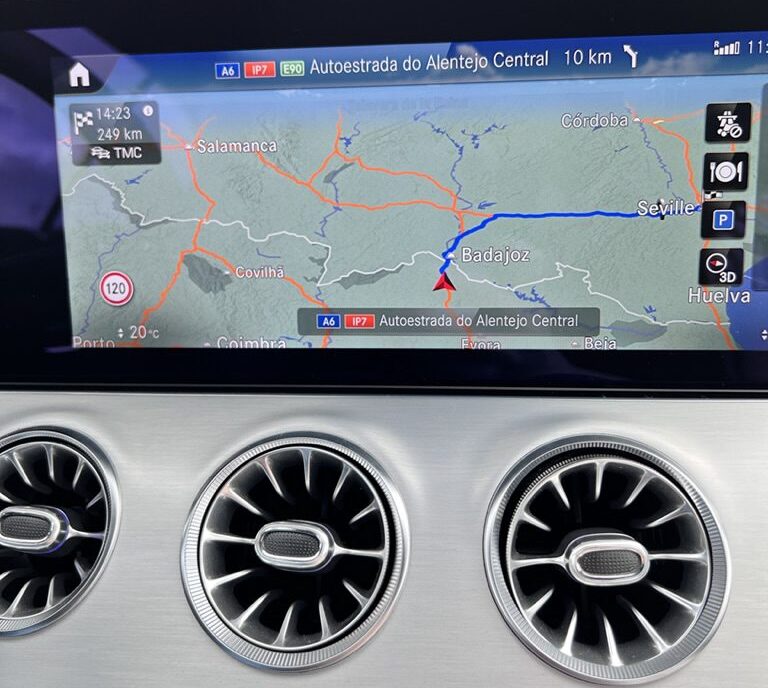 We found several little spots where we stopped for coffee and bathroom breaks and made some interesting accidental discoveries. 
The thing I love about road trips is just that….finding things along the way you never would've seen before. 
Not only was driving through the countryside simply breathtaking, but discovering these sleepy little towns and villages along the way made the drive that much more intriguing.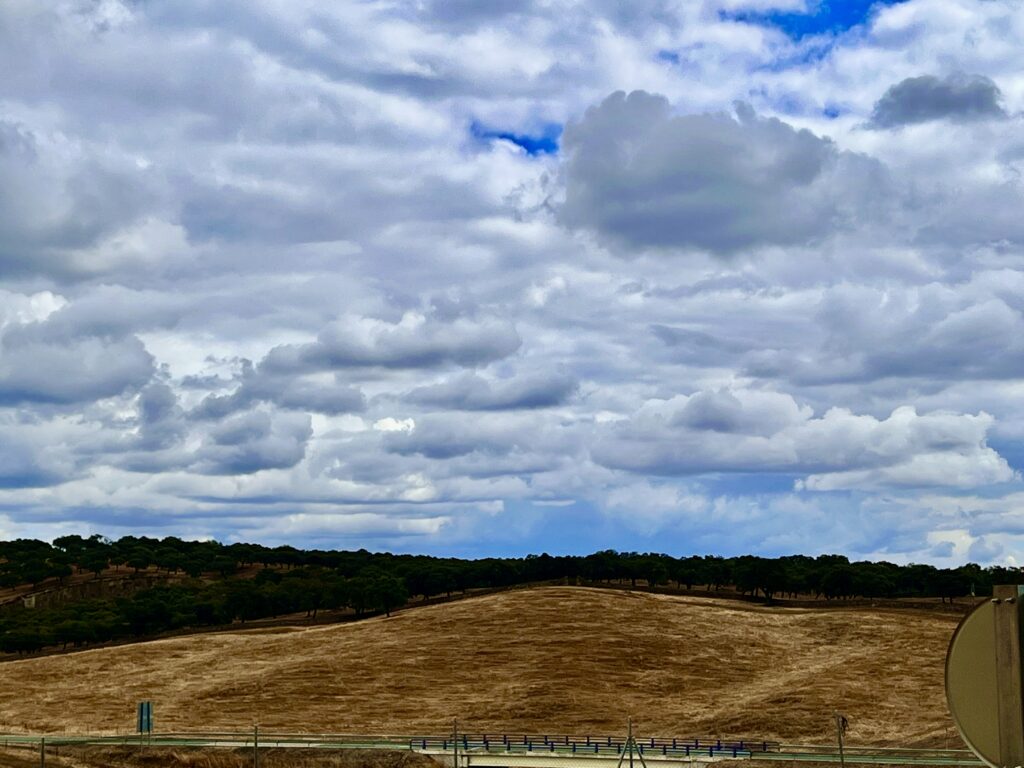 At one point we stopped for a bathroom break at a little spot off the beaten path. As we drove off the exit, we could see some sort of "fortress" up on a hill in the backdrop of this little town. 
We stopped in at a restaurant in the little town called Sta Olalla. After the bathroom break, we sat outside on the  patio of this cozy local restaurant. We sat relaxing for a moment (taking a few calls), and I just couldn't take my eyes off of the view in the distance. 
Obsessing over this "castle looking" thing up on the hill in the distance, I walked around and took pictures trying to zoom in and get some shots of it, which I did rather well. Yet…I wanted more.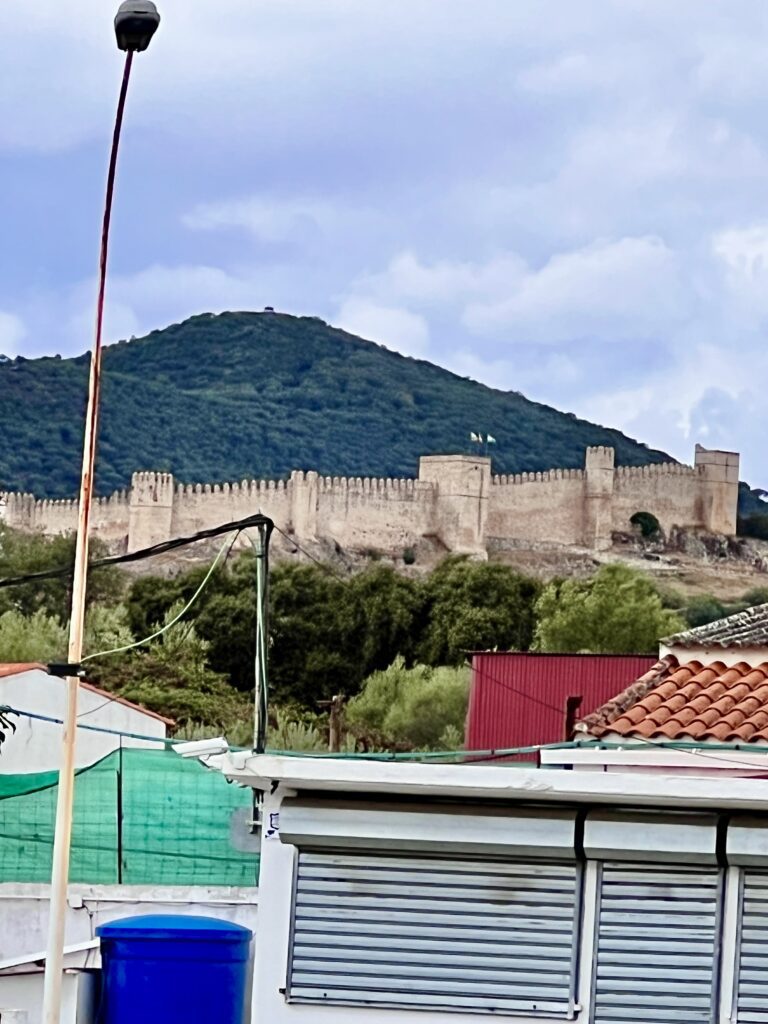 After we got back in the car, I decided to take the wheel and drive for a bit.  I suggested we just drive up the hill through the town and see if we could get a better view of the fortress up there. 
There had to be a way to get up there I thought! I wanted to explore! 
We got a scenic tour through the little town as I tried to find the way "UP"….yes, I went the wrong way and may some really ridiculous U-turns to get back, hey that's road tripping! 
Luckily, we knew "UP" was the only way to get there so I went up the first road I could find that appeared to lead us in the right direction…the roads were TIGHT! 
This is something you'll find in ever city, these cobblestone roads were not built or designed for cars…it was designed for horses! They are TIGHT!
Female driver or not I made it up, found our way, and didn't scratch the car, crash into anything, or anyone! Phew! Then I let him drive us out…better if he messed up the car and not me! LOL
We made it to the top! Sure enough, this was a fortress built to safeguard and serve as an outer post stronghold for Seville.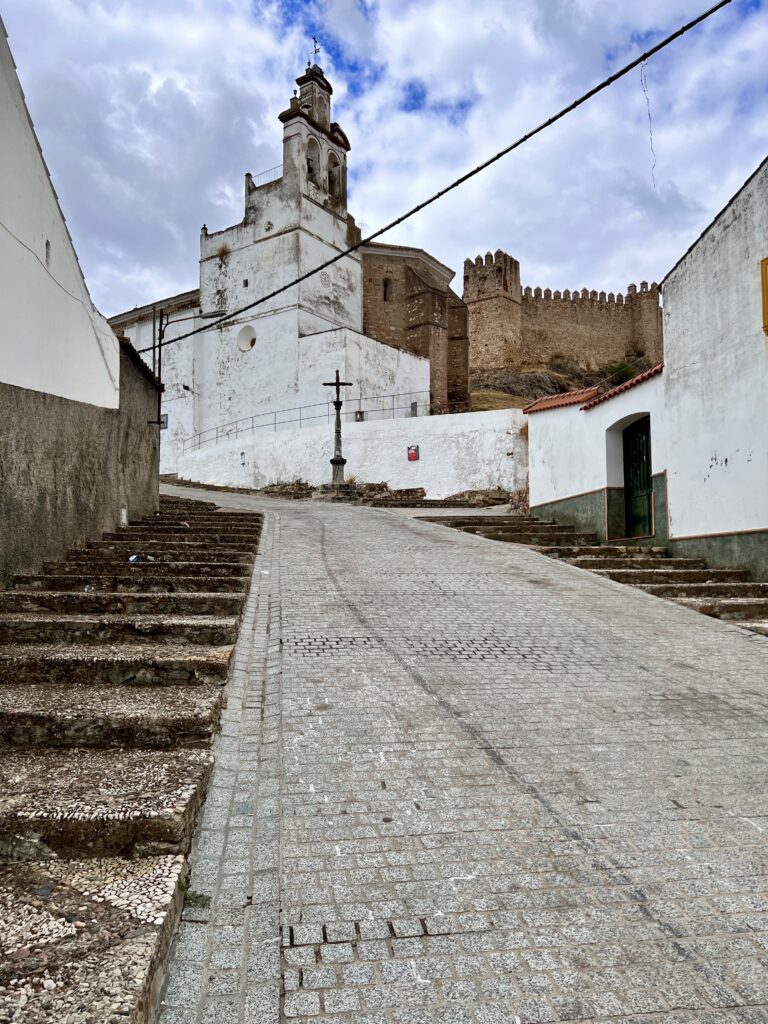 The fortress was not open to walk inside, but we explored all around and enjoyed the quiet solitude of this amazing spot.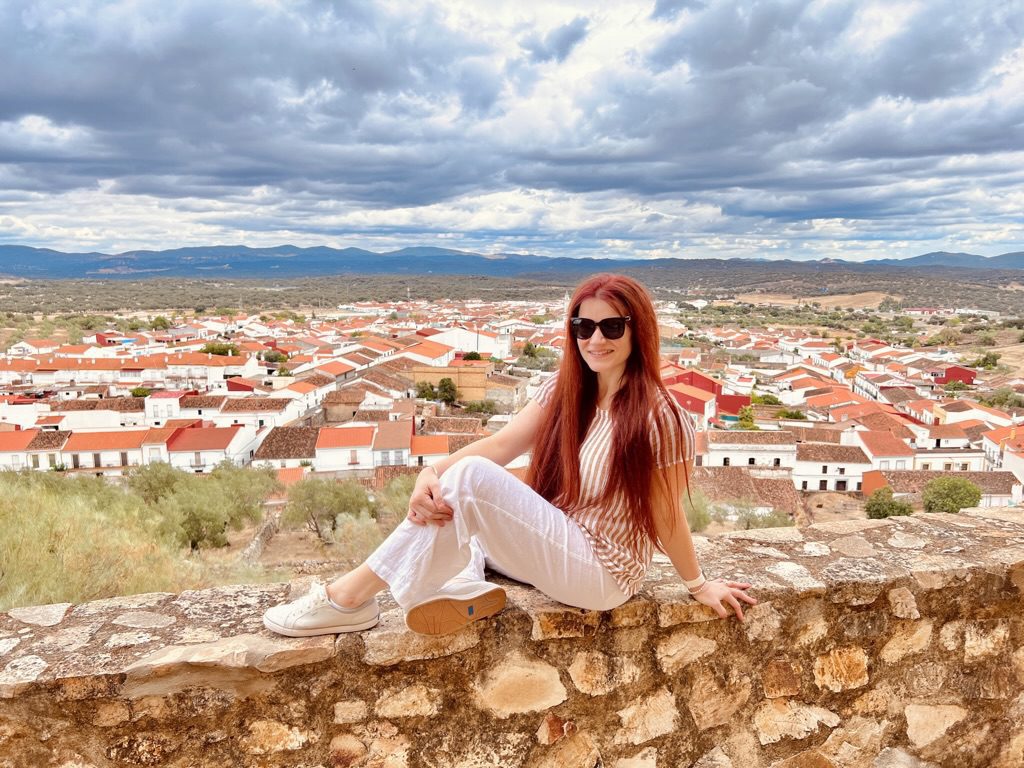 There were no tourists, no one around except the locals who lived in this little town. Kids playing down the street, people walking along going about their daily lives…it was perfect!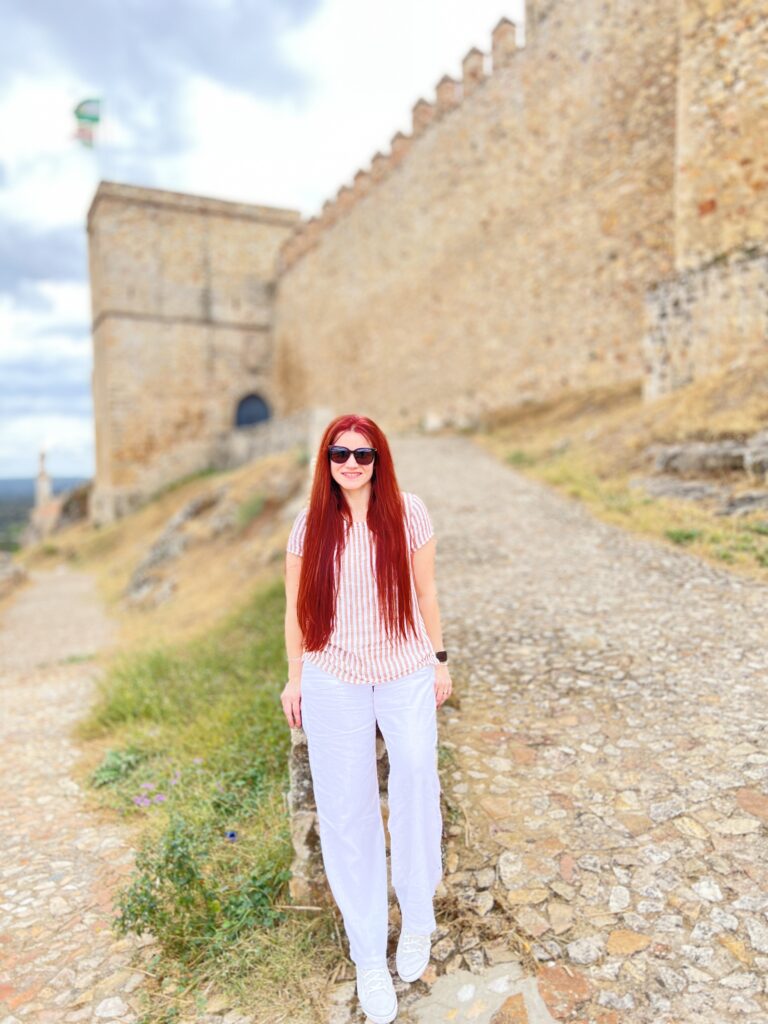 As we trucked up the steep incline to get to the entryway of the fortress we soaked in the amazing view that accompanied this upward climb.
Imagine it must've been much easier on horseback! This is where you get your free exercise, there are steep inclines everywhere!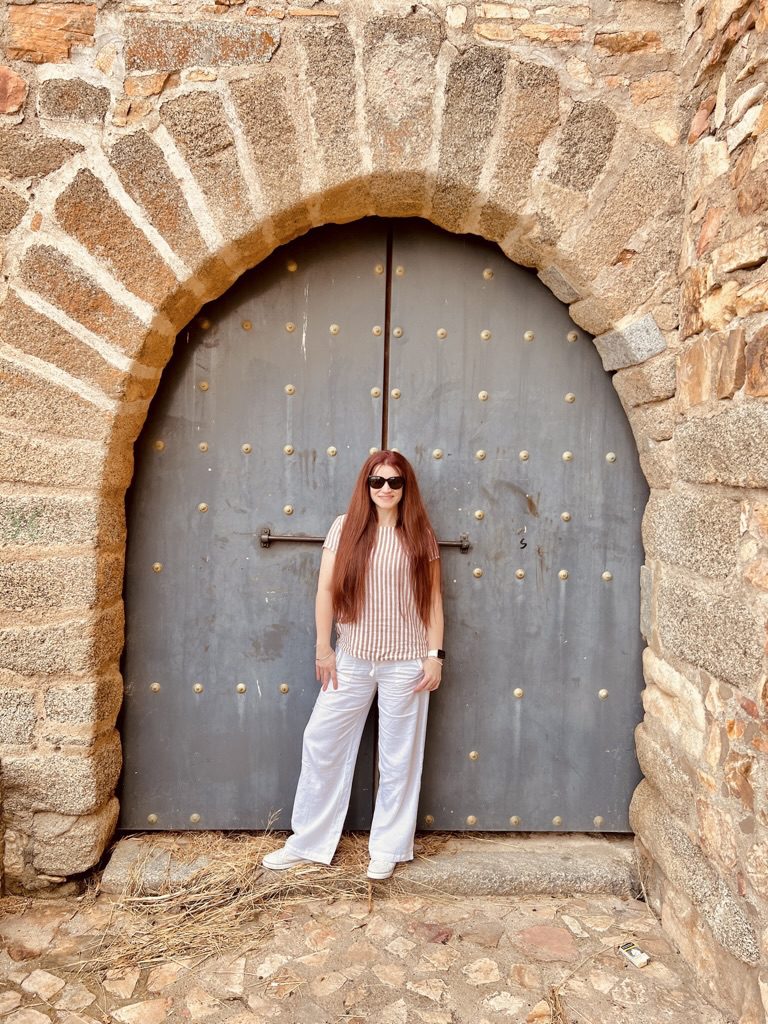 Honestly, this was one of my favorite parts of the trip. Finding random jewels hidden on along the way and exploring them, soaking in the history. 
Staring at the magnificence of it all, I find myself constantly imagining what it was like centuries ago…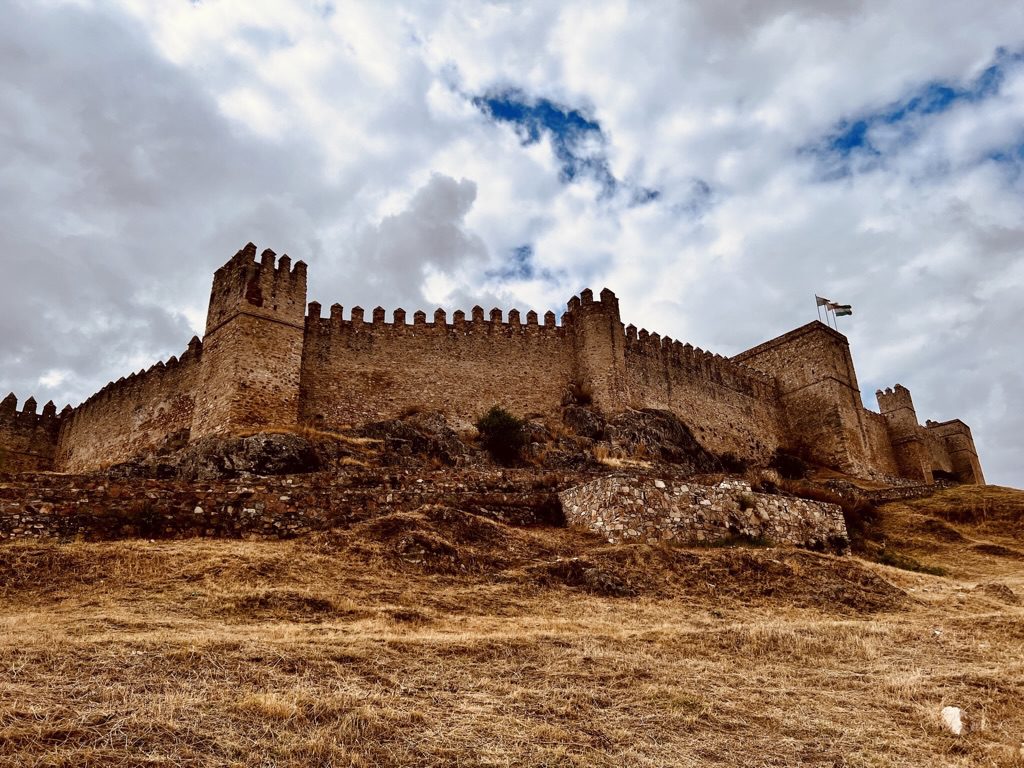 Now a little history lesson for those who love history as much as I do!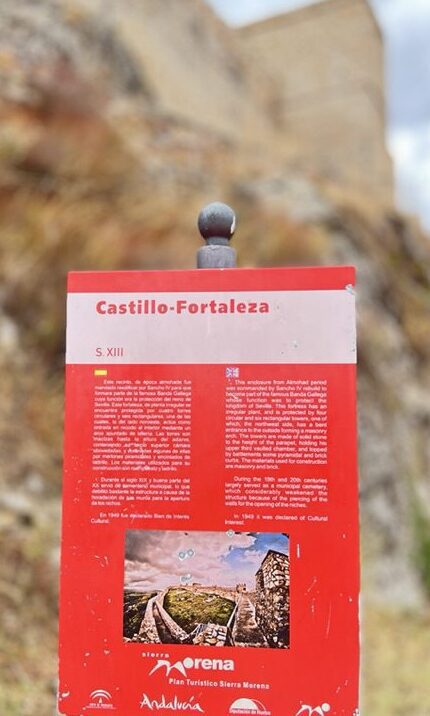 The fortress, named Castilla Fortaleza, luckily did have some nice landmark signs so we got our history lesson and the distinction that this is a "Fortress".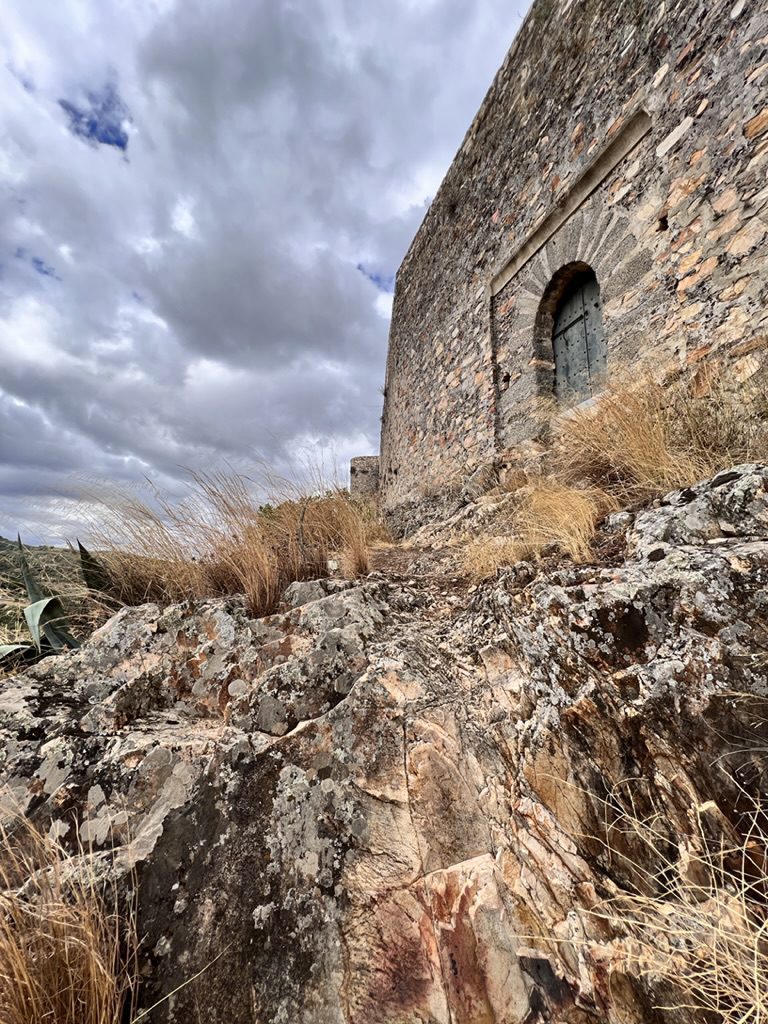 The function was to protect the kingdom of Seville. Accompanying this lovely fortress, as is the case in almost every single fort or castle you'll ever find in Spain, there is a lovely chapel right in front as well!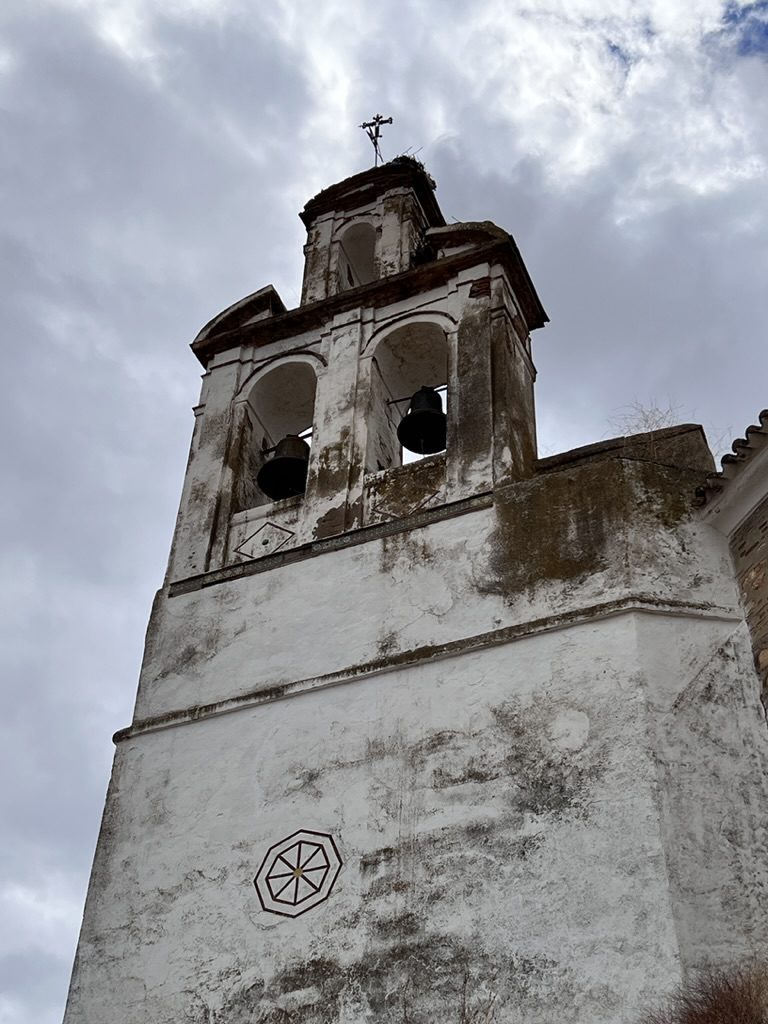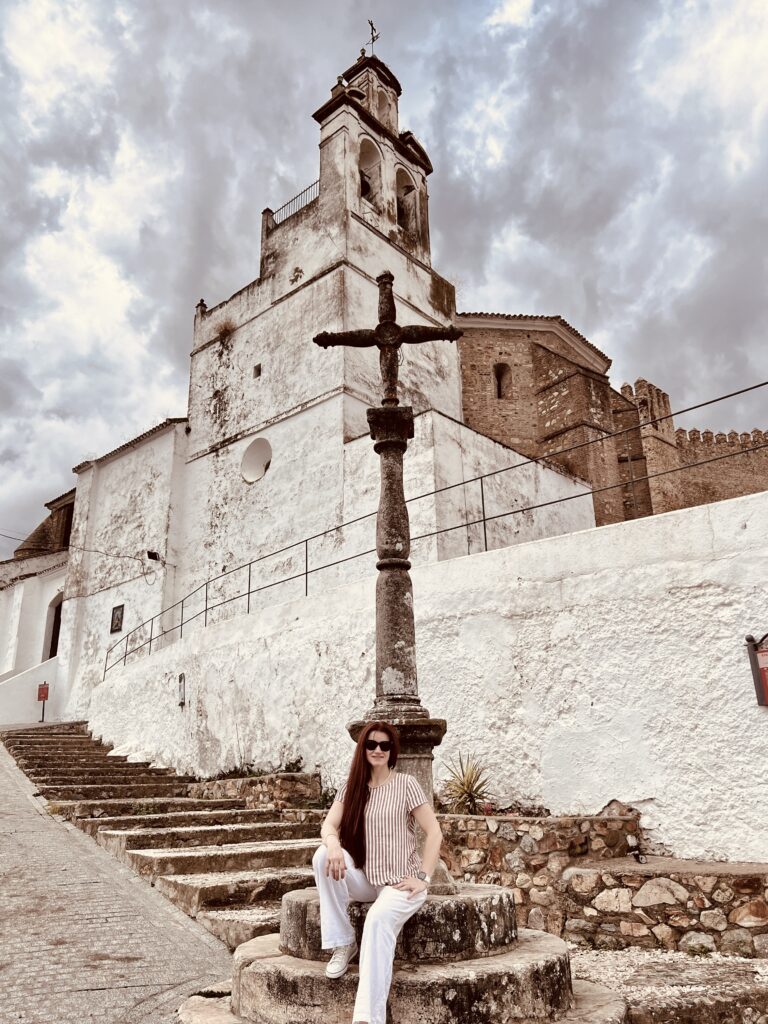 Nestled in the heart of West Spanish communications called Ruta de la Plata, "Santa Olalla, possesses this element's own devotional time of pilgrimages to Santiago de Compostela. 
On the way up to the Castle and opposite the entrance door to the Iglesia de Nuestra Señora de la Asunción is this eye-catching Plateresque transept with flint on cross-baluster column and Genovese capital.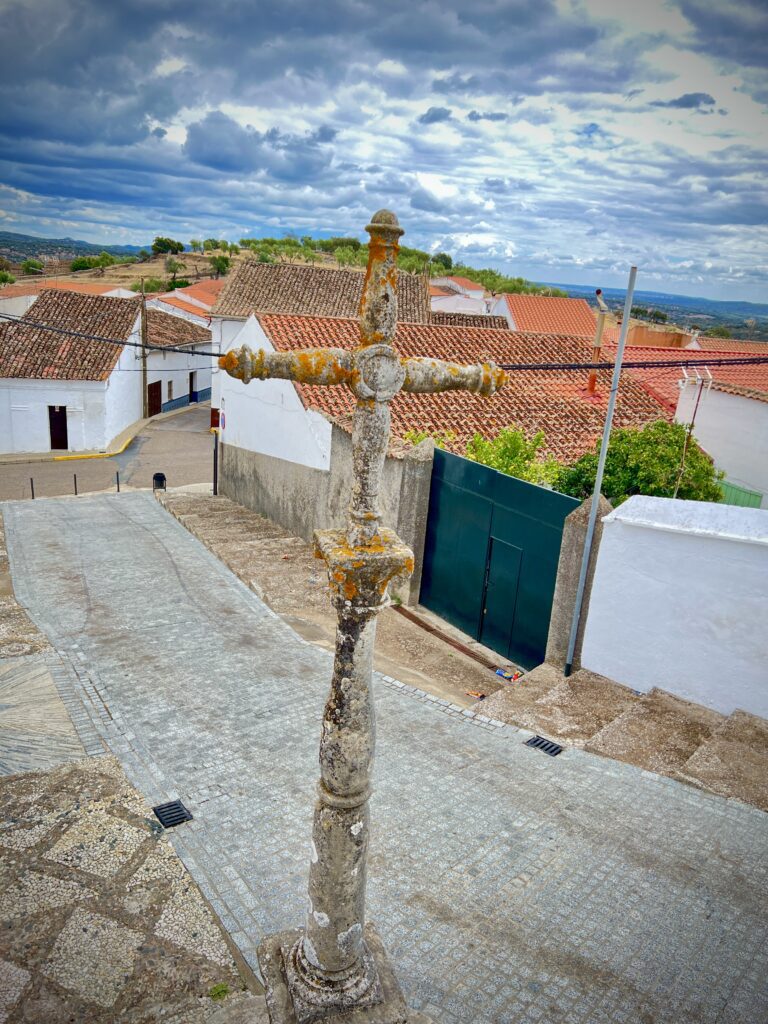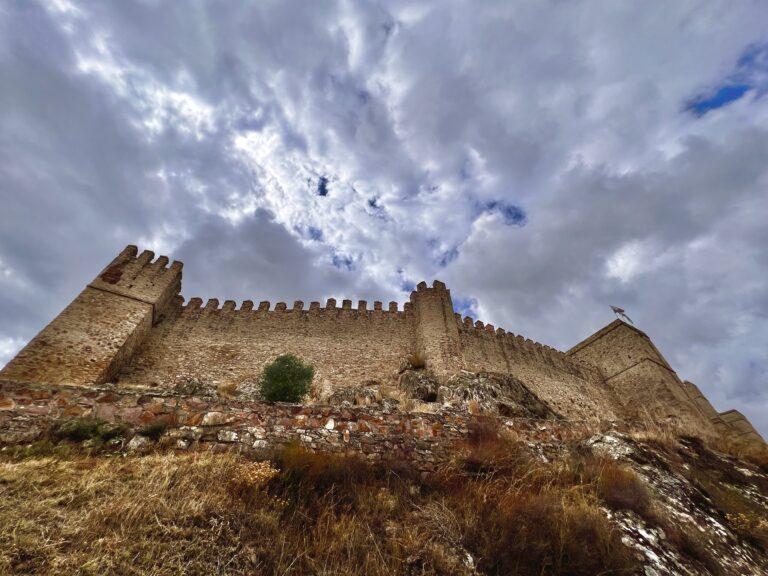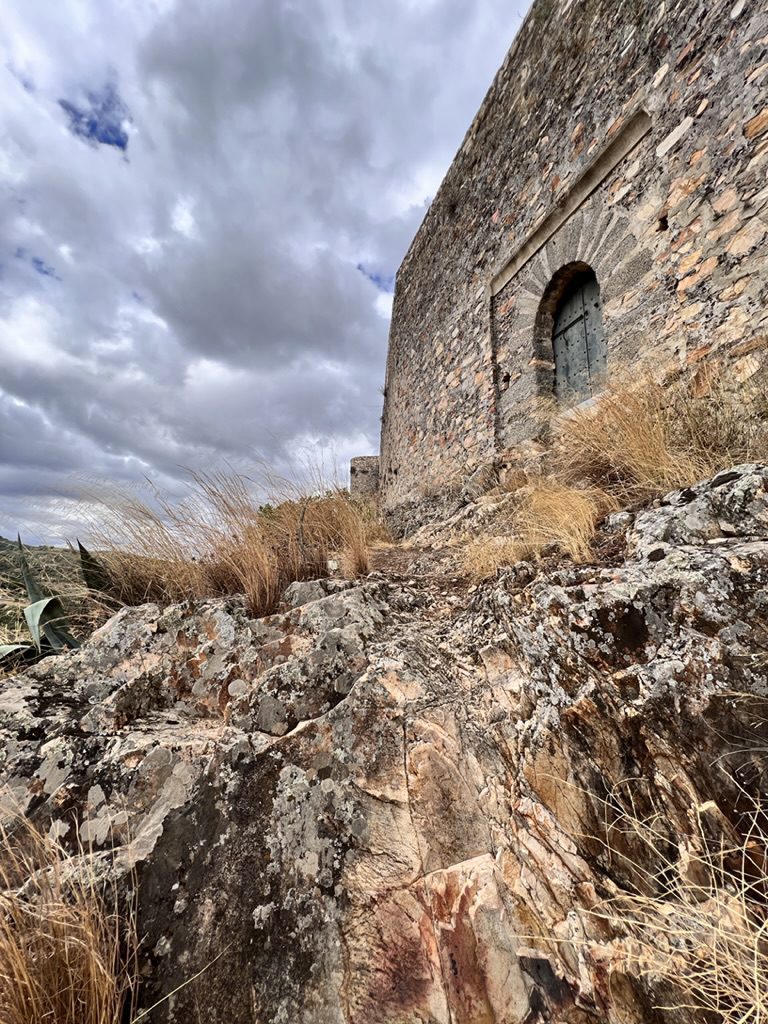 This thirteenth century Mudejar-Gothic building  was part of the line of defense against the expansionist interests of the Portuguese, Ante the ten fortified tossers, brick walls with narrow windows and the main entrance with an outer arch and covered with a vault.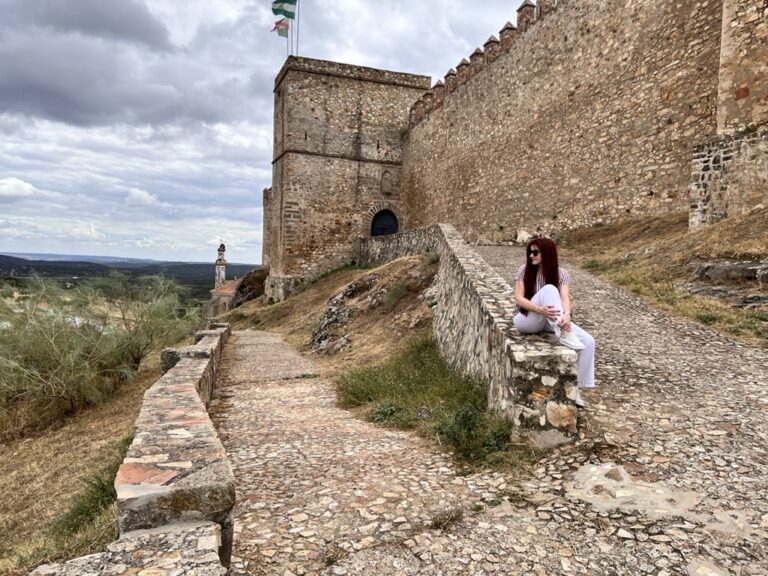 This fortress has an irregular plant, and is protected by four circular and six rectangular towers, one of which on the NW side, has a bent entrance to the outside forming a masonry archway. 
The towers are made of solid stone to the height of the parapet, holding the upper third vaulted chamber, and topped by battlements some pyramidal and brick curbs. They used masonry and brick for the construction. 
During the 19th and 20th centuries the fortress largely served as a municipal cemetery, which considerably weakened the structure because of the piercing of the walls for the opening of niches. In 1949 it was declared a spot of cultural interest.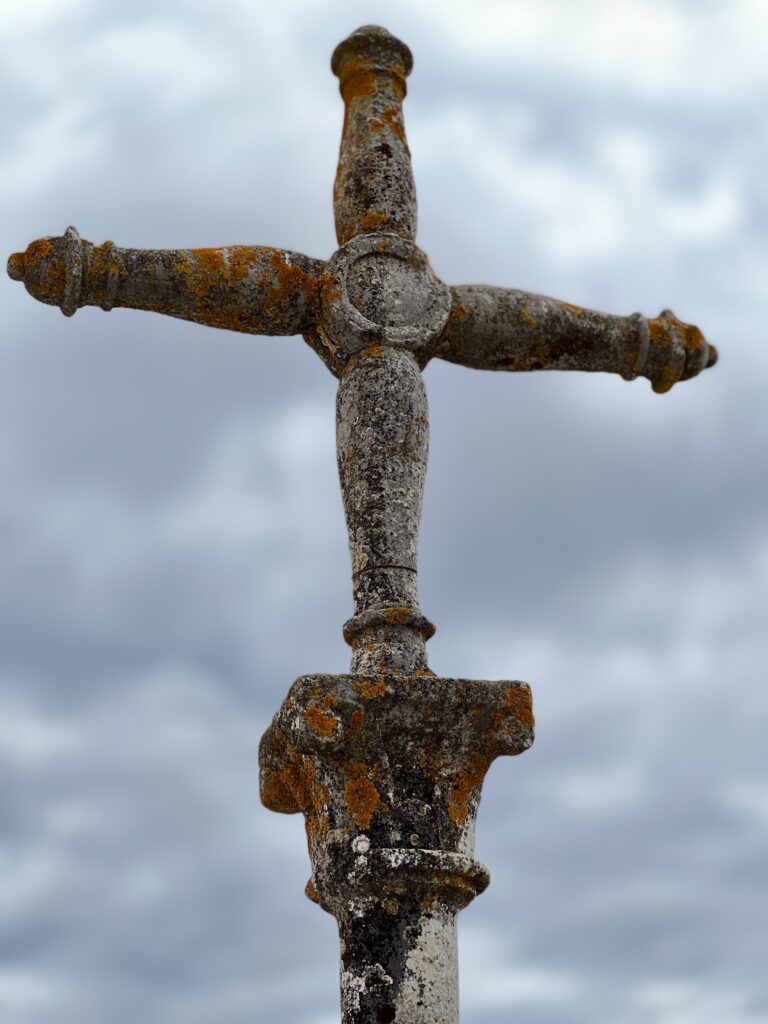 We explored around the fortress for a while then we got back in the car, and continued our journey to Seville, saying goodbye to this beautiful little town and its amazingly still in tact fortress up on the hill! 
Welcome to Day 1 of the "Road Trip Travel through Andalucia Spain" Series!
As a major history buff, lover of architecture, and travel connoisseur, you can imagine I cannot fit even a week long trip (however sadly short that seemed) into one post.
Hence, the Travel Series! I'd like to take you with me on this "Road Trip through Andalucia Spain"! With over 1,000 pictures and videos, imagine how much I have to share!
Given my love of Spain and traveling, I want to share it all with you! The beauty, the history, the culture! Spain is one of my favorite places in the world. This is my 3rd trip now, and the best ever! 
Join me on this amazing journey through Andalucia Spain! I will do my best to make you feel like you are right there with me!
P.S. I'll also give you some tips on how I avoided blisters this trip, packed light, and all of my travel essentials that made life traveling on this road trip so much easier! 
Let me tell you, there is NOTHING worse than getting blisters on a trip!
With an awful blister experience 5 years ago in Paris, I was not going to let that happen again! Preparation and planning was key! 
The links I've included show you some things I got and used to keep myself blister free and my feet feeling good!
Coming soon, you'll see an entire post on what to pack for your trips to make your life easier and lighter!
This Patricia Nash Crossbody is the purse I got and carried the whole time - it is FABULOUS!
Oh how I love matching beautiful fashion! You'll see in my pictures, I also got the matching coin purse, scarf, and umbrella! Gorgeous and functional – win WIN! 
This set is just so beautiful, and I just love this designer, Patricia Nash! The scarf doesn't seem to be available at Macy's now, so I think I got lucky! The matching umbrella I found on Amazon actually, and it SO LOVELY!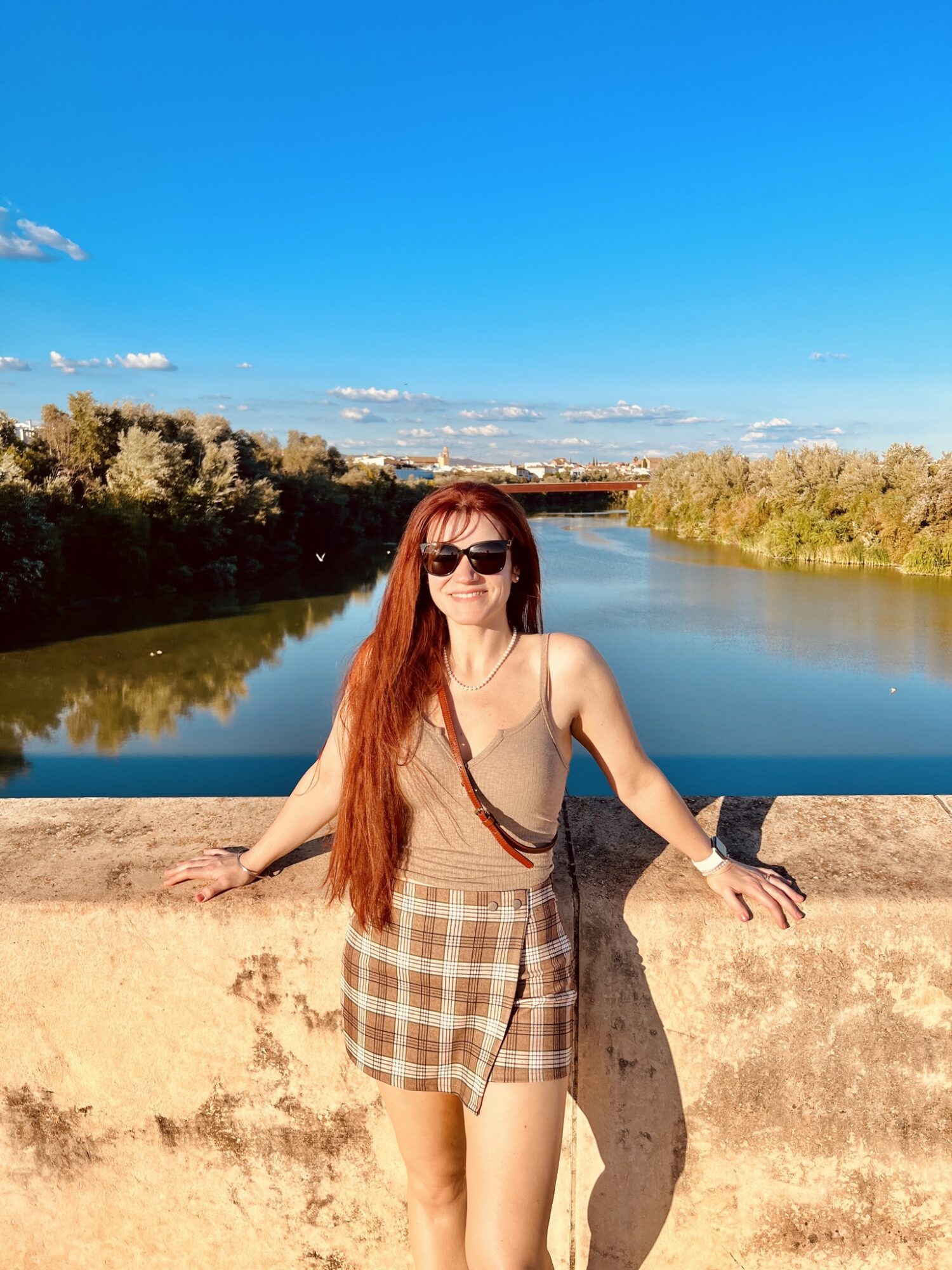 Cordoba Spain - Puente Romano - walking the bridge to the Calahorra Tower
Subscribe and stay tuned for the next Travel episodes! Heading to Sevilla, Cordoba, Granada, and Faro (Estoi), Portugal.
Blisters and sore feet are no joke - protect yourself! You'll thank me later!!!
Travel and eating exotic foods can also cause some tummy issues, which I already have lots of, so I got this activated charcoal and it really did help!
Special shout out to Dr. Scholl's - this is the first time I EVER tried these inserts and I got 3 kinds and OMG - AMAZE!
Suffering with back pain too, I added the lower back pain ones to my boots and it was life changing! I'm wondering how I have been living without these so long!