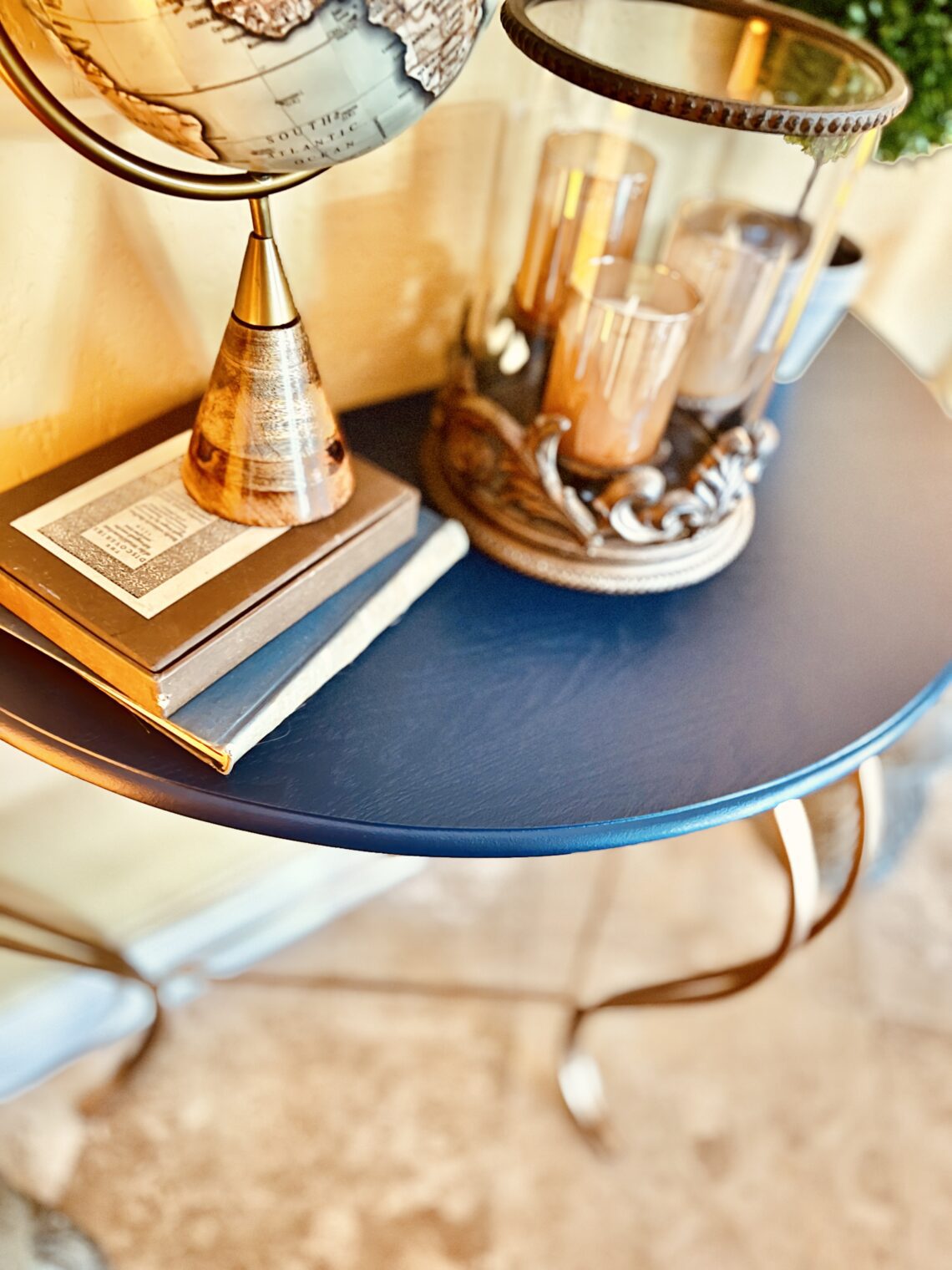 Mama's Old Half Moon Console Table Makeover in Navy & Gold
NAVY BLUE - WHO KNEW? Someone said once you paint furniture navy you'll get addicted...I can see why! Check out how this little console table makeover turned out!
This little half moon wood top, with metal legs has been around for years! My mother bought this many many moons back and it was in our hallway forever!
This table ended up in my house at least 15 years ago or so I would say. Needless to say, it's been around, and I didn't think I could hurt it either.
I've had this "Polo" navy blue color for a few months and I have been dying to try it! Well, here it is! I started out on a nice small project: the old beat up console table!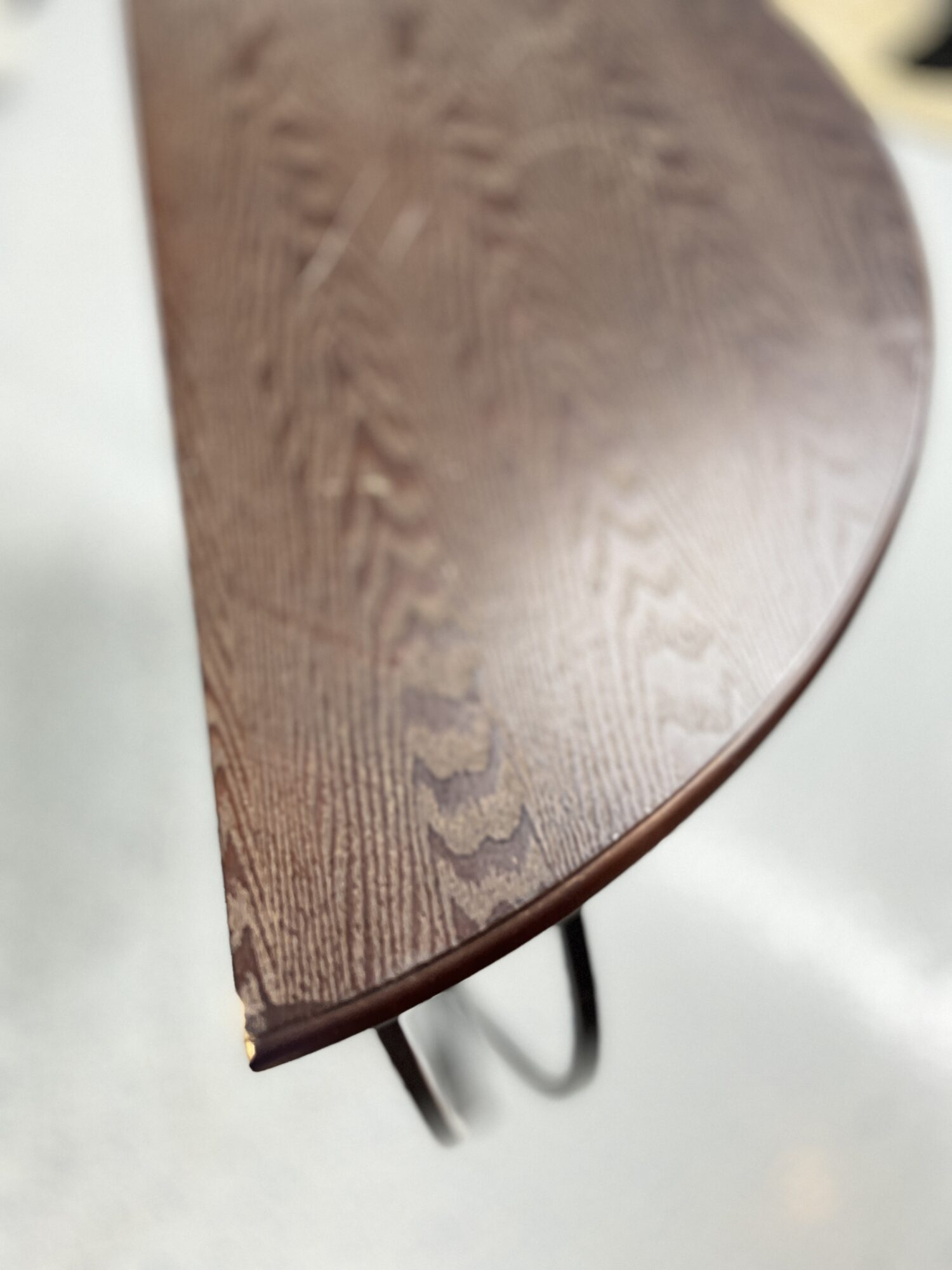 This has 5 screws holding the top onto the metal 3 legged base, I just removed them quick and easy with my drill.
First, remove the screws and take the top off.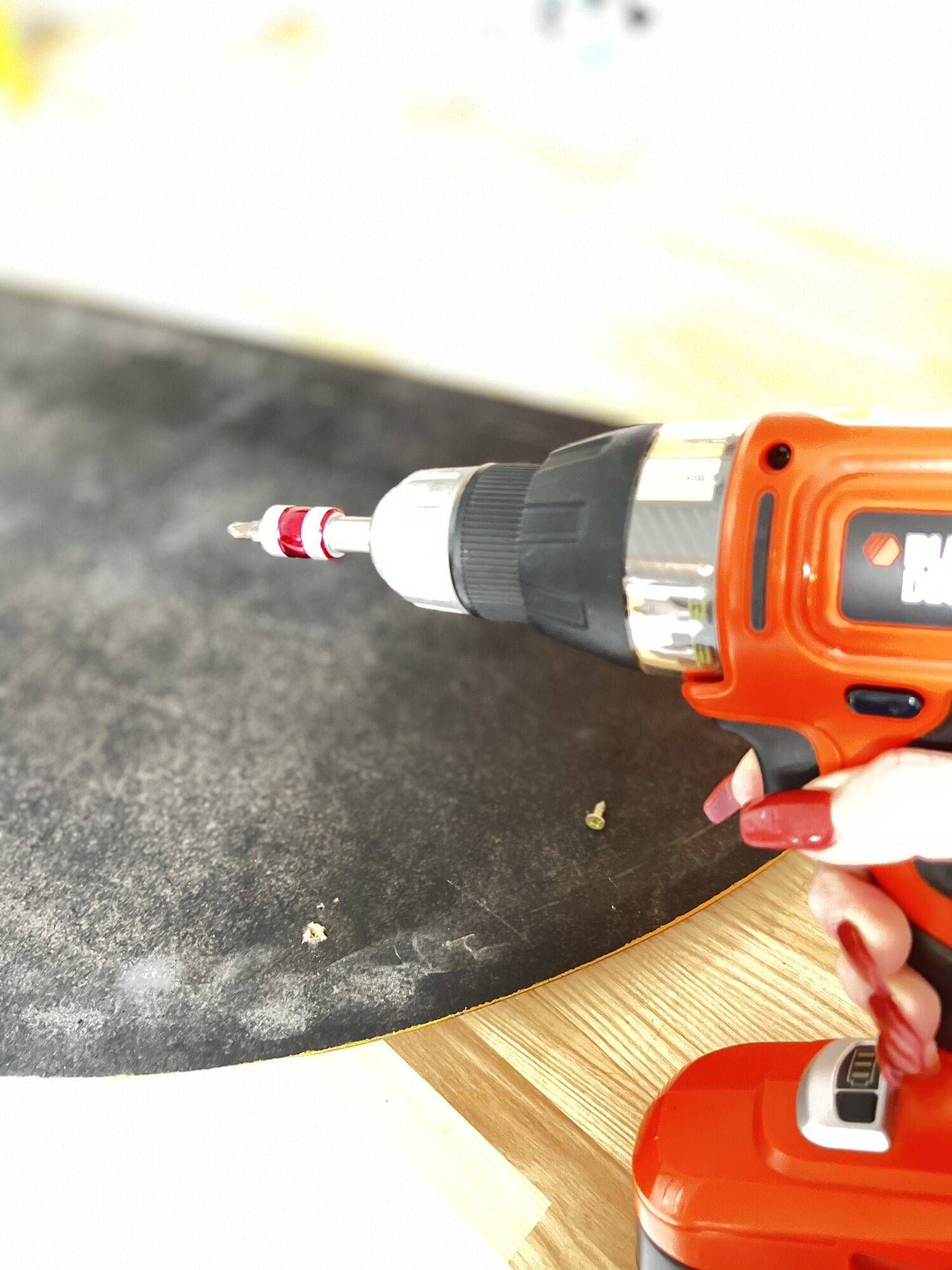 The bottom of the table I had decided I would attempt to paint with gilding wax. 
I put some paper over the base and just put the top right back on it to paint it. I didn't want to get any navy on the legs, since I had plans for them!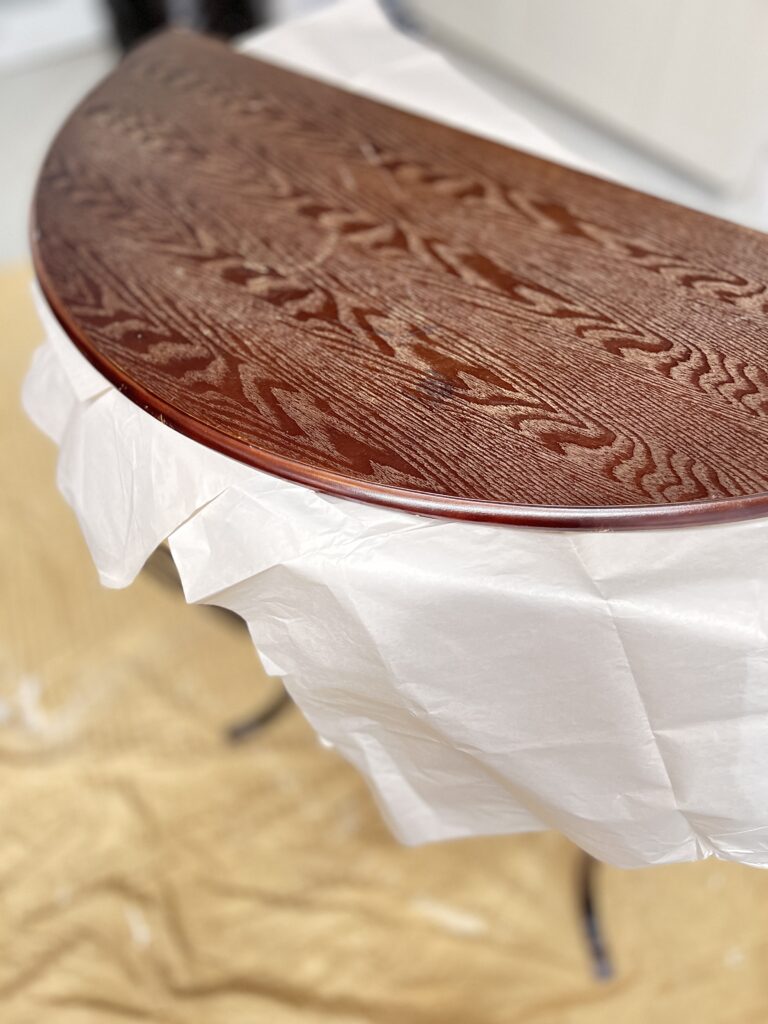 After the table top was ready (I just wiped it down with a rag). No sanding, no priming!
My 6 Essential Tools: 
Mini sponge roller
Paper plate 
All-in-one paint (Polo)
Disposable gloves
Gilding Wax
Gilding wax brush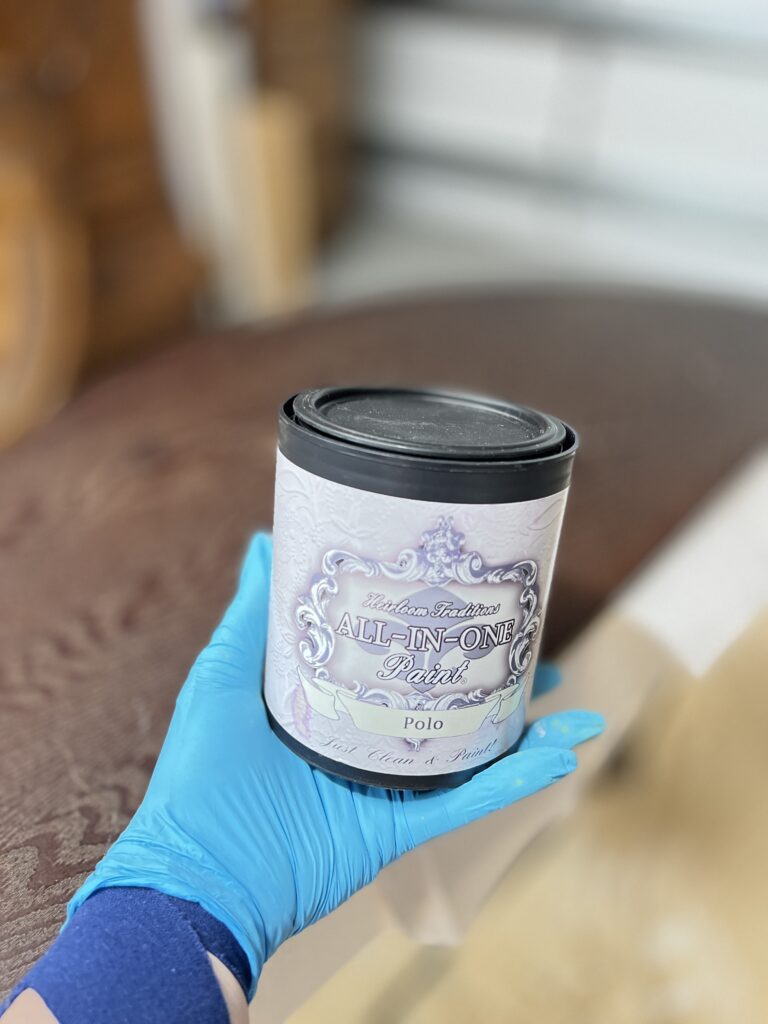 This is the All-in-One paint I used, Polo, by Heirloom Traditions.
This type of paint does dry relatively quickly, but it does need time to fully "set" & "cure". It definitely looked different the next day after it dried.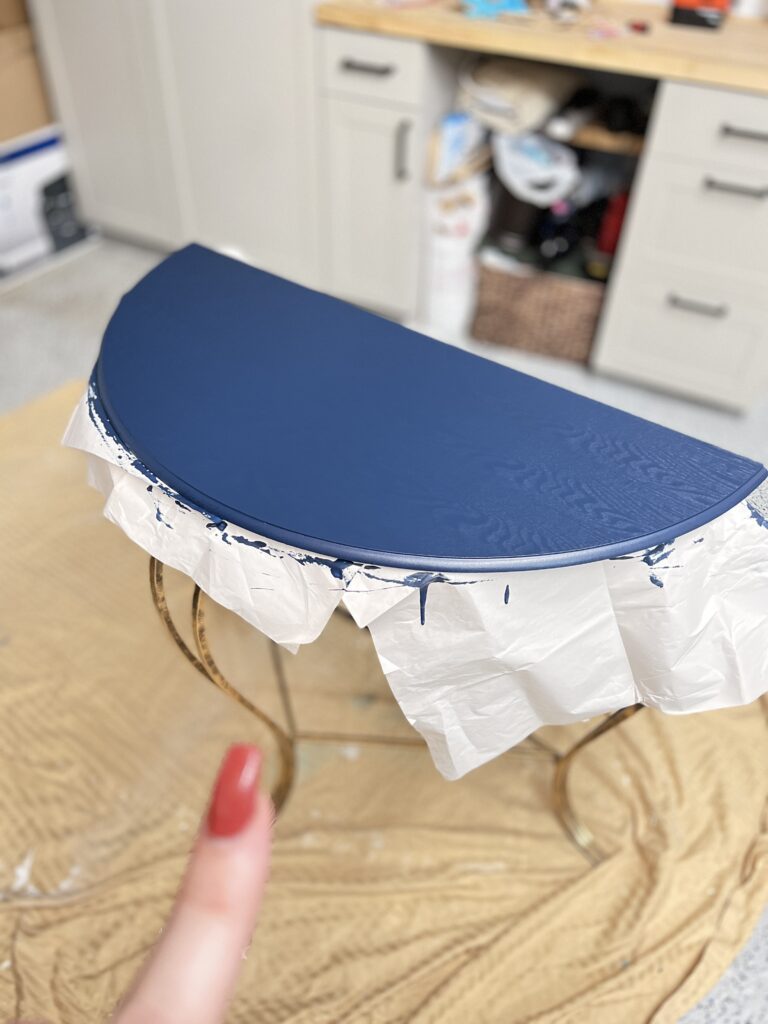 Next, I added another coat that night and then one more coat in the morning!
Gilding the Metal Base/Legs
First I started off using the Pebeo King's gold, and a gilding wax brush to just lightly brush on the metal to see how it would start to look. 
Continuing on like this for a bit, I kept using the Pebeo jar wax and brush to get into tight crevices. 
After tiring of using the brush and getting all the tight nooks, I moved on to the Rub N' Buff wax. Put a dab on your finger tips and rub and go!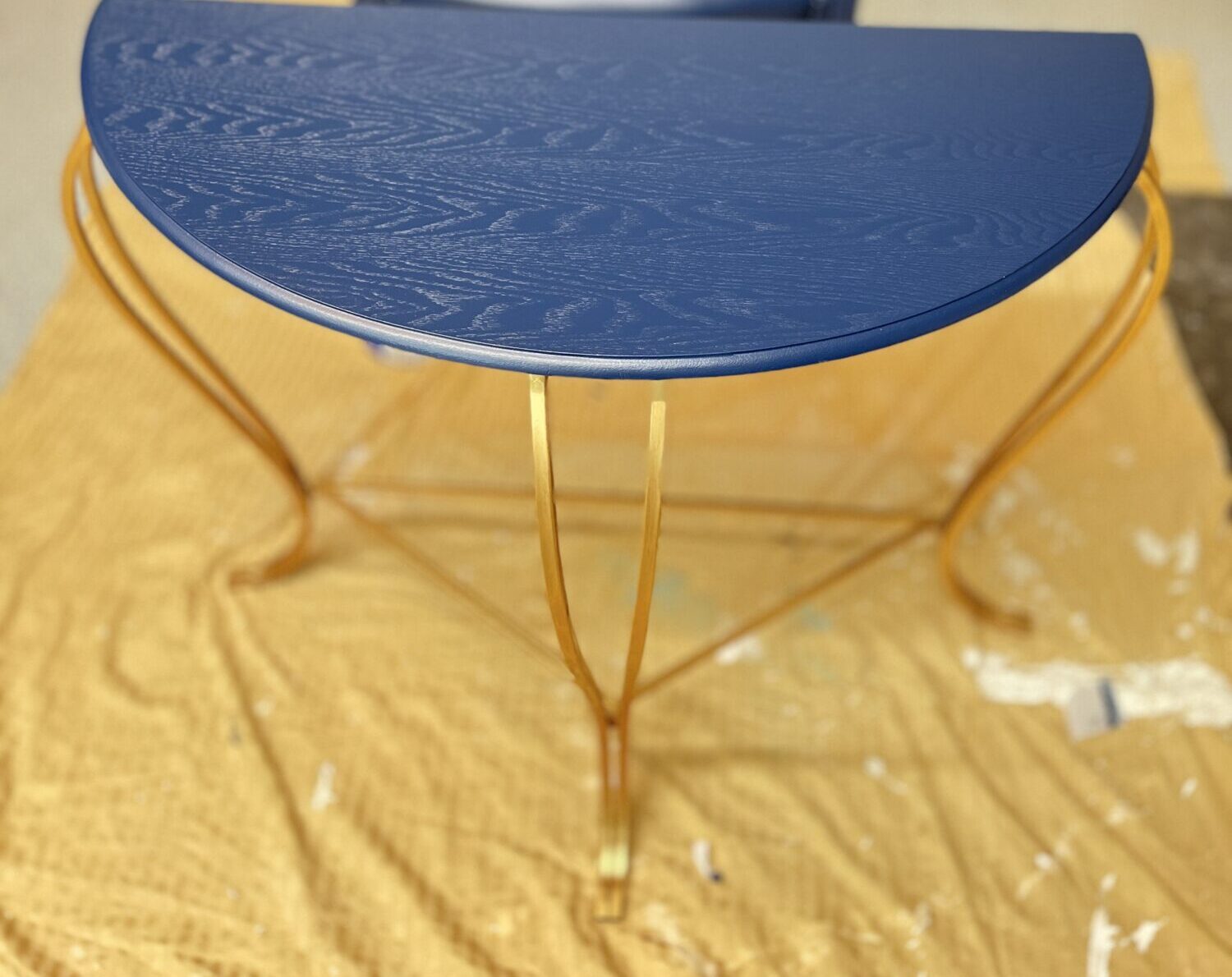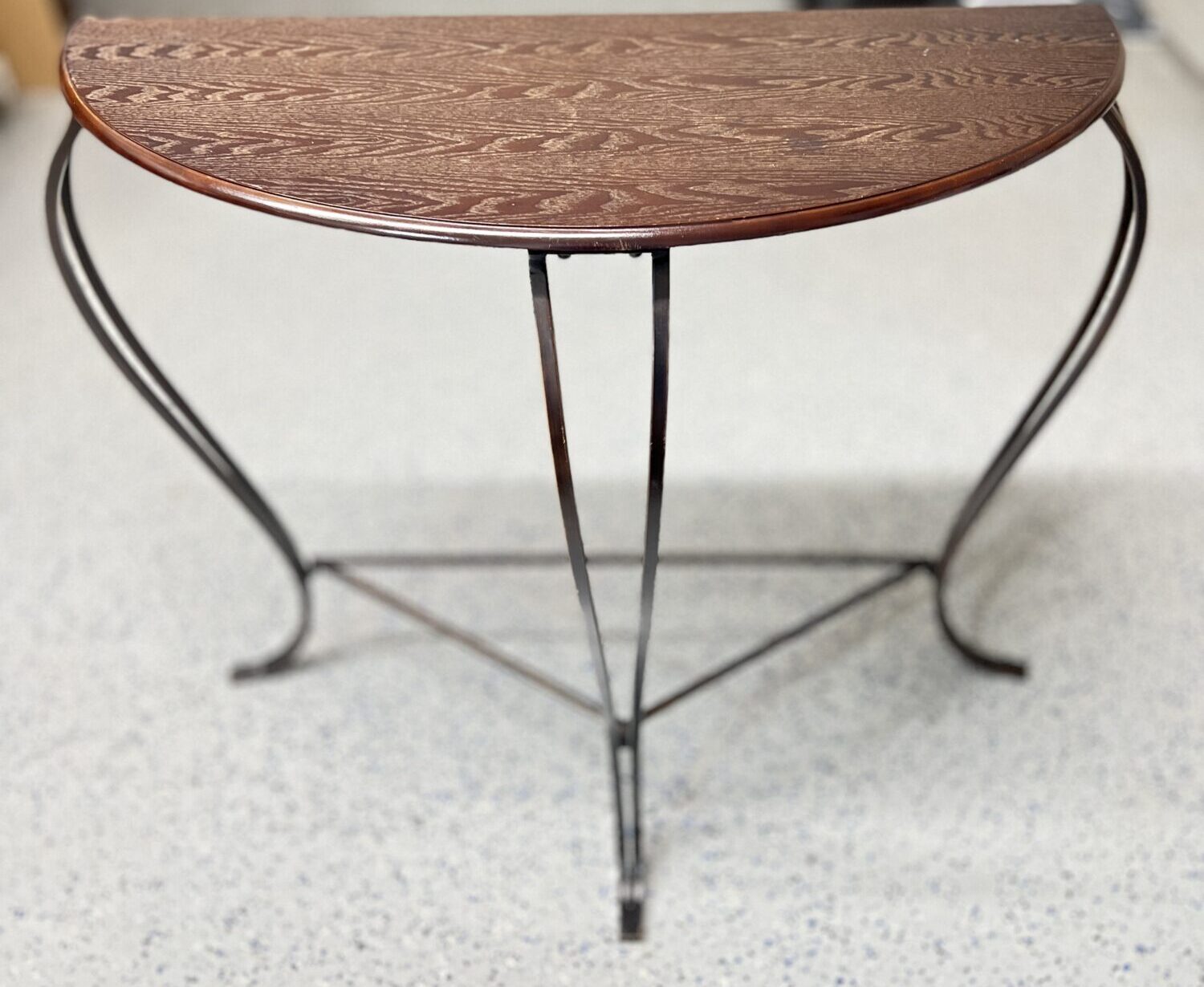 This was truly a fast and simple project that is making me just Love the Navy and the gold on the legs!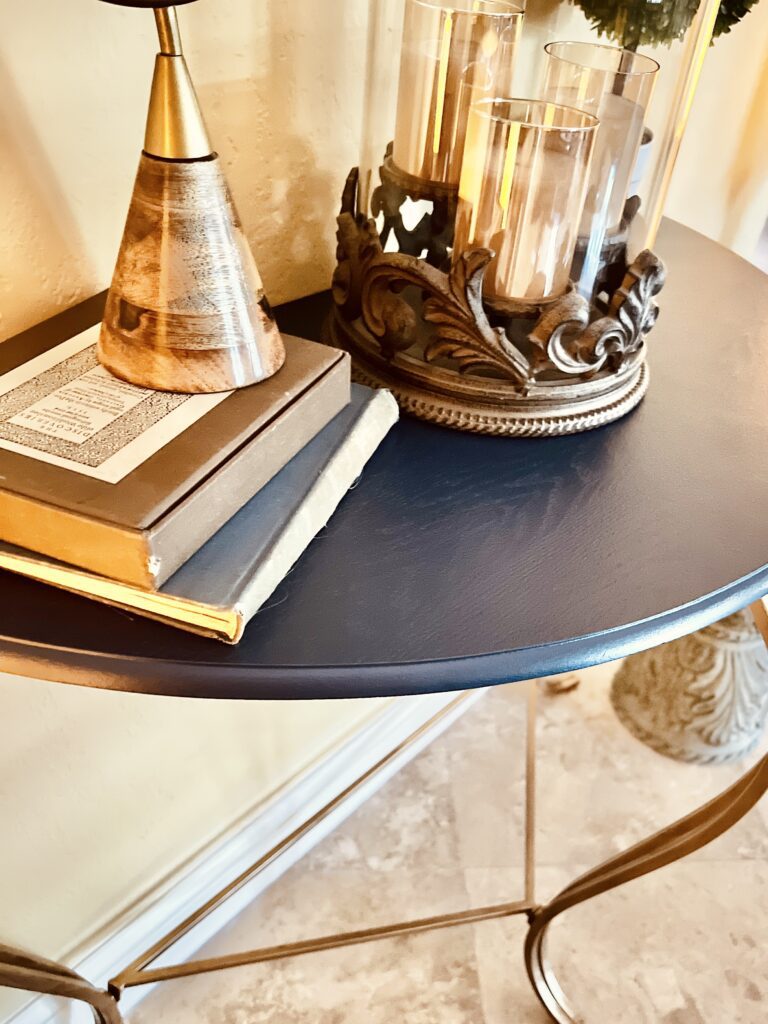 THIS TABLE WENT FROM DRAB TO FAB! NAVY AND GOLD - WE LOVE YOU!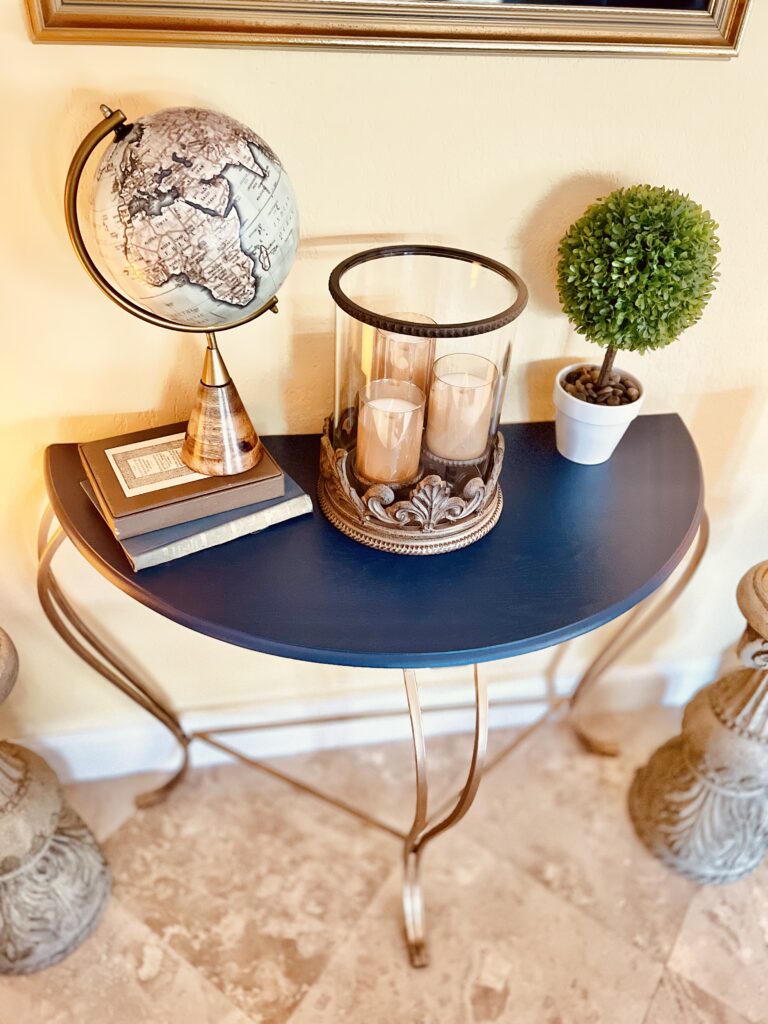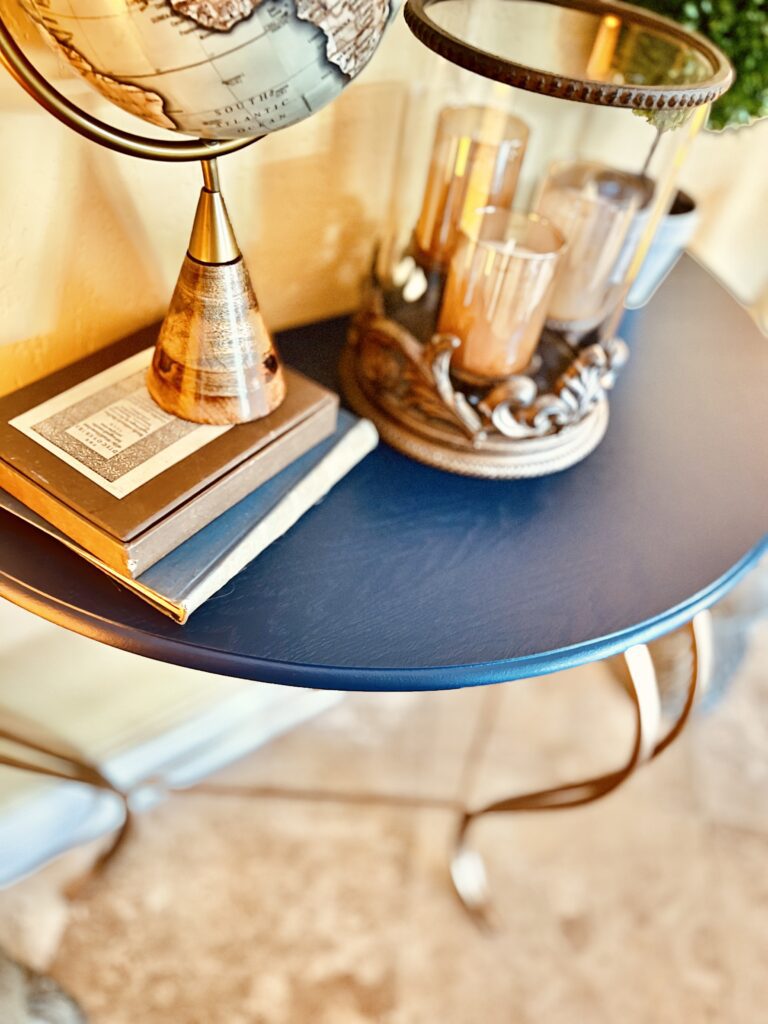 Amazon Links for my Tools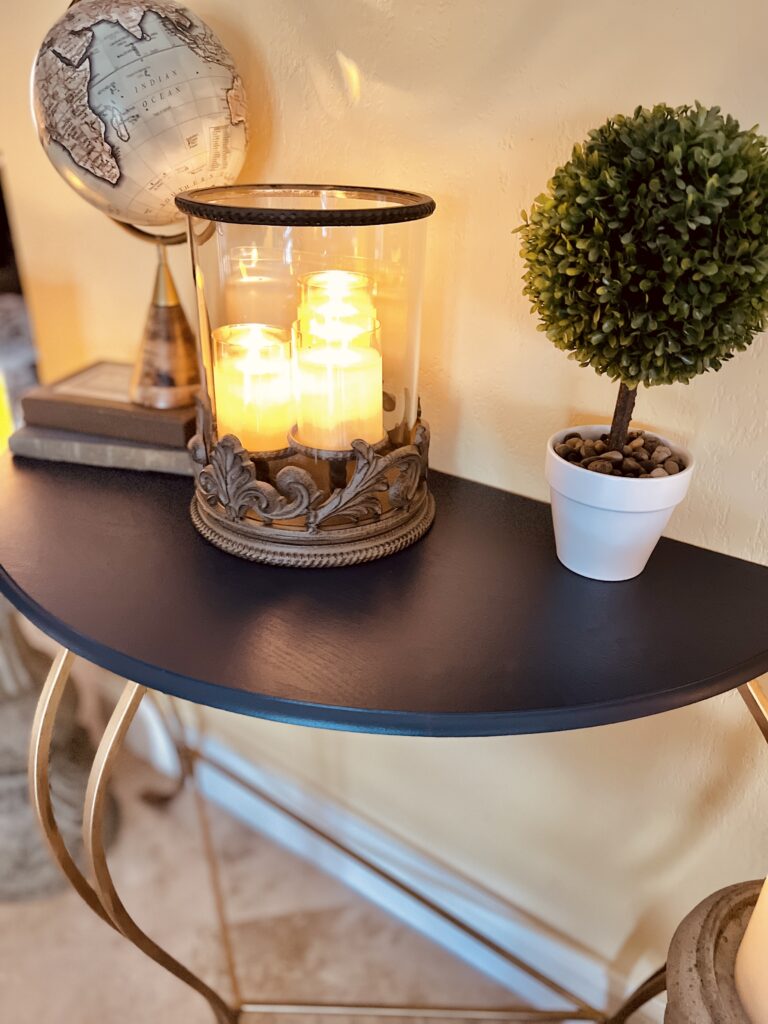 Here are Links for my Tools and Supplies:
As I promised, a Navy blue furniture makeover experiment! I must say, a grand success!
I hope you all enjoyed it and look forward to more Navy makeovers to come!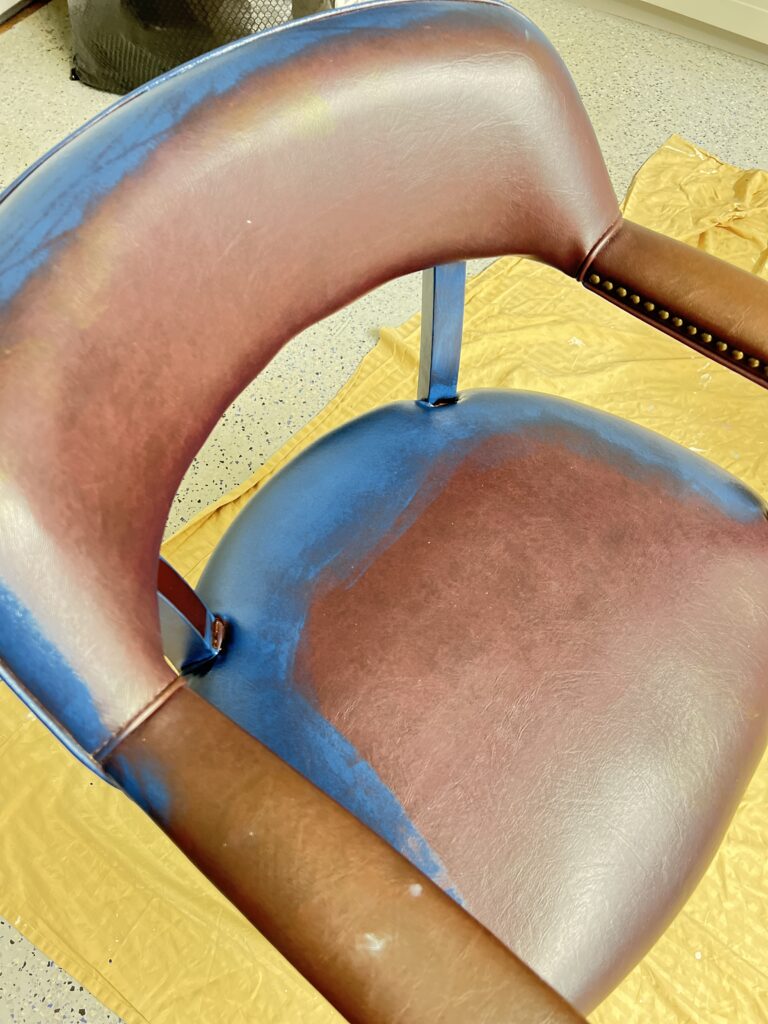 TEASER FOR NEXT TIME...
As I was painting the table I had a little too much paint, so I started to slap it onto a nearby office chair (an oldie from 15 years ago that was about to get tossed)...Do you think I can successfully paint this chair? Stay tuned!
Question or comment? I'd love to hear from you! Drop me a line and Subscribe for updates!
Thanks for stopping by! 
Save this and share! 
Until next time…keep smiling, improve every day, and build a life you love! 
Yours Truly,
January
My essential decor tables - Martini tables! So useful and you can move them all over! I have 4! LOL