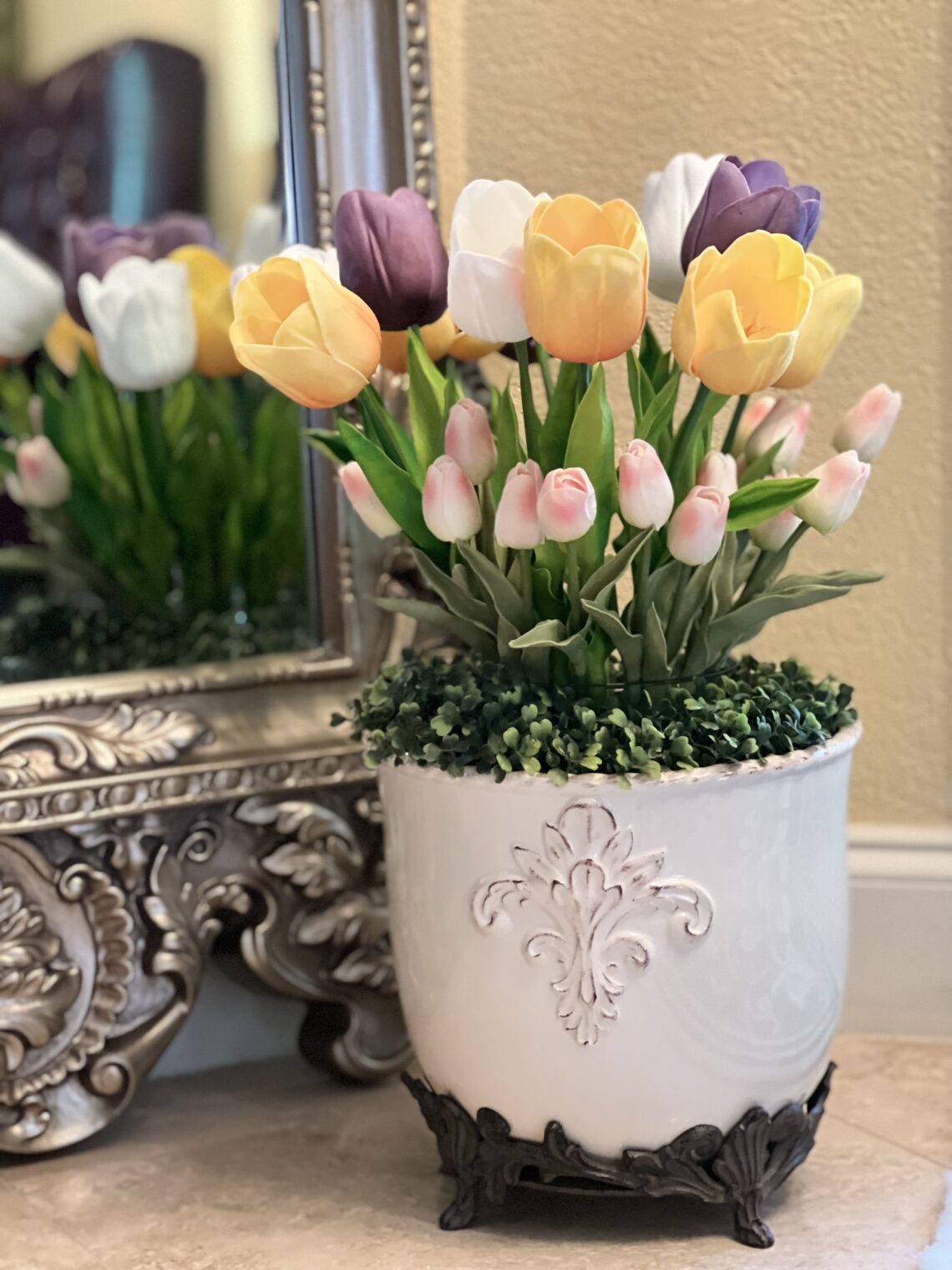 7 Easy Neutral Spring Décor Ideas that are Charming and Elegant
My Top 7 Easy Neutral Spring Décor Ideas that are simply charming, elegant, and versatile!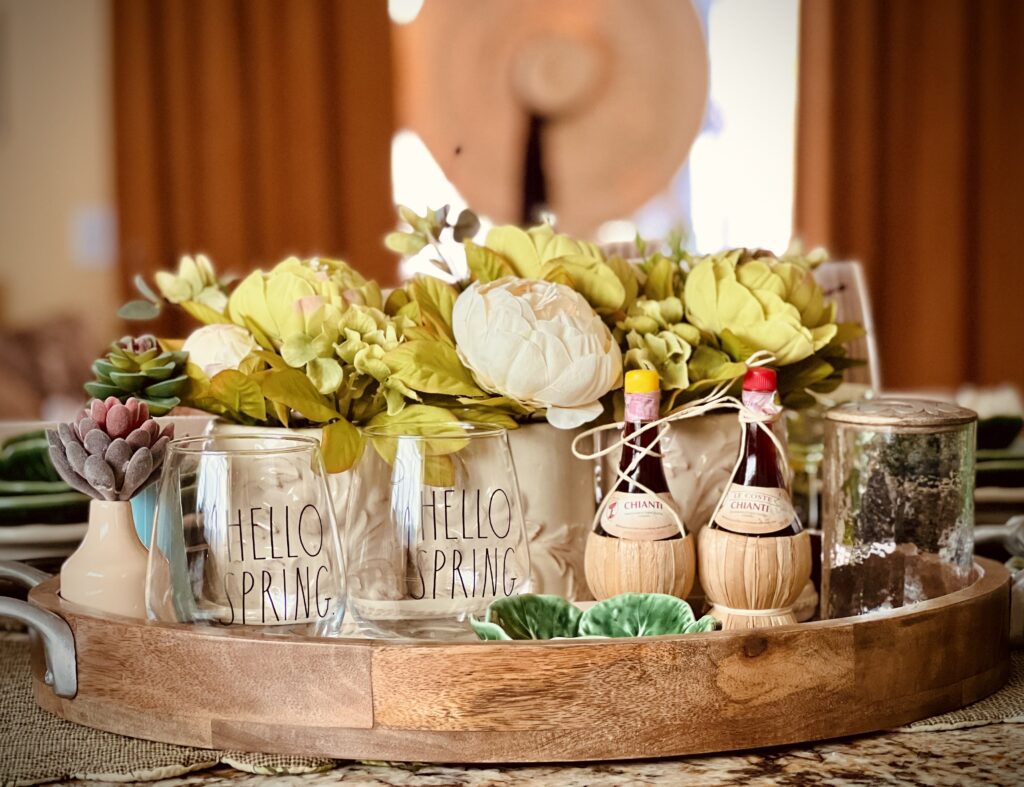 Spring is such a lovely time of year to decorate! I have been in a very natural and neutral decorating mood of late. During winter I had a nice neutral woodland Cozy winter wonderland décor theme going and I really just fell in love with with browns and greens, wood elements and greenery. It made the house feel warm, cozy, and alive! I did not want that feeling to end, so as Valentine's Day approached I decided I would create a "Valentine's Day Winter Wonderland Décor Theme", that meant making my own decorations, but hey that's why I love DIY projects! 
You can see in my "Valentine's Day Winter Wonderland Décor Theme" I still have my wintery pine woodland feeling happening. I have an arrangement of peonies and pine branches…which I found to work wonderfully together!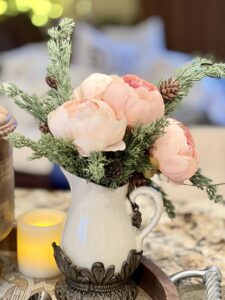 Now we have our starting point…we have wood elements, shades of greens, plants (even fake ones make your home feel more alive, which can have healing benefits)! I knew with St. Patrick's Day coming, Spring, and then Easter I was going to need to take this theme all the way through Spring (and who knows how far it goes)!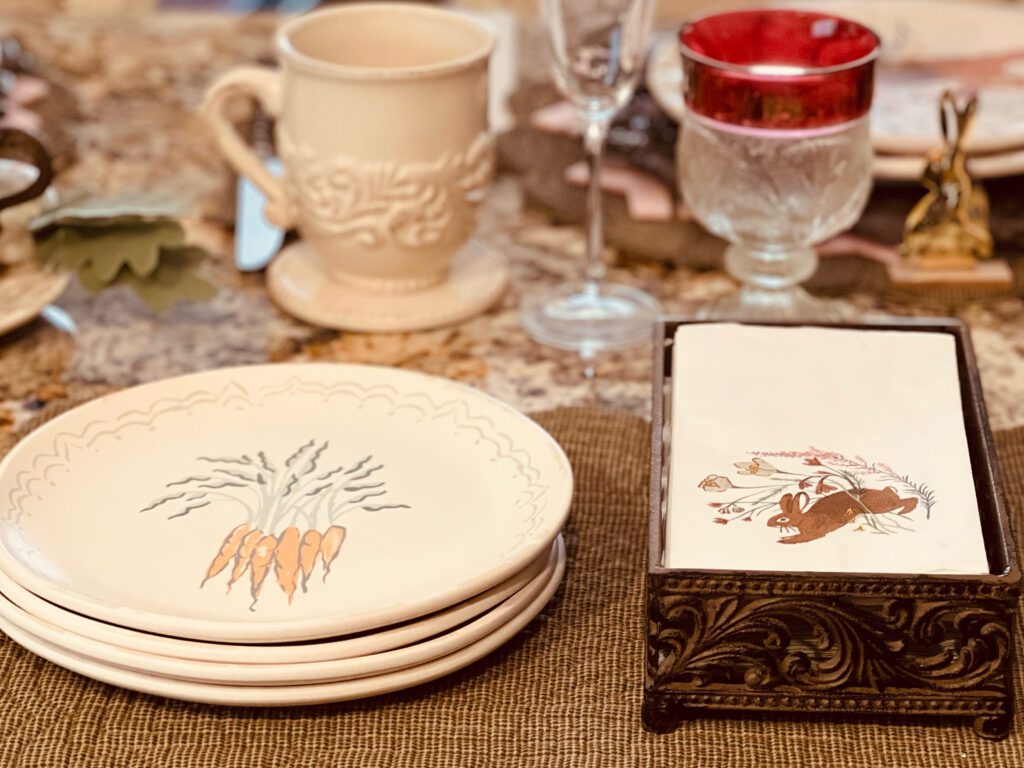 Now that I started with my neutral wood and green elements (worked great with St. Patrick's Day Décor as well), I started adding in the plants/greenery next. For Spring I added elements 1, 4 (my Spring Crafts DIY Wood Art), & 7. Take a look at some various ways to add in some pops of Spring! I move things around a lot, so you never know where something may pop up next! 
#1 Favorite Charming Spring Décor Pop: Tulips
1.Tulips – They scream Spring, and wouldn't you know it, that's when the tulip fields in Holland are in bloom (alas, not when I went a few years back in October…sadly…no tulip fields in bloom, but checkout my awesome Holland/Amsterdam travel pics – magical even without the Tulips).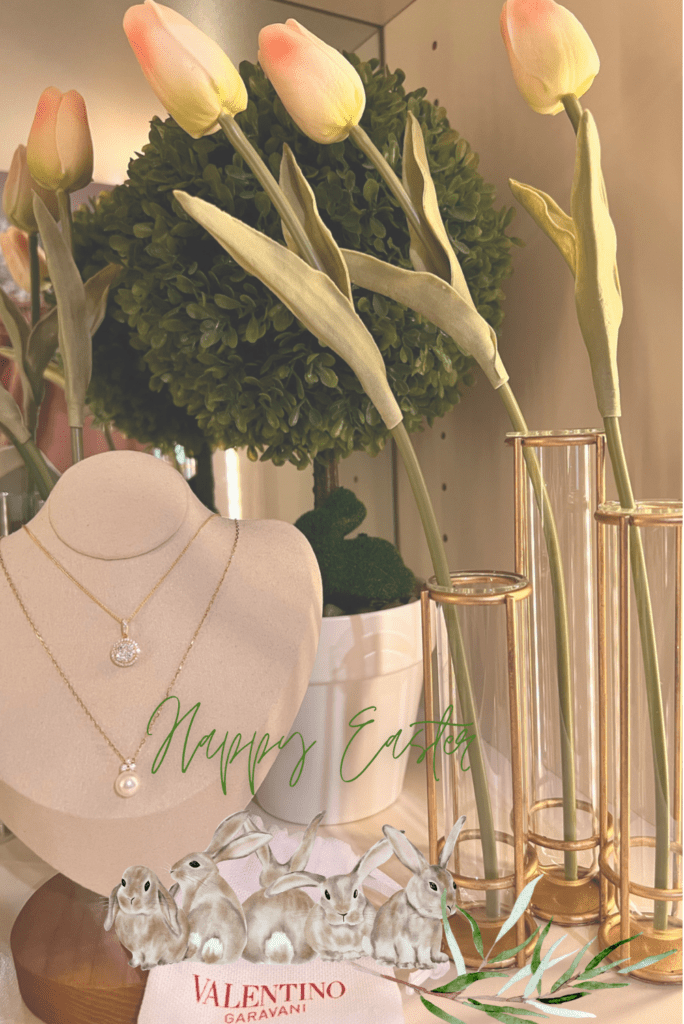 #2 Favorite Charming Spring Décor Pop: Eucalyptus
2. Eucalyptus – I am absolutely loving this in all areas for decorating lately! I am using real and fake! 
Use it in garland
Use it in a wreath
Make an entire wreath – See my post on DIY Real Eucalyptus Wreath for Health Benefits
Use it in Tiered Tray Decorating
Use sprigs in table settings, I added a few around my plate settings, in my iron chargers – super cute! 
Use in floral arrangements
Use inside hurricane glass candle  vase – I used it here this year as well!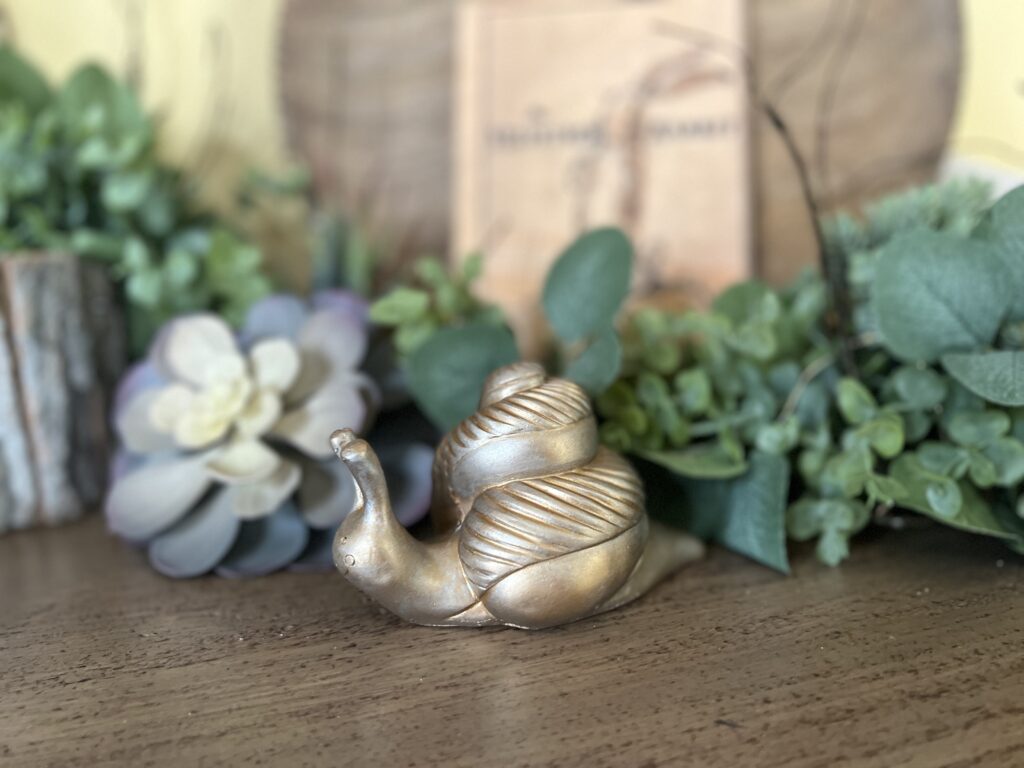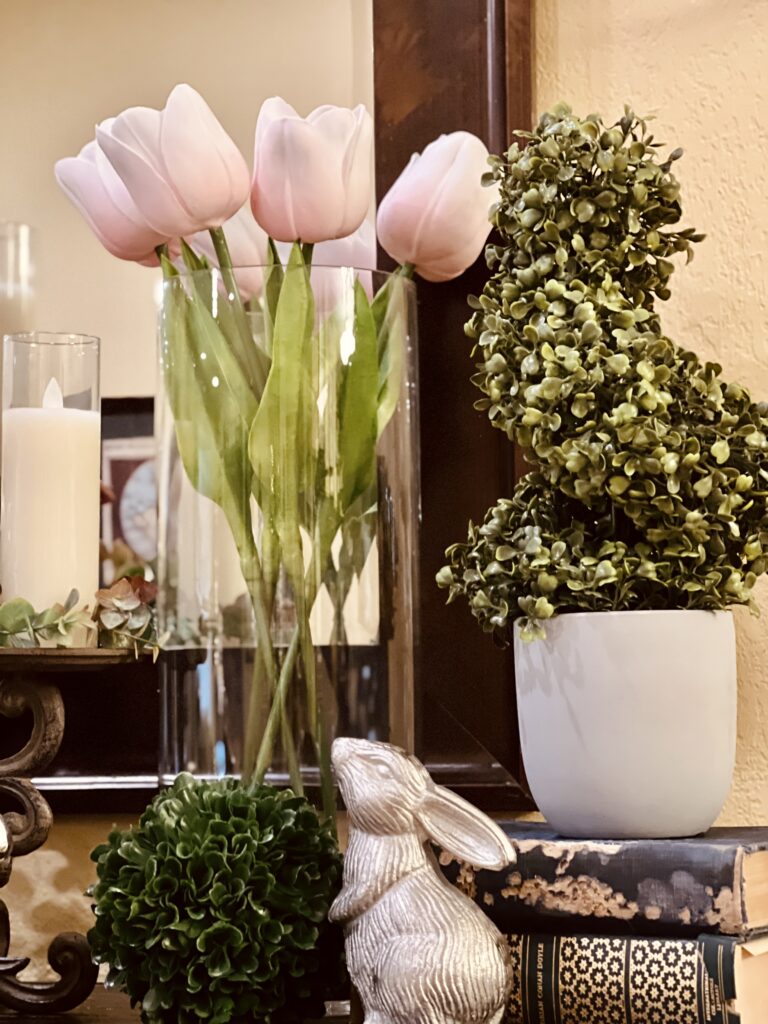 #3 Favorite Charming Spring Décor Pop: Succulents
3. Succulents – I recently decided to experiment with some Target finds to make "mini succulent planters" and god a few packs of "fake succulents" and now I am hooked! Not only am I:
making lots of lovely arrangements with these babies, they
work great to tiered tray decorating, 
add to wreaths
add to garland
#4 Favorite Charming Spring Décor Pop: Wood Slice Art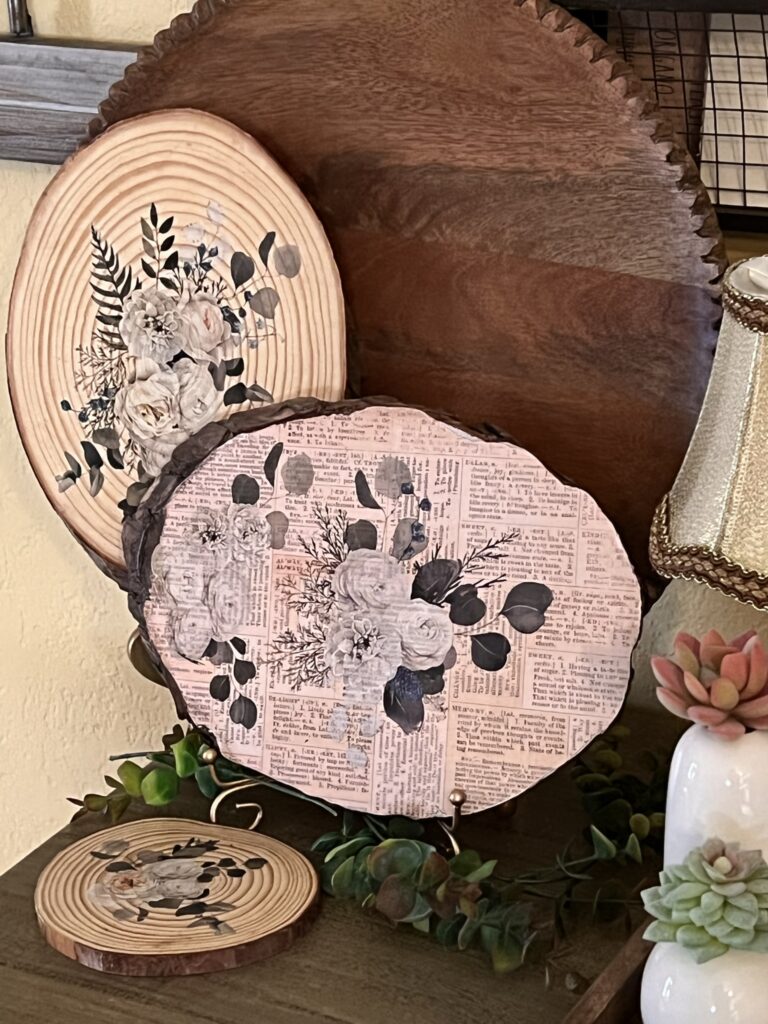 4. Wood Slice Craft Art DIY– If you don't know me yet, then you should know I love DIY projects because I love all things custom designed to match! I think that's where my love for DIY comes from. I have an idea of something I want in my head and I'll look for it everywhere.  Now with online shopping and its amazing technological capabilities to further enhance my shopping addiction, I search and search and sometimes just can't find it. From that constant stream of disappointment, was the DIY'er in me born! Hence: Wood Crafts: (see my post on DIY Wood Crafts for Spring)
Decoupage wood slice coasters – eucalyptus rub-on transfers (easy, custom to my theme, neutral, springy, and charming – all of my requirements!) 
Wood Slice (big) – sign style, I made some and put on an easel – and of course, they match! 
Mini wood serving board (Target $5 for 2) – these are super cute as is, but of course, I had to jazz one up and see how it turned out!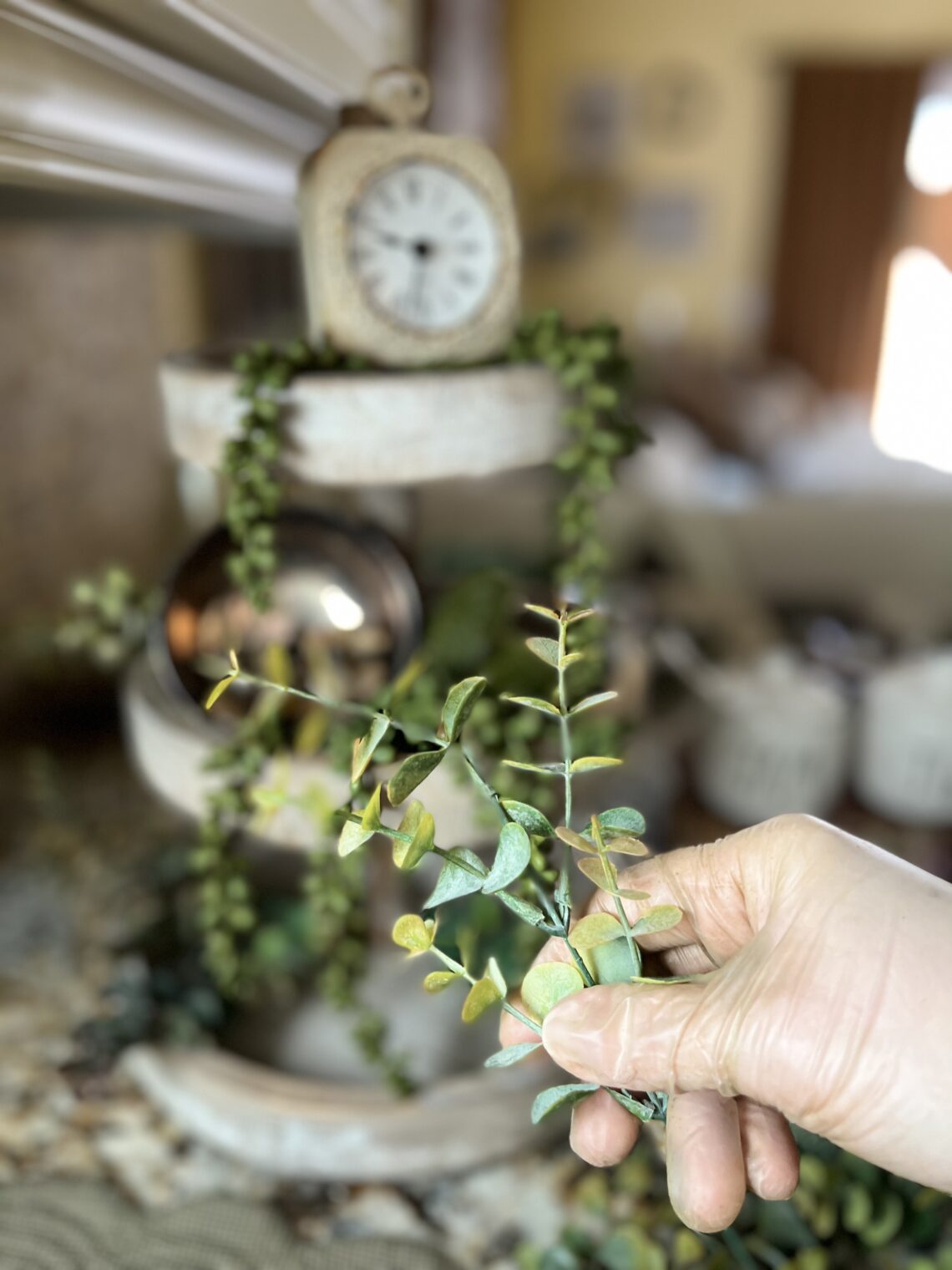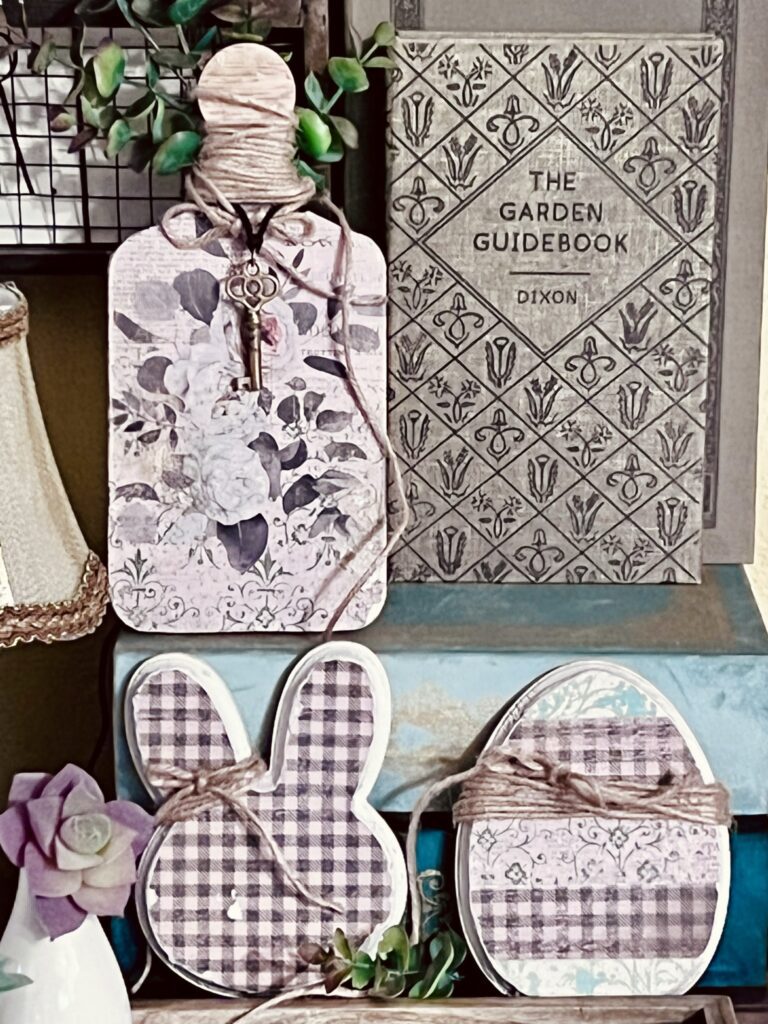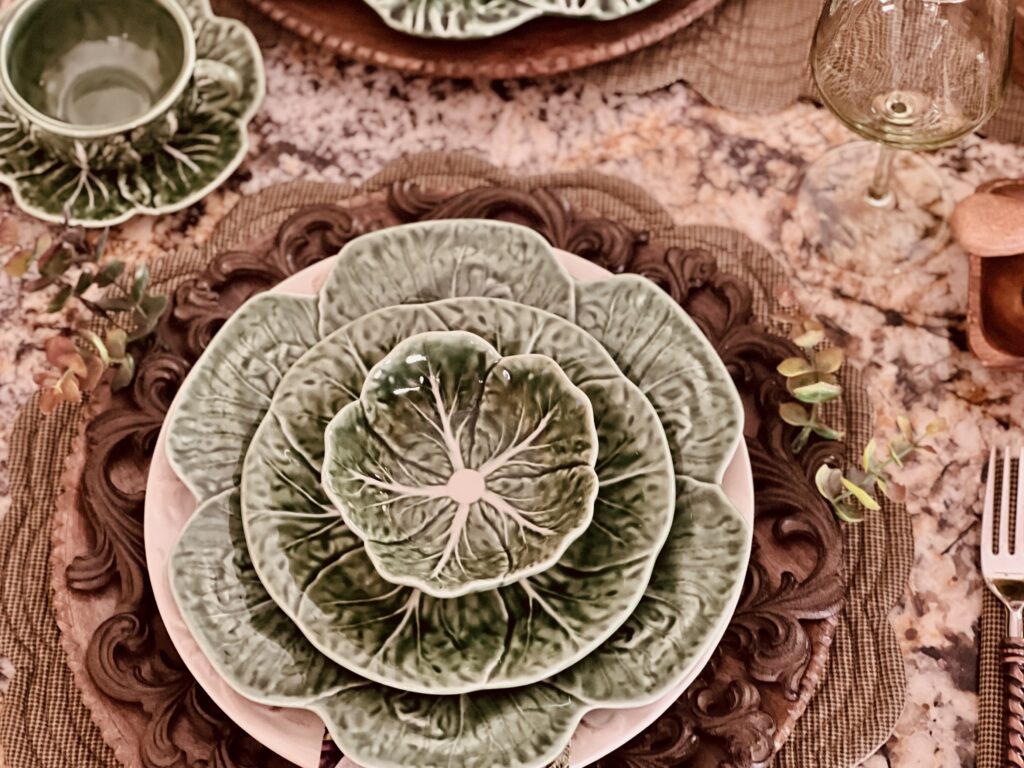 #5 Favorite Charming Spring Décor Pop: Topiaries
I LOVE LOVE LOVE Topiaries! I can say use them for Spring, but I use them all year and all over the house, patio, you name it! If you look around, you can spot many variations around my home…so, Love may be an understatement! Best part, I can't kill these! LOL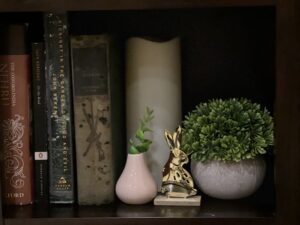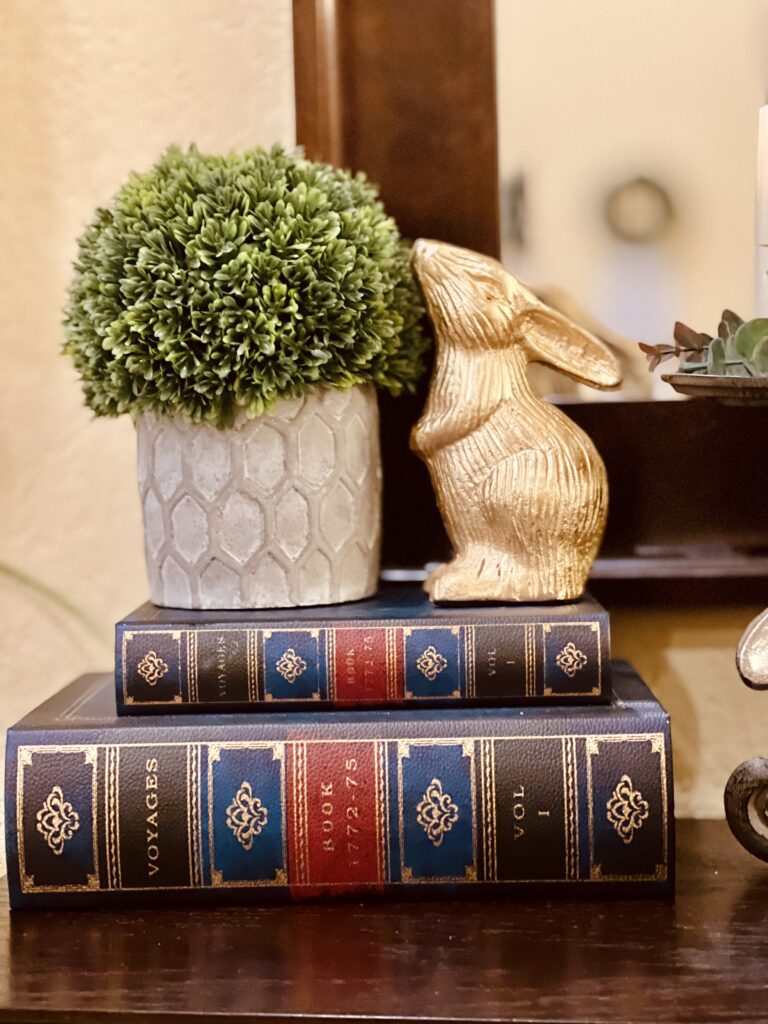 I love book boxes too! You'll see I use them a lot for an amazing organized storage solution – and they are so cute! 
#6 Favorite Charming Spring Décor Pop: Bunnies
Bunnies aren't just for Easter! Rabbits are one of nature's most adorable little furry creatures! where you start with a few and then before you know there are hundreds of rabbits everywhere. I'd love to say this is purely a reproductive quality inherent to rabbits, but then how do you explain how I started out with only 2 or 3 bunnies…and now there are over 100 bunnies in my house this year!
Is that biology? It can't be since they are all fake bunnies…and that would just beg more questions. The only answer – ROYAL BUNNY CUTENESS! Bunnies are cute, they make you smile, they are abundant in Spring, so yeah, not just for Easter!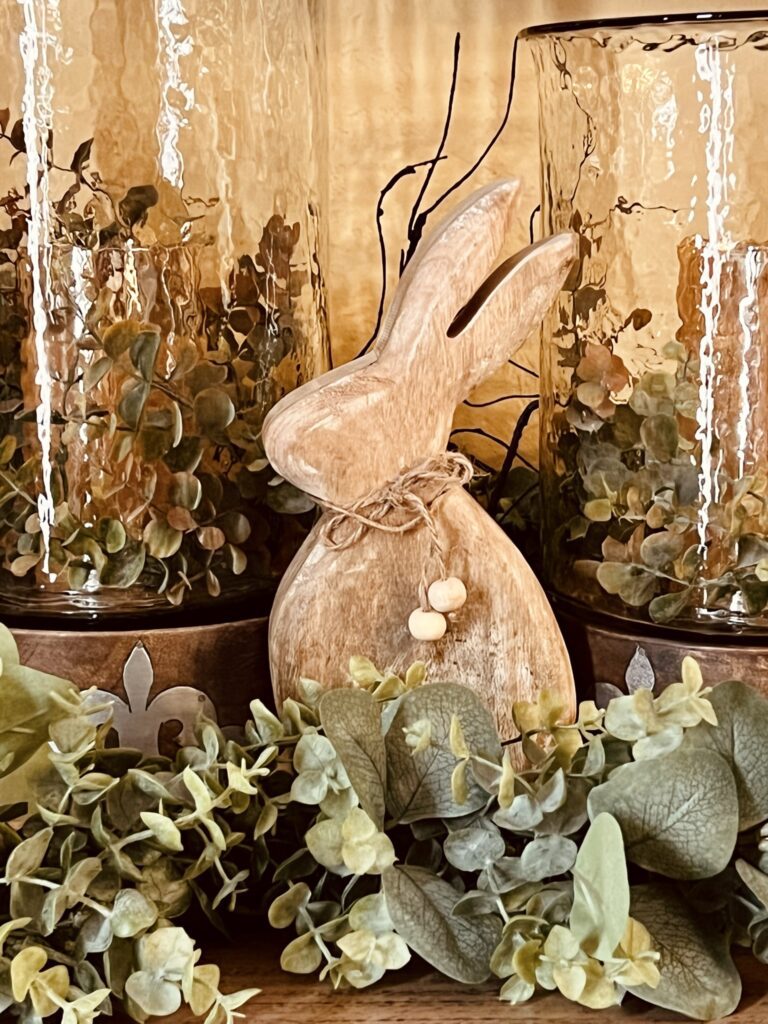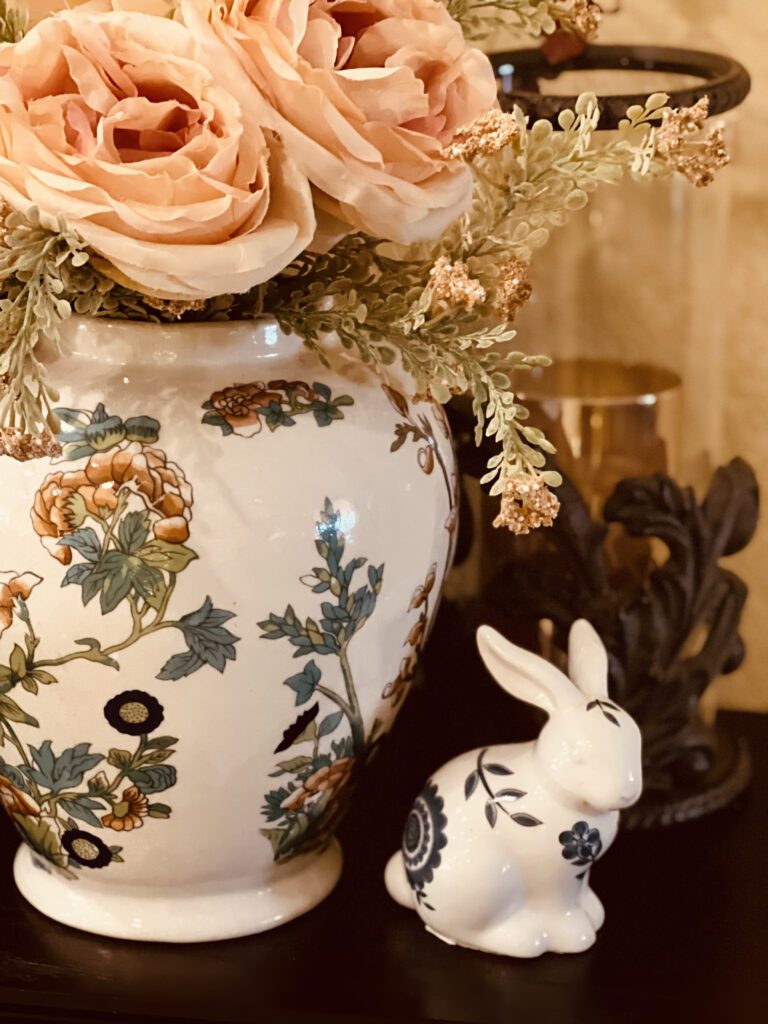 I am all about the "non-cheesy" Bunny décor, as I have a certain look I am always going for one way or another (cheesy is not a décor trend I tend to lean toward, but my 9 year old often disagrees LOL). 
Elegant, charming, sophisticated, vintage, European, Farmhouse, Chic…these are words I would use to describe my various styles of décor taste. One room feels like you just walked through a Tuscan villa, until you reach my more "County-Chic-Farmhouse" style family room area. 
Your home defines who you are…and when you are a whirlwind of many things, your home will thusly show it. As such, you'll see different styles throughout my home, and how I tie them all together.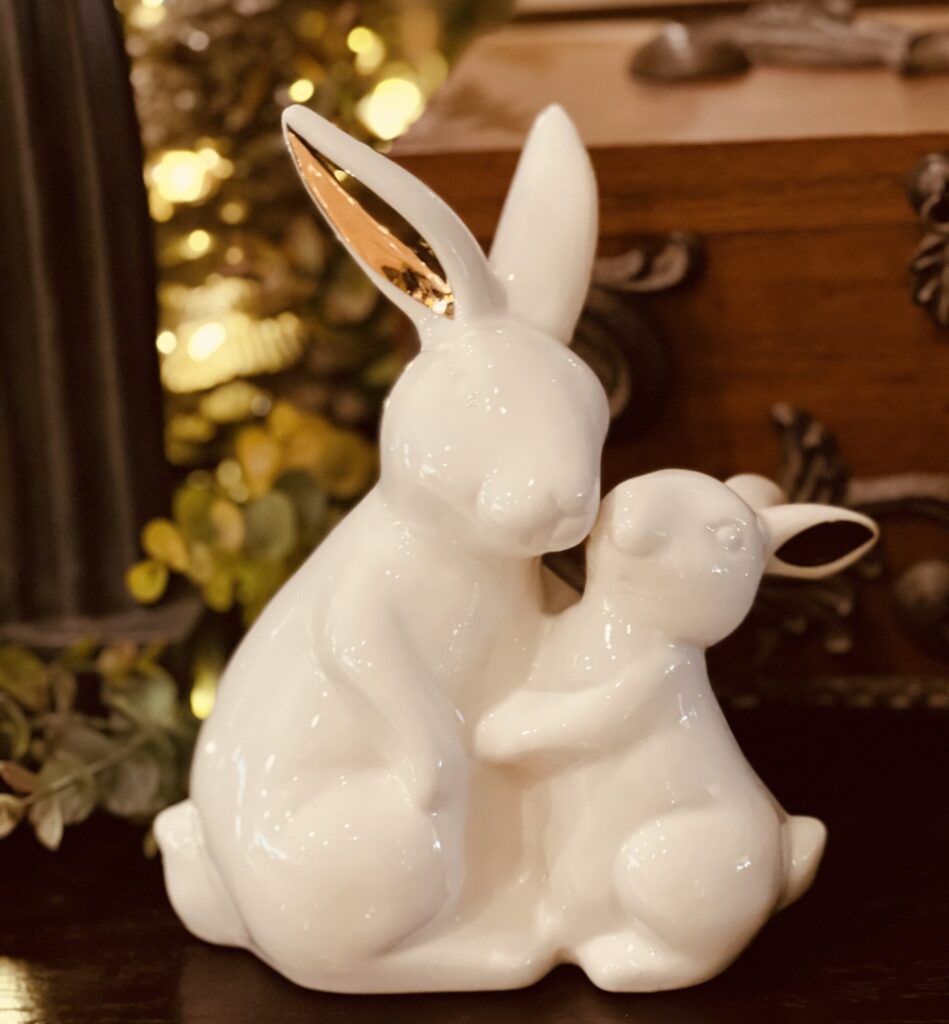 I love versatile and timeless pieces in all things, I find that is a general concept of style that I hold true to all areas of my life. I do love a good trend, but there's nothing like classic elegant style, that is always in fashion!!! I have lots of candlesticks I move around that work in every room!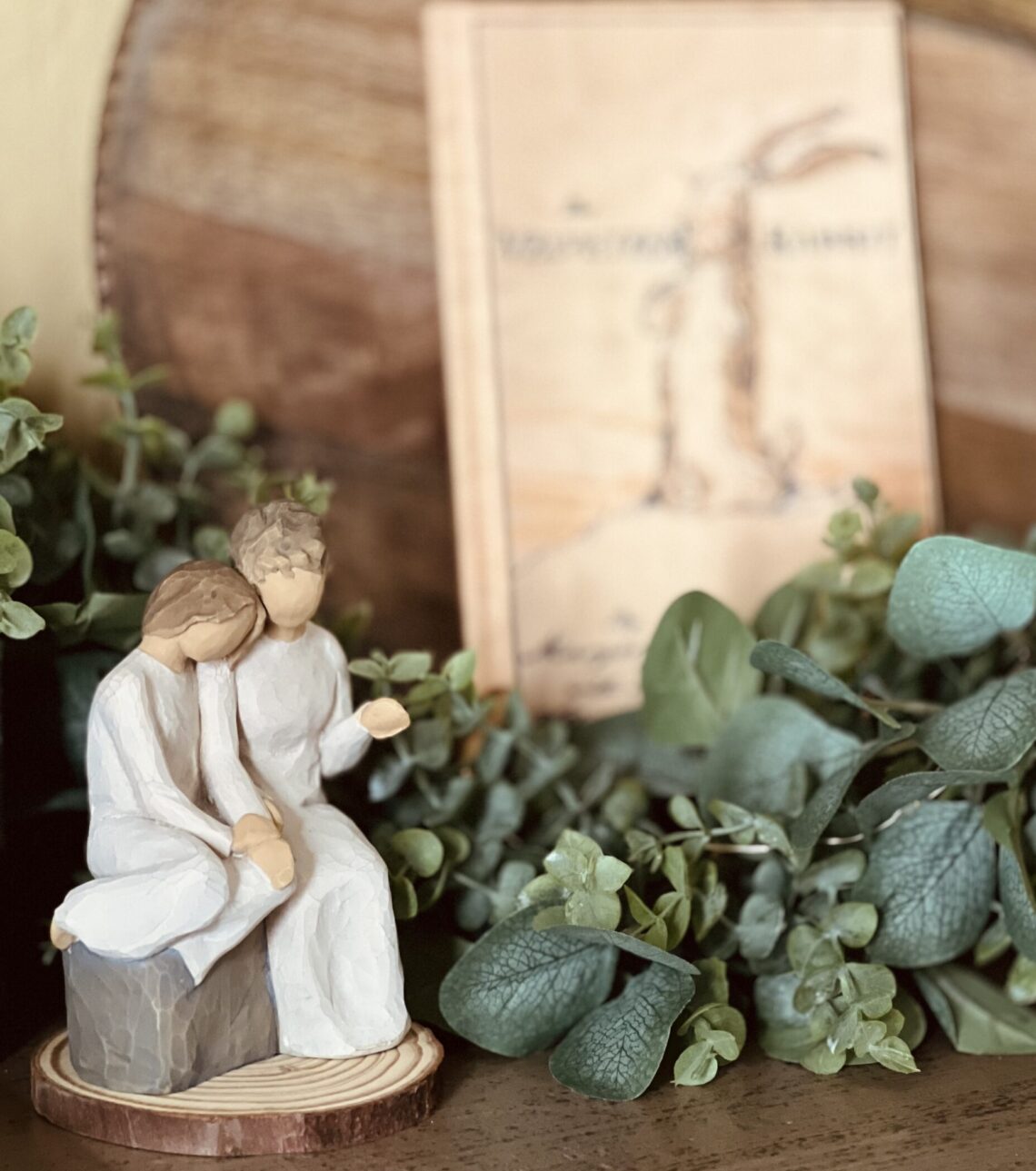 #7 Favorite Charming Spring Décor Pop: Moss  (Bunnies, Balls, Rocks)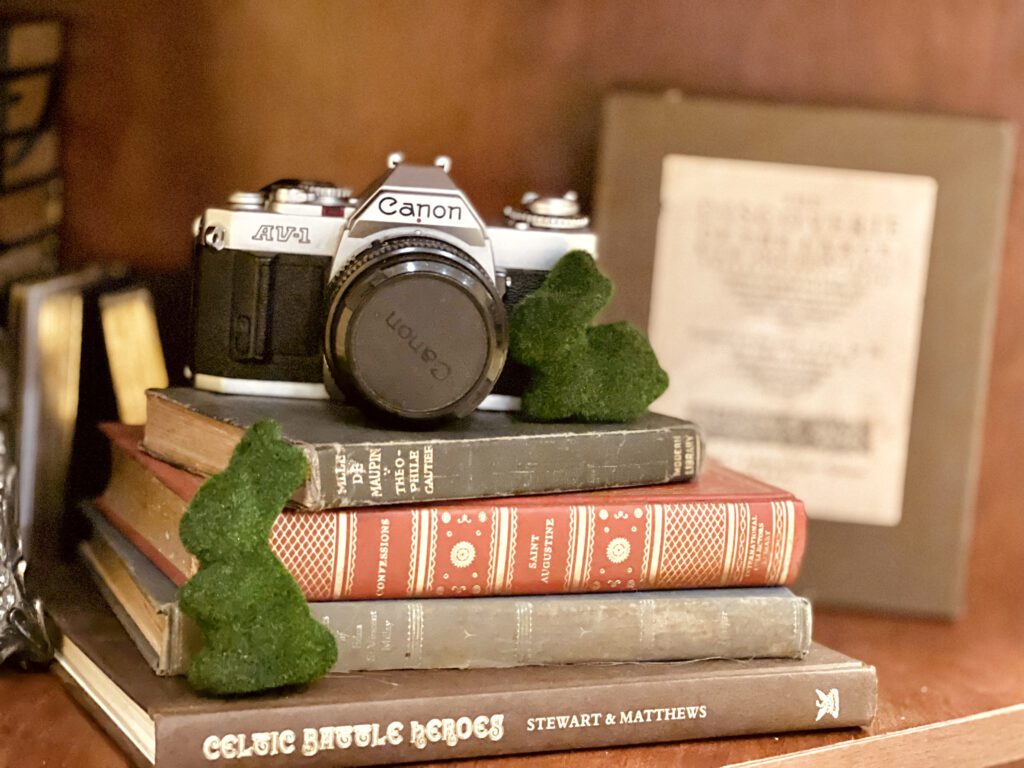 I am loving all things Moss covered! These moss covered bunnies I found at the Dollar Tree are so cute! I found some at Target later that I love, I'll you how they compare, both are cute! 
I am so happy to get to share my love of Spring, Easter, and decorating with all of you! This is truly of place a wonder for me to express that side of me that longs to create.
I am so happy to get to share my love of Spring, Easter, and decorating with all of you! This is truly of place a wonder for me to express that side of me that longs to create. 
Subscribe to my BOSS MOM DIY blog newsletter for updates on latest posts, giveaways, E-Books coming soon, and more! 
Thanks for stopping by! 
Save this and share! 
Until next time…keep smiling, improve every day, and build a life you love! 
Yours Truly,
January