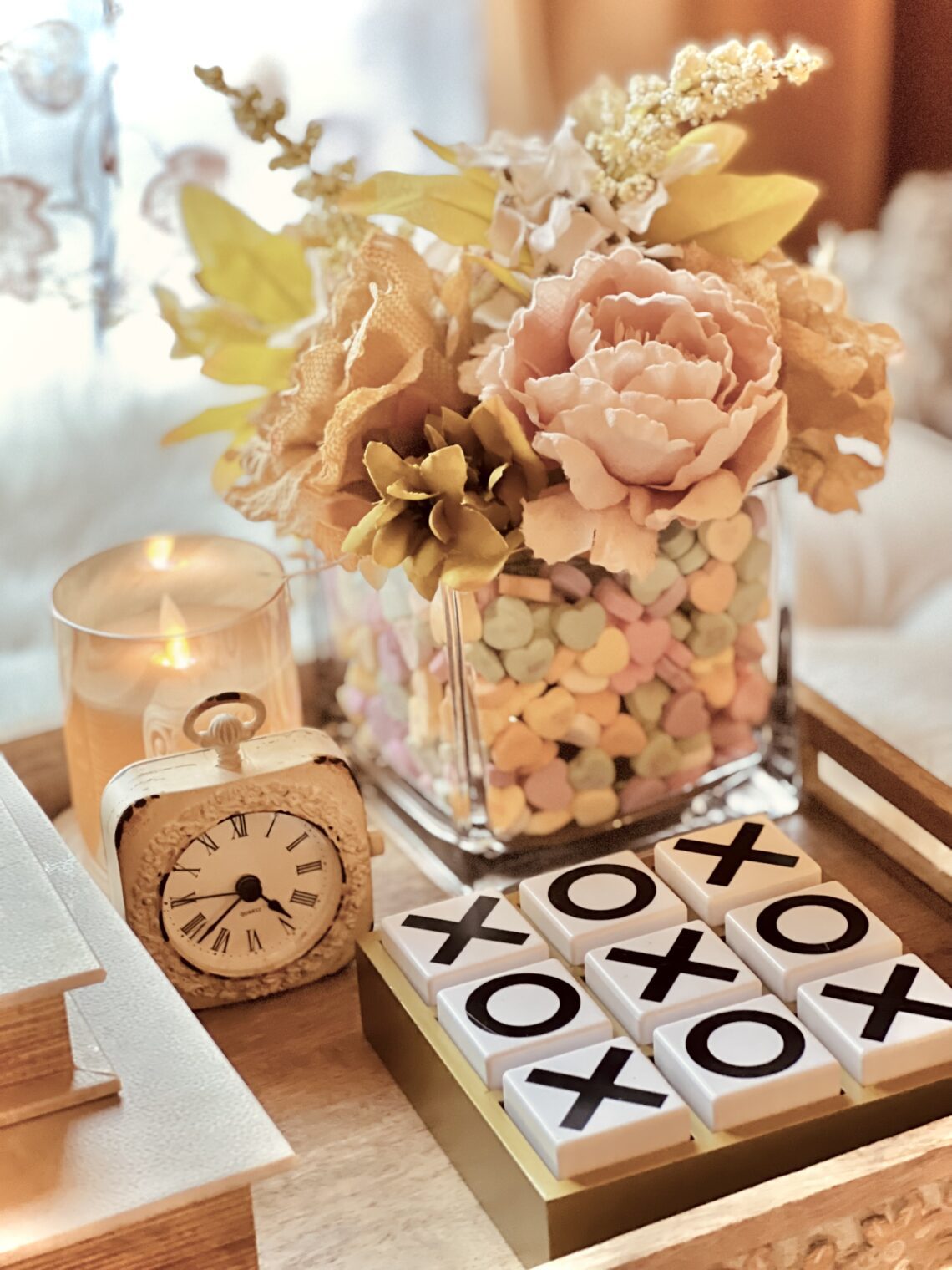 Create a Cozy Winter Wonderland Valentine's Day Theme
How to add Valentine's Day Decorations to your Winter Wonderland Home Décor!
Does it seem like time is just flying by? Christmas is over, the New year has begun…and I am still not ready to let go of my cozy Winter Wonderland. 
Valentine's Day is coming and I already know I don't want any "cheesy" decorations, that is just not my jam. 
In an effort to preserve my Winter Wonderland decorations (my trees, woodland garland, snowy rugs…you get it), I decided I would look for "neutral Valentine's Day decorations". Guess how much luck I had there?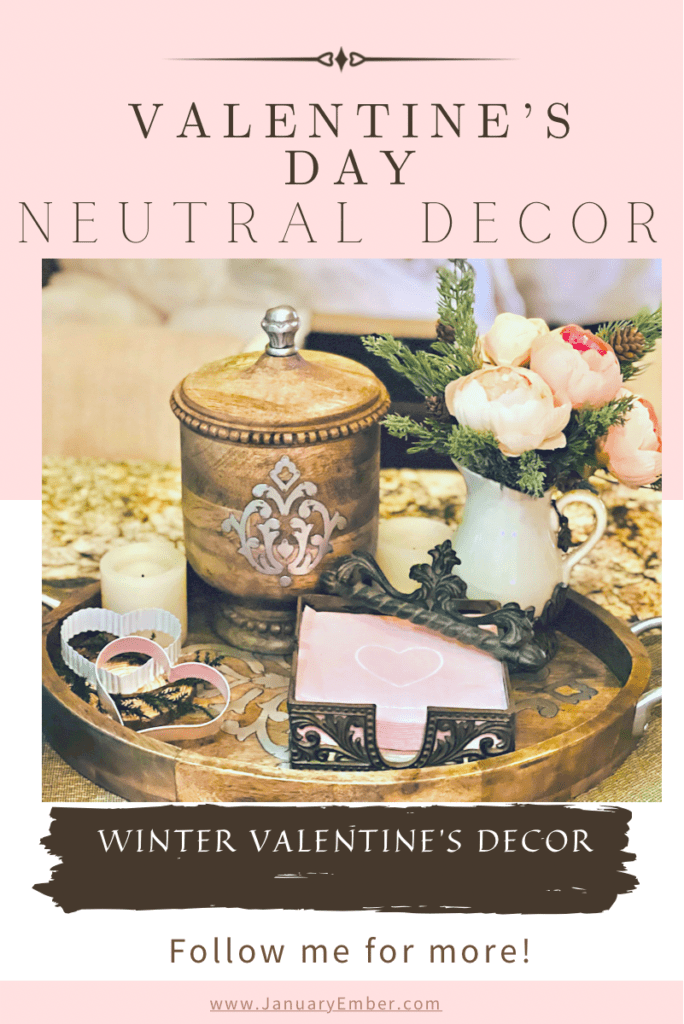 This post contains affiliate links. This means I may receive a small commission for purchases derived from those links at no cost to you. This helps support the blog. Thank you in advance for your support!
Me, a hopeless romantic – I LOVE Valentine's Day!
Decorating for Valentine's Day has always been such a challenge…and it always seemed a bit pointless I guess since it was just one day. Plus, I just can't do "cheesy" decorations.
After hitting up Marshall's, I got inspired by some Rae Dunn Valentine's Day mugs, bird house, candy jar...etc (the obsession grew and grew)!
All of my fellow Rae Dunn lovers out there know what I'm talking about! It is so easy to just want to buy it all! 
As a Super Coffee Lover, it only seemed right to get some beautiful mugs for my Valentine's Day Décor, and let's keep it real, I USE COFFEE MUGS!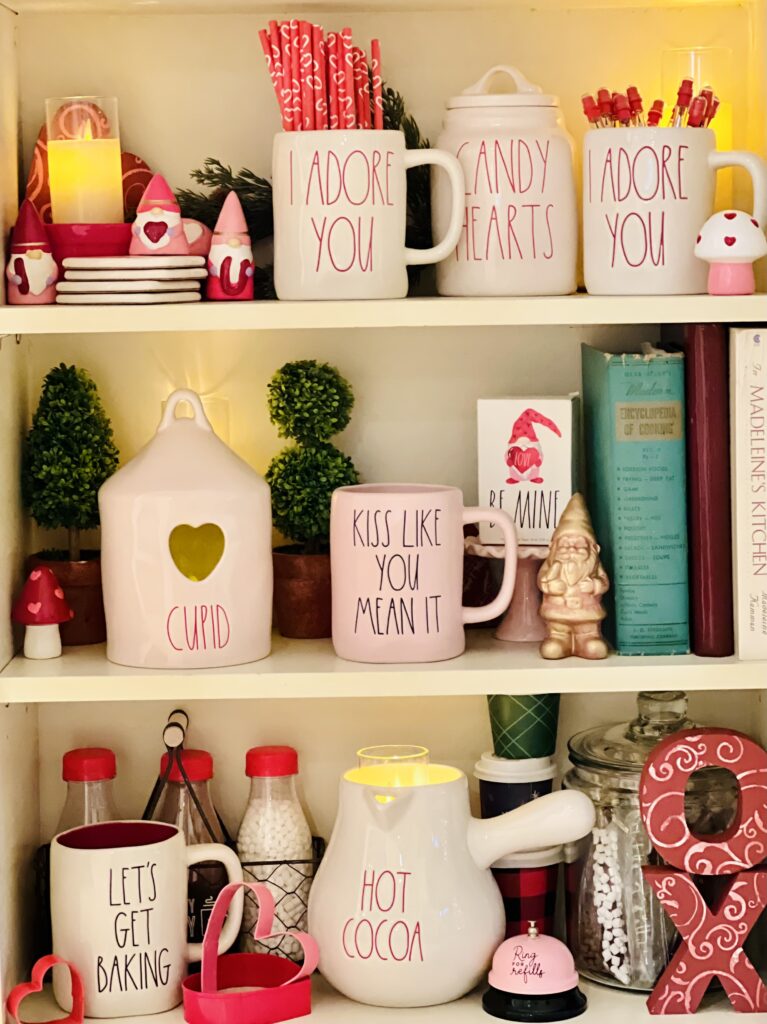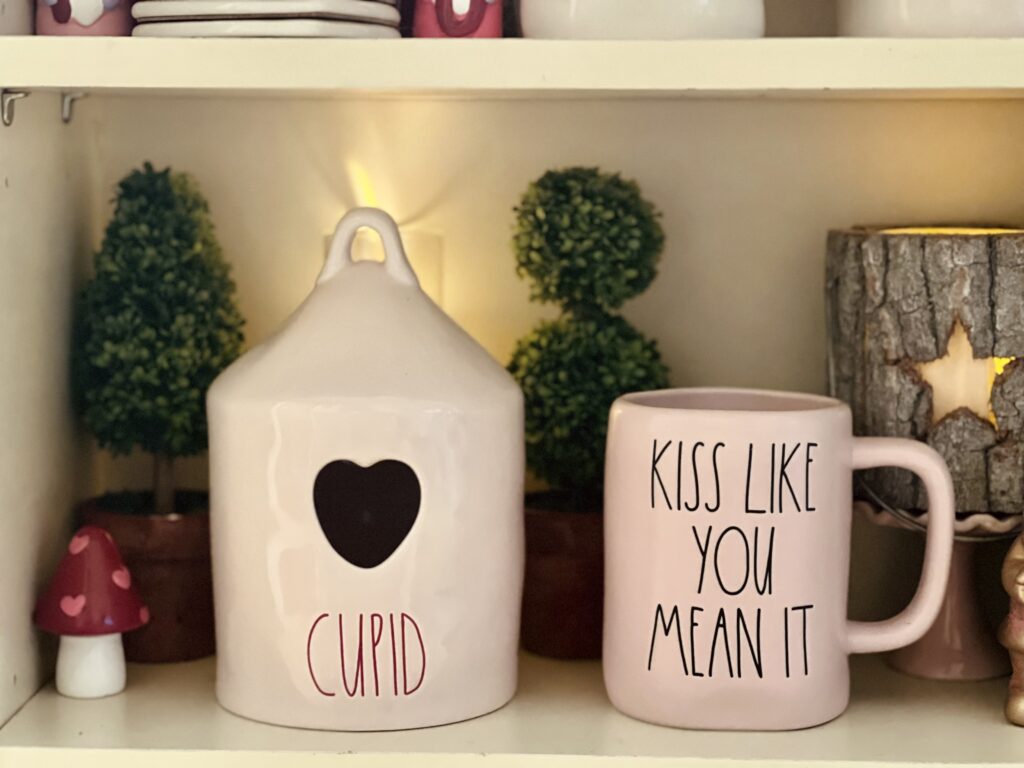 Valentine's Day can be just another day, or you can choose to make it a day put there to remind you to spread some Love. We all get busy, don't get too busy for Love! Use this day to remind you if you forget!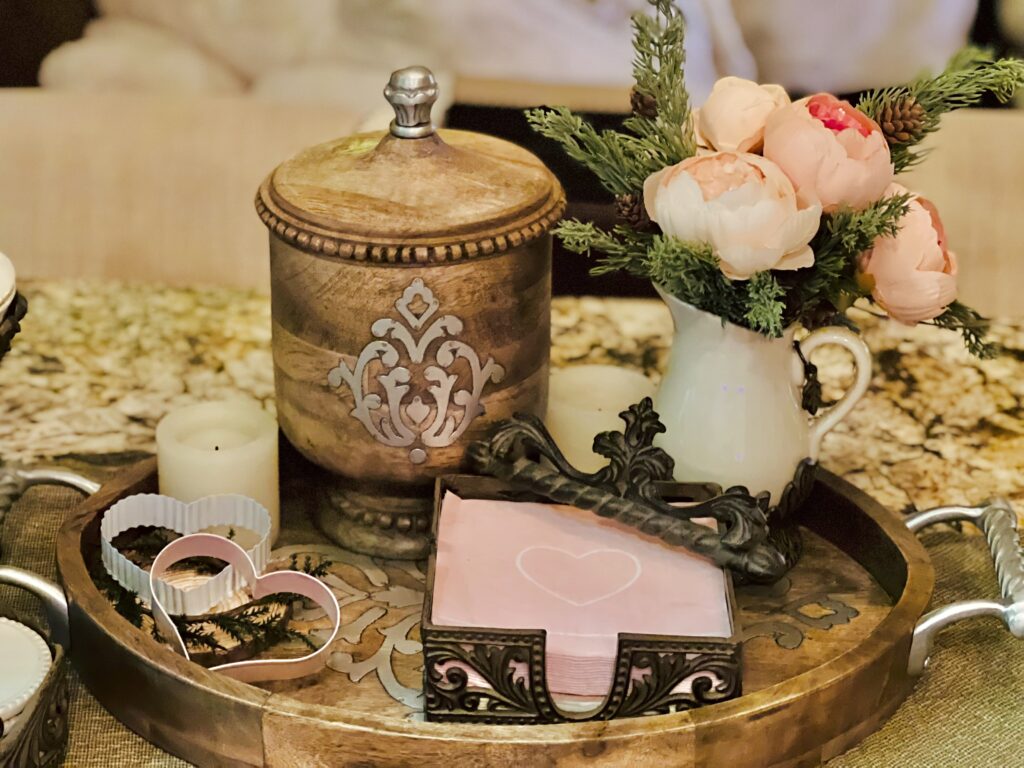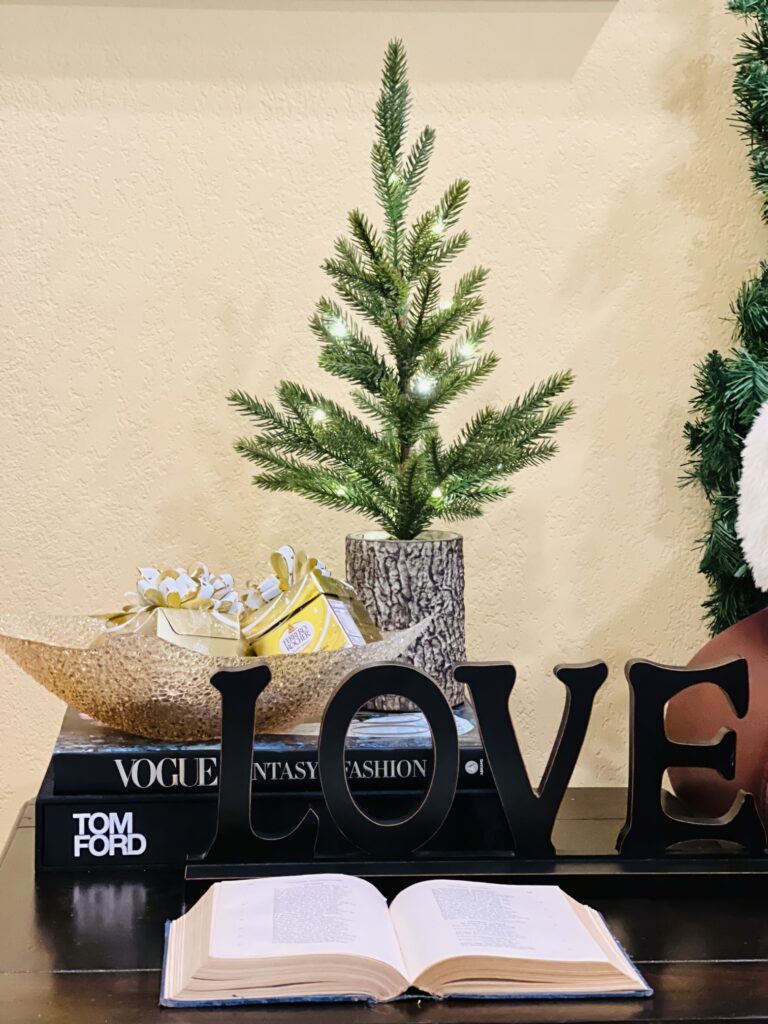 Ferrero Rocher gift boxes in a bowl make for cute Valentine's Day decorations, and serve as a "grab gift" if someone stops by! 
A small token of appreciation goes a long way! I like to give Ferrero Rocher gifts like these roses, so cute! 
These roses I found this year are awesome! When I see someone in need of a gift of Love, I grab one and hand it out! It always makes everyone so happy! It makes great décor in the meantime! I put them in a vase!
Gift Ideas that double as decorations!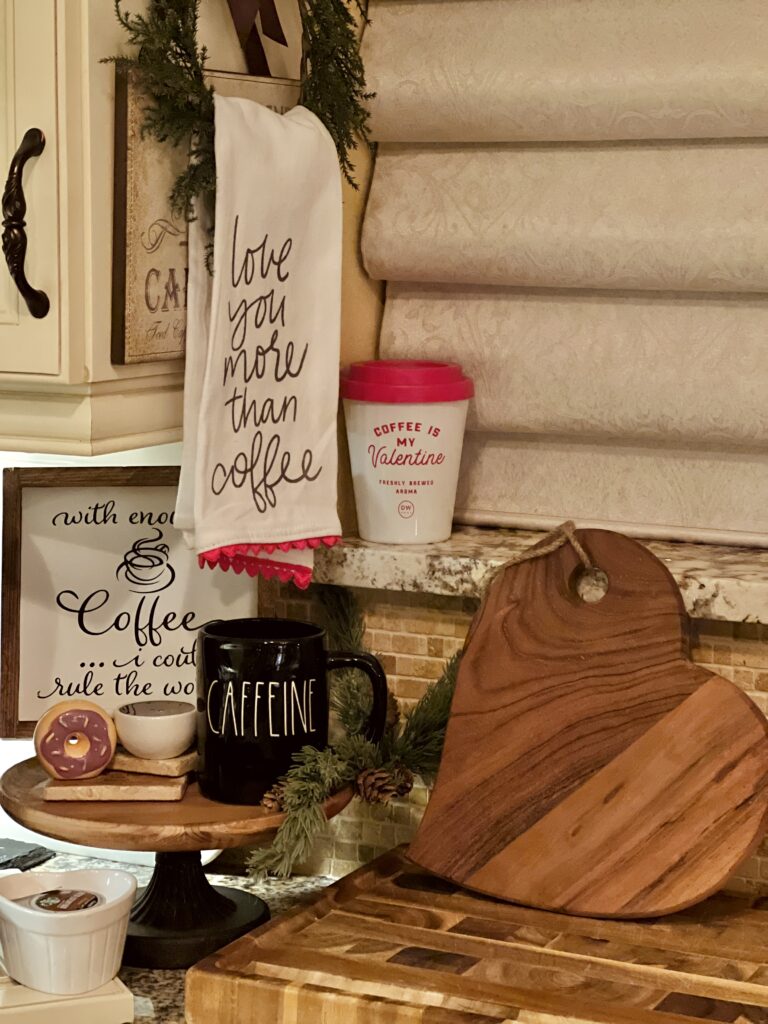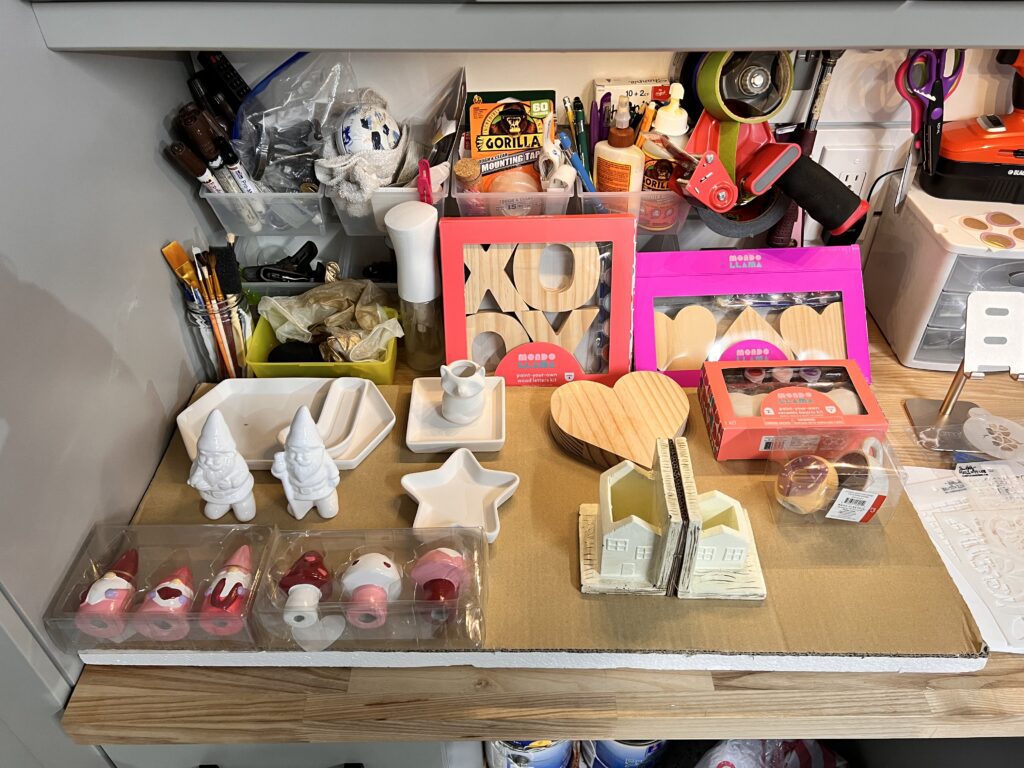 During one of my Target shopping outings I happened to find a lot of crafting supplies, see my post on DIY Valentine's Day Décor Crafts, some really cute kitchen towel sets, cute bakeware like pink, red, and white heart-shaped ramekins and pink and red small heart-shaped casserole dishes. 
Some of these gifts may end up being self-love gifts…is that wrong? In my opinion, no! LOL Love yourself!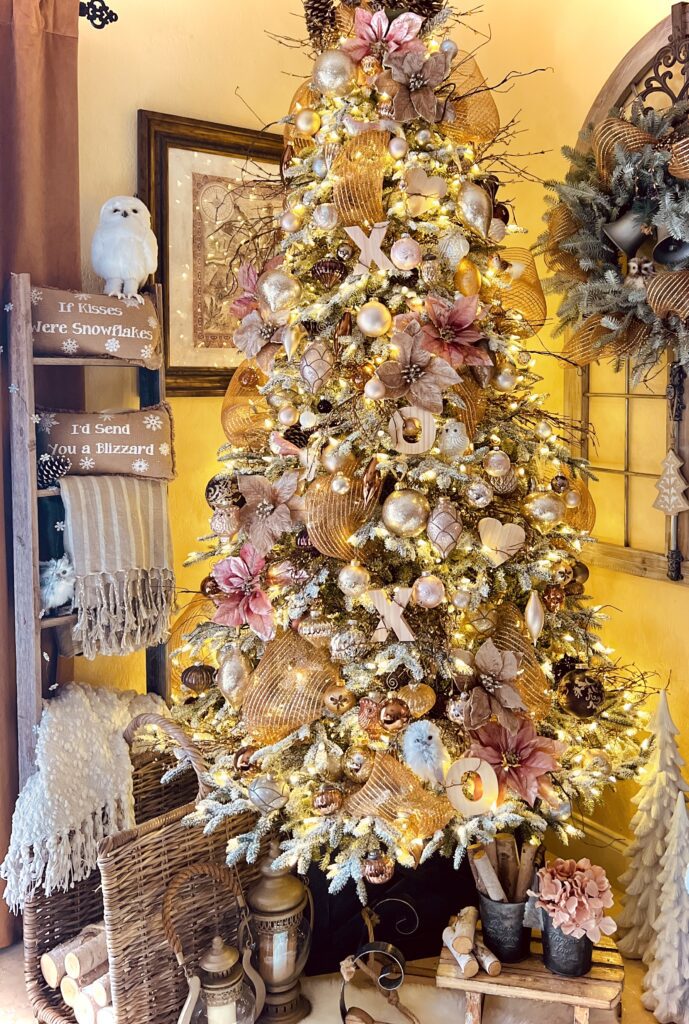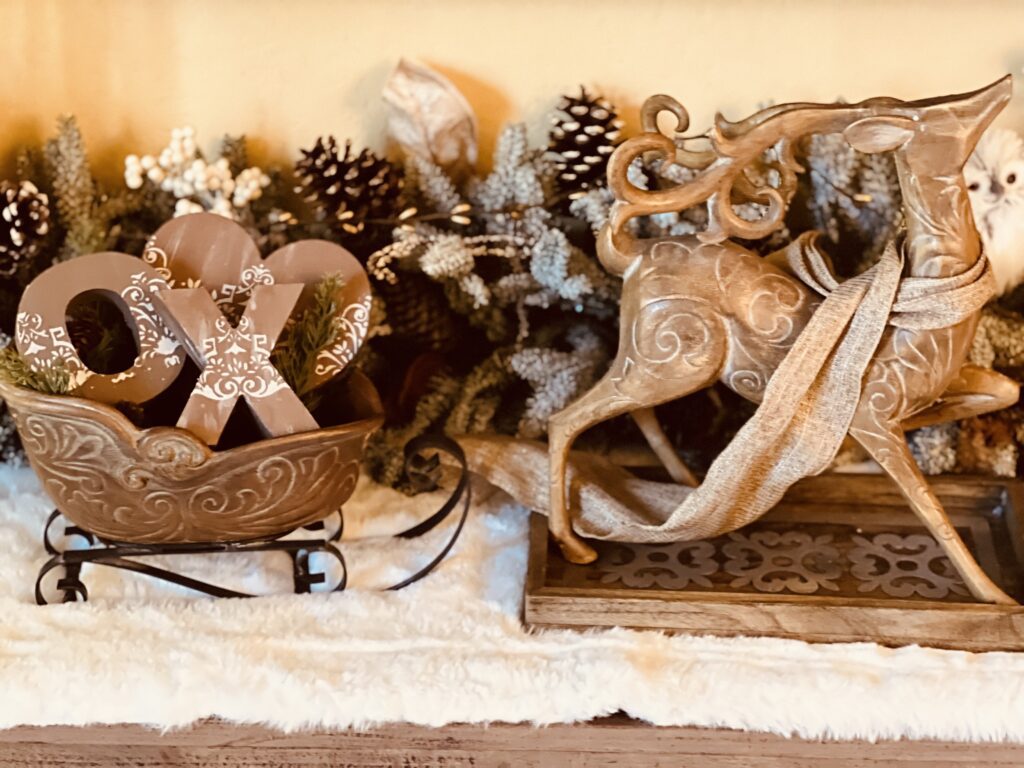 I am still not over winter, and the Groundhog Phil agrees and said 6 more weeks of winter. I wanted to bring in Valentine's Day gently, and still keep that winter wonderland feeling (Check out my Winter Wonderland Décor post). 
These make the perfect addition to my Valentine's Day Winter Wonderland Theme! 

I am absolutely falling madly in love with this concept of neutral Valentine's Day decorations, elegant and subtle!
10 Easy Neutral Valentine's Day Decor additions:
Napkins 
Towel set /potholders
Coffee mugs 
Heart-shaped dishes 
Heart-shaped cookie cutters 
Candles
Conversation Hearts
Rose petal soap 
X's and O's 
Chocolate/Candy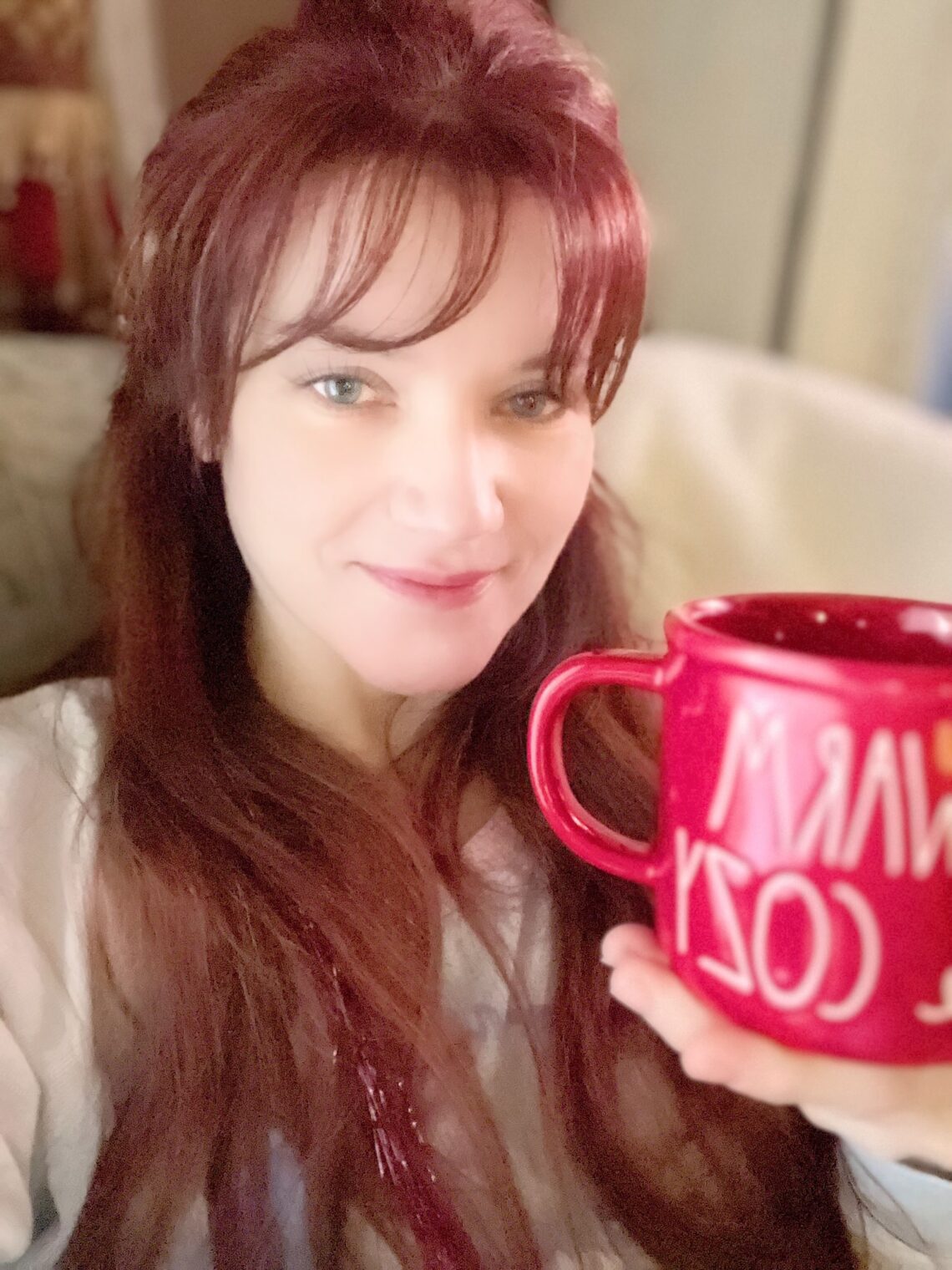 Napkins – Easy, $1 Store, any cute Valentine's Day napkins add a cute, easy, and functional Valentine's Day Decor item!
Towel set /potholder- easy, inexpensive and useful. These are also great to add into gift baskets. Target always has cute $3-$5 sets, and Amazon too. 
Coffee mugs – especially Rae Dunn mugs, all the rage, and oh so cute and a light easy way to bring in some Valentine's Day charm, and again, functional! 
Heart-shaped ramekin/baking dish ($1-$3) you can use them in the kitchen, bathroom, vanity, as a candy dish, soap dish, I even use one for my dish soap brush in the kitchen sink! I change them every season! 
Heart-shaped cookie cutters – inexpensive, cute for decor and functional! 
Valentine's Day candles! Candles and I have a love love relationship, I just Love them! The ambiance is priceless and a cute candle can go a long way! Great for the home, and great for gifts! Rae Dunn is making some really nice candles now too! 🙂
Conversation hearts – classic, inexpensive, and so many fun ways to use them! I used them in a vase this year on my ottoman tray! Add some in a small heart shaped dish for extra cuteness on your table setting! Get creative!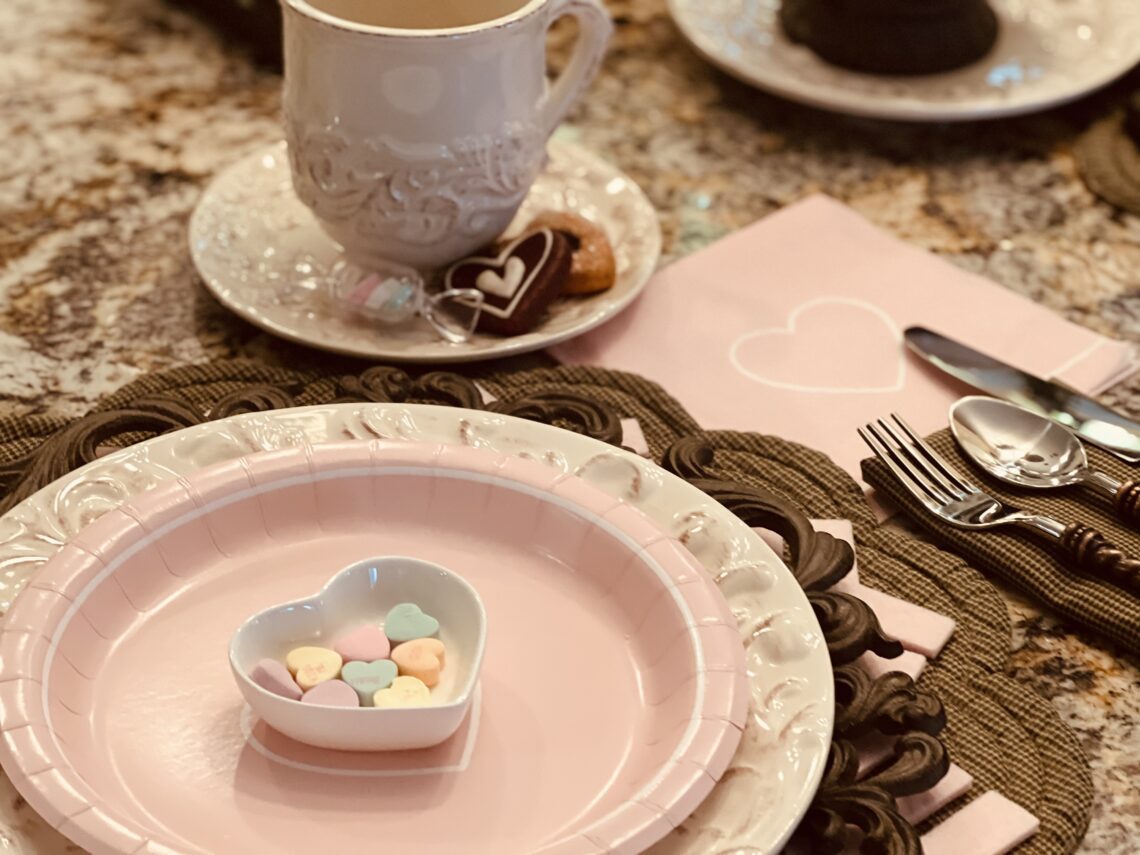 Rose petal soap – pretty, easy and functional. They smell great when they are out, the look beautiful and it's soap! Lovely!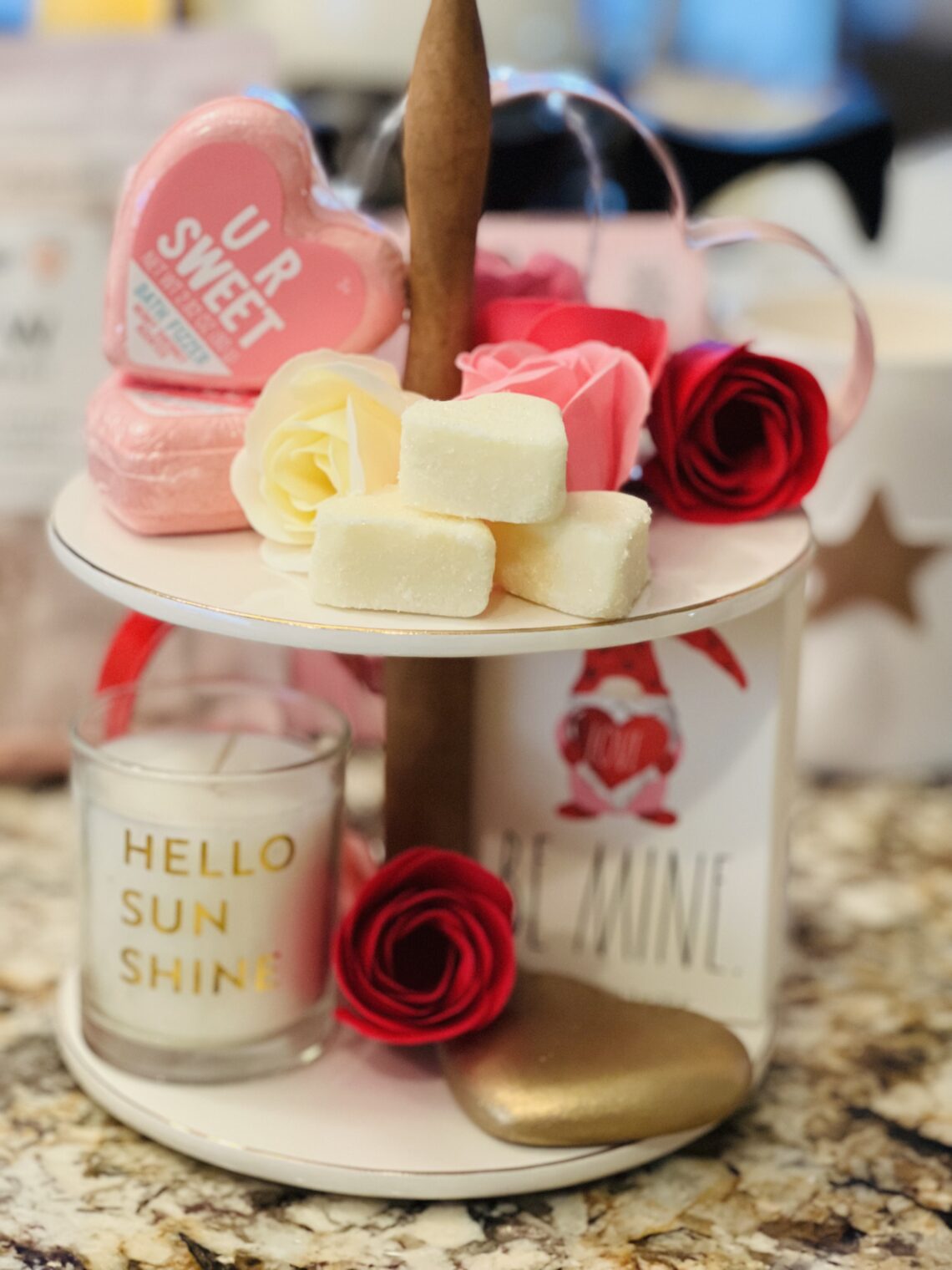 X's and O's – hugs and kisses all day! In my decor you'll see some wood hearts and X's and O's.
The  wood crafts you can get from Target, The Dollar Tree and Amazon.
I custom painted some to match my GG collection Decor (you can see the HOW TO details on my DIY Crafts post) 
Also, I used the plain raw wood hearts and X's & O's and they look great too!
Even my tic tac toe game screams hugs and kisses! 
Pretty candy and chocolates – Chocolate hearts, candy hearts, or be really luxurious and get some Ferrero Rocher Roses!  
Put the roses in a vase, they look amazing too! (I got some of these that double as gifts and décor)

I like to keep these on hand to give to anyone I may need to help brighten their day!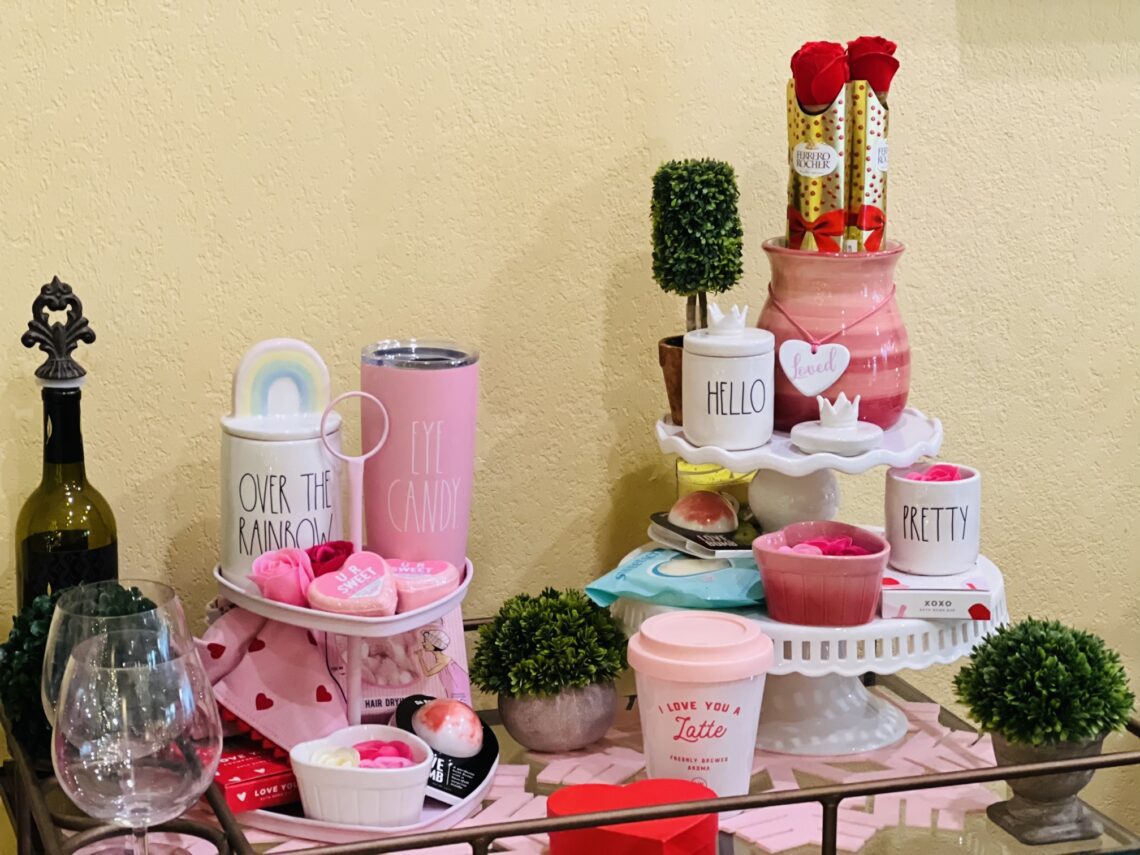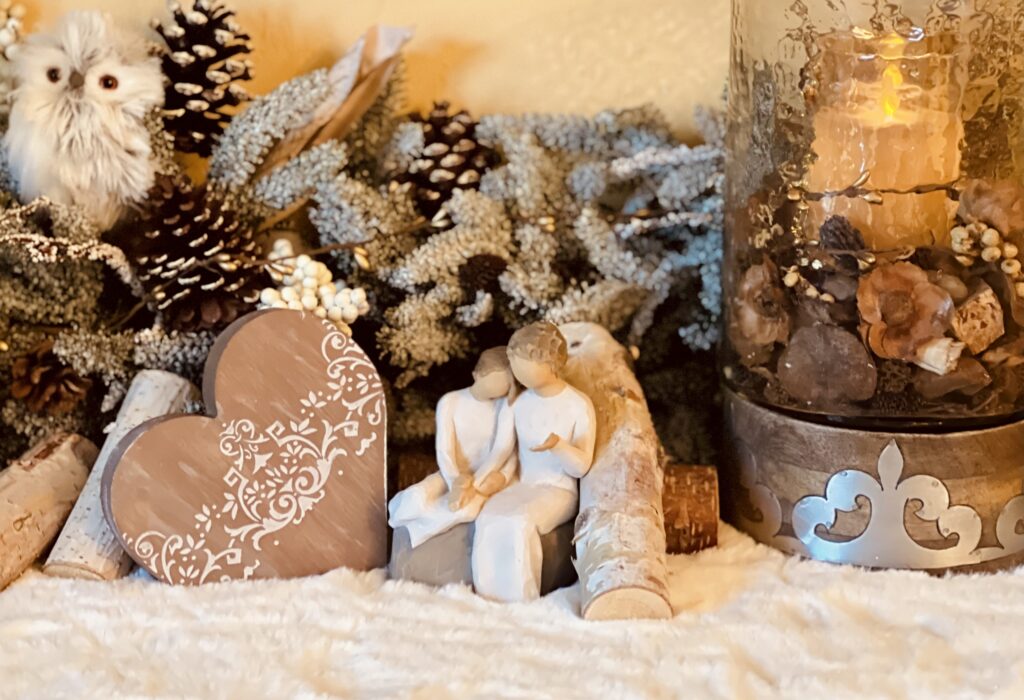 A thoughtful gift goes a long way! 
Add a custom made piece to a fun filled box/basket and some fresh baked goodies to add a personal touch!
Some more custom Valentine's Day crafts I made and added to my Winter Wonderland décor.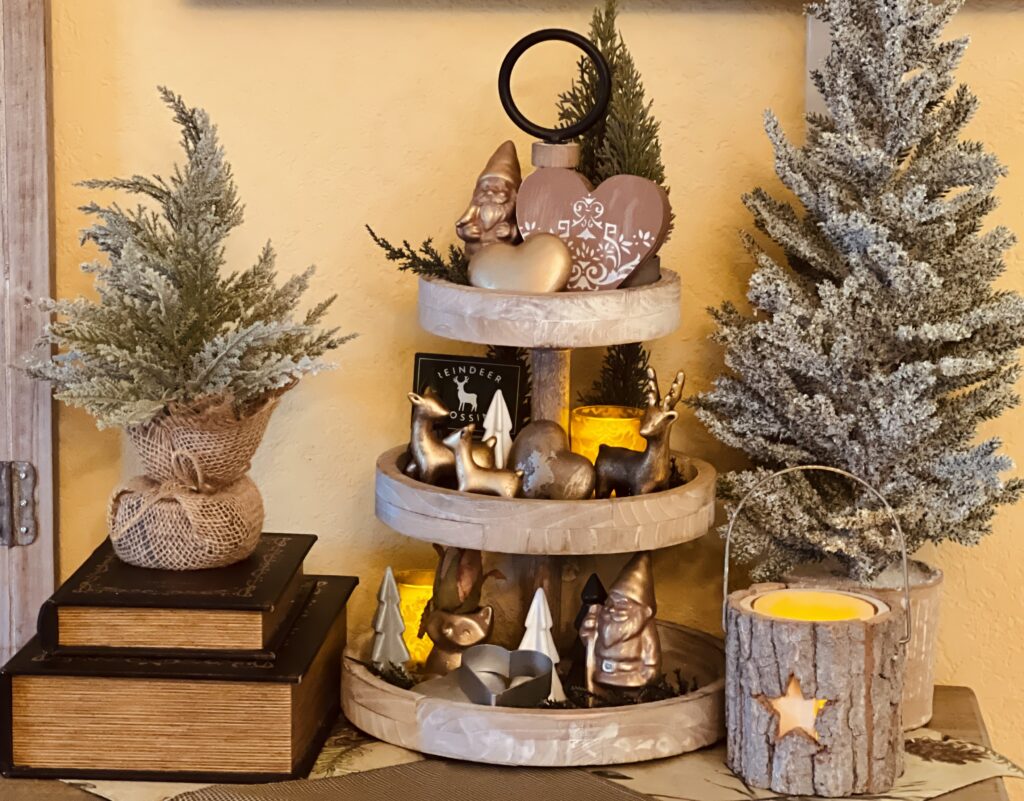 I found some great stuff at Target and made some great little crafts to add in. I gilded some ceramic hearts and painted and gilded some gnomes. They are both a really cute and easy way to bring in some neutral Valentine's Day Décor while still keeping the winter love alive!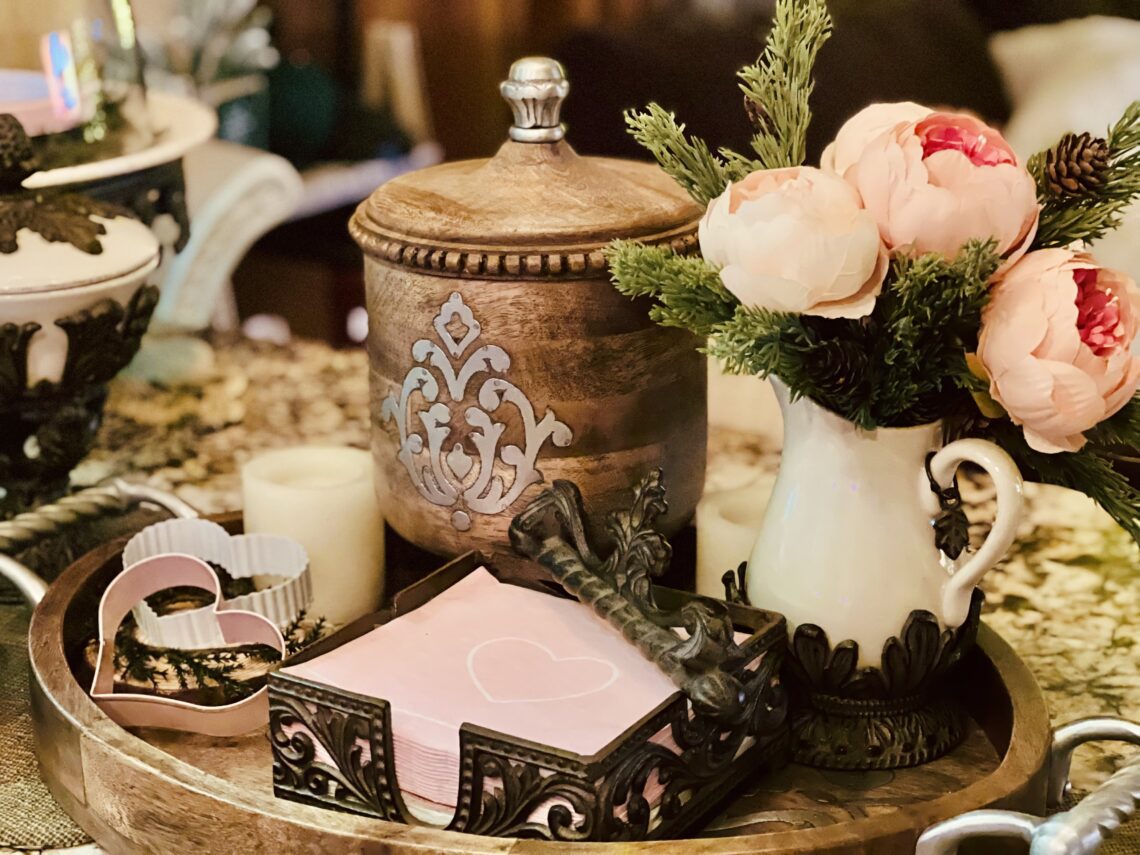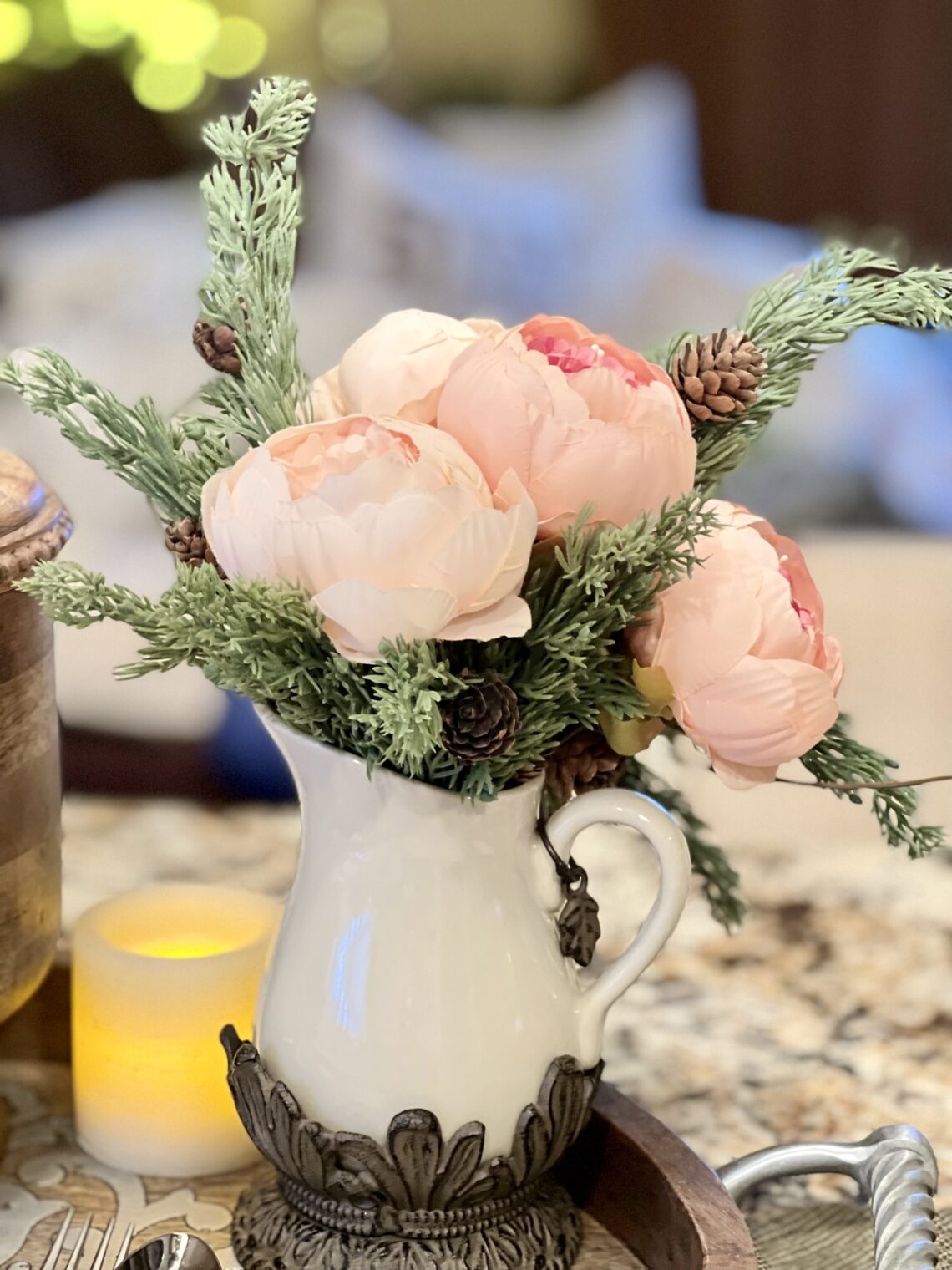 Thanks for stopping by! 
Save this and share! 
Until next time…keep smiling, improve every day, and build a life you love! 
Yours Truly,
January
You'll notice my obsession with the GG Collection, this high end luxury brand makes the most beautiful pieces. Warning: once you start collecting...it is hard to stop!