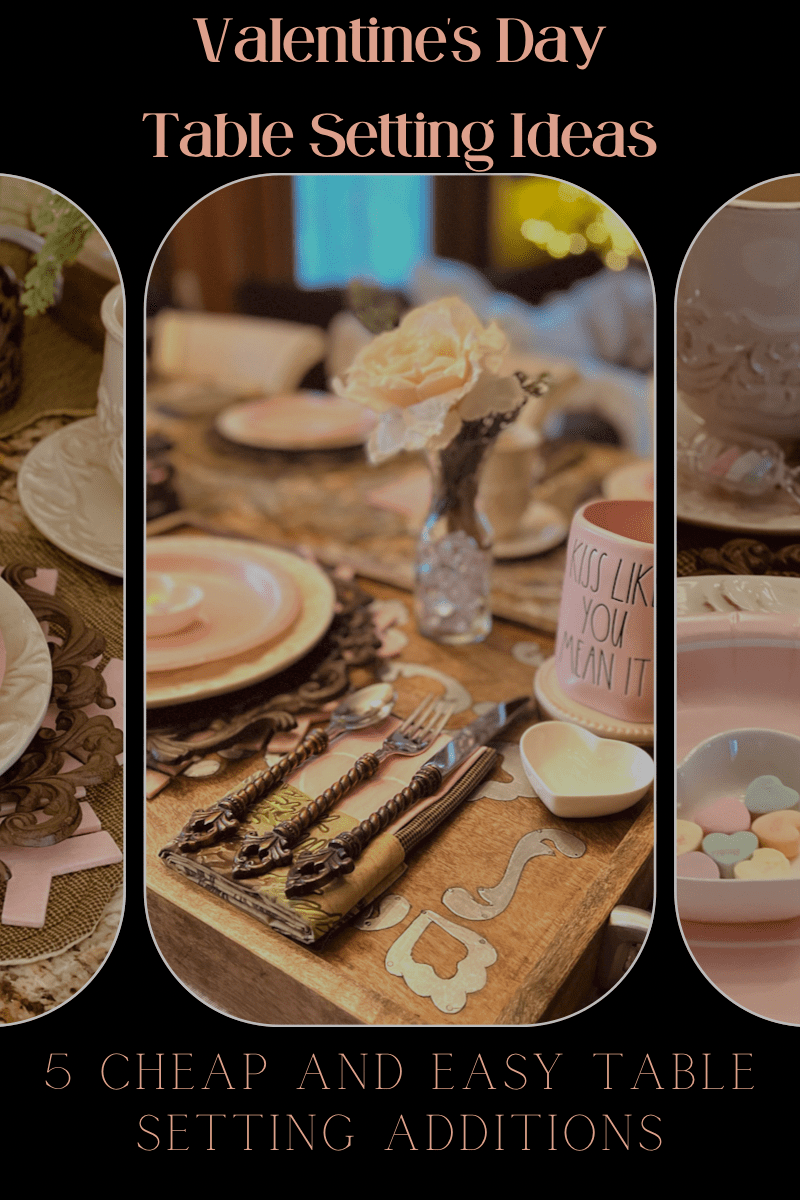 5 Cheap & Easy Valentine's Day Table Additions
Transform your Valentine's Day table for less than $5 a setting!
Instead of buying all new Valentine's Day themed dishes for my table settings, I decided to try adding some easy additions to my existing dinnerware...here is how it went!
This post contains affiliate links. This means I may receive a small commission for purchases derived from those links at no cost to you. This helps support the blog. Thank you in advance for your support!
One thing I truly miss is having a formal dining room table! When we moved into our house 7 years ago, wow that seems long when I read it, I decided to convert the small dining space into my "office". 
Having had a home office since 2007, it seemed like the perfect spot to stick my old L shaped desk from my first Home Office (see the post on my New Home Office makeover and new custom built in Library Office space coming soon).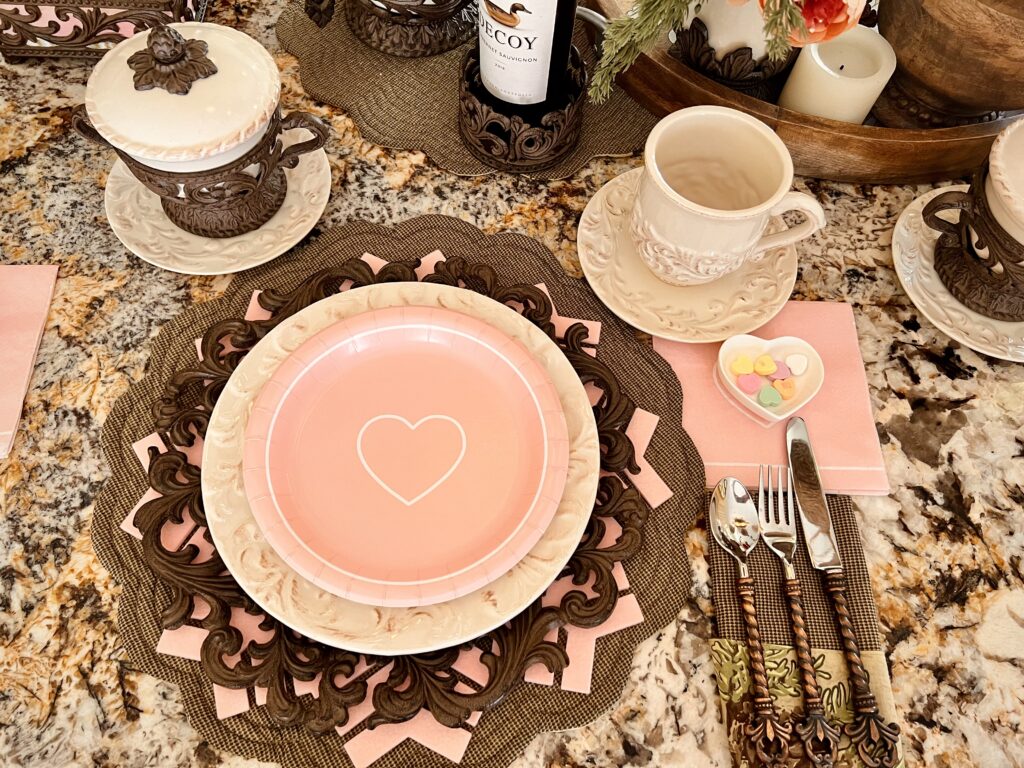 With no dining room, I decided I would renovate the kitchen as well and build out the peninsula to create a dining bar area, big enough for 4 lovely Frontgate stools! 
It worked out perfectly and frankly, it rarely gets used as well! LOL Good thing I didn't waste that "tiny dining room" space! We all Love and Use my Home Office! 
Now…how to set a "bar-table"…it has been challenging in that regard as there is not a tremendous amount of space, approximately 111" or so…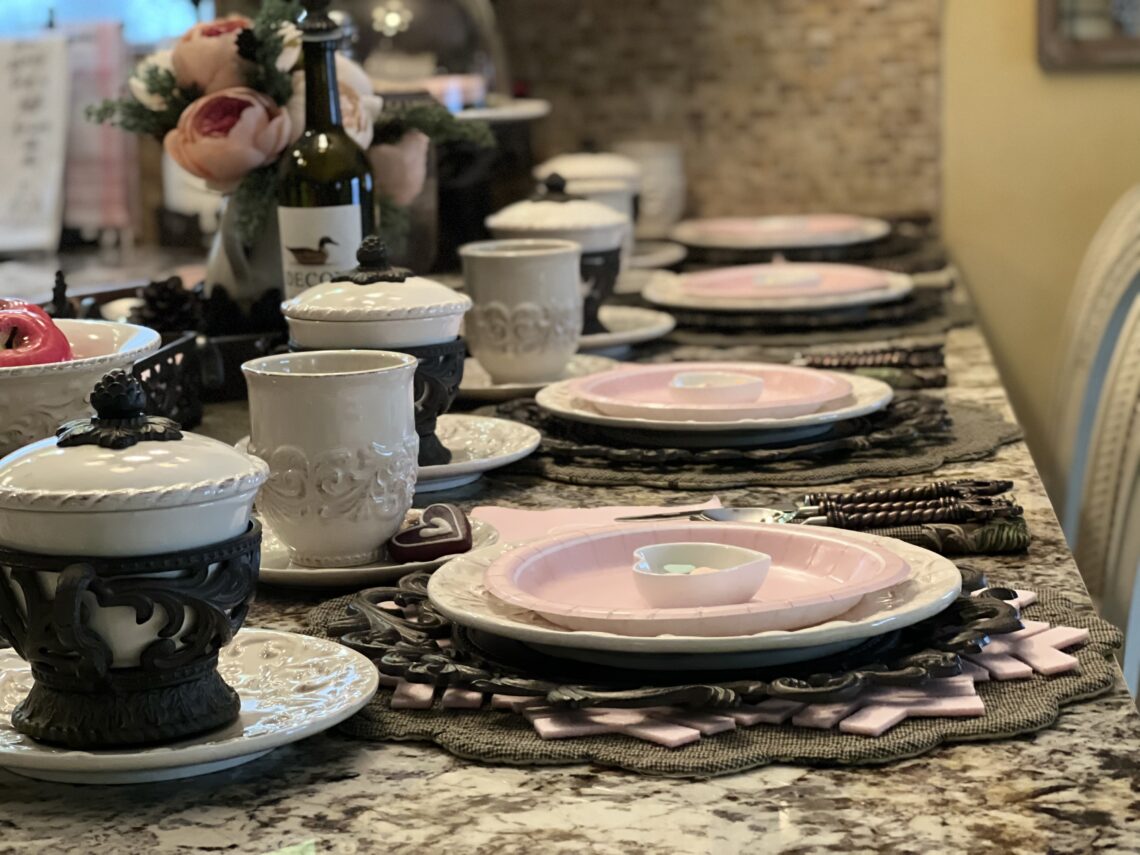 Last summer, I used this big kitchen island to build a custom cornice for over my bedroom sliding doors…see my post on my DIY from garbage leftovers custom cornice, coming soon). My custom cornice is HUGE! I am very proud of it, and it was a fun DIY project and a fun learning experience!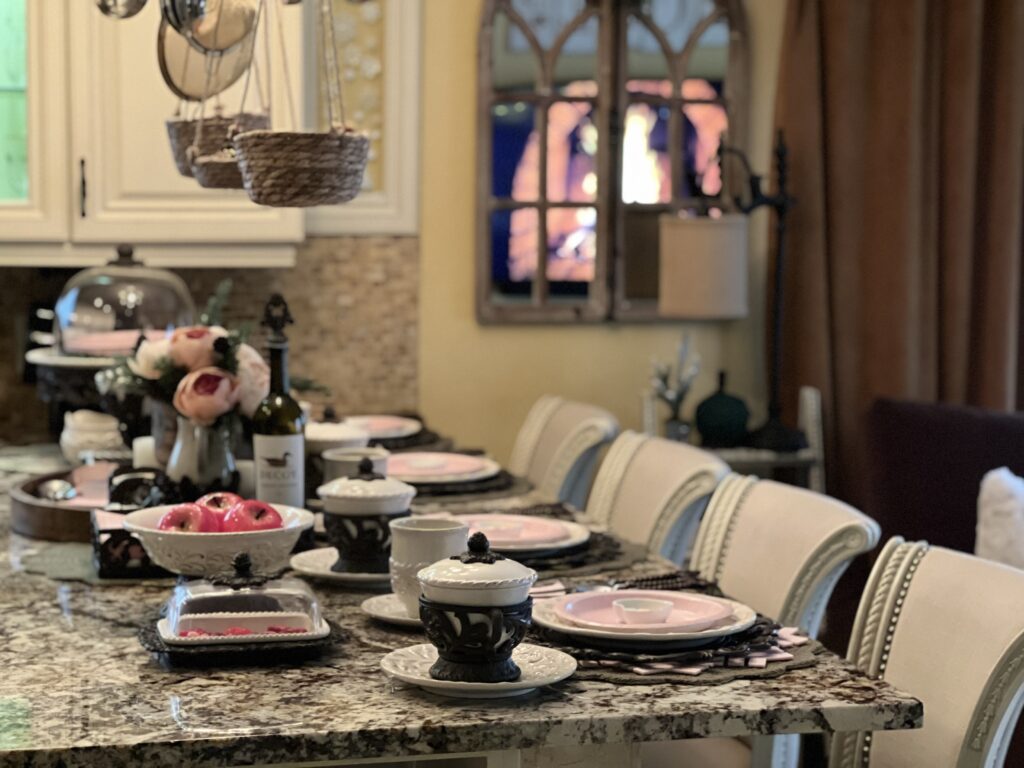 You can see I have my 4 Frontgate barstools spaced just so…again, not a lot of space, its like Goldilocks, its Just Right! This past August during one of my Marshall's outings I happened to find a set of 4 quilted sunflower shaped placemats, and a 36′ table runner by Nicole Miller, all matching in a soft mustard yellow color. 
As a sunflower addict from way back, instantly I fell in love. I kept those babies on my kitchen island until Christmas knocked so hard on my door I had no choice but to venture out to Marshall's in search of a similar set for Christmas! 
Never finding anything at Marshall's I ended back on Amazon and luckily found a lovely set of placemats with that same feeling that had a wispy pine look, perfect for my winter wonderland! 
I never thought paper plates could look classy and actually be used in a table setting…I am happy to report that I was wrong!
As I prepared my Valentine's Day Table settings yesterday I started playing around with the paper plates. I was quite thrilled to find that simply adding the $3 plates and napkins from Target not only worked, it looked really lovely! 
 This is changing the way I look at paper plates again! I know there are really nice plastic $50-$70 sets that come with all the place settings for parties, weddings, and all that. 
I have bought those on Amazon (I have a few I saw and I am thinking about it still LOL), but I didn't want to spend a lot and I actually really love my everyday table setting dinnerware GG Collection Acanthus set.
I love that I can add a few small things to what I have and it looks like a special Valentine's Day table setting (or bar setting in my case).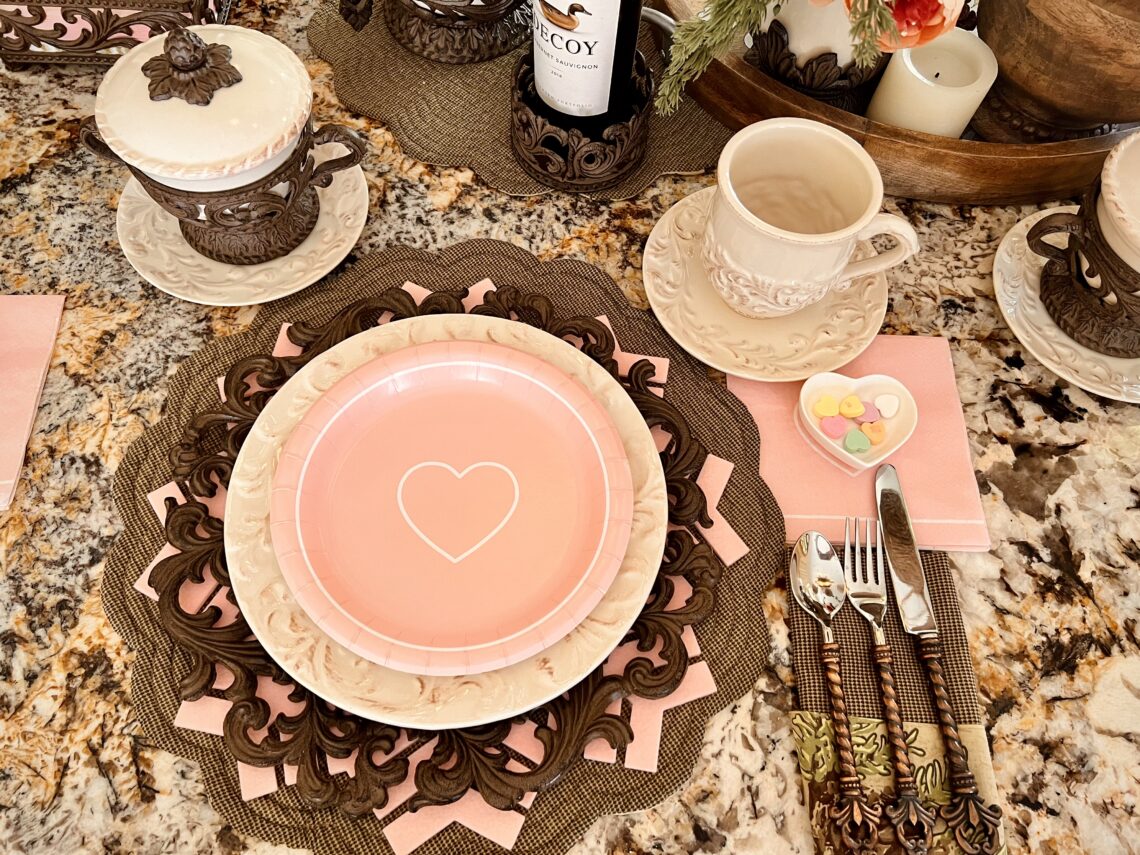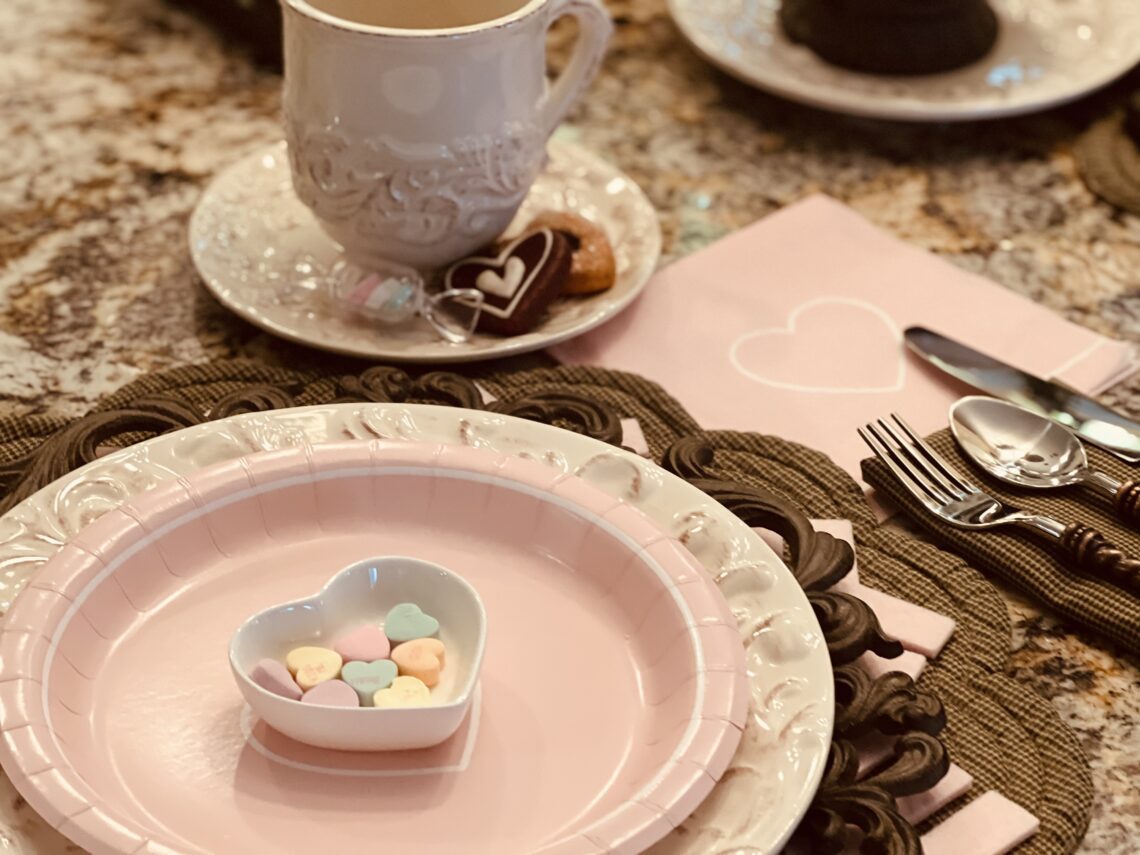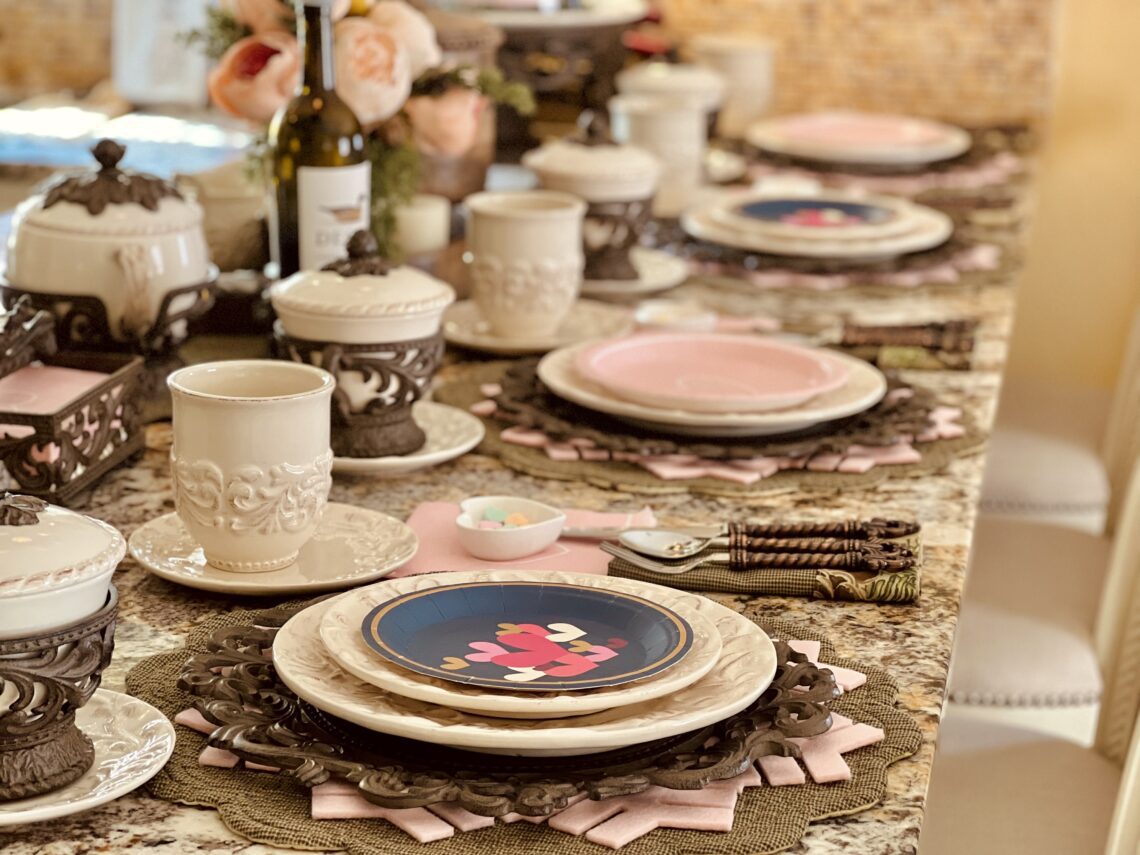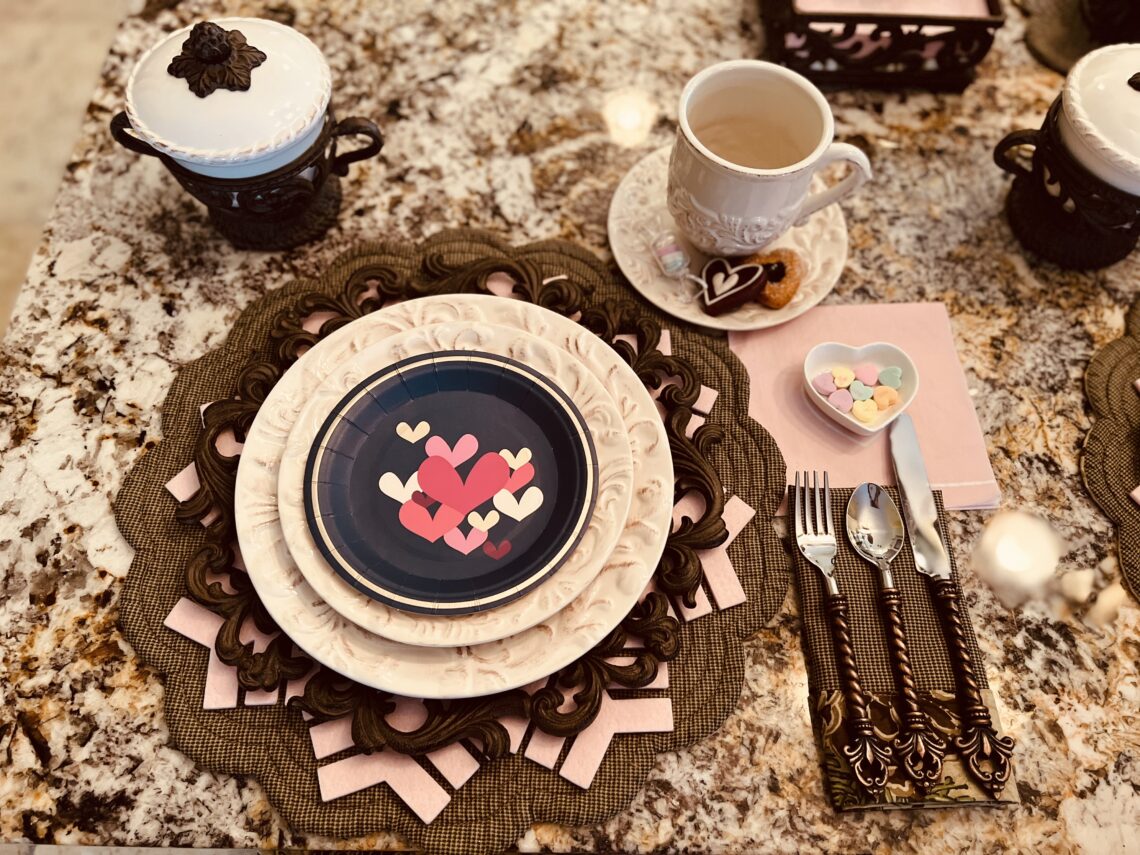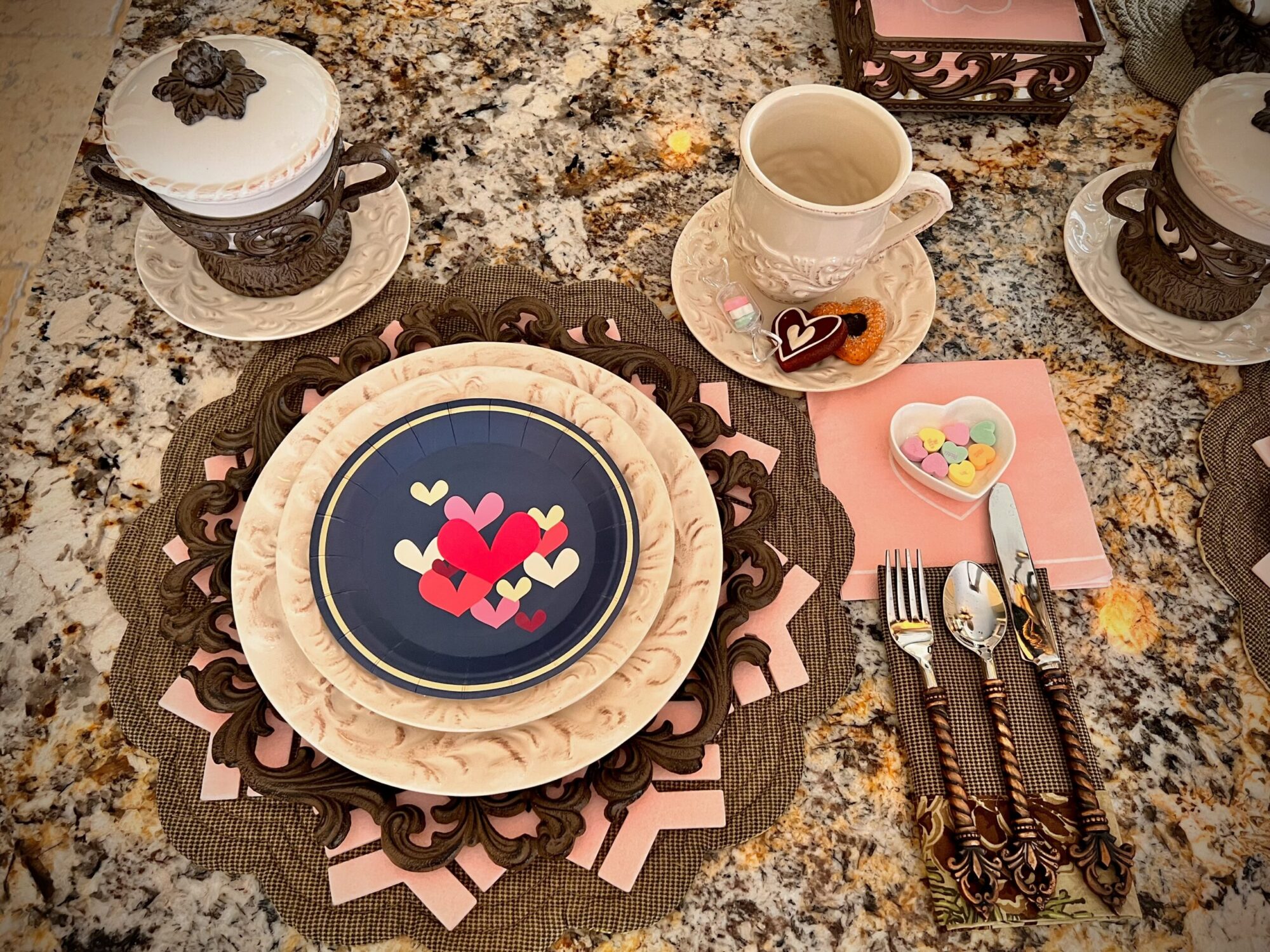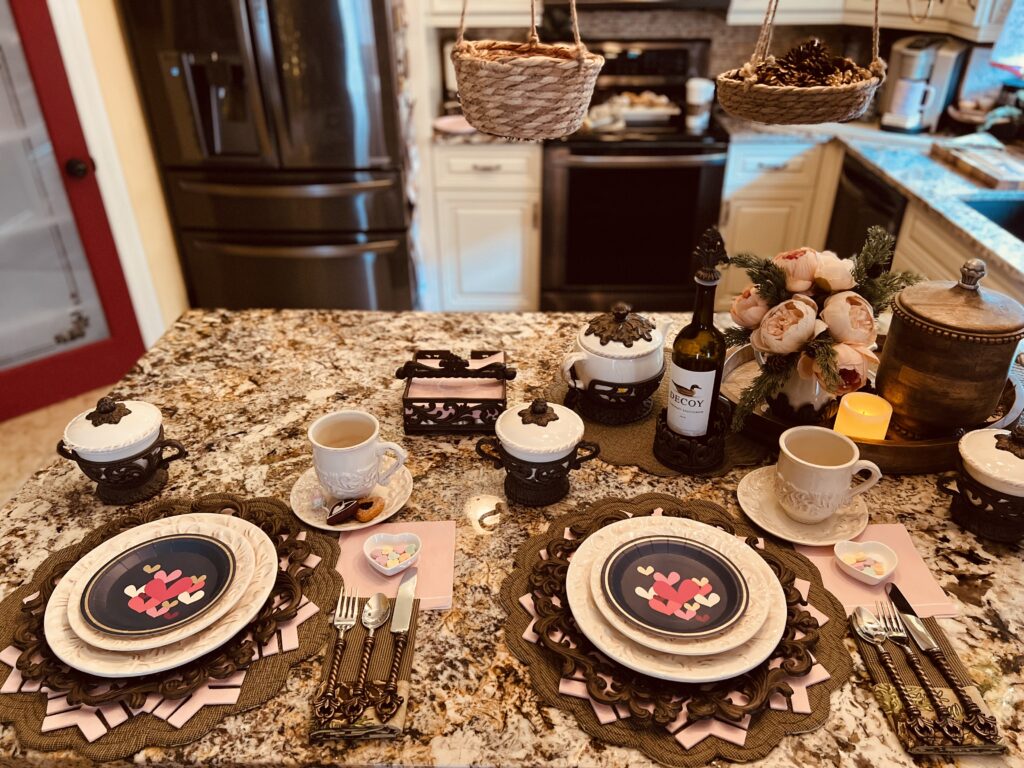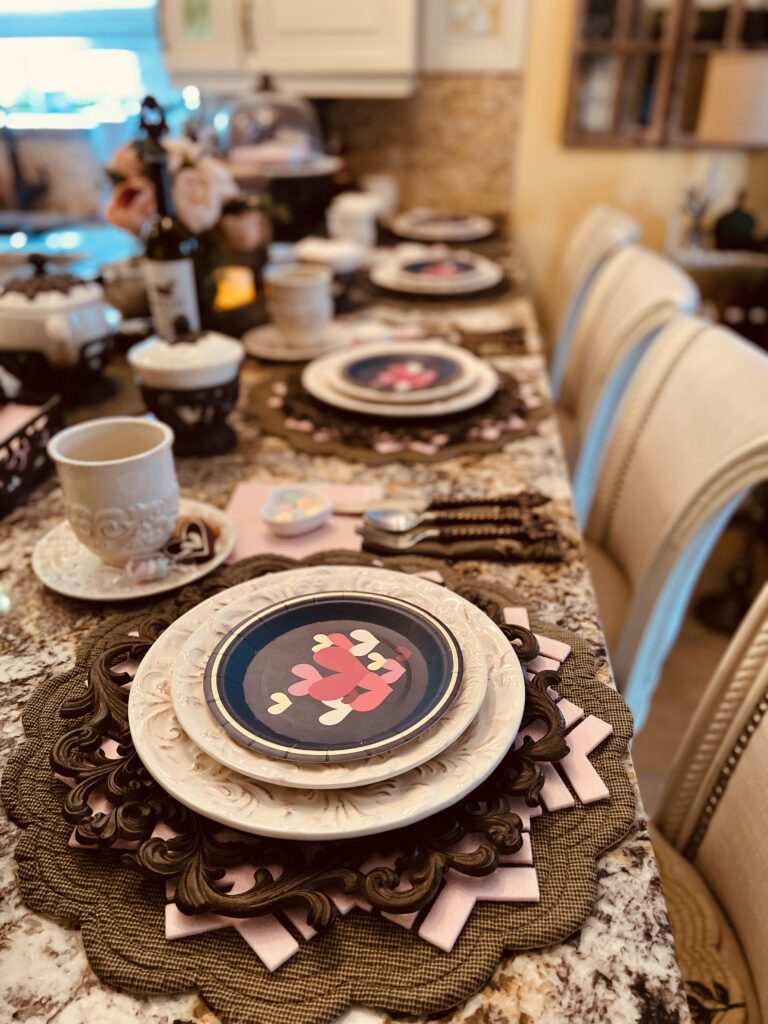 Add at least one heart shaped dish element, an accent plate, an elegant tea plate, small sauce cups shaped like hearts…
These will last when your paper plates are gone so you still keep your Valentine's Day vibe alive!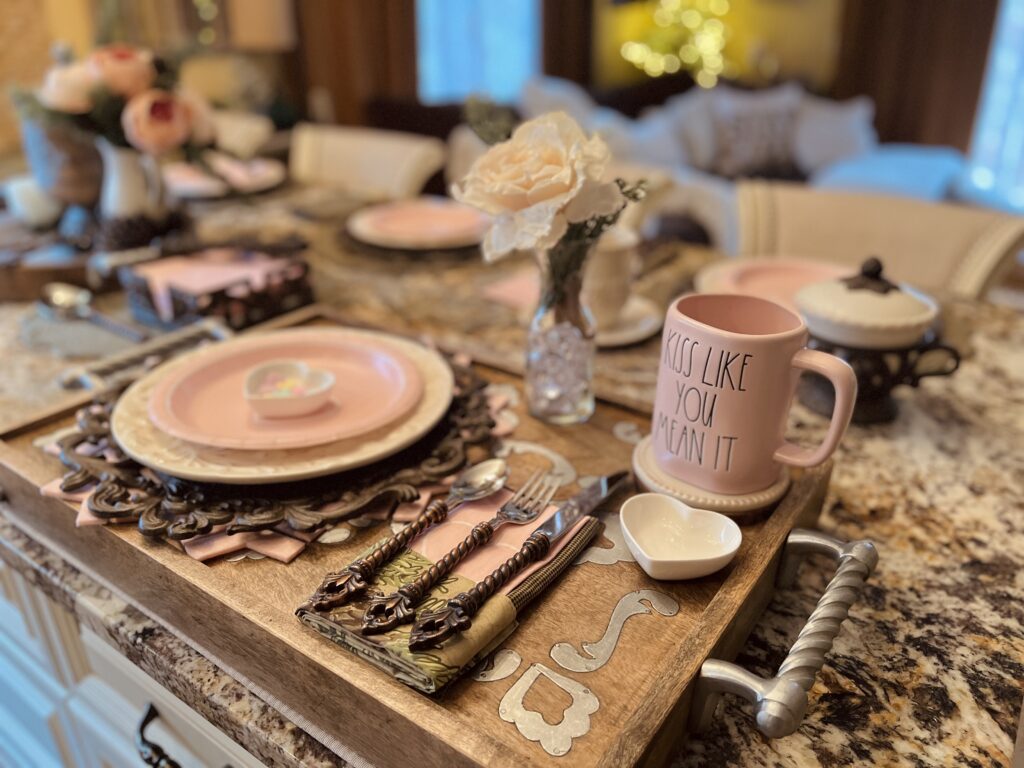 My Top 5 Cheap and Easy Valentine's Day Table setting add-ons:
Napkins $3
Paper Plates $3
Mini Heart shaped sauce bowls/dish $9-10
Conversation hearts candy $1-2 (use vases, candy dish, heart shaped sauce/dipping bowl, as table confetti)
Felt Chargers – $1 (see my pink snowflake chargers I used from Target) For my Valentine's Day Décor check out my Amazon Idea Board "Valentine's Day Decor".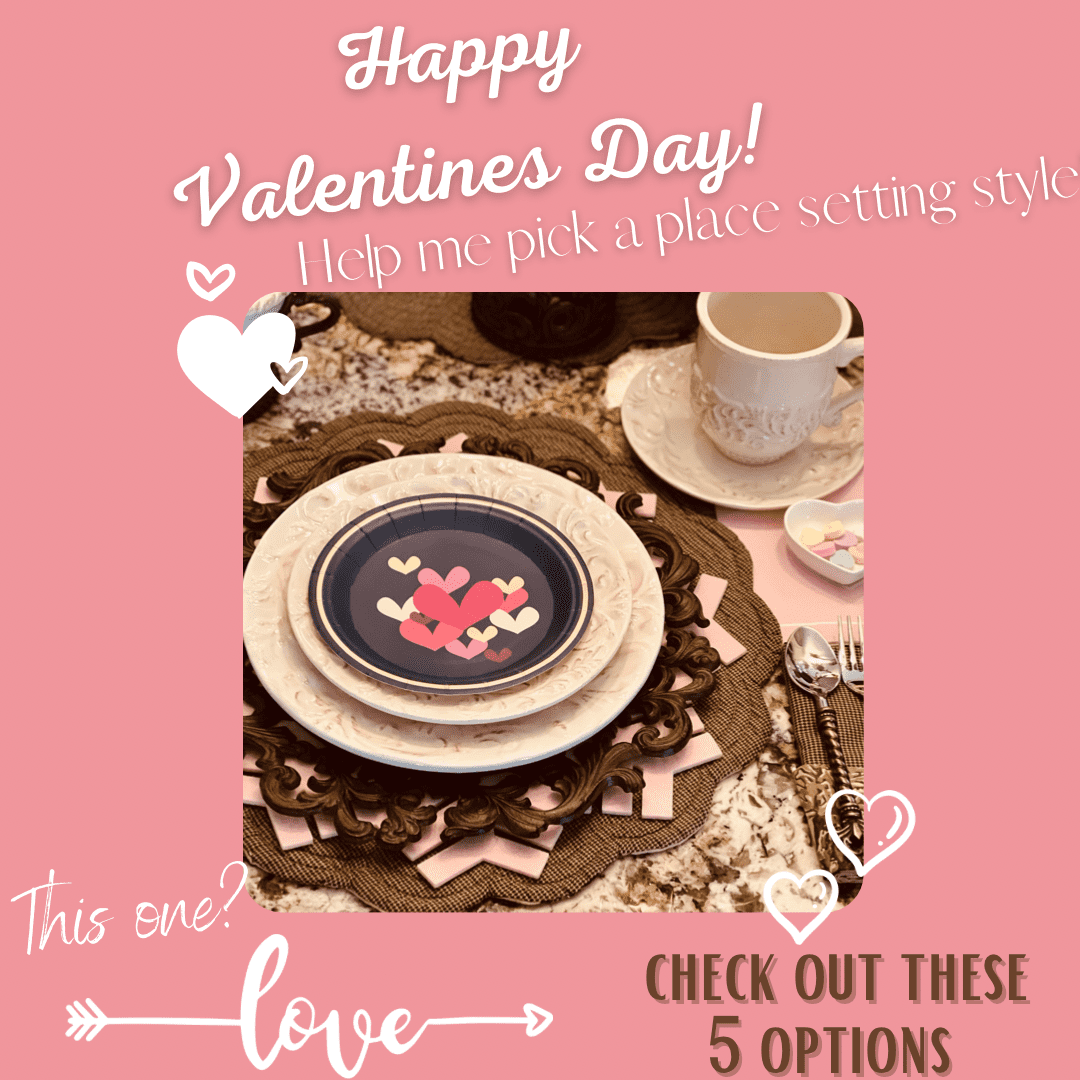 Add an intriguing accent piece to the table setting for an extra elegant Valentine's Day touch!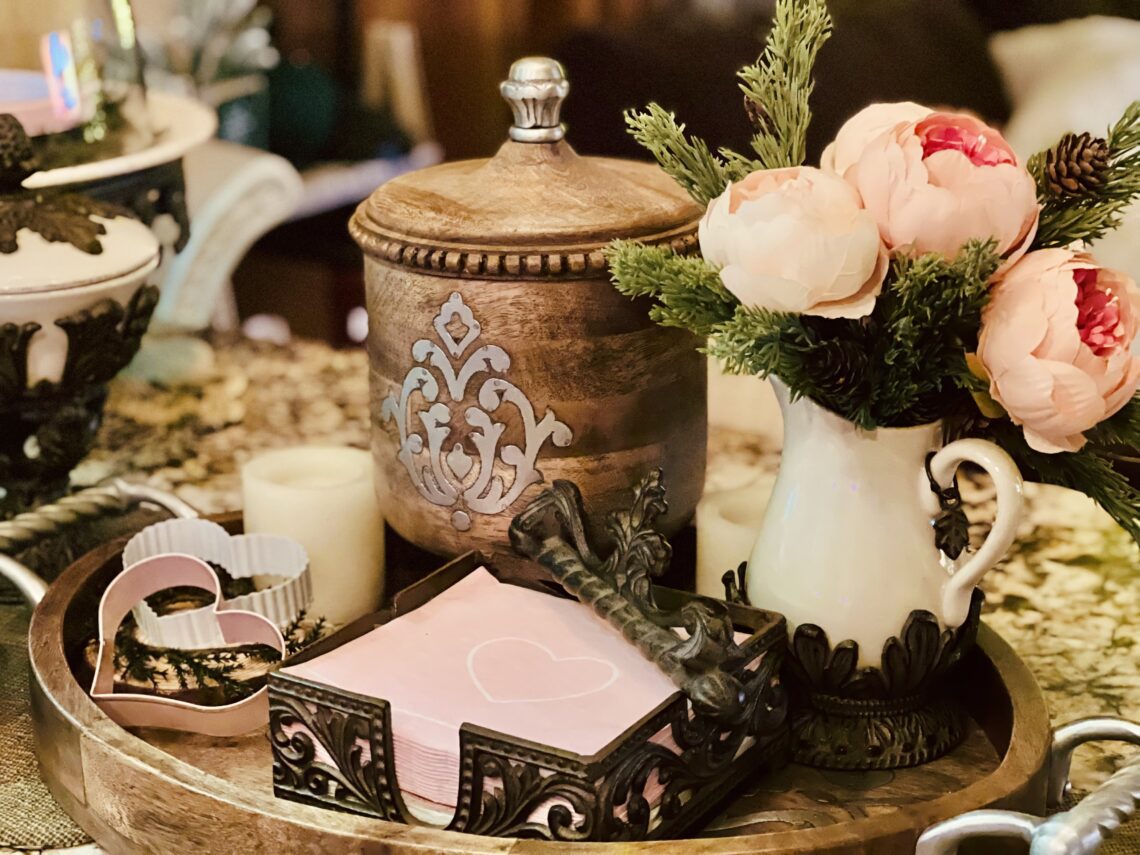 For under $5 you can transform your table settings for Valentine's Day without buying all new dishes!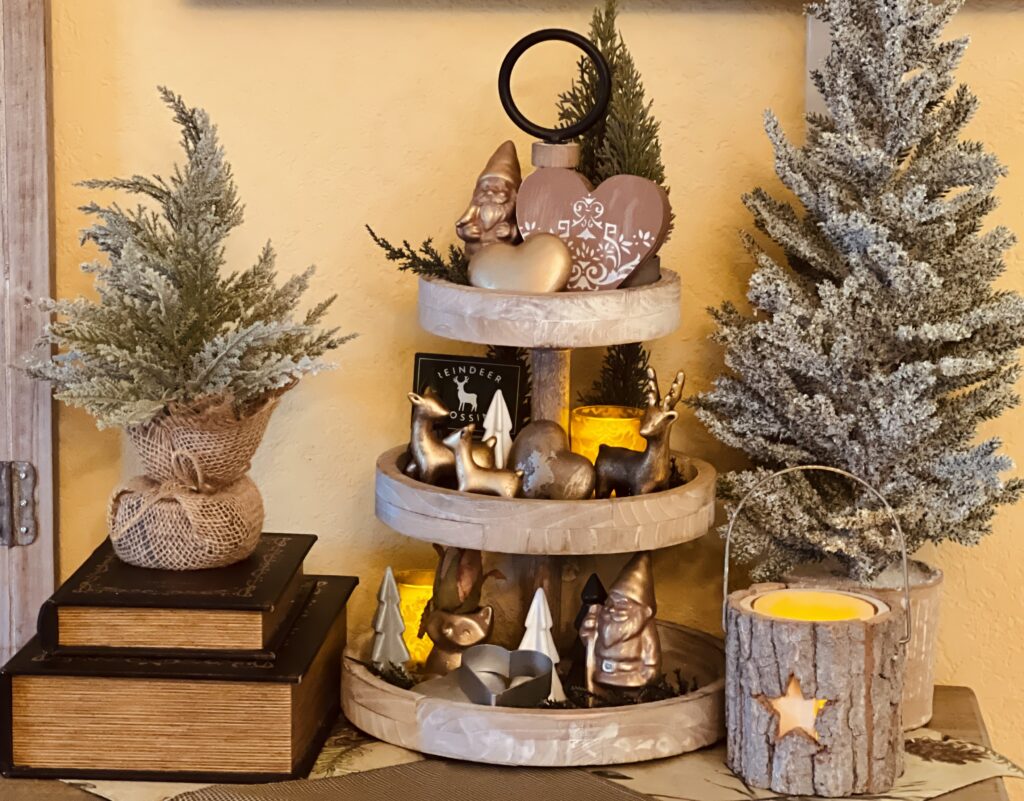 I found some great stuff at Target and made some great little crafts to add in. I gilded some ceramic hearts and painted and gilded some gnomes. They are both a really cute and easy way to bring in some neutral Valentine's Day Décor while still keeping the winter love alive!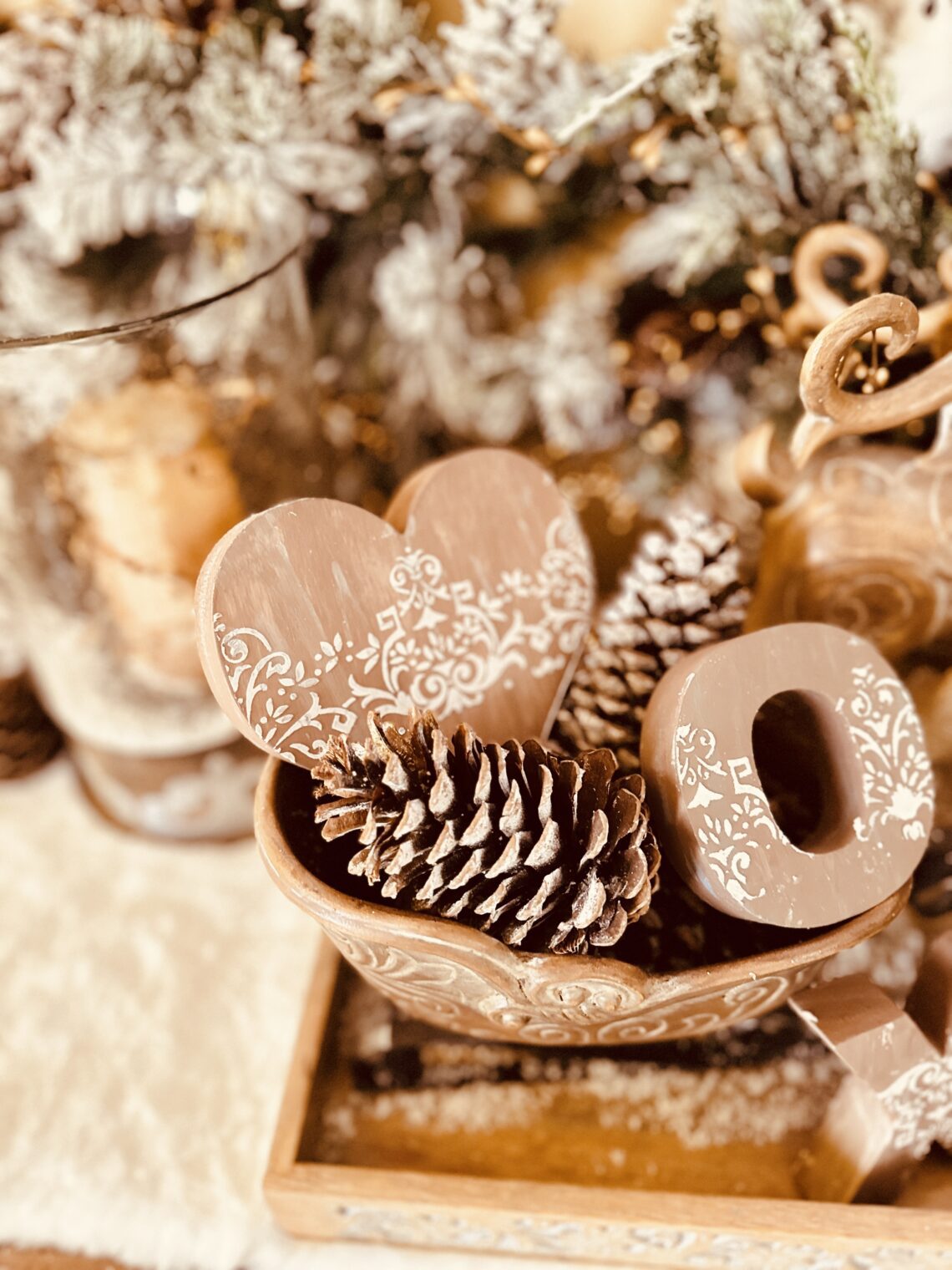 Thanks for stopping by! 
Save this and share! 
Until next time…keep smiling, improve every day, and build a life you love! 
Yours Truly,
January